You heard it here, folks. Taco Bell's "Steal a Base, Steal a Taco" campaign worked...
Are you drawn to the eclectic, the strange, and the tasty? Do your taste buds tingle at the idea of ...
Staying true to its name, Big Star has announced some astronomically BIG plans for its forthcoming W...
Pilsen prides itself as being the heart of the city's arts culture community, and it just make...
According to Eater Chicago, Pink Taco, the LA restaurant that we think might be a slightly seedier v...
The South Loop is going South of the Border For those of us who like to celebrate Tuesdays with a ce...
A map that meets all your taco needs. Ever find yourself in a situation where you need a taco ASAP? ...
Here's what we've found on our quest for one-of-a-kind taco joints in Chicago. Here at U...
Yes, we know Cinco de Mayo just passed. Yes, we know you loveeee Chipotle. (The burrito bowls are ou...
Regardless of your ethnic background, Cinco de Mayo is a great excuse to celebrate life with amazing...
Best of Chicago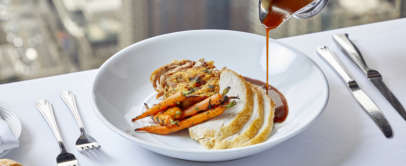 Don't worry, they've got it covered. Thanksgiving is an exciting time of year to enjoy the company of family and friends as you indulge in the smells and…