Let's face it, Latinicity is bound to draw comparisons to Eataly.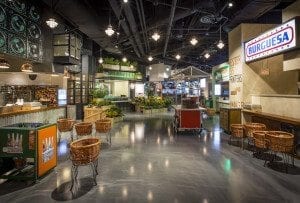 Chicago's newest food market, Latinicity, is already quite the hit it seems. After just three days of business in November, the Latin food market had to shut down, "to replenish, restock and rearrange the restaurant." Why? Well… the hype is real. Within the short time period, 10,000 visitors had already stormed the lines to take down all the Latin cuisine they could handle.
Frankly, we'd expect nothing less from the newest project by world-renowned chef Richard Sandoval. It's not just a market, it's not just a restaurant, and it's not just a series of pop-up stands either.
From the moment you step foot on the third floor of Block 37, you can already smell the mouthwatering spices, chili aioli, and even a hint of sangria. You're greeted with a gold card at the door, which can be used to make purchases throughout the market as you go along (you then pay for everything at the end in one transaction).
The layout is pretty well put together, with a standard grab & go quick market to your left as you walk in.  To your right, the full-scale tapas restaurant experience, Pata Negra. The focal point of it all lies straight ahead, with 10 innovative kitchens, a café, bar and lounge to congregate and enjoy your meal.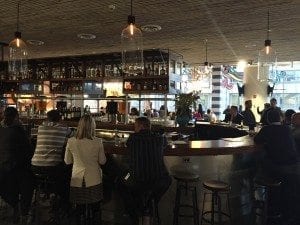 First off, we were impressed with the variety. Looking for sushi? Got it. Tortas? Check. Traditional American burgers and hot dogs with a Latin American twist? Yep, those too. Stir-fry, tacos, burritos, bowls, soups, salads, steaks, cocas – you name it, it's here.
Our favorite so far, the chori-frita burger from Burguesa, a chorizo and black angus patty served with manchego cheese, bacon mojo, and crispy potatoes on a brioche bun. Pair this with truffle salt & parmesan fries for a satisfying and agreeable combo.
So is it like Eataly? Yes and no. It's not quite as large, but it doesn't need to be any bigger than it is. The food, market, and experience are all top-notch – and the entire thing is worth experiencing at least once for the novelty of it all, if not the fantastic food.
You can learn more about Latinicity here.