After gathering up a list of the best donuts in Chicago, we figured you'd need a nice cup of joe to ...
When it comes to sweets, Chicago is pretty damn inventive. We're the creators of the Rainbow Cone, G...
Colder weather calls for hotter drinks. And a warm cup of tea in Chicago is easily first up on our l...
Everybody knows that the fall season brings perfect cuddle weather. Something about the chilly atmos...
Move over, Crate & Barrel. There's a new sheriff in town and it has nothing to do with hom...
There are a large number of cat cafes in Chicago where you can sip on a cup o' Joe while hangi...
Everybody loves a night out on the town to let loose and splurge a little, but the morning after is ...
It's National CBD Day, so we figured now would be a good time to let you guys in on the secret...
We already know y'all like to eat. But sometimes ordering three entrees just isn't enoug...
Calling all cheese lovers and foodies of the Chi, an exquisite new eatery is emerging later this mon...
Okay, I know this might be a hard one, but think back to high school geometry… does π ring a bell? 3...
Yea, yea. It's cold outside, but what's new? Don't let Chicago's winters kee...
Best of Chicago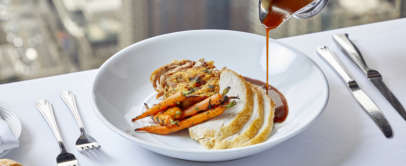 Don't worry, they've got it covered. Thanksgiving is an exciting time of year to enjoy the company of family and friends as you indulge in the smells and…