Finally, summer is right around the corner! Besides gelatos, ice cream, and smoothies, do you know what is also on our favorite summer drink list? Matcha! Whether you're into a simple matcha latte, or know the harmony between honey-glazed red bean with pure matcha, this summer, Chicagoan's will find their perfect treat at Matcha Cita, Chicago's first matcha-focused café.
Matcha Cita officially opened in the West Loop right before we turned the calendar to May. The cafe built its fame with a popular pop-up stint in Lincoln Park back in 2021, and now has its first permanent location that's only steps from the Morgan 'L' station (green and pink lines).
A play on and reference to the timeless coffee date, Matcha Cita roughly translates to "matcha date" in Spanish. Cultivating personal creativity and a balanced lifestyle, Matcha Cita aims to produce a lively, welcoming experience with everything from the innovative matcha menu to the visually stylish decor.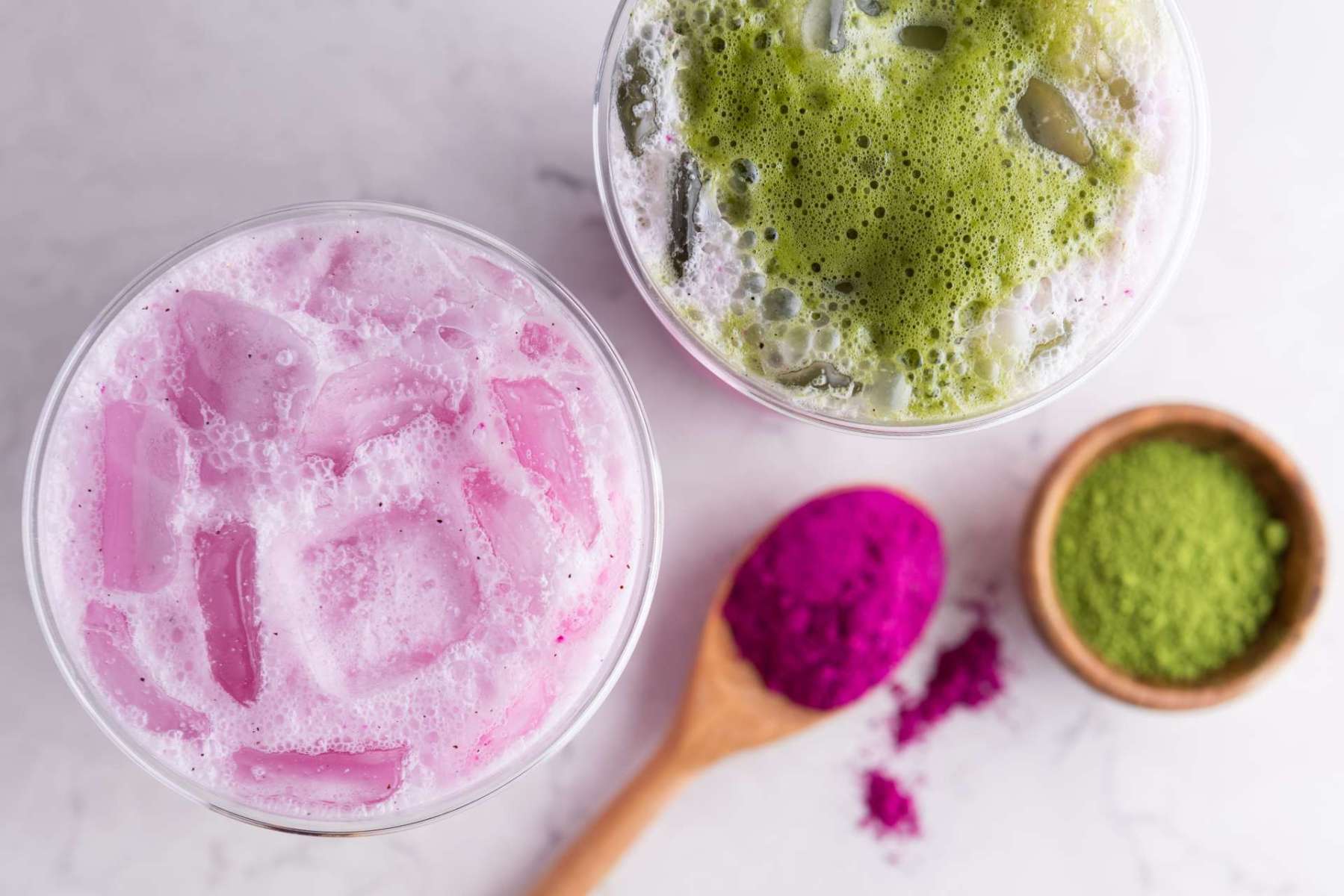 Founded by Bianca Pearson with co-owner Vincent Lujan, Matcha Cita was born out of Pearson's love of matcha and stylish interior design. Serving as Director of Sales and Marketing for over a decade at trendy hotspots like Joy District and Flight Club Darts in Chicago, Pearson launched Pop and Props in 2019, a boutique balloon installation and event planning company.
"When I realized there was an opportunity to bring a trendy, fully matcha-focused café to Chicago, I began conceptualizing Matcha Cita. I wanted to create a photogenic space, and the menu, the decor, the music, everything was carefully curated to create an overall energetic, cheerful vibe," said Pearson. "After our initial pop-up in Lincoln Park, I knew I wanted to open an all day café where guests could enjoy a delicious menu but also feel welcome to stay awhile."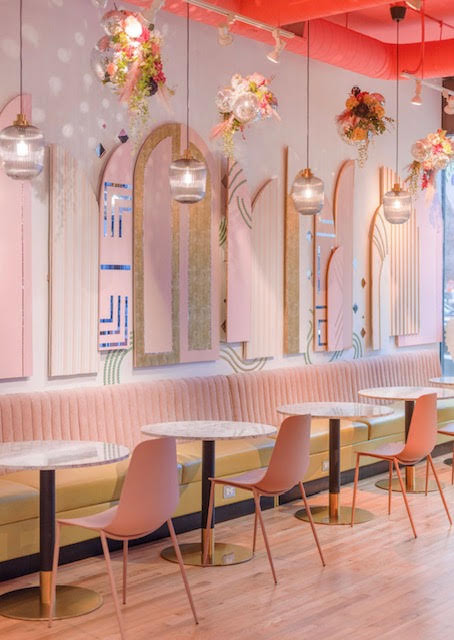 THE SPACE
Bringing Pearson's vision to life was East Interiors, who created the colorful 1600-square-foot café that is retro and geometric in design with tropical vibes. The photo-worthy space is bold and bright with a palette of vibrant pastels, including light pink and light green walls set against a bubblegum pink ceiling with lavender lights that hang overhead.
Vivid accent pieces adorn the café like the custom-made wall panels, greenery, flowers, disco balls, tropical print wallpaper, and bold, patterned encaustic floor tiles with colors of pink, greige and cream. Adding texture to the design is a blush pink terrazzo countertop and gold leaf trim throughout the space.
Giving even more character to the space are the art installations like an interactive pink rotary phone and a neon sign that reads "Matcha Made in Heaven" on a backdrop of roses that hangs from the ceiling. In the warmer months, customers will enjoy a cozy sidewalk patio outfitted with several tables and accented by a lavender door with green trim and an encaustic tiled wall outside. Guests will enjoy soothing tropical house music while enjoying Matcha Cita's menu.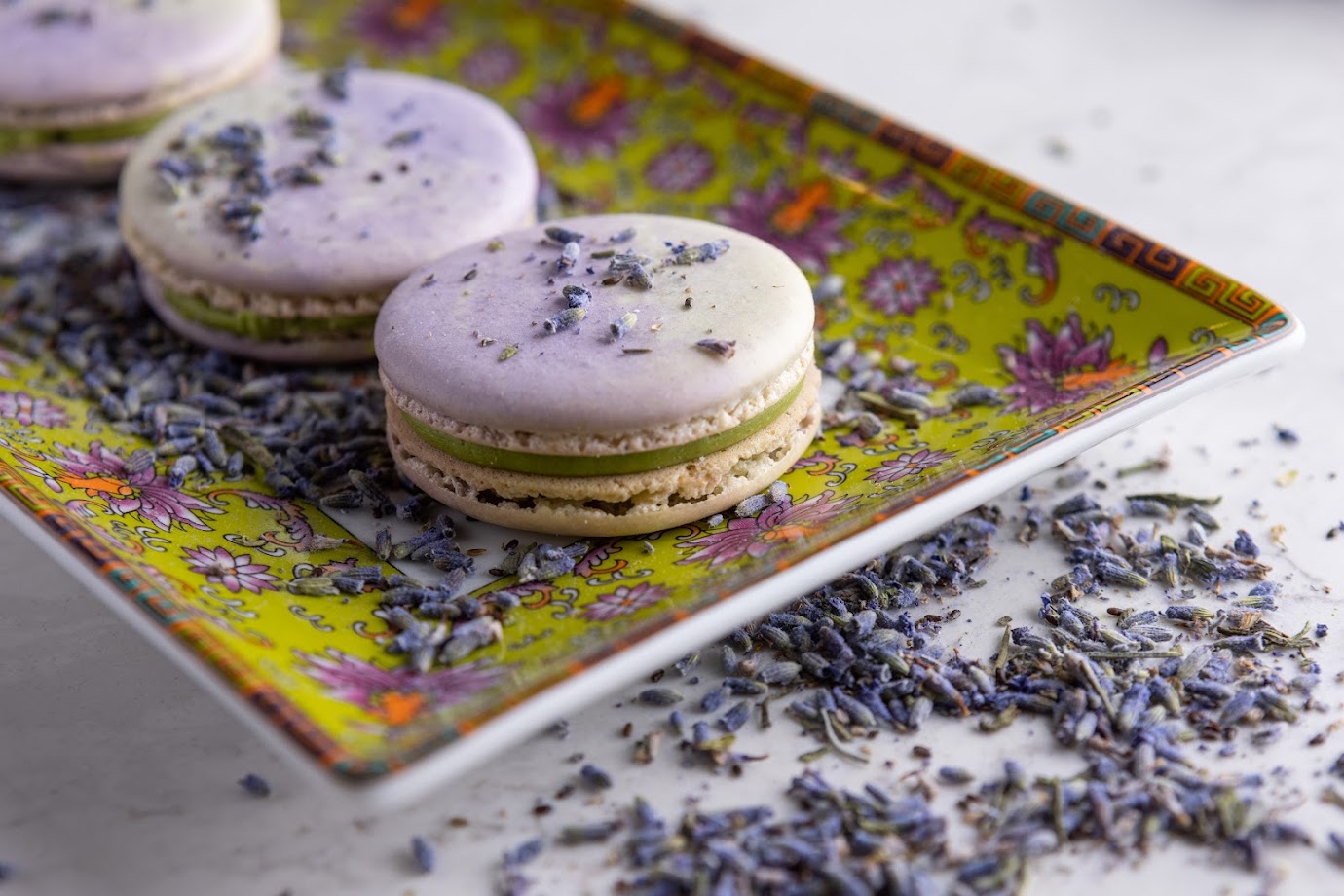 THE MENU
Utilizing matcha, a powder made from green tea leaves that's high in antioxidants, and other superfood ingredients, the menu ranges in prices from $4.29 to $13.95 and features specialty matcha drinks, over 20 smoothies, juices, coffee from Lavazza, macarons, a selection of pastries from Vivian Hu of Chicago Desserts and more.
Try the Matcha Horchata with cinnamon and vanilla almond milk, Purple Haze with matcha, lavender, CBD, and oat milk, or Pineapple Mango Matcha with lemonade, Guests can customize their drinks with fun accessories ranging from $1.95 to $3.95 including Make Me Pretty (collagen), Make It Luck (Lucky Charms), Make Me Mellow (CBD), Make Me Strong (protein) and Make It Matcha (matcha).
Featured Image Credit: Matthew Reeves