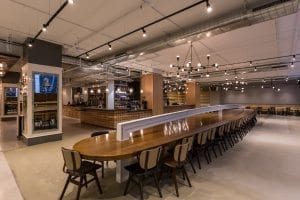 You may have heard of Revival Food Hall, the dining hall in the middle of the Loop that opened in August 2016. The brains behind the tasty operation decided to take it up a notch, with Revival Café Bar officially launching a new program called "Overtime." Basically, if you work in the Loop, you and your work posse now have another place to wind down after hours.
From your morning coffee stop to your after-work happy hour, RCB promises to offer some of Chicago's best drinks all under one roof, and some pretty unique programming to get you through your work week. Here's what to expect:
Live DJ's
Every Wednesday night, and the first and third Friday of each month, RCB welcomes DJ Galvan and his legendary playlist, including mainstream hits and obscure jams, from 4:30pm – 7pm.
Revival Cocktails
RCB is an extension on 16" on Center's hospitality collective's top-notch bar talents. You can expect popular neighborhood beverage favorites like MONEYGUN, Longman & Eagle, and Dusek's Board & Beer. Guests can enjoy a craft cocktail anytime from 11am – 9pm, Monday through Friday. Yes, those early hours include coffee-infused cocktails as well.
Menu highlights include:
Oaxacan Nightcap – mezcal, amontillado sherry, Zucca, pipe tobacco and spiced chocolate bitters
Pet Raccoon – High West double rye whiskey, cinnamon, Giffard Framboise and fernet branca
Nitro Russian – St. George Vodka, St. George Nola Coffee Liqueur, coffee cream and chicory
Test Pilot – aged rum, Jamaican rum, falernum, curacao, lime, absinthe and angostura
Break-Even Bottle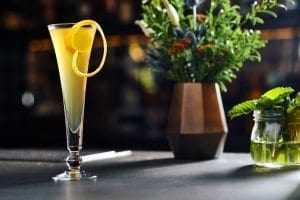 Need to experience more than your weekly gin and tonic? Go to RCB and experience rare and unique spirits at wholesale pricing. Guests can sample 1 or 2-ounce pours from limited release bottles of whiskey, gin, mezcal and more. Once the bottle's empty, it's onto the next!
Martini & Manicure
Beauty Bar, the popular salon-themed bar in Ukrainian Village, will take over the DJ booth on the second and fourth Friday of each month for it's popular Martini & Manicure package. Grab your girls and enjoy the $15 Martini & Manicure special from 4:30pm – 7pm. The special will include your pick of a cosmopolitan or dirty martini and a manicure. The next Martini & Manicure will take place on Friday, February 24 with DJ Chess Knight.
Featured Image Credit: Revival Food Hall