Like how seasons change, the city's best drinks and confections evolve as well. Chicago's cafès, bakeries, restaurants, and bars have introduced fall menu items you don't want to miss out on. And what's a fall menu without the best pumpkin spice things in Chicago? Starbucks isn't the only destination for your favorite pumpkin treats. As one of the most coveted fall flavors, the city has the best spots to get your pumpkin spice fix.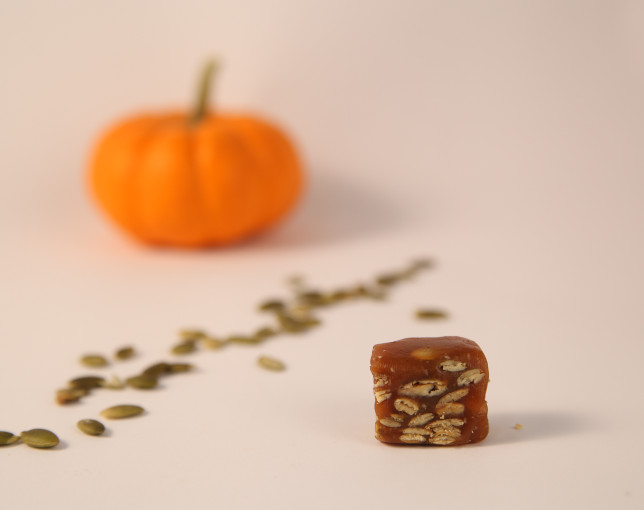 2745 W. Armitage, Chicago, IL 60647
At Katherine Anne's they are committed to making delicious confections with the best ingredients. Their truffles are rolled by hand, and caramels are made with local wildflower honey and organic agave nectar instead of corn syrup. Nothing elevates chocolate and caramel more than the depth of pumpkin spice. Stop by for locally roasted coffee and hand-dipped pumpkin pie truffles. 
Are you looking to share these pumpkin spice sweets with loved ones? Grab a 7 oz or 14 oz box of pepita and pumpkin spice caramels. These pillowy caramels are handcrafted with cinnamon, clove, ginger, nutmeg, and allspice.
3439 N Sheffield Ave, Chicago, IL 60657
Neisei's has created a combination that pays tribute to both Chicago tradition and pumpkin spice. For those with a strong stomach and a love for all things pumpkin, stop by Wrigleyville's oldest tavern for a pumpkin spice malort shot. Enjoy this time-honored and hated spirit now with a fall twist. (Whether you enjoy it or not, may depend on how many drinks you ordered beforehand).
2108 N. Clark st. Chicago, IL 60614
Known for its French-style macarons, Vanille has been specializing in authentic French pastries, desserts, and cakes for 20 years. Their wonderful assortment of treats always comes in seasonal options. This season Vanille has created 4 different pumpkin-spiced items. 
The star of the show is the pumpkin macaron. These delicately crafted pastries are airy with a beautifully balanced flavor profile. Not only can you enjoy their most sought-after pastry, but you can also try this fall flavor for a limited time. They also offer pumpkin everyday signature cake, pumpkin cheesecake, and pumpkin bread. 
838 W Kinzie St, Chicago, IL 60642
Is your pumpkin spice latte strong enough? (No, I'm not talking about coffee strength. You know that!). Come to Recess and see what kick a real pumpkin spice drink can offer. As the leaves change and we enter football season, drink your pumpkin spice accordingly. Recess in the West Loop is the place to enjoy beers and delicious food with friends.
Also, Recess offers an extensive list of beers featuring two pumpkin-flavored options. Pumpkin Spice Latte is a hard latte that is sweet and creamy. The Dark Gourd is a pumpkin beer (5.5%) with hints of pumpkin, coffee, and spice. 
130 E. Randolph Street, Chicago, IL 60601
196 E. Pearson Street, Chicago, IL 60611
Calling all breakfast lovers and enthusiasts. You do not want to miss out on these seasonal dishes! Wildberry Pancakes and Cafe specialty creations will have your taste buds singing. There is no better way to enjoy a fall Chicago morning than with Wildberry's pumpkin pie caramel latte. 
Not a fan of coffee? Try their cinnamon pumpkin spice pancakes topped with delectable cinnamon praline butter. They also offer pumpkin bread french toast dipped in their smooth batter and topped with candied walnuts. 
2701 N. Halsted St. Chicago, IL 60614
Pumpkin-flavored fall items come in both sweet and savory forms. Sapori Trattoria is the place to go for an authentic Italian experience and delicious pumpkin pasta. The cappellacci de zucca is pasta stuffed with pumpkin in a burnt butter sauce with butternut squash, sage, and pine nuts. The combination and depth of the flavors leave nothing to be desired. 
2353 N California Ave Chicago, IL 60647
This cute pink ice cream shop in Logan Square is a must-visit for all pumpkin and ice cream lovers. The shop offers a wide selection of ice cream flavors and ice cream popsicles. The fun environment and unique menu make it truly one of a kind. This fall you can enjoy their pumpkin cheesecake ice cream with pieces of graham cracker crunch, pumpkin spice oatmeal cookie dough, and a caramel ribbon. They even have a pumpkin icicle pie dipped in their signature cinnamon graham cracker shell. 
3311 N Broadway, Chicago, IL 60657
This quaint Chicago coffee shop is to be adored. The rotating menu pays homage to our beloved seasonal flavors. Grab a cup of pumpkin spice coffee or take home your very own roast. The shop offers a light roast with notes of cinnamon, nutmeg, ginger, and cloves mixed with a big pumpkin flavor giving you fall in a cup! What's better than pumpkin spice all year round? 
2051 N California, Chicago, IL
Ditch the old traditions and try something new this fall. Pumpkin pie is arguably the fall staple at any family gathering and holiday. But Bang Bang has changed how we bring pumpkins to the party. This season grab a slice of their pumpkin goat cheese cheesecake. Swirled pumpkin and goat cheese cheesecake in graham cracker crust topped with salted caramel and toasted pepitas. You'll never go back to pie once you taste this fluffy pumpkin flavor. 
Featured Image: Unsplash