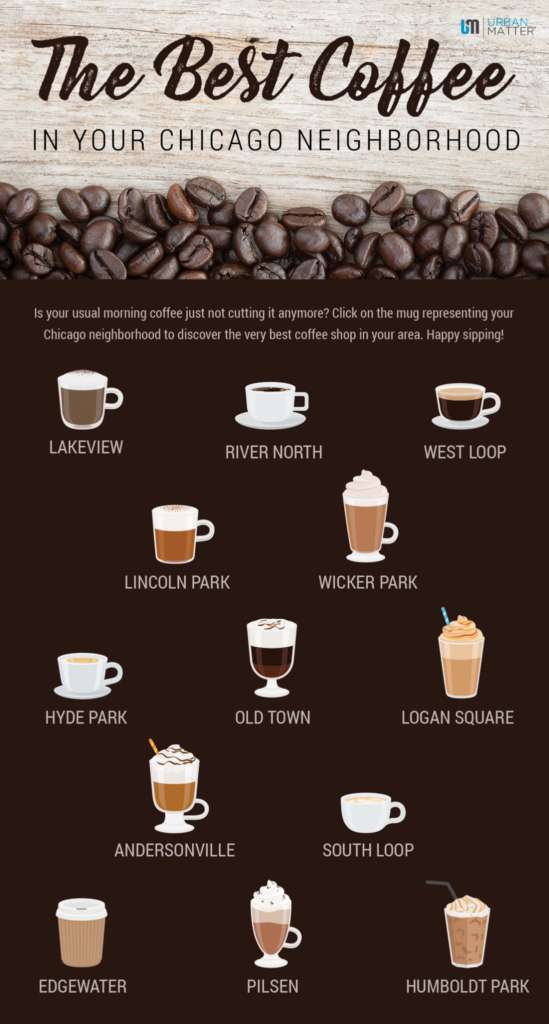 Lakeview
Two Hearted Queen
1201 West Roscoe Street, Chicago, IL, 60657
What to Expect: A quiet spot to work or study. If you pull a queen out of a deck of cards while ordering, you get a discount.
What to Try: The Hibiscus Lemonade
River North
Caffe Umbria
346 North Clark Street Chicago, Illinois 60654
What to Expect: A Seattle-based transplant that'll leave you saying "Starbucks who?"
What to try: The Gusto Crema Blend for a classic espresso taste with fruity afternotes
West Loop
Sawada Coffee
112 N Green St Chicago, IL, 60607
What to Expect: An industrial style and unreal latte art
What to Try: A Boozy Steamer, like the Spiced Bourbon Hot Cider
Lincoln Park
Elaine's Coffee Call
1816 N Clark St, Chicago, IL 60614
What to Expect: Cool swirls in your latte. Oh, and there's a dog.
What to Try: Amazing chocolate chip cookies and a ~trendy~ lavender latte
Wicker Park
The Wormhole Coffee
1462 N Milwaukee Ave (between Honore & Evergreen) Chicago, IL 60622
What to Expect: Fun and nerdy vibes
What to Try: the Honey Bear Latte
Hyde Park
Plein Air Cafe & Eatery
5751 S Woodlawn Ave. Chicago, IL 60637
What to Expect: A french-atelier inspired cafe with a college campus feel
What to Try: Espresso, the best in Hyde Park, apparently
Old Town
Eva's Cafe
1447 N Sedgwick St Chicago, IL 60610
What to Expect: A home away from home with a cozy ambience
What to Try: The Ham Solo Sandwich, because that's hilarious
Logan Square
Damn Fine Coffee Bar
3317 W Armitage, Chicago IL 60647
What to Expect: Damn good coffee, a sleek modern atmosphere, and cinnamon rolls too good for words
What to Try: A Vegan Donut (you won't even miss the butter) and a treat for your dog
Andersonville
The Coffee Studio
5628 N Clark St (at Olive Ave) Chicago, IL 60660
What to Expect: Creative, craft drinks and snacks, free wifi, and beer and wine in the evening
What to Try: The coffee cocktails. Enough said.
South Loop
Overflow Coffee Bar
1550 S State St. Chicago, IL 60605
What to Expect: A super family-friendly atmosphere, ethical and environmentally-friendly practices
What to Try: The Nutella Mocha, for obvious reasons
Edgewater
pHlour Bakery & Cafe
1138 W. Bryn Mawr Ave. Chicago, IL 60660
What to Expect: Fresh baked bread and pastries, all day, every day.
What to Try: A cup of black coffee and a breakfast sandwich, a.k.a all you need in life
Pilsen
Cafe Jumping Bean
1439 W 18th St Chicago, Illinois
What to Expect: A coffee shop and gallery that's all about embracing the local community
What to Try: The cold brew nitro coffee
Humboldt Park
CC Ferns Coffee Bar & Spirits
2806 W Augusta Blvd Chicago, IL 60622
What to Expect: Wood paneling, comfy couches, awesome craft drinks, and a cigar bar
What to Try: a Cortado and an Avo Classic #2. Pinkies up, y'all.