Many of us are often compelled to do good for others, but more often we're too overwhelmed to know where to start, as humanitarian crises continue to plague the world. For two finance majors at Northeastern Illinois University, this compulsion was so strong that it incited them to start a movement, one that they call "walking activism."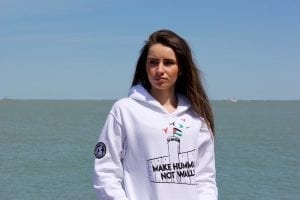 Murad Nofal and Mustafa Mabruk admit that their social lives are nonexistent, due to being full-time students, working full-time jobs, and most recently, launching a business. But to them, it's a worthy sacrifice to make towards fulfilling their newfound mission to "spread the message of peace."
Wear the Peace was an idea spurned from a class both Nofal and Mabruk took that required them to do charity work, for which they chose to donate clothing around Chicago. While out on the streets, it was one man's poignant reaction to their gift that moved them. With joy, he tearfully said, "It's been a while since I got a brand new sweater for myself, this is beautiful."
Their model is very simple. For every piece of clothing purchased, one is also donated to someone in need. Having just recently launched in November, they've already donated over 300 items. Their designs address issues from gun violence in Chicago to awareness of the Syrian conflict. They've partnered with organizations such as Cradles to Crayons and Helping Hands for Relief and Development, and their list keeps growing. On March 19, Wear the Peace held its first Less Fortunate Meet, where through the power of social media, locals joined forces to pass out clothing, food, and water around town.
Their manufacturing, marketing, and web development efforts have been entirely funded through their full-time work, and they've recently made the tough decision to dedicate their full-time schedules to Wear the Peace. To take their business to the next level, the team plans to launch a Kickstarter campaign on May 1, where you can also find discounted apparel.
If you want to Wear the Peace, check out their website, follow them on social media, and tag a photo wearing your statement shirt with #WearThePeace.