Living in Chicago, we're never short of cocktail options. However, sometimes you just want something simple, classic, and fail-proof. On those nostalgic days, nothing beats a rich Old Fashioned. While this cocktail has a simple base recipe, many bars also made their variations. Sweet, bitter, texture-rich… no matter what your preferences are, here are 13 of the best Old Fashioned in Chicago to try.
https://www.instagram.com/p/Crg9_6jS1be/
1072 N Milwaukee Ave, Chicago, IL 60642
Frontier is the place to go if you're looking for an Old Fashioned in Chicago that never fails. Serving up classics such as the Frontier Old Fashioned ($14, Maker's Mark, Angostura bitters, orange bitters, simple syrup) and WhistlePig Maple Old Fashioned ($15, WhistlePig Piggyback Rye, WhistlePig aged Vermont maple syrup), Frontier's old fashioned selection also offers mezcal (Espadin Old Fashioned/$14, Del Maguey Vida mezcal, amaretto, agave, orange bitters), tequila (Patron Mole Old Fashioned/$16, Patron Anejo, piloncillo syrup, Aztec chocolate bitters, Mole bitters, orange bitters), and gin-based (Gin Old Fashioned/$13.50, Bombay Dry Gin, Lillet, plum bitters, Violette liqueur) cocktails. They even have a NOLA-inspired old fashioned where Tin Cup Rye is mixed with absinthe, Peychaud's bitters, and simple syrup (Frontier Sazerac/$14)!
https://www.instagram.com/p/CtR1cDNLqWb/
The Three Finger 
Old
Fashioned: Mordecai
3632 N Clark St, Chicago, IL 60613
This classic cocktail showcases their house bourbon blend, which is elevated by including their exclusive Mordecai 3 Barrel Blend. The rich and smooth flavors of the bourbon are complemented by the addition of golden-treacle syrup, adding a subtle sweetness that balances perfectly with the robustness of the whiskey. Blended bitters bring depth and complexity, accentuating the drink's character with a harmonious blend of aromatic and herbal notes. Served with a garnish that highlights the artistry behind the cocktail, the Three Finger Old Fashioned at Mordecai in Chicago is a timeless libation that embodies the essence of their exceptional whiskey craftsmanship.
Read More: 8 Best Cocktail Bars to Visit in Chicago Right Now
https://www.instagram.com/p/CtKKSAbp6Pq/
Vol. 39 Old Fashioned: Vol. 39
39 S La Salle St #200, Chicago, IL 60603
Vol. 39, the bartenders consult an expansive library of spirits and other ingredients to create inventive updates of classic cocktails. The bar is known for adding a hint of irreverence to its cocktail lists and has outdone it again with an updated menu featuring cocktails inspired by the bartender's favorite locations in Chicago.
The Vol. 39 Old Fashioned features a house blend of cognac, Armagnac, and Calvados legal precedent. Those seeking a more fun and fruity interpretation of the classic cocktail can try the Fancy Sconnie Old Fashioned, wild turkey 101 bourbon, lacrosse distilling rock & rye, pomegranate molasses, and birch back bitters.
https://www.instagram.com/p/CscNLccydeq/
155 W Van Buren St, Chicago, IL 60605
This sophisticated libation is expertly crafted with a smooth and rich bourbon foundation, setting the stage for a delightful blend of flavors. Adding orange bitters and Angostura bitters lend a delightful complexity, balancing the sweetness with subtle tang and aromatic notes.
Demerara syrup is also infused, adding a touch of sweetness that harmonizes beautifully with the bourbon. Served over ice with a twist of orange peel, the Old Fashioned at Taureaux Tavern is a refined drink that captures the essence of tradition while offering a contemporary twist. It's the perfect libation to enjoy following a long day at the office!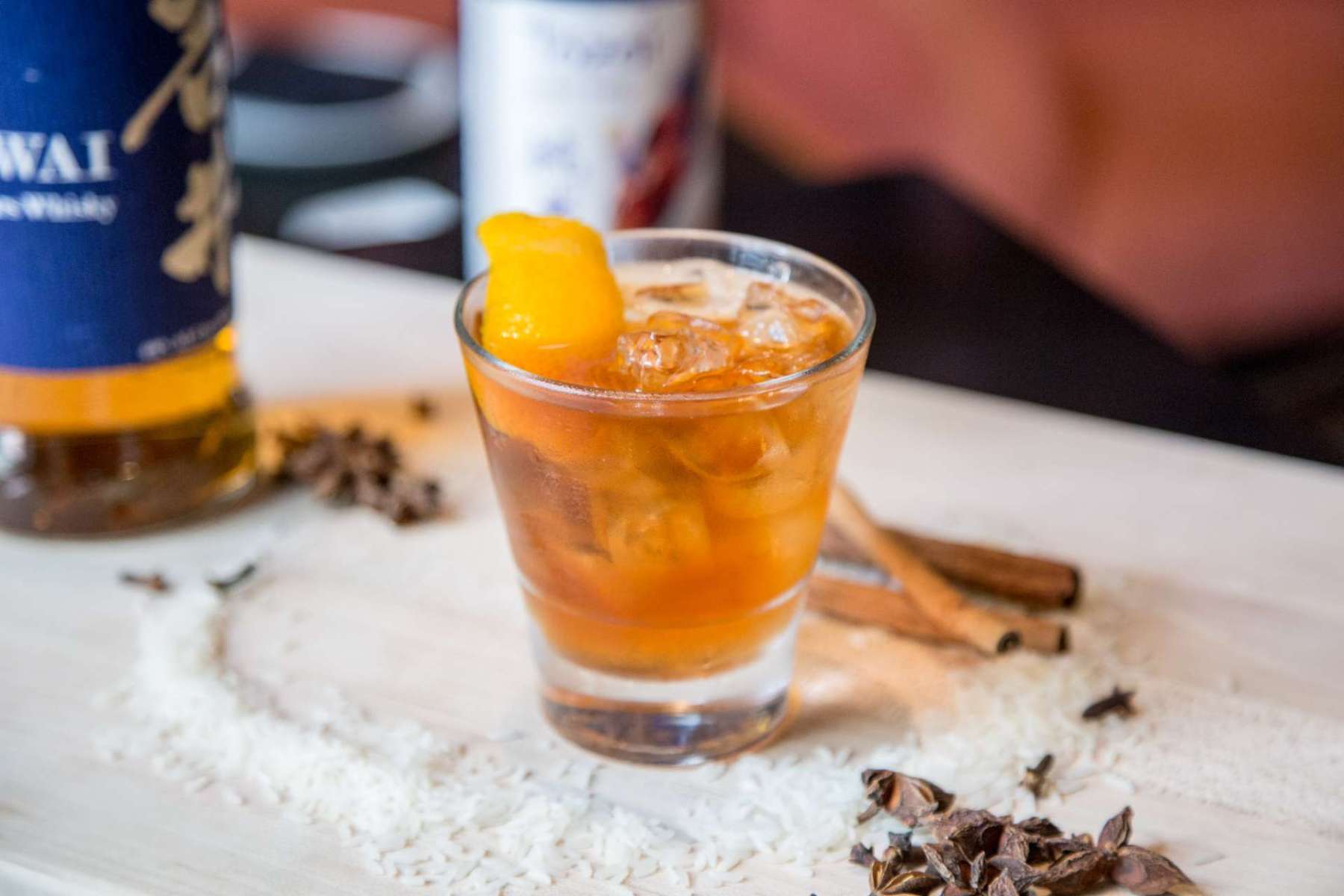 110 W Illinois St, Chicago, IL 60654
Sunda never fails to add a delicious Asian twist to all their cocktails. And, of course, the same goes with their Old Fashioned! The Sunda Old Fashioned uses the crowd favorite Four Roses, adding cherry gastrique, orange bitter, and bourbon barrel smoked sugar. You can also add $5 to upgrade to "toki" Japanese whiskey.
Read More: 8 of the Best Whiskey Bars in Chicago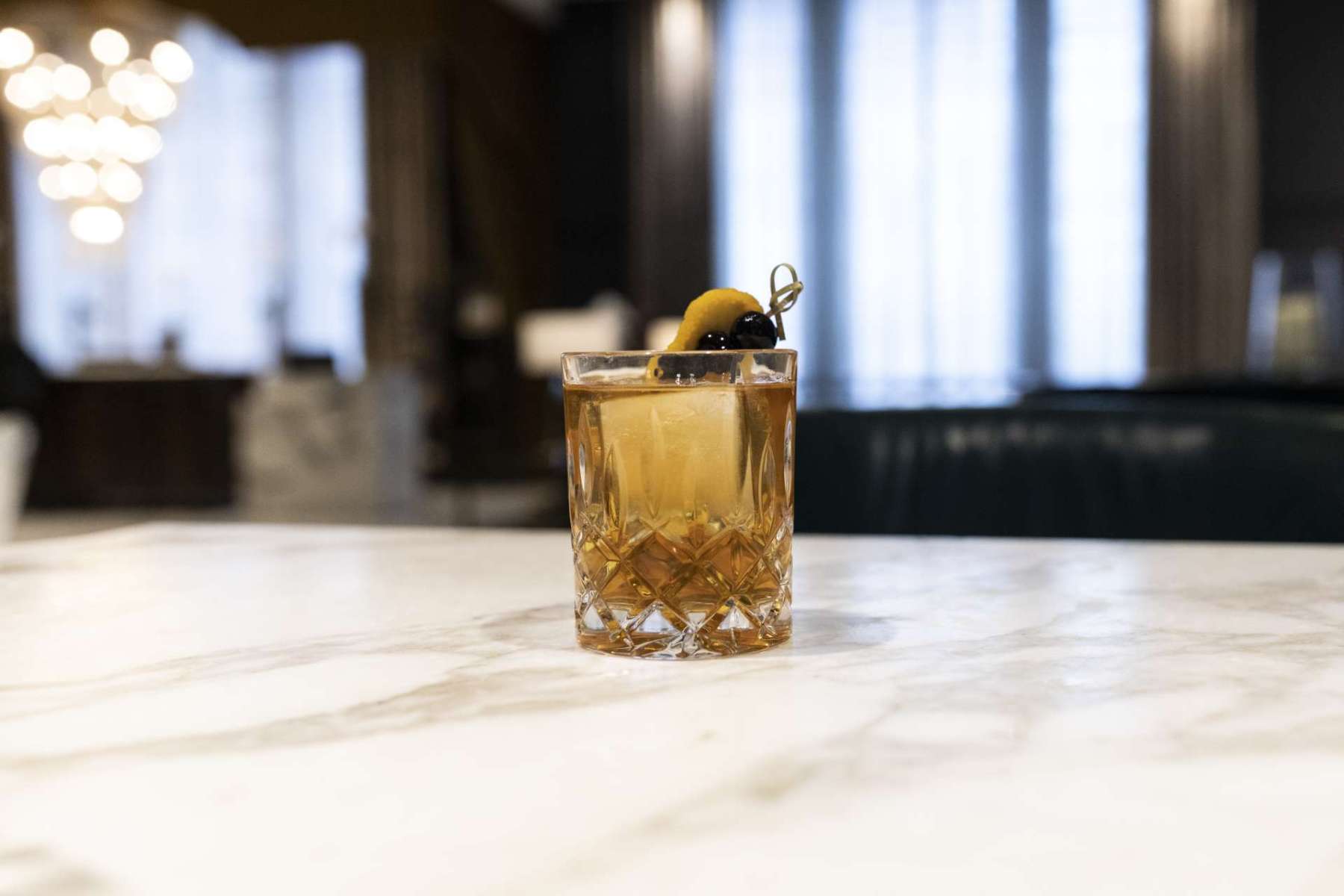 136 N La Salle St, Chicago, IL 60602
While many heads to 312 Chicago for their wine program, this newly re-opened Italian restaurant in the Theater District also has a well-developed cocktail menu. Their classic Old Fashioned is one of the few options in town that uses Basil Hayden. Made with Maple Syrup, Angostura Orange Bitters, and Luxardo Cherry, it gives you the exact classic, balanced texture and taste you'd expect during those Old Fashioned craves.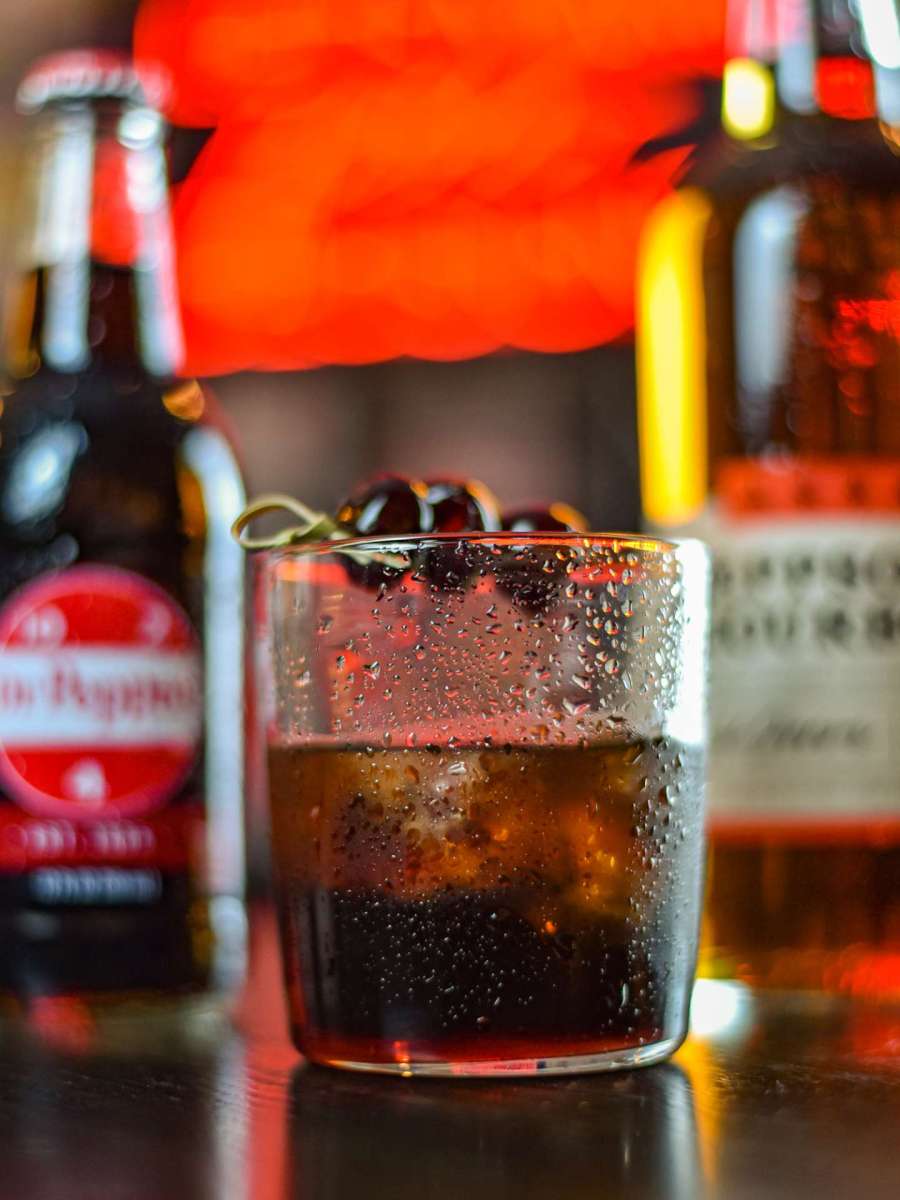 2470 N Lincoln Ave Chicago, IL, 60614
H&C Pour House, a cozy neighborhood bar and gastropub in Lincoln Park with a vintage feel and an arcade hallway, may offer some of the most creative craft cocktails on the stretch of Lincoln Avenue between Fullerton and Diversey. Their version of an Old Fashioned utilizes a house-made Dr. Pepper syrup that adds notes of sweet cherry and mild licorice when mixed with the locally distilled Jeppson's Bourbon.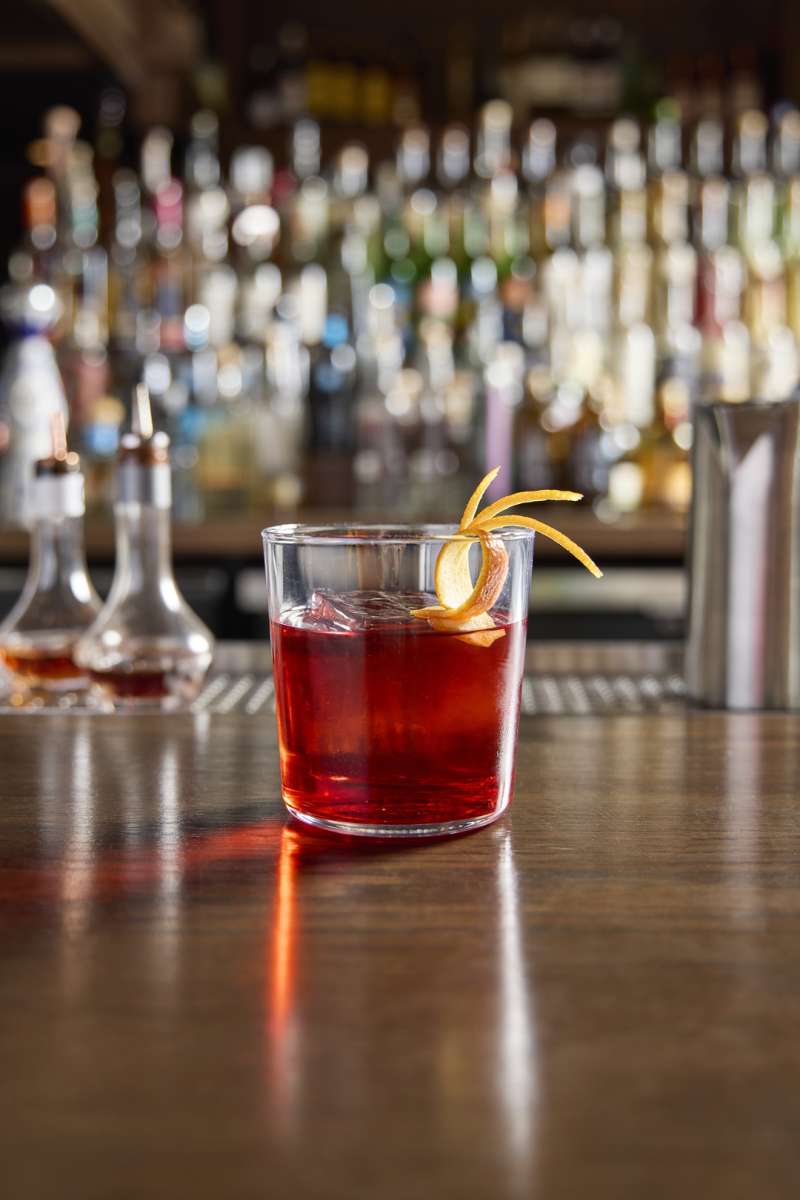 The Mole Old Fashioned: Tzuco
720 N. State St. Chicago, IL
Chef/Partner Carlos Gaytán, in collaboration with Mexico's master mixologist Mica Rousseau, recently added the Mole Old Fashioned to the Tzuco cocktail program. The drink is available now and includes Abasoslo corn whisky, mole syrup, xocolatl, mole bitters, and chile ash ($16). A heritage twist on a classic favorite!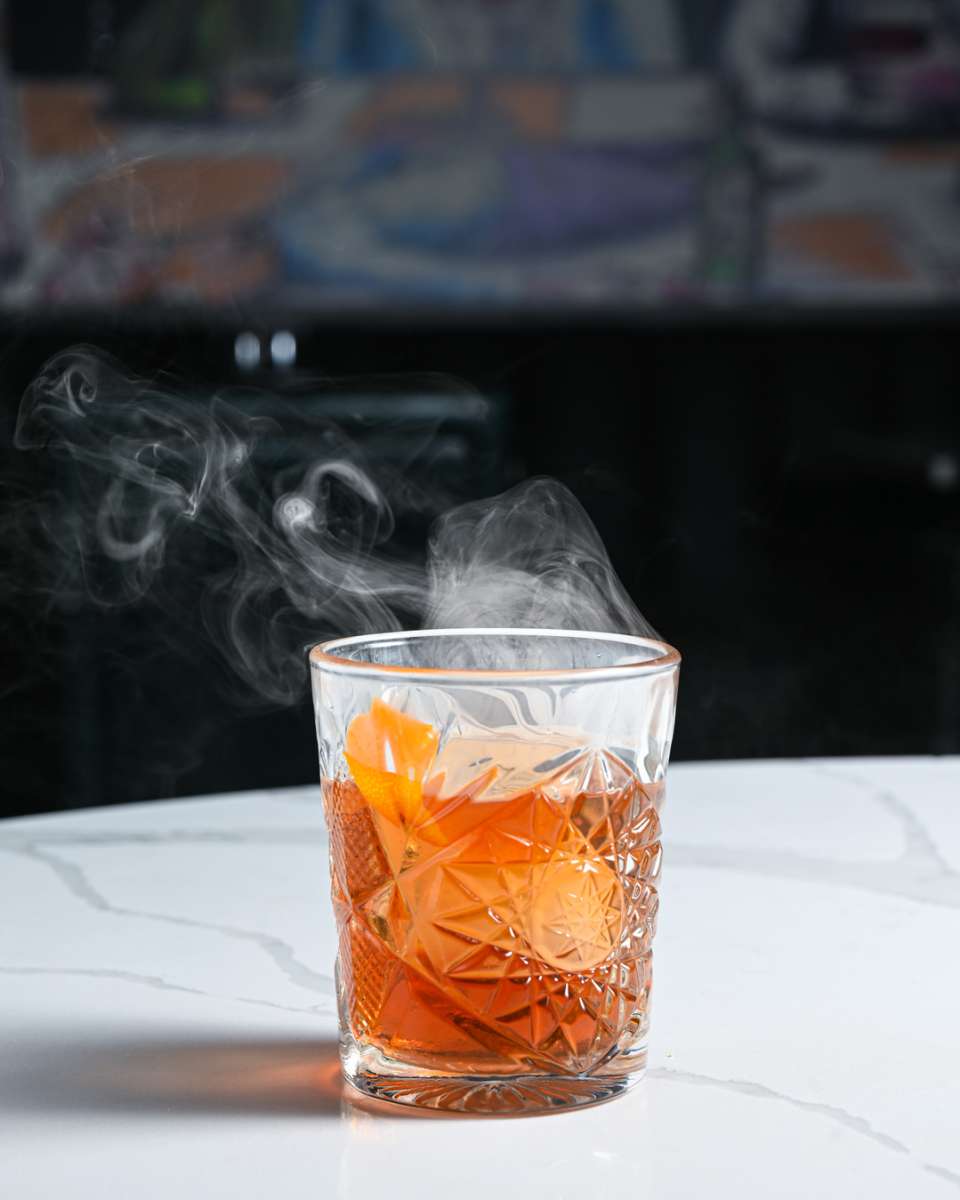 Classic Old Fashioned: the Albert
Executive Chef Steve Chiappetti and his expert bar team created the Vesuvius, a smoky spin on the classic old-fashioned. The beverage is prepared with whiskey, sugar, bitters, and smoke ($18).
https://www.instagram.com/p/CON7gzeBU-5/
Old Fashioned Trio: Gaslight
2450 N Clark St, Chicago, IL 60614
Gaslight, the lively neighborhood bar in Lincoln Park, is a go-to spot to enjoy an old fashioned in Chicago this summer. Choose from the classic 4C Old Fashioned made with 4C Private Blend Woodford Reserve, the Reposado with Cuervo Tradicional Reposado, agave syrup, Angostura Bitters, or the Mezcal version with Banhez Ensemble and Cuervo Tradicional Reposado.
Read More: Where to Get Summer Cocktails in Chicago This Year
https://www.instagram.com/p/Csbgw4-swVW/
Porter Kitchen & Deck offers a unique destination conveniently located along the Chicago River between Lake and Randolph. Porter's menu features a vibrant selection of signature dishes and two standout outdoor areas that are perfect to celebrate with an old fashioned. The 4 Corners Old Fashioned at Porter Kitchen, made with Sazerac Rye Whiskey, demerara syrup, Angostura Bitters, Luxardo cherries, and orange swath, is a sophisticated cocktail highlighting every bit of this classic drink's charm.
https://www.instagram.com/p/ClHY4NovcsQ/
A staple for lunch, happy hour, and dinner throughout the week, Highline offers upscale bar fare and a FREE arcade with classic games perfect for anyone looking for a slice of pizza, an old fashioned and fun. Highline's Old Fashioned offerings include:
Traditional: Sazerac Rye Whiskey, demerara syrup, Angostura Bitters
Peanut Butter: Skrewball Peanut Butter Whiskey, salt, simple syrup
Reposado: Cuervo Tradicional Reposado, agave syrup, Angostura Bitters
https://www.instagram.com/p/CnhhzMuvP4c/
1227 E 60th St, Chicago, IL 60637
Inspired by the traditions of a British gastropub, Truth Be Told is a tavern-styled restaurant offering savory and traditional fare to match. The Classic Old Fashioned at Truth Be Told features bourbon, mezcal, chamargo de chile, and Bogart's bitters. The oldest known cocktail is still very much in style!
Featured Image: Neil Burger Photography/the Albert