With the onset of coronavirus, the city of Chicago took preemptive measures and canceled many of its slated summer festivals. At the time, we had still to get word from major summer festivals and events but as of today, the bad news is here: Lollapalooza, Taste of Chicago, Chicago Jazz Festival, and the Air and Water Show are all officially canceled for 2020. (Yes, this means our Lolla 2020 Survival Guide probably won't get much use, but just pretend we wrote it for 2021. We're bummed about it, too.)
---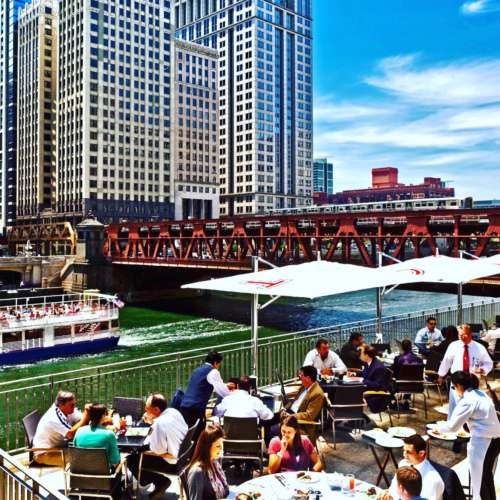 View Bars and Restaurants with Open Patios in Chicago
Heartbroken about not getting to see your favorite on stage? We are too. See you at a patio in Chicago.
---
As Chicago continues monitoring COVID-19 throughout Illinois's Phase 3 initiative and hopes for a smooth and early transition into Phase 4, the city moved to cancel all permitted special events through Labor Day.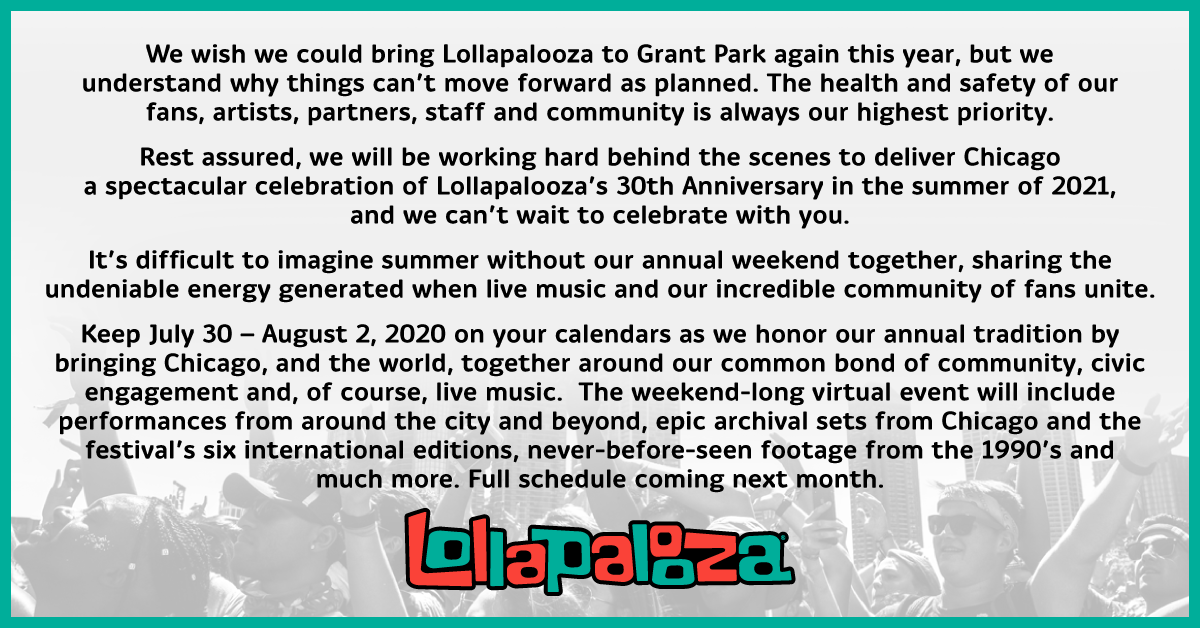 Lollapalooza
In the written announcement above, Lollapalooza both canceled their 2020 event and made clear their intention to make the 2021 festival a spectacular celebration to honor their 30th anniversary. In regards to handling this year's cancellation, the festival says to still keep the slated festival dates on our calendars to join them in a "weekend-long virtual event." The event will include performances from all over, a peek at archived sets from both the Chicago festival and the international editions, and a whole slew of other surprises. The festival has yet to announce if current pass-holders should seek refunds or hold onto their passes, and it's unclear if this virtual event will be exclusive to those with passes, require additional purchases, or be free for anyone's experiential pleasure.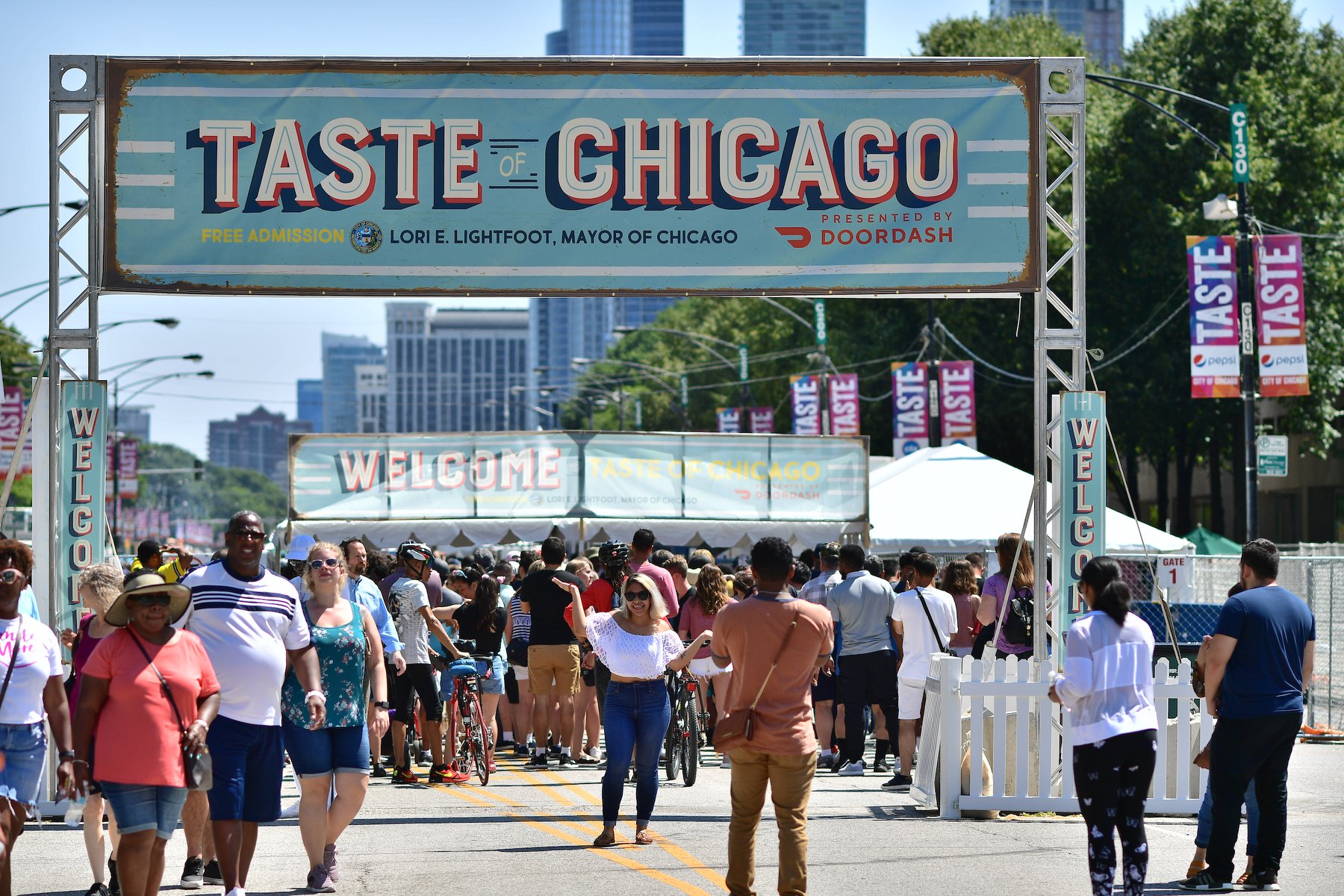 Taste of Chicago
Taste of Chicago, though canceled in their normal capacity, is aiming to reimagine this summer's event as "Taste of Chicago To-Go." This slightly altered Taste, according to their Facebook, "will include an expanded Community Eats program (July 8–12), supporting about 25 neighborhood restaurants and food trucks while providing free meals to nonprofits serving healthcare and other frontline workers." In addition to the Community Eats program, July 8th will include a food truck procession while online cooking demos will be organized from the 8th to the 12th.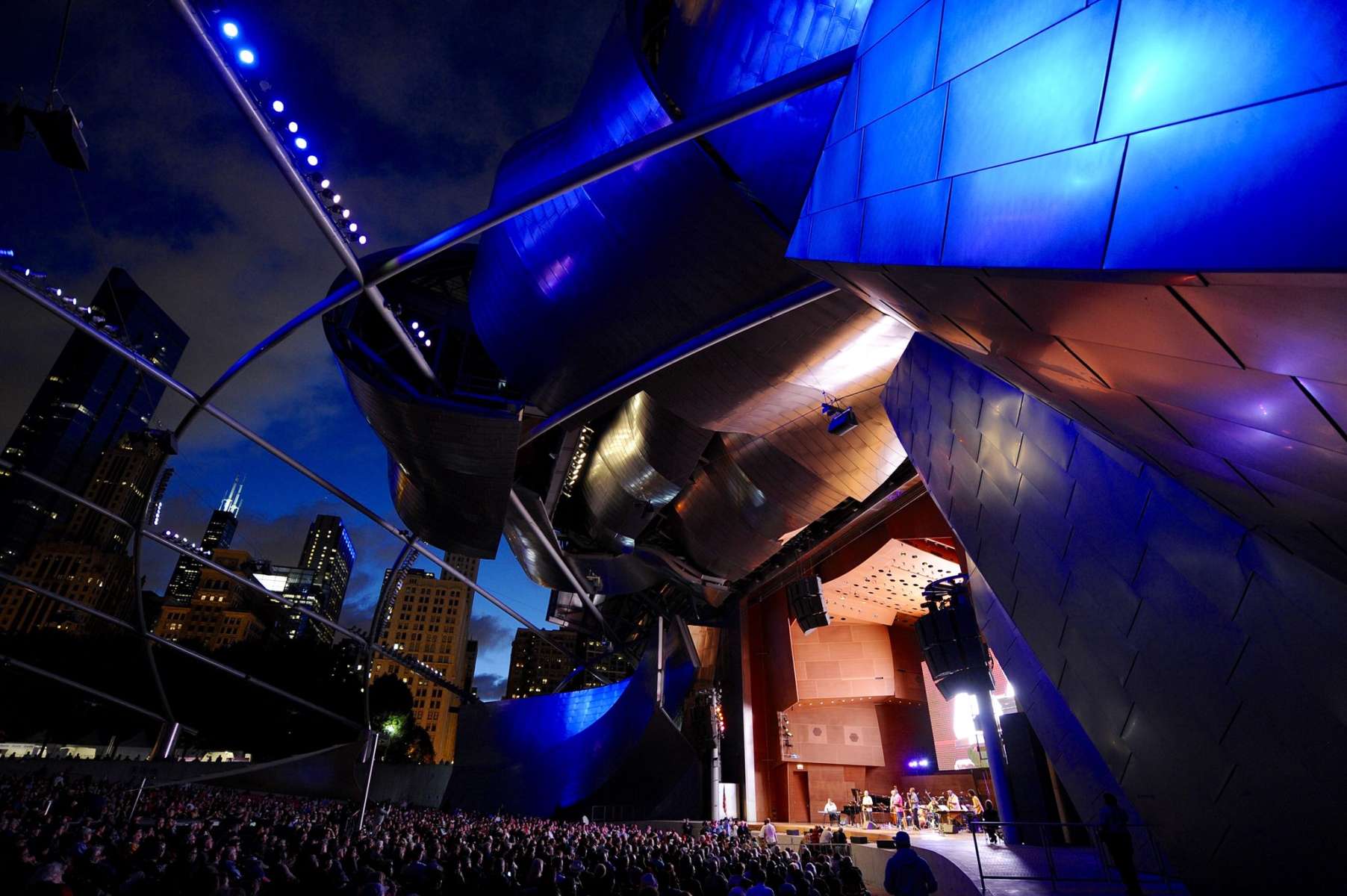 Chicago Jazz Festival
This year's Chicago Jazz Festival would be the 42nd year for the festival and was scheduled to run from August 28th through September 6th. Pritzker Pavilion in Millennium Park (which isn't one of the Chicago parks opening this week) was to be the event stage for the last four days of the festival, usually showcasing the main events. This year's schedule still hasn't been posted, and it's unclear if, like Lollapalooza, the canceled festival has any virtual performances planned to uplift disappointed festival-goers.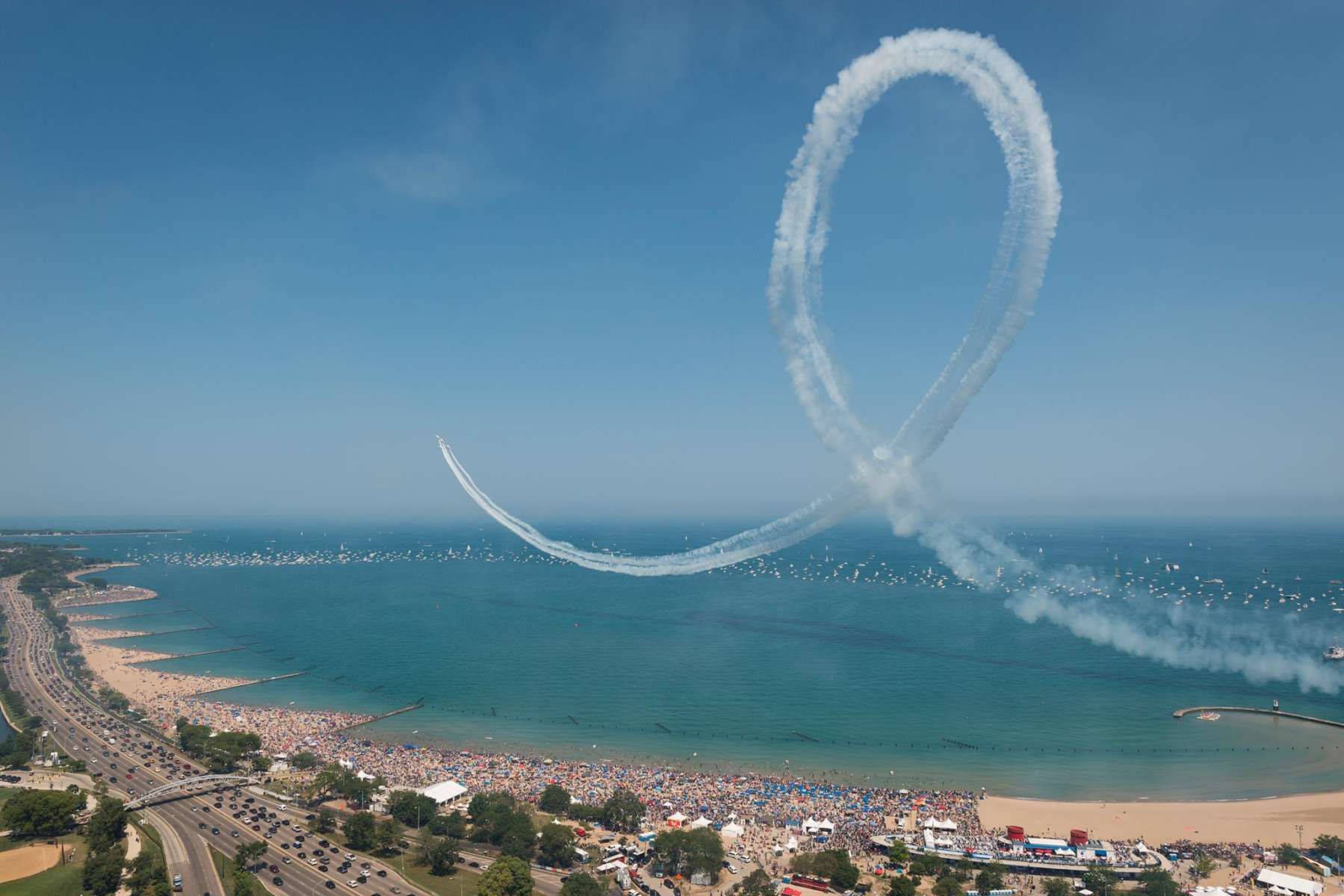 The Chicago Air and Water Show
The Chicago Air and Water Show, similarly to the Chicago Jazz Festival, has announced its cancellation but hasn't announced if the show plans any kind of virtual consolation or altered plans to try and reach the 2 million spectators that usually attend the event.
Are there other events you were looking forward to that got canceled? Let us know in the comments!
At UrbanMatter, U Matter. And we think this matters.
Tell us what you think matters in your neighborhood and what we should write about next in the comments below!
Featured Image Credit: Lollapalooza Facebook
READ MORE LIKE THIS
DOWNLOAD THE URBANMATTER APP
FIND PARKING