Chicago: the Windy City, the Second City, and home of Cubs, Bears, and Bulls (oh my!). That covers it, right? Wrong. The world's largest Starbucks Reserve Roastery made its home in Chicago this year. 
In addition to a myriad of delectable coffee shops, Chicago is home to the World's Largest Starbucks Reserve, 35,000 square feet to be exact. Complete with high-vaulted ceilings, a winding escalator that stretches five levels high, and a massive bean-roasting contraption, the Starbucks Reserve Roastery transforms an average coffee-trip into a life-changing experience. No really, Frappuccino Fiends, let your senses explore!
Each floor of the Starbucks Reserve in Chicago has seating that surrounds the outskirts such that you can overlook Michigan Avenue, which is all dressed up for the holidays. With its location, perhaps this Starbucks could caffeinate your morning commute to work (see floor one) or ease your evening commute home (see floor four).
The first floor of the Starbucks Reserve is complete with your coffee fix, in which Reserve Blends are offered, of course. The second floor has a variety of food options available—focaccia-like 'za and chicken cacciatore are just two tasty options offered. Explore their drink options as well, including specialty wines, a unique Espresso Martini, and a variety of other cocktails.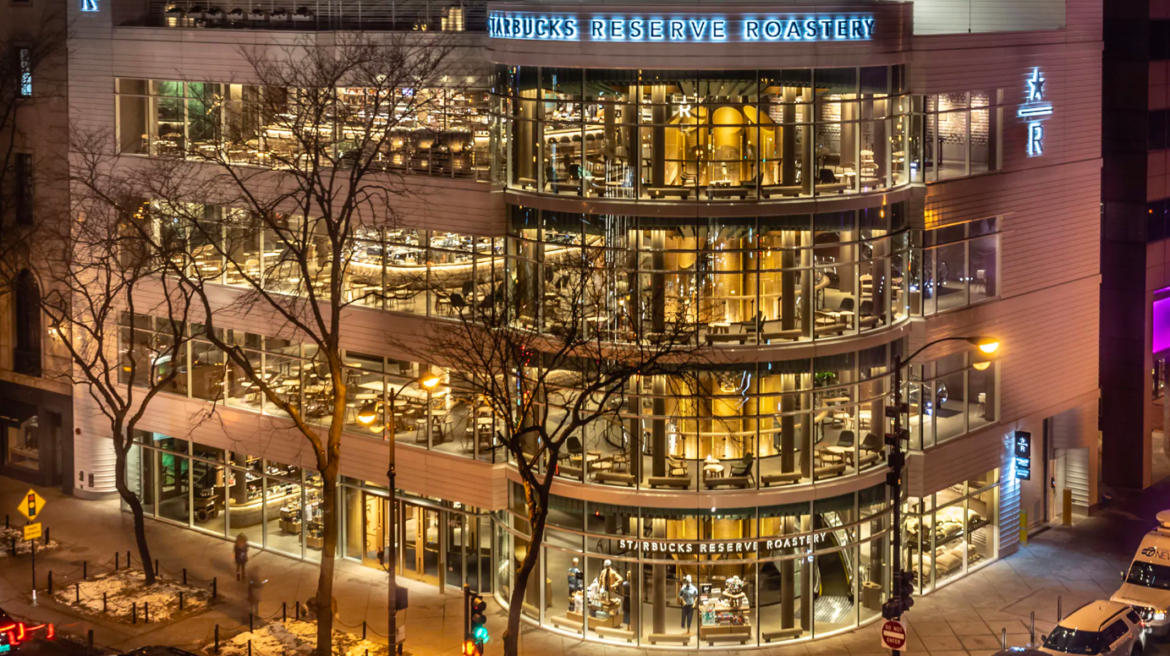 Up the escalator, discover a literally and figuratively elevated experience: the Cocktail Bar. On the right, there's a bar, and it's first-come, first-served. The bar at the Starbucks Reserve Roastery serves a variety of barrel-aged whiskeys and whiskey-coffee inspired drinks, both alcoholic and non-alcoholic. There's also an area that requires reservations and it's certainly worth saving your seat. Did you forget to make a reservation? No trouble; you can explore the five-levels while you wait.
More about the cocktails on the fourth floor, they have a variety of classic options and several that are unique to Chicago. These all are extremely time-intensive, taking at least ten to fifteen minutes to craft, so sit back and stay awhile. A fan-favorite cocktail, known as the Lake Shore, brings you back to summer, the long-forgotten-season-of-Chicago. Or, take a drink on the wild side: The Roastery Boilermaker. And spread the news far and wide: Malört can actually taste good! Take a risk—you won't regret it. 
The fifth floor of the Starbucks Reserve in Chicago offers rooftop views of Michigan Avenue, but it doesn't open until Spring/Summer 2020. Check back with UrbanMatter on more details coming soon. 
It's as if the Starbucks Reserve Roastery on Michigan has caffeine in the air—it's lively, electrifying, and buzzing with excitement! There's food and drink and a killer view; something for everyone! Join in an elevated, refined, and classic-twist on the Starbucks experience at the World's largest Reserve Roastery in downtown Chicago. 
Take a virtual tour of the Starbucks Reserve in Chicago before you make your visit!
At UrbanMatter, U Matter. And we think this matters.
Tell us what you think matters in your neighborhood and what we should write about next in the comments below!
Featured Image Credit: Starbucks
READ MORE LIKE THIS
DOWNLOAD THE URBANMATTER APP
FIND PARKING