Now known as Recess, the City Hall bar and event venue opened last summer in the Fulton Market District of Chicago's West Loop neighborhood, featuring a menu ripe with tongue-in-cheek nods to Windy City politics. This outdoor patio bar is housed in a warehouse-like space with decorative garage doors that used to open out into their parking lot, a colossal space that was easily retooled. Now that COVID-19 has changed the way Chicago restaurants operate, possibly for good, Recess opened up those garage doors on Wednesday and transformed their massive parking lot into the largest patio bar in Chicago.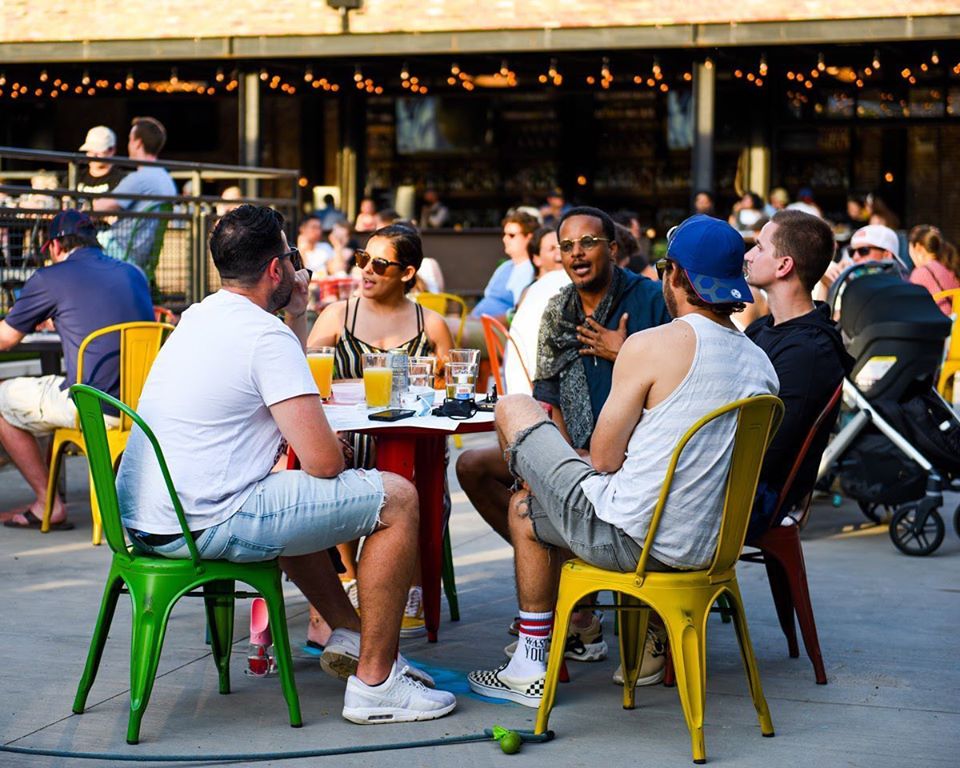 Sticking with its government theme, "City Hall" was renamed "Recess" to imply that their reclusive outdoor patio bar is a safe haven in the middle of a sweeping pandemic. Though they flock in large numbers, guests are easily socially distanced on the 14,500-square-foot courtyard, surrounded by large shipping containers for an intimate setting. There are also two sets of stairs on opposite sides of the patio that lead to additional seating on elevated platforms. This is the first time Recess has served patrons since mid-March.
Heightened safety precautions and staff involvement at Recess made all of this possible. When you first stroll up, you'll see stencils on the walkway indicating where you should stand to stay socially distant while waiting for a table. Hand sanitizer stations line the perimeter, so both staff and guests can remain conscious about staying clean. All staff members at this outdoor patio bar wear masks, and each table spaced at least six feet apart. Recess can currently house around 300 people. Under normal circumstances, the space would allow for 600 people.
With utterly breathtaking views of the city skyline as a backdrop, an evening at Recess makes for the perfect Saturday outing. Even though you can't pack into crowded bars for an electric night of drinking and dancing, Recess allows you to feel like things are normal again by offering an intimate, social atmosphere, where you can hang out with your friends and those mysterious strangers are still just six feet away.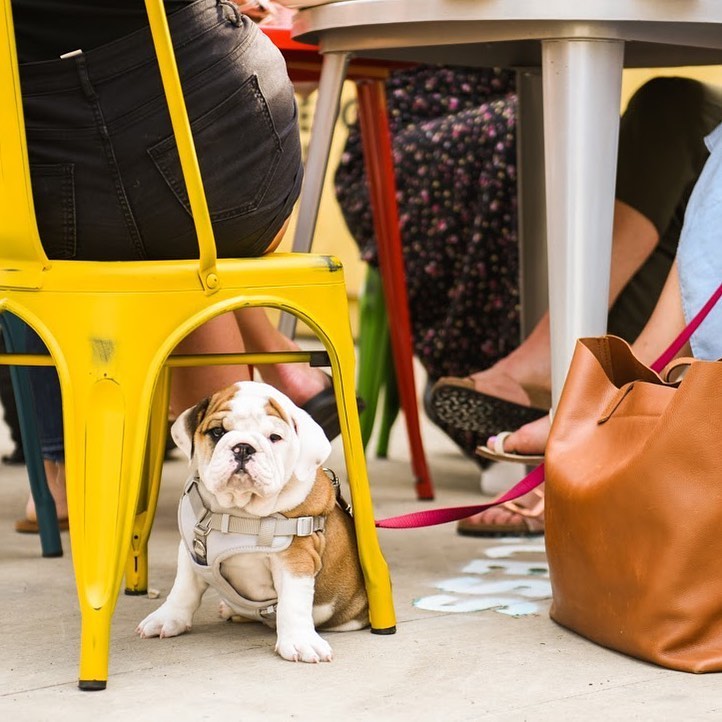 Recess is currently serving a limited bar menu, which includes little bites, and they expect to add entrees later. But large-format drinks are the primary appeal; guests can order a water cooler-sized cocktail mixture and dispense drinks for 10 – 12 people. Guests are all given QR codes upon arrival, so they can view the menu on their phones without the need for server contact. Brunch is served on the weekends.
Reservations are open, but note that, even though this outdoor patio bar can host a lot of people, tables will book up fast for this urban oasis. We're hoping to see more enormous spaces like Recess opening up this summer to meet the demand. The largest rooftop bar in the world—Offshore at Navy Pier—just reopened their airy, elevated 36,000-square-foot space, with portions that are entire outdoors. And there are plenty more rooftop bars and outdoor patios saving the summer with social distancing practices in place.
So, are you ready to get back out there? Recess awaits.
At UrbanMatter, U Matter. And we think this matters.
Tell us what you think matters in your neighborhood and what we should write about next in the comments below!
Featured Image Credit: Recess
READ MORE LIKE THIS
DOWNLOAD THE URBANMATTER APP
FIND PARKING