Taking over the third floor of Navy Pier's Festival Hall is the latest in Chicago innovation: Offshore, the world's largest rooftop bar, offering sweeping views of Lake Michigan and beyond.
The 36,000 square-foot rooftop bar in Chicago will serve up outstanding seasonal cocktails in an adult-friendly space. Thanks to an 8,500 square-foot indoor area, complete with a 100-foot bar that seats up to 60 guests and a massive outdoor patio, Offshore is bound to be your final destination for every night out this summer.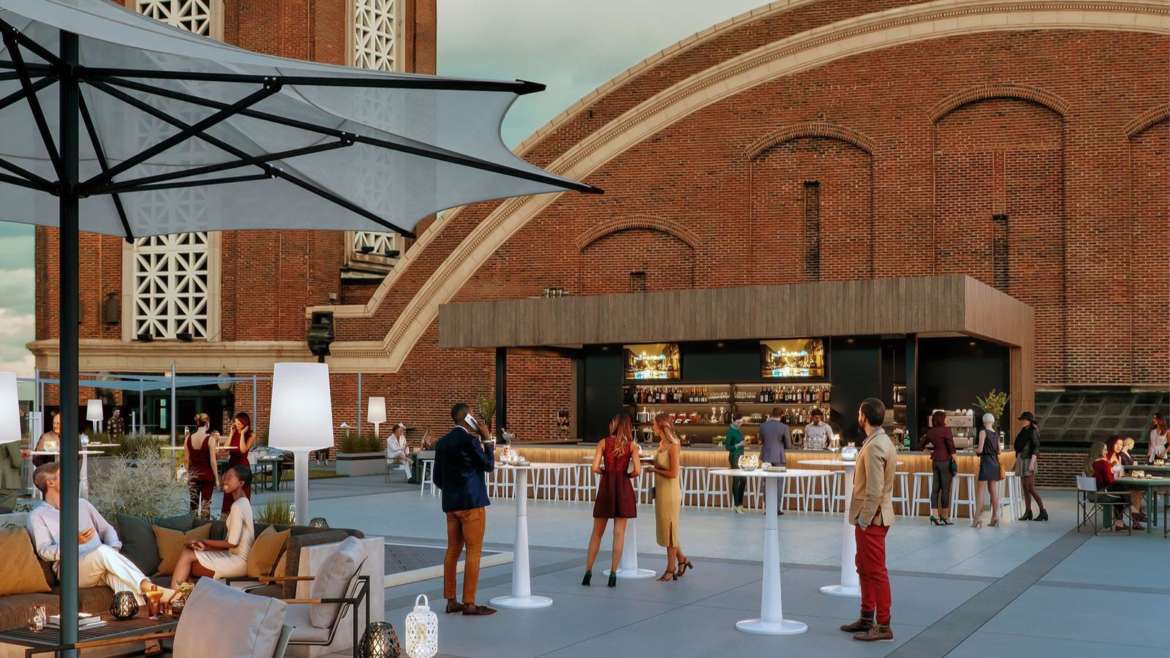 Offshore is more bar than restaurant, so there won't be any full-size dinners being served, but you can still munch on shareable appetizers and small plates curated by Executive Chef Michael Shrader. All cocktails at this rooftop bar in Chicago are crafted from the brilliant mind of Clay Livingston and will be rotated seasonally to maintain freshness and originality. Wine, beer, and champagne will also be available at this Navy Pier bar for purchase, as well as an adult-style Capri Sun®-inspired drink.
The 20,000 square-foot outdoor space at this rooftop bar in Chicago features two private patios and is surrounded by retractable glass to let the summer breeze in on warmer days. Featuring plenty of recreation, plush seating for groups, and seven fire pits to keep you warm on chillier evenings, the outdoor patio is the perfect place to plan your next party or celebration.
The group behind the Offshore rooftop bar in Chicago also cultivated the gorgeous VU Rooftop Bar, which opened last summer in the South Loop. So we're pretty sure General Manager/Partner Bob Amick will do this Navy Pier addition justice. The group's next venture is to open a hotel and restaurant at Navy Pier, slated for 2020.
Offshore Hours
Monday – Thursday | 4pm – 12am
Friday | 4pm – 1am
Saturday | 11am – 1am (brunch available from 11am – 2pm starting June 15)
Sunday | 11am – 10pm (brunch available from 11am – 2pm starting June 15)
You can find Offshore on the third floor of Navy Pier's Festival Hall at 1000 E. Grand Avenue.
---

Offshore Bar Will Remain Open During COVID-19 Pandemic
Although Navy Pier is temporarily closing due to the COVID-19 health crisis, Offshore bar will remain available to residents and tourists.
Offshore Bar Will Remain Open
---
At UrbanMatter, U Matter. And we think this matters.
Tell us what you think matters in the Streeterville neighborhood and what we should write about next in the comments below!
Featured Image Credit: Offshore Facebook