We know that when it comes to chicken wings, Chicago has some of the best around. Usually, WingOut Chicago brings us the annual block-party-of-all-chicken-wing-block-parties for anyone and everyone to indulge in all-you-can-eat wings from some of the best wing vendors all across Chicago. In line with the many cancellations we've already seen for this year, WingOut Chicago also found this year's iteration of their festival postponed until June 5th and 6th of 2021. But fear not, for even though this year's WingOut Festival isn't occurring, the team at Green Curtain Events along with WingOut Chicago and Vizzy Hard Seltzer have cooked up something that will be sure to satiate all those hankering for some juicy, crispy wings.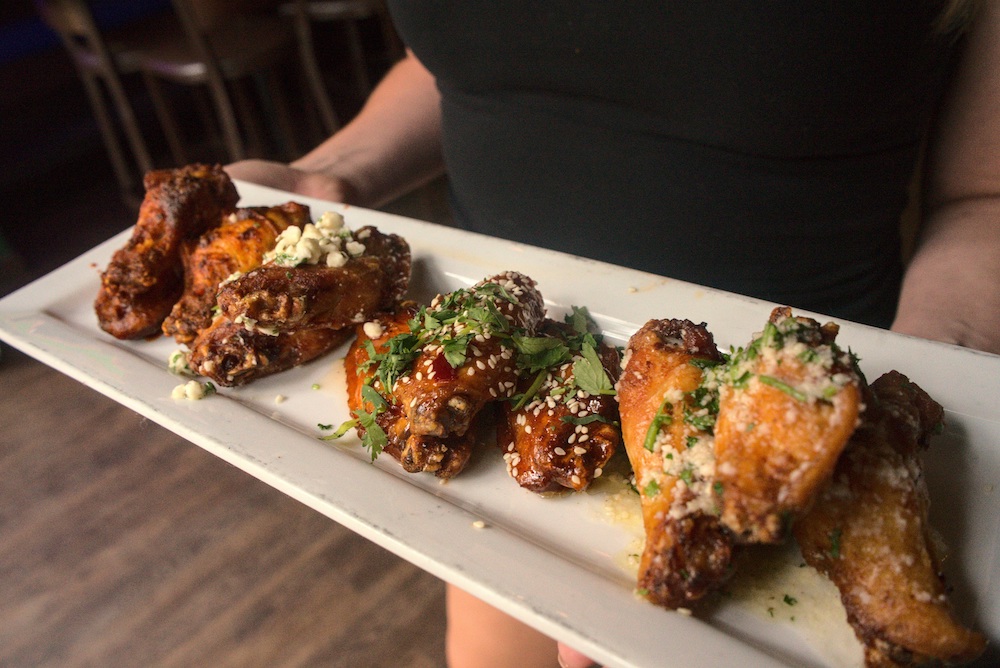 Running every Wednesday night from October 14th to November 18th, WingOut Chicago, Vizzy Hard Seltzer, and Green Curtain Events, want to welcome you to "Wing Series". In its coming six-week run, Wing Series will present an all-you-can-eat wing experience on Wing Wednesdays from some of the most premier wing establishments in the city. From fried to smoked, to grilled, to hot, to mild, sweet and spicy, and everything in between, the six wing joints part of the Wing Series will hit the spot for anyone who knows their way around a flat or a drum.
Packages for Wing Series can be purchased here, coming with options for 2, 4, or even 6 people! Each package comes with the following perks: all the wings you could ever eat from that evening's featured wing joint, preferred seating with guaranteed entry, 2.5 hours of reserved service for your party, rating cards to rank the presented wings, drink specials, and, of course, a complimentary Vizzy Hard Seltzer. Read on to see which spots in the city will be putting their wings forth!
2548 N Southport Ave, Chicago, IL 60614
The first installment of Wing Series begins with Broken Barrel Bar on October 14th! Known for their 75 cent wings and $5 Craft Drafts on Wednesday, the wings coming from the triple B means this series is starting off strong!
950 W Wrightwood Ave, Chicago, IL 60614
When we talk about Chicago legends, OG's has to come to mind. October 21st brings forth the effort from Old Ground's Social, and if you're already a fan of their bottomless wings, this night is absolutely the night for you to experience it in all its splendor!
1535 N Wells St, Chicago, IL 60610
Woodie's Flat doesn't only specialize in flats but they do specialize in damn good wings! They're known for their trivia too and if you want the full answer on how good their wings are, Woodie's will be featured on October 28th.
1622 W Belmont Ave, Chicago, IL 60657
On November 4th, Flagship Tavern & Grill takes its crack at the crown with their signature wings. While you won't be playing bingo during the Wing Series, their flavors are good enough to make you shout anyways!
940 W Weed St, Chicago, IL 60642
The penultimate week of Wing Series brings the birds from Joe's on Weed St. into the mix. If you're wishing for great wings, on November 11th (get it? 11/11?) your wish can come true!
1367 N Milwaukee Ave, Chicago, IL 60622
Last, but certainly not least, Whiskey Business ends the 6-week Wing Series on November 18th with the wing-fare you've always known them for. They've always had great wing bundles at their location and the offerings for this night hold the standard!
---
Check Out The UrbanMatter Merch Line
You want merch? We got merch. View our wares of hoodies, shirts, and more!
---
From the WingOut event itself:
Vote for your favorites on Instagram: Pictures of each participant will be posted on the WingOut Chicago Instagram page. The images that receive the most likes will win the popular vote! Get out, Share, Like and Vote!
You heard 'em! Get wingin' and get singin'!
At UrbanMatter, U Matter. And we think this matters.
Tell us what you think matters in your neighborhood and what we should write about next in the comments below!
Featured Image Credit: Chicago White Sox Facebook Page
READ MORE LIKE THIS
DOWNLOAD THE URBANMATTER APP
FIND PARKING