Time Out Market Chicago will reopen today after five months of closure due to the COVID-19 pandemic.
Since the area underwent a massive facelift, the Fulton Market District in Chicago has been the hub for fine dining, great drinks, and the best in group weekend hangout spots the city has to offer. Time Out Market became the latest addition to the swanky strip of nightlife in November 2019 and has become a staple in a few short months. It reopens with their own version of a 'phase one'. To ensure social distancing and safety measures take place, Time Out Market in Chicago will have a slightly different look than before. It will feature a third-floor rooftop terrace with gorgeous views of the skyline and a new sidewalk patio dining area that sprawls on to Fulton Street. Also, to maintain consistency within the Market, they will open with eight eateries and two full bars as part of phase one.
Here are the eight chefs that return today, (per TimeOut):
Arami: One of the city's finest sushi spots is moving to the first floor with a hit list of contemporary Japanese eats from executive chef Joseph Fontelera.

Chef Bill Kim: Caramelized pork dumplings are back, baby! Kim specializes in unique takes on casual Asian cuisine, packing his menu with crave-worthy eats.

Chef Brian Fisher: The chef behind Michelin-starred Entente switches up his menu to showcase golden fried chicken, decadent mac and cheese and cornbread with jalapeño honey butter.

Dos Urban Cantina: Husband-and-wife team Brian and Jennifer Jones Enyart have expanded their offerings to include even more tacos, loaded nachos and ceviche. Don't fret: Jennifer's chocolate cake is still available.

Duck Inn Dogs: Chef Kevin Hickey cranks out a lineup of decadent dogs that are loaded up with ingredients like spicy duck chili, tajin lime crema and apple-caraway kraut.

Lost Larson: Bobby and Bree Schaffer are back to make your mornings a little sweeter, with a pastry case packed with flaky croissants, frosted cinnamon rolls, cardamom-scented buns and a robust coffee and tea program.

Mini Mott: There's no denying that chef Edward Kim makes a damn fine burger. Sink your teeth into layers of American cheese, hoisin aioli, pickled jalapeños, pickles, miso butter, sautéed onions and a cloud of sweet potato frizzles.

Pretty Cool Ice Cream: No matter the season, we've always got room for a popsicle (or two) from Dana Cree's repertoire of nostalgia-filled frozen treats.
The post-COVID version of Time Out Market in Chicago features some of the best the food hall has to offer. Mini Mott boasts arguably one of these city's best burgers. Chef Brian Fisher's take on fried chicken is so mouthwatering that you can make a trip to the Time Out Market, stay all day and eat it at least three times while there. The cornbread with jalapeño honey butter would be a top-three food item on any human's list of favorite foods.
From a non-food standpoint, the new space at Time Out Market in Chicago will feature plexiglass partitions highlighting quotes about the great city of Chicago from notable Chicagoans such as Barack Obama, Chance the Rapper, Jane Byrne, and Anthony Bourdain; who we know isn't from Chicago but might as well have been with the love he had for this city.
---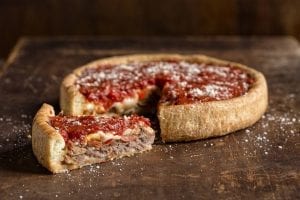 View the Best Pizza Restaurants in Chicago, Ranked
Are you trying to find the best pizza places in Chicago to visit? View our list of the top 50 pizza restaurants in the city.
View the Best Pizza Places in Chicago
---
As Bourdain famously said, "you never really know somebody until you share a meal with them." Time Out Market is as good a place as any to share a meal with someone, or a small group of people, with options at your disposal.
At UrbanMatter, U Matter. And we think this matters.
Tell us what you think matters in your neighborhood and what we should write about next in the comments below!
Featured Image Credit: Time Out Chicago Facebook Page
READ MORE LIKE THIS
DOWNLOAD THE URBANMATTER APP
FIND PARKING