It's safe to say that we are currently living in history. Between a nearly-year-long pandemic that has totally changed our way of living to historic protests regarding systemic racism and an impending election that will be decisive, it's tempting to look back at history and find other flashpoints and movements that changed our country. Similar to the end of the 1960s, we are in the midst of a cultural revolution not seen in the United States in over 50 years. Aaron Sorkin's newest movie, The Trial of the Chicago 7, offers a glimpse into how the government attempted to go to war against a cultural shift and takes us back to 1969 when seven anti-Vietnam War protesters were arrested and charged with conspiracy in what is now considered to be one of the greatest miscarriages of justice in American history. In The Trial of the Chicago 7, we get an all-star cast that works together magnificently to give a timely and relevant story that redefines the courtroom drama film.
While this new movie does boast a who's who of talented actors, Joseph Gordon-Levitt could be considered the main actor. His character, that of prosecutor Richard Schultz, is the first that we are introduced to as he receives his mandate from newly appointed Attorney General, John Mitchell. As good as Levitt is in his complicated role, Yahya Abdul-Mateen II absolutely steals the film while starring as Black Panther founder, Bobby Seale. As much as this new movie released in 2020 takes dramatic license with some events, the treatment of Seale at the hands of Judge Julius Hoffman was not dramatized. In real life, Seale's lawyer was recovering following gallbladder surgery and was not able to represent him in court. By law, the trial should have been delayed to allow for his lawyer to join and argue on his behalf but right, Hoffman voices his nonchalance at the circumstances and does not care that Seale is in his courtroom without representation.
It's from here that the relationship becomes antagonistic between the revolutionary defendant and the elderly Judge with the breaking point coming when Seale tells Hoffman to go f*** himself. What follows is brutal and heartbreaking as Hoffman instructs the Marshalls to take him into a room and "deal with him as he should be dealt with" and after a beating, Seale returns to the courtroom handcuffed and gagged to prevent further outbursts. Mercifully, Seale's role in the trial comes to an end as a mistrial is declared for him and released but it's just another reason for the audience to continue believing this is little more than a political hit job. Frank Langella brilliantly plays Judge Hoffman whose real-life conduct in the trial became the topic of conversation in legal circles and is cited as one of the main reasons why the convictions were vacated in 1972.
On the other side of the law is legendary activist, Abbie Hoffman, played by Sacha Baron Cohen who continually derides the Judge for his conduct and whose sarcastic comments even begin to bother his other defendants. Cohen has become the most underrated actor everyone knows about between playing Borat again and his dramatic turn as an Israeli spy in the miniseries The Spy. I could go on about how great the cast is; how Eddie Redmayne has to toe the line between activism and patriotism, how Mark Rylance has to be a guardian of the young defendants with Ben Shenkman but the most scene-stealing performance has to belong to Michael Keaton who plays former Attorney General, Ramsey Clark.
His scenes follow a heartbreaking moment when the leader of the Black Panthers, Fred Hampton, was killed in a shootout with the Chicago Police and Clark is asked by the defense to testify as to a possible motivation why the current administration would pursue criminal charges when the previous did not. Clark's testimony is ultimately not allowed and it's hard to determine whether or not this actually happened but I'm inclined to believe it did not, since Sorkin has a reputation for twisting around the historical record to serve dramatic purposes. Besides the miscarriage of justice, Hampton's death absolutely deflates the morale of the defendants and the real-world consequences of his death affected generations. Hampton, along with Bobby Seale and Huey Newton, founded the Black Panthers and became the targeted of a coordinated disinformation and counterintelligence program of the FBI titled COINTELPRO and thanks to the release of classified documents, it was discovered that the FBI had an informant within Hampton's circle who gave up information to the FBI who in turn fed it to the Chicago Police who arrived at Hampton's home and fired close to 100 rounds directly into his room and killed him. Hampton's death along with Newton's incarceration for manslaughter and Seale's court battles would derail the Black Panthers and decimated their leadership to where they could never recover from these setbacks. If you gleaned anything from that historical tidbit, it's that the government looms large as the villain of The Chicago 7, and Sorkin never allows us forget that.
Right from the beginning, Schultz is tasked to prosecute the Chicago 7 despite his reticence to do so and even remarks that while he doesn't like how they live, he recognizes their right to protest and to disagree with the government as a whole. As the trial progresses, he even runs into defendants Abbie Hoffman and Jerry Rubin and while he says he shouldn't be speaking to them, he lets them know that the stakes are high and the government believes they were in their right to use undercover operatives to spy on them and report on them. This is where we get to the idea of questionable police and surveillance tactics. This is sort of the gray area but the bottom line is those police departments can pretty much do whatever they want, short of physical torture, in order to coax a confession out of a suspect and gives their undercover agents carte blanche in order to get the desired information. However, the police are not shown in a flattering light in The Chicago 7. In the large riot portrayed in this new movie, we see police officers club Rennie Davis in the head, causing him to bleed profusely and really kicks off the riot. We see police officers brutalize protesters and even go as far as to take off their badges and name tags.
The chilling image illustrated in this new movie resonates with similar problems in 2020 that are related to the riots following the murder of George Floyd. The Trial of the Chicago 7 movie resonates deeply today as we are comprehending our place in history in the midst of a deadly pandemic and an election that's set to be one of the most consequential in history. Back at this point in history, the anti-Vietnam War movement was the flashpoint of the time given how the war had been escalating year after year, the draft was disproportionately forcing young black men to serve and thousands of body bags were returning to the states every month. The people who protested the war came from all walks of life; young, old, black, white, rich and poor alike all took to the streets at some point to protest an unjust war and to bring home all of our soldiers. It's important to fight for issues that need correcting, it's the very basis on which America was founded when we overthrew a tyrannical government but this ultimately paints a target on those who do the protesting. The Chicago 7 embarrassed the government when they became the victims of a police riot and the government sought to exact revenge against the leaders of this protest group.
---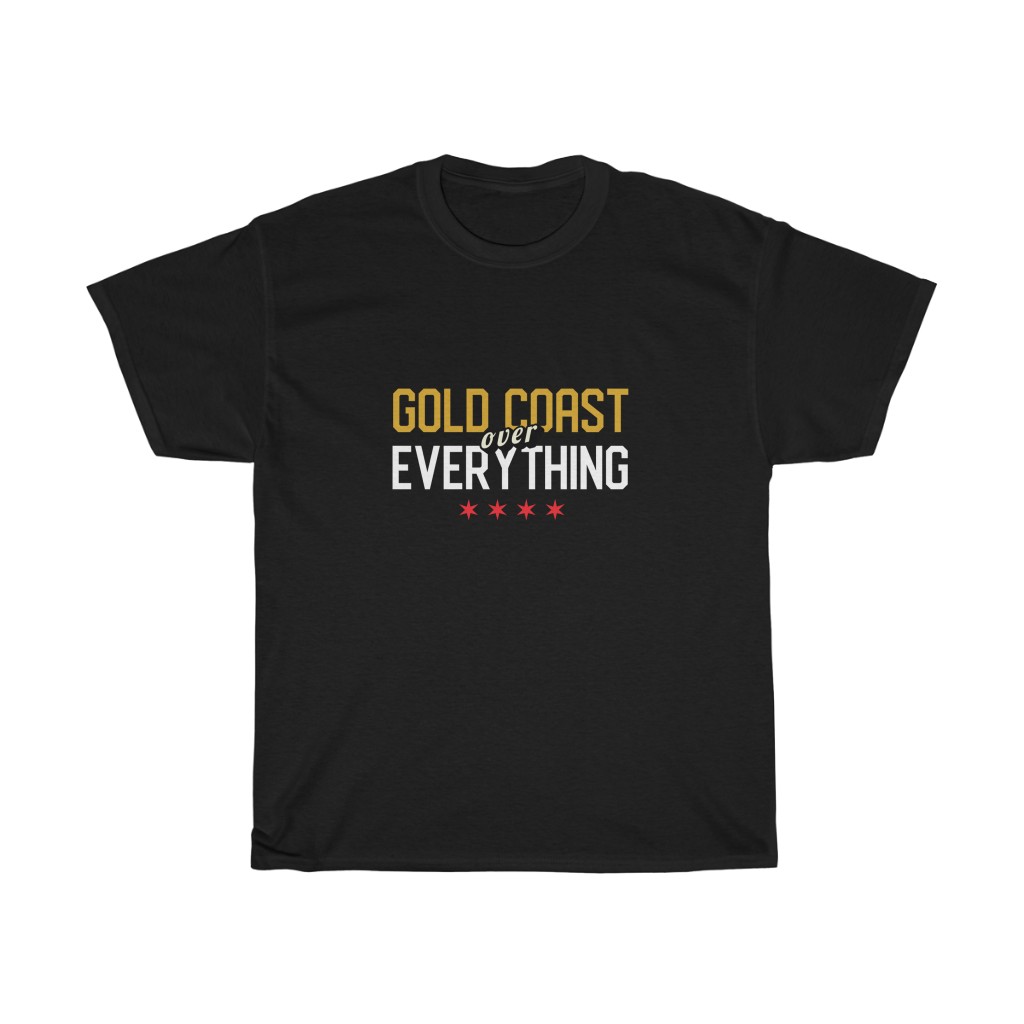 VIEW THE UM MERCHANDISE STORE!
Need a cozy shirt to watch The Trial of the Chicago 7 in? We got you.
View the Best Pizza Places in Chicago
---
While it's easy to paint The Trial of the Chicago 7 as a political movie, the simpler genre would be that of the courtroom drama. The genre itself has been lacking prestige since A Few Good Men along with other classics like To Kill a Mockingbird and 12 Angry Men, it's been a long time since audiences have had a great courtroom drama. Aaron Sorkin has managed to inject new life into the genre which oddly enough, he helped to revive as the writer of A Few Good Men. He minimizes the use of flashbacks and instead employs great editing and compelling dialogue. While it's tempting to use flashbacks in a film like this, it's important to focus on the trial itself and use them only when absolutely necessary; they're only used sparingly in parts but the prominent flashbacks are when we see the buildup to and the riots themselves. The flashbacks are aided by a constant stream of dialogue that's become the hallmark of any Aaron Sorkin film and this may be the best use of it and the best example comes when defense attorney William Kunstler obtains a tape of defendant Tom Hayden potentially inciting the riot and is simulating to Hayden what a possible cross-examine from Schultz could look like in light of this new evidence. Throughout the trial, Hayden has remained the most even-keeled of his fellow defendants even though he had opted to stand for Judge Hoffman when they all had agreed not to do so following his treatment of Bobby Seale. While five of the defendants are found guilty and sent to prison, their convictions are eventually vacated but their ordeal was part of their journey to receive recognition for injustices.
Even when the movie slows down, it's able to move quickly by introducing new and memorable characters and moving right along from one plot point to the next. While it's not necessary for a student of history to enjoy The Trial of the Chicago 7, the introductory prologue helps put the view the right historical mindset, we're quickly introduced to our defendants and their motivations for protesting and determine that they'll soon be the victims of a political hit job and we how they struggle to maintain their original sense of the "why" of their protests. Through it all, in spite of their setbacks, they overcome and we remember the Chicago 7 not for the riots they were a part of, but that they became bigger than the injustice they were served. Their story has been long sought for the big screen and Aaron Sorkin was the perfect person to bring this story to a new generation and is timely for a new era of fighting injustice. While Sorkin doesn't have many credits to his name as a director, this is easily his best new movie released in 2020.
The Trial of the Chicago 7 is available for streaming on Netflix, is written and directed by Aaron Sorkin, and stars Joseph Gordon-Levitt, Yahya Abdul-Mateen II, Eddie Redmayne, Mark Rylance, Sacha Baron Cohen, Frank Langella, and Michael Keaton.
At UrbanMatter, U Matter. And we think this matters.
Tell us what you think matters in your neighborhood and what we should write about next in the comments below!
Featured Image Credit: The Trial of the Chicago 7 on Netflix
READ MORE LIKE THIS
DOWNLOAD THE URBANMATTER APP
FIND PARKING