Perched comfortably in the heart of Evanston, Koi Fine Asian Cuisine is an Asian restaurant that truly aims to serve ambiance and authenticity. With plenty of unique offerings from the 8 different regions of China and a solid spread of sushi choices, one might be baffled that such an array of options could be available right on Davis Street.
Sandy Chen, owner of both Koi Fine Asian Cuisine and Le Sud, an upscale French-Mediterranean restaurant, aims to highlight not one singular style of Chinese cuisine, but all of the distinct and signature styles of the Chinese culinary world. Recently, we had the honorable pleasure of sitting down and getting to explore a few of the offered regions!
While the weather is still nice out, one can enjoy sitting at some of the tables Koi Fine Asian Cuisine has set up outside or enjoy the fresh air in their main dining room whilst the street-facing side opens up completely to provide a lovely breeze and open-air dining experience.

To get things started, we dove into the spring rolls, the Truffle Tuna Nigiri (cooked with truffle oil and topped with truffle salt), and the Salmon Brulee Bundles (equipped with mango, caramelized cane sugar, and more!). The spring rolls at this Asian restaurant near Chicago were accompanied by two sauces, one sweet and tangy, and the other a spicy sauce with the same kind of kick as wasabi. If you're looking for a ripe burn in the sinuses, give your roll a nice dip and get sent to a different headspace! Of the three options, the Truffle Tuna Nigiri shined with its rich blend of umami, salt, and creamy texture from the included avocado. While a bit pricey for two pieces, it's a delectable choice to begin a meal with!
The waiter at this Asian restaurant had a thorough knowledge of both the dishes on the menu and the regions from which they originated, and after a wonderful verbal tour through the history of these foods, we settled on exploring Chuan and Hui cuisine. Chuan (coming from the Sichuan region) cuisine is known for the spice of chilis and peppercorn that both heat the mouth but also numb the tongue. On the other hand, Hui is a type of Asian food that highlights the Anhui region. The meat in these dishes are often braised or stewed.
If you're looking for the best Asian restaurants near Chicago with delicious spicy food, we recommend ordering the Chuan dish at Koi Fine Asain Cuisine. This meal includes tender beef and is a Hot Pepper Plate that is assembled with three types of chili spices. Perhaps it's that we're masochists and love spice so much that we've burned our tongues truly numb, but just know that for less experienced spice-lifers, this dish could prove some trouble!
To offset the chili oil and heaviness of the Hot Petter Plate, we ordered a Hui dish at this Asian restaurant near Chicago. The Basil Plate took us on a foray into the herb world and is cooked with chicken. Sweet peppers and earthy basil were a delightful juxtaposition to the heaviness of the Hot Pepper Plate, with each bite working as a lovely palate cleanser. Though not a part of a specific regional cuisine, we also dipped into the vegetable Lo Mein just to get a taste of some noodles too; we were not disappointed. Crips vegetables accompanied by a firm, chewy bite is the only thing you should expect!
Once we finished the food at this Asian restaurant in Evanston, we ordered dessert. Their Triple Chocolate Mousse Cake isn't actually made of cake but purely of mousse. How do they pull it off? We're not quite sure because this cake is gluten-free but is still chock full of body. Despite being stuffed to the brim from our meal, we polished off the whole plate. (Please pray for us.)
---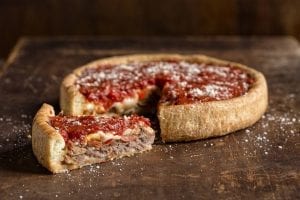 View the Best Pizza Restaurants in Chicago, Ranked
Want something more on the cheesy end of things? View our list of the top 50 pizza restaurants in the city.
View the Best Pizza Places in Chicago
---
Whether you're looking for a casual bite or a full-bodied dining experience, Koi Fine Asian Cuisine & Lounge is one of the best Asian restaurants near Chicago. Head to their website to get more information about their offerings or, if you're sold, you can stop on by at 642 Davis St, Evanston, IL 60201! (Note that currently, there are a reduced number of tables available given the ongoing coronavirus pandemic so a reservation is never a bad idea!)
At UrbanMatter, U Matter. And we think this matters.
Tell us what you think matters in your neighborhood and what we should write about next in the comments below!
Featured Image Credit: Koi Evanston
READ MORE LIKE THIS
DOWNLOAD THE URBANMATTER APP
FIND PARKING