Nestled in Roscoe Village at the corner of Roscoe and Oakley, sits Le Sud, a quaint corner oasis that whisks you away to the French Mediterranean through a beautiful array of food and drink that satisfies even your deepest feelings of wanderlust.
Inspired by owner Sandy Chen and Executive Chef Michael Woodhall (Gilt Bar & Bavette's), the team at this French Mediterranean restaurant in Chicago has unveiled a brand new menu this summer primed to be the highlight of your culinary experience. UrbanMatter had the pleasure of experiencing the newly revised menu last week and was utterly impressed. The evolution of Le Sud from their classical French cuisine to their current form can adequately be described as a voyage deeper into the Mediterranean with a robust feature of seafood, while also taking a look at the Basque region of Spain.
If you're unaware of what or where the Basque region of Spain is, that's completely OK.
Upon arrival, you can expect to be greeted with warmth (and a COVID temperature check). But do not fret, the process is quick and simple. The ambiance is special. The patio at this Mediterranean restaurant in Chicago is spacious and inviting, while the open-air indoor seating in the main dining room presents an incredibly comfortable indoor/outdoor flow. The rooftop dining area is serene and provides a cozy yet picturesque vantage of the neighborhood three-flat apartments down Roscoe St. If you're into dining with the calmness of a true Chicago neighborhood as your background, this is the place for you.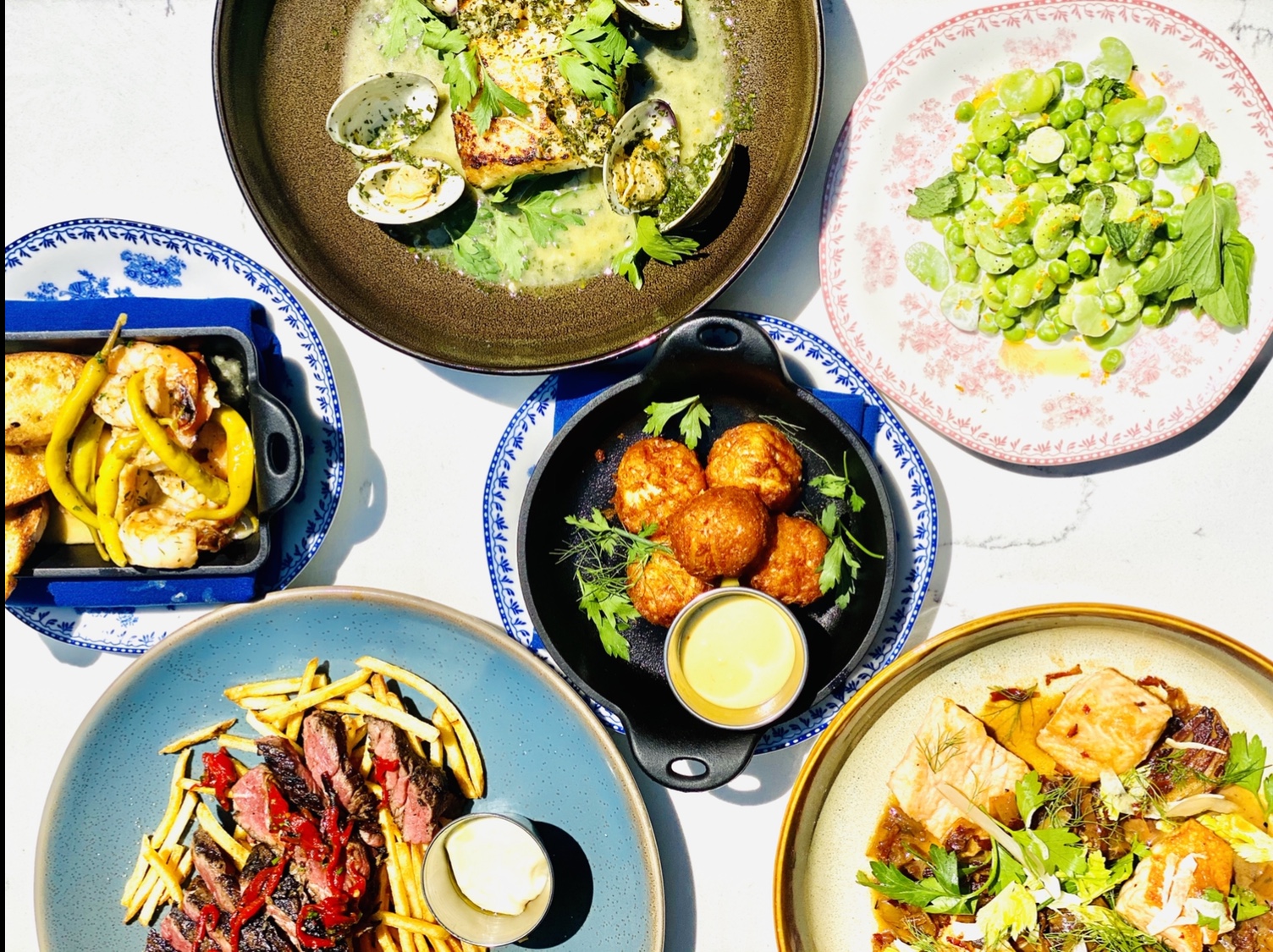 For starters, if you arrive between 5 pm and 6 pm, Wednesday through Saturday, you can expect to enjoy the best happy hour menu this side of the Mississippi. Whether your preference is beer, wine, or cocktails, Le Sud's happy hour menu has you covered. Craft beers for $3, $6 glasses of wine and signature cocktails, along with small plates priced at either $5 or $6. It only took an order of the mussels and one round of drinks for us to vault Le Sud squarely into the pantheon of top happy hours on the North Side.
If you're looking for the best Fench Mediterranean food in Chicago, the options range in price from $6-$12 for small plates and $15-$24 for large plates, and the two sections have incredible seafood options. The grilled shrimp and piparra pepper small plate was a highlight, as it presented the perfect blend of savory and spicy with a pickled french pepper that any Chicagoan would liken to a sport pepper.
The chef's signature large plate of an Atlantic cod in a herbaceous green sauce was a refreshing palate experience. It's accompanied by middle-neck clams and draped in white wine and garlic and goes incredibly with the French 75 off the cocktail menu. While you're at this Mediterranean restaurant, make sure you or your company enjoy either the Peach Sangria or Basil Martini; all three of which are $6 during happy hour. But perhaps the biggest (pleasant) surprise of the evening was the Wood-Grilled Tri-Blend Burger, made with gruyere cheese, caramelized onions, frisée, aioli, on a sesame bun. Chicago is notorious for having incredible options when it comes to gourmet cheeseburgers and Le Sud might be the hidden gem. This burger is as good as something you'd find at The Loyalist, Au Cheval, or Mott Street; but for only $15 with frites it's a value play that punches so far above its weight it baffled us.
Pairing the burger with any one of Le Sud's expanded wine program is a guaranteed win. It highlights blanc, rouge, rose, and sparkling selections (amongst others) from France, Italy, and Spain. You can also choose from one of 30 bottle selections sourced from various places along the Mediterranean region, and range in price from $36 to $60.
But if you were looking for one reason to enjoy Le Sud in Chicago, it's that, after everything you eat and everything you drink, there's a luscious dessert menu for you to indulge in. If you want something sweet and chocolatey, you're covered with a gooey chocolate chunk cookie or the chocolate torte. Or perhaps something fruity and refreshing is your bag. The strawberry sorbet or peaches & sabayon are the perfect finale to an incredible meal.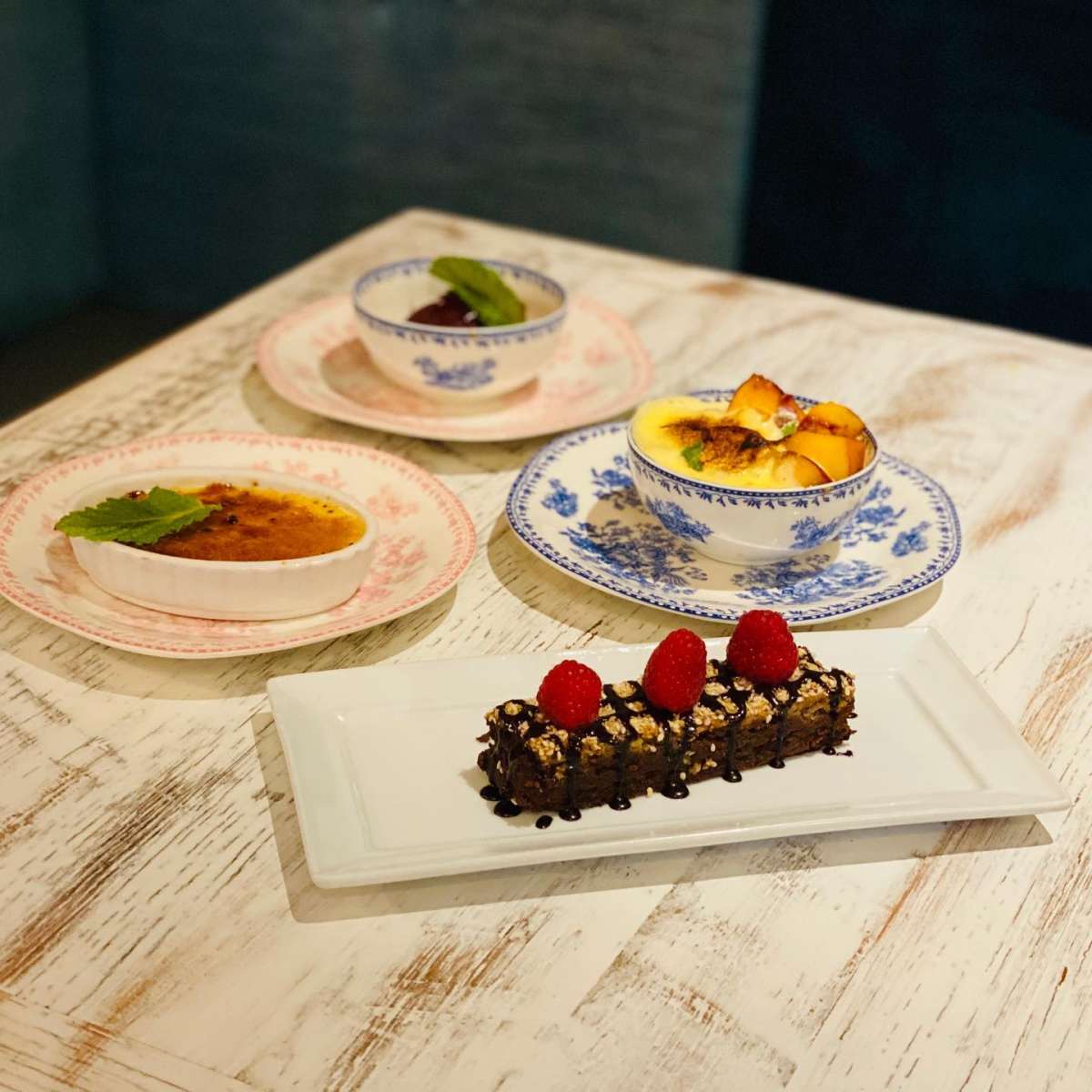 We had the luxury of trying all five menu desserts at this French Mediterranean restaurant in Chicago—an incredibly ambitious task considering we ate half the menu before that but without a doubt, the odds on favorites were the sorbet or peaches & sabayon. You cannot miss with these two desserts and are worth the price of dinner alone.
In total, Le Sud was an exquisite experience that demands return visits. The price point more than justifies the journey through Chef Woodhall's creations on both a small and large plate scale, while the happy hour menu alone is the perfect opener to a first, second, third, or 45th date. So if you're looking for the new neighborhood experience that provides great food, great vibes, and better service, look no further than Le Sud in Roscoe Village.
You can check out Le Sud's full menu, make a reservation, or order online via their website. Also, be sure to check them out on Instagram and Facebook for all news and events going on!
At UrbanMatter, U Matter. And we think this matters.
Tell us what you think matters in your neighborhood and what we should write about next in the comments below!
Featured Image Credit: Le Sud Chicago
READ MORE LIKE THIS
DOWNLOAD THE URBANMATTER APP
FIND PARKING