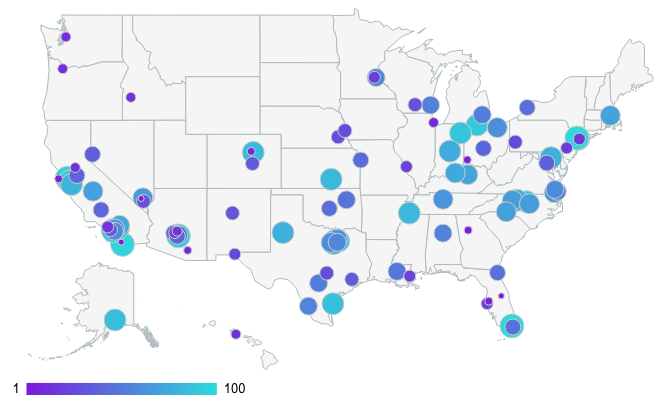 In a recent study by WalletHub, Chicago was ranked the 10th best city in the nation for recreation. We'd probably vouch for a ranking a little closer to the top spot, but hey, we'll take #10.
The study focused on 100 cities across the United States, specifically looking at the quality and availability of both indoor and outdoor activities. Metrics of analysis included basic living costs, quality of parks, accessibility of entertainment and recreational facilities, and weather.
Out of 100 cities, Chicago was ranked 10th, with high individual factor scores of 3rd for quality of parks and 4th for accessibility of entertainment and recreational facilities contributing to the overall score. So why wasn't it ranked higher, you ask? Well, proud Chicagoan, the city was also ranked 88th for costs and 92nd for weather. We all know that's to be expected. The study also included separate rankings for costs and prevalence of specific activities within a city, such as bowling alleys and music venues. For what it's worth, Chicago ranked 1st for tennis courts per capita.
Of note, the study mentioned a national trend toward investment in parks and recreation, with more than $7 billion spent last year. Orlando, San Diego, and Las Vegas ranked in the study's top three, respectively. See below for the top 10 best cities for recreation.
Orlando, FL
San Diego, CA
Las Vegas, NV
Tampa, FL
Atlanta, GA
Cincinnati, OH
Tucson, AZ
Denver, CO
San Francisco, CA
Chicago, IL
Being a city that's recognized for its promotion of active lifestyles, and one that has a multitude of internationally recognized facilities, such as Navy Pier, the massive new Park at Wrigley, and its many gorgeous parks and beaches, there's no question that Chicago always comes through on the fun factor.