As Chicagoans, we pride ourselves on living in a city greatly accredited for innovations in both food and drink. While we may be known primarily for our craft beers, hot dogs and deep dish pizza, our cocktails are not to be ignored. Chicago's bartenders and cocktail craftsmen have been creating and producing new drinks that have moved to the forefront of the modern Chicago culture, while also paying homage to our past. We have listed below the standouts and where you can find them. Whether it's a cozy drink at the end of the day with work friends, or a romantic night out, you'll surely be thirsty for these Windy City inspired cocktails!
Chicago Fizz
Watershed | 601 North State Street
This popular drink has been an institution in NYC, and while it's said to be an import of Chicago before prohibition, many believe the Waldorf-Astoria is credited for crafting the drink itself. Warm yourself up on a brisk Chicago night with this comforting cocktail which contains rum, port wine, powdered sugar, egg whites and carbonated water.
The Chicago
LondonHouse | 85 East Upper Wacker Drive
Compliment the beautiful views of the city with this romantic amber cocktail. Go back in time to the roaring twenties with nostalgic notes of vanilla, orange cognac, Cointreau, sparkling wine and amontillado sherry.
The Chicago Fire Extinguisher
Arbella | 112 West Grand Avenue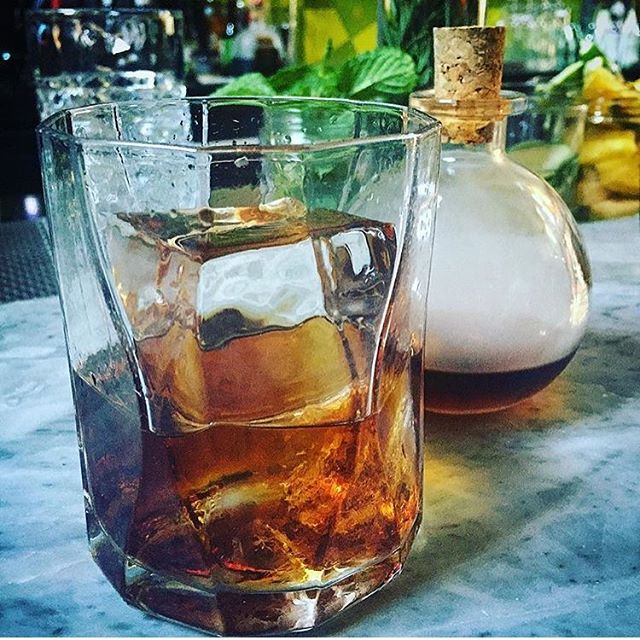 You can sample another vintage-style cocktail at this trendy River North bar. Served in a glass saline bottle (similar to the ones used to contain the Chicago Fire of 1871), the cocktail mixes Scotch, smoked Angostura bitters and Amaro Abano. What makes this cocktail unique within the drink's vessel is trapped with smoke from wine-barrel wood chips additionally adding a smoky flavor.
Read More: 6 Best Universities to Sign Up For in Chicago
Assorted Cocktails
Vermilion | 10 West Hubbard Street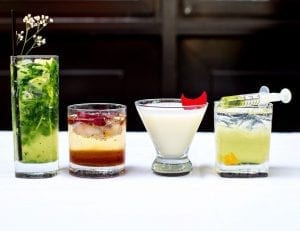 One bar may take in the cake when it comes to drink homages to the Windy City. Cocktails include the following: Lake Michigan, Magnificent Mile, Devil in the White City, and LSD. LSD, or as it's known by locals as Lake Shore Drive, contains green chartreuse, gin, Assam green Tea and oleo saccharum to mimic the waters of Lake Michigan seen from the like-side road. The Magnificent Mile, a sparkling wine cocktail with bouquet infused ice and a spicy habanero, ginger infusion shows class and sophistication of the Magnificent Mile's grandeur. Lastly the Devil in the White City has cardamom-saffron liquor, coconut milk and vanilla. This sweet and creamy combination garnished with a rose not only makes this cocktail visually stunning but will transplant you to the turn of the century to Chicago's south side for the World's Fair.
Boystown Royale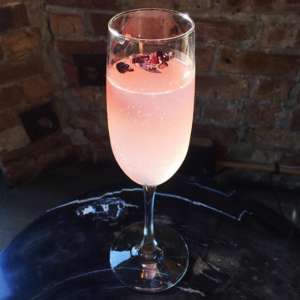 Presidio | 1749 North Damen Avenue
If you're looking for a fabulous drink on a night out, then this is your match. Inspired by the prominent LGBTQ community of Boystown on the North Side, this sparkly cocktail contains vodka, hibiscus, lemon and prosecco.
Water Taxi
Beacon Tavern | 405 North Wabash Avenue
It makes sense that a riverfront restaurant like Beacon Tavern would be inspired by the commuter boats that pass by it every day. Enjoy this tasty mix of Pisco, rum, Suze, passionfruit, and pineapple-jalapeno kombucha.
Wrigley Rita
Harry Caray's Tavern | 700 East Grand Avenue
It's a margarita made Wrigleyville-style, only at Harry Caray's, of course. This one's made up of Don Julio Blanco tequila, Cointreau orange liquor, lime sour, lemon juice, orange juice, a lime wedge and orange slice.
Read More: Chicago vs NYC: Advantages & Disadvantages
Northerly Island
The Windsor | 160 East Huron Street
This Midwestern spin on a Long Island iced tea is served up at The Windsor, a local gem on the Mag Mile. Feelin' the breeze from our lovely little peninsula? Then this one's for you.
Skyscraper
The Signature Lounge at the 96th | 875 North Michigan Avenue
Served up at the tip-top of one of the Windy City's most famous skyscrapers, the John Hancock, this sweet drink made with Bacardi rum, pineapple, and cranberry juice is perfect for high-flying views.
Chicago Fire
BIG Bar | 151 East Upper Wacker Drive
With a name like this, you better believe this drink will come with a kick. Made with Cuervo Gold, Cointreau, pineapple, lime, jalapeno, Tabasco and grenadine, make sure you can handle the heat before ordering this one.