Chicago's March is madness itself with so many things going on! St. Patrick's Day, Restaurant Week, International Women's Day… And with the weather getting warmer, everyone is in the outing mood. But let's not forget the actual March Madness! While there are tons of sports bars around the town for you to catch a good game, we always love a good deal. So, below are some bars and restaurants running food & beverage specials this year if you haven't decided where to watch March Madness in Chicago this year.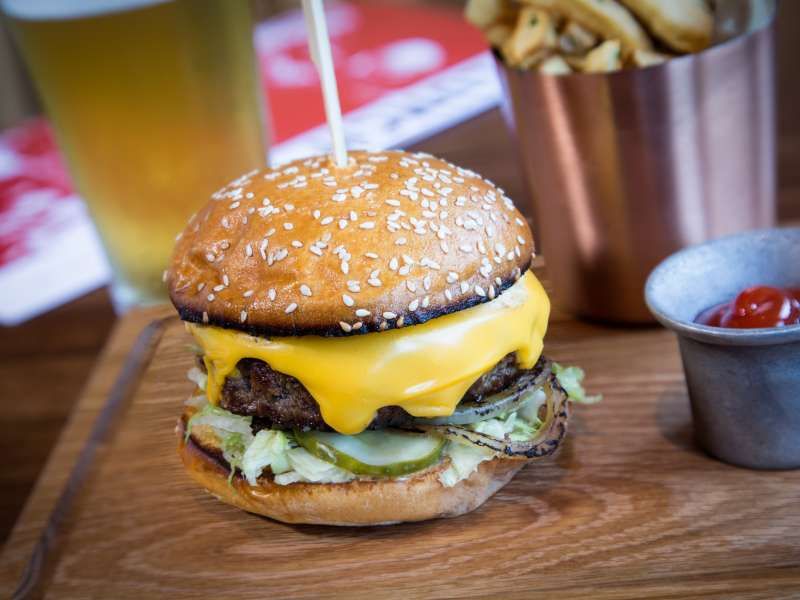 505 N Michigan Ave, Chicago, IL 60611
Inspired by the basketball G.O.A.T. himself, the bar at Michael Jordan's Steakhouse is the perfect spot to enjoy March Madness in Chicago this year. The bar is equipped with flat-screen TVs for catching the game and offers a punchy list of premium cocktails like the Downtown Mule featuring vodka, gin, pomegranate, and ginger beer or a twisted Manhattan, featuring rye, Domaine de Rancy, Angostura, and rhubarb bitters.
For March Madness, the bar has decided to bring back an exciting legacy menu item: Wagyu Big Mike. This delectable burger features 10oz of ground wagyu beef, broiled and served on a toasted sesame bun with aged cheddar, charred sweet onion, dill pickle, shredded iceberg, and special sauce. A former menu favorite, the Wagyu Big Mike burger will make its return on March 17 and will be available only in the bar through April 4.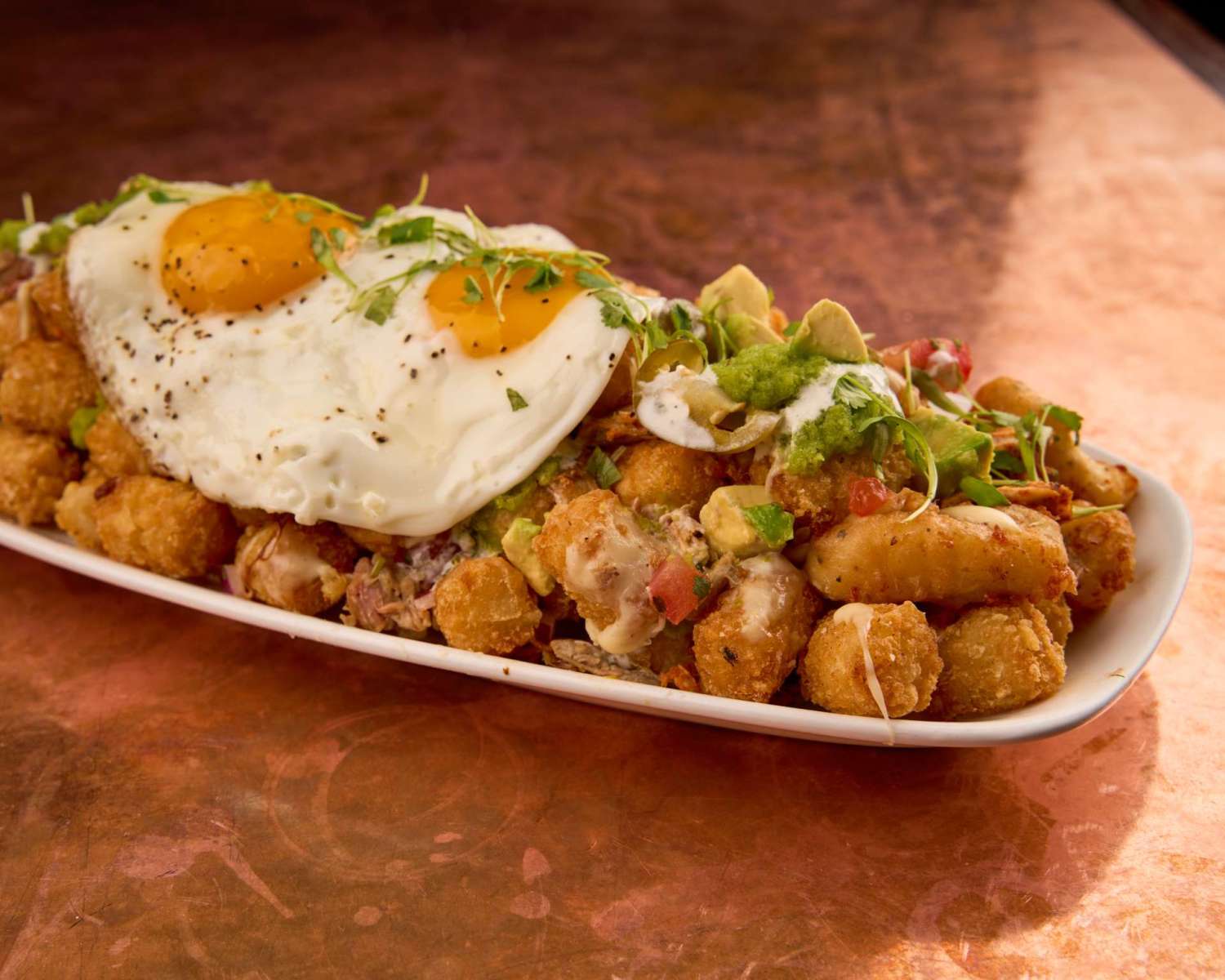 all locations
Catch all the action on March 17-20, March 24-27, and April 2 & 4 at all Old Town Pour House locations! Surround yourselves with massive HDTVs and indulge in 90+ craft beers, plus an incredible 96 oz. "Mule Maddness", a super-sized Moscow Mule cocktail, for sharing with your crew ($45).
Old Town Pour House will also be featuring a March Madness special menu with layers of flavor and perfect for game day, featuring Totchos, which comes with tater Tots, Pepper Jack Cheese Sauce, Cornmeal Battered Cheese Curds, Pickled Jalapenos, House Pulled Pork, Avocado, Cannellini Beans, Pico De Gallo, House Pulled Chicken Tinga, Sunny Side Up Eggs, Jalapeno Salsa Verde, Cilantro Lime Crème, Micro Cilantro.
Availability for game day is first-come, first served. Limited large group reservations are available.
3647 N Clark St, Chicago, IL 60613
Located next door to the historic Wrigley Field, Brickhouse offers an elevated dining experience with four expansive bars, two outdoor terraces and stunning views. For this March Madness, enjoy specials like $8 Nachos and Potato Twists, $10 Mini Sliders (5) and Fries, and drink specials such as $15 Buckets of 12 oz Budweiser, Bud Light of Michelob Ultra or $5 Trop Bombs or Lemon Drops.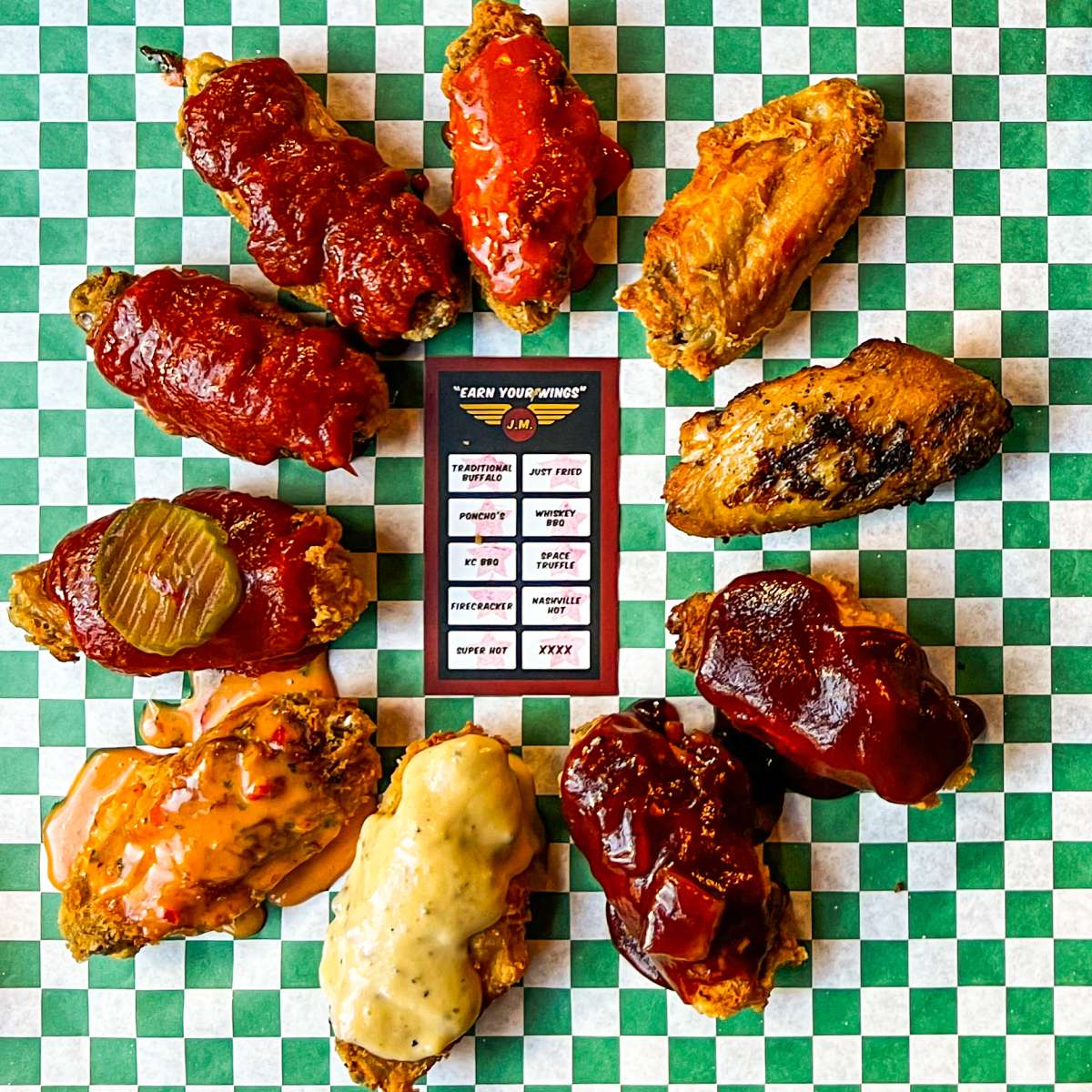 41 E Superior St, Chicago, IL 60611
From March 13th – April 4th, Jake Melnick's will create an online interactive bracket featuring favorites from its menu of wings, burgers, sandwiches, and bbq favorites. Guests will get the chance to predict which item will win from 32 crowd-pleasing favorites for a chance to win a party for 4 people at Jake's or at home with carryout (food and beverage not to exceed $250). An additional winner chosen at random will win a party for 2 people at Jake's or via at home with carryout (food and beverage not to exceed $150). The March Madness brackets can be created at https://www.jakemelnicks.com/happenings/munchmadness.php.
108 N State St Unit 200, Chicago, IL 60602
Celebrate 5i March Mania all month long! Guests are invited to book March Madness viewing parties at Five Iron Golf, the nation's leading indoor golf and entertainment experience offering a reimagined, high-tech, inclusive golf experience complete with a full-service bar and restaurant. Catch the madness on the courts while taking shots on the green from March 17 through April 4 with specials and packages available.
1535 N Wells St, Chicago, IL 60610
Wing lovers, come enjoy the award-winning wings at Woodie's this March Madness! Awarded 1st Place Judge's Vote Best Overall Wings and 2nd Place Most Unique Wings during last year's WingOut Chicago, Woodie's have to be on top of every wing lover's favorite list. This year, enjoy March Madness To-Go Wing Packages from Woodie's, and receive extra game day swag if you place your order over the phone! Mix & match between 12 flavors and make it an unforgettable party this year if you decide to watch the games at home!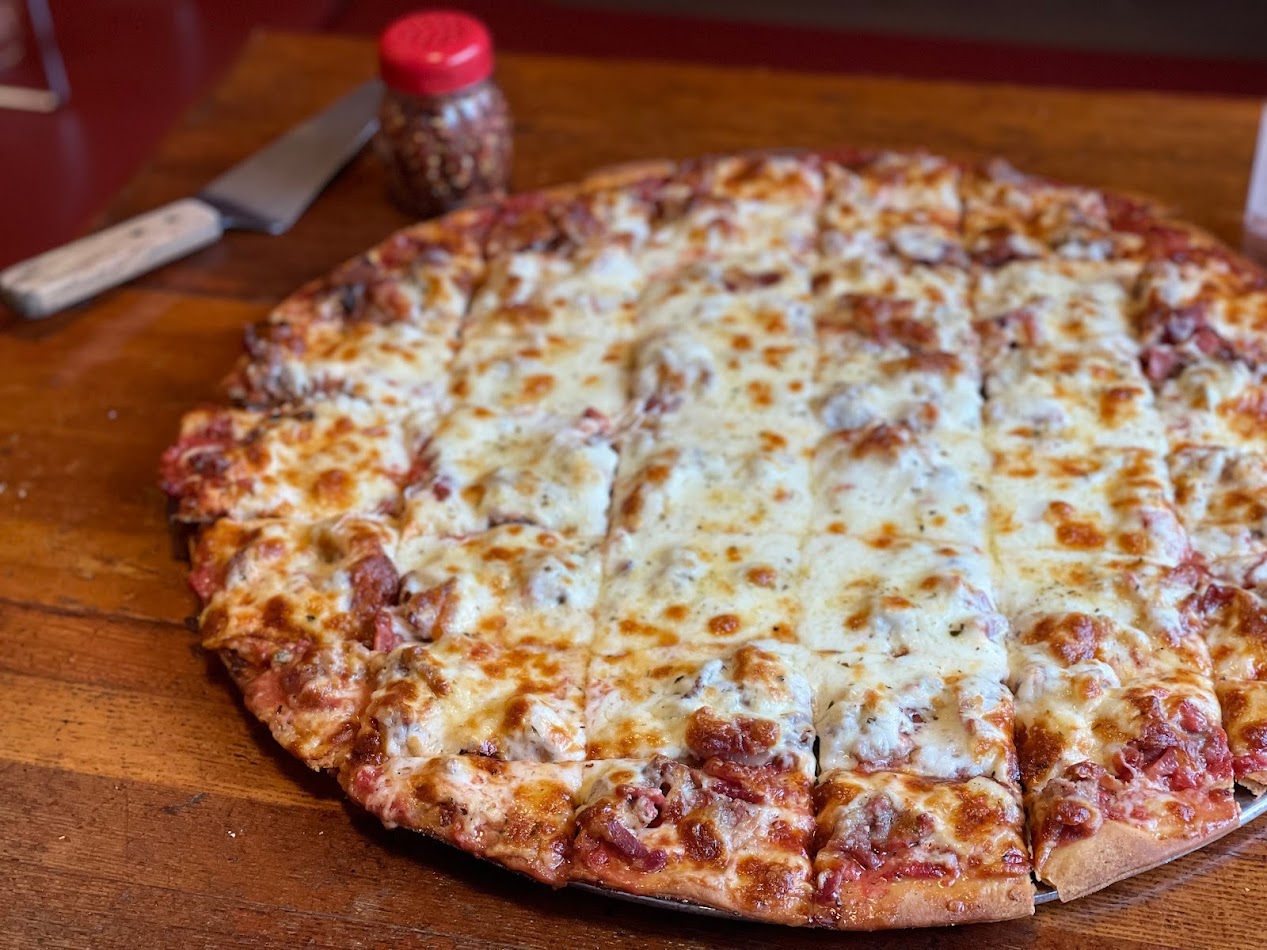 1955 W Addison St, Chicago, IL 60613
658 N. Ashland Ave Chicago, IL 60622
For NCAA fans watching March Madness at home, Bartoli's Pizzeria in Roscoe Village and West Town will feature a "Game Day Deal" throughout the tournament. Available for pickup or delivery, the $44.99 package features an 18-inch thin crust pizza with a choice of one topping, 16 piece wings (buffalo or vesuvio), and two one-liter bottles of soda. To order, visit www.bartolis.com. Not valid with any other offer or specials. Must mention this offer when ordering. Limit one package per customer.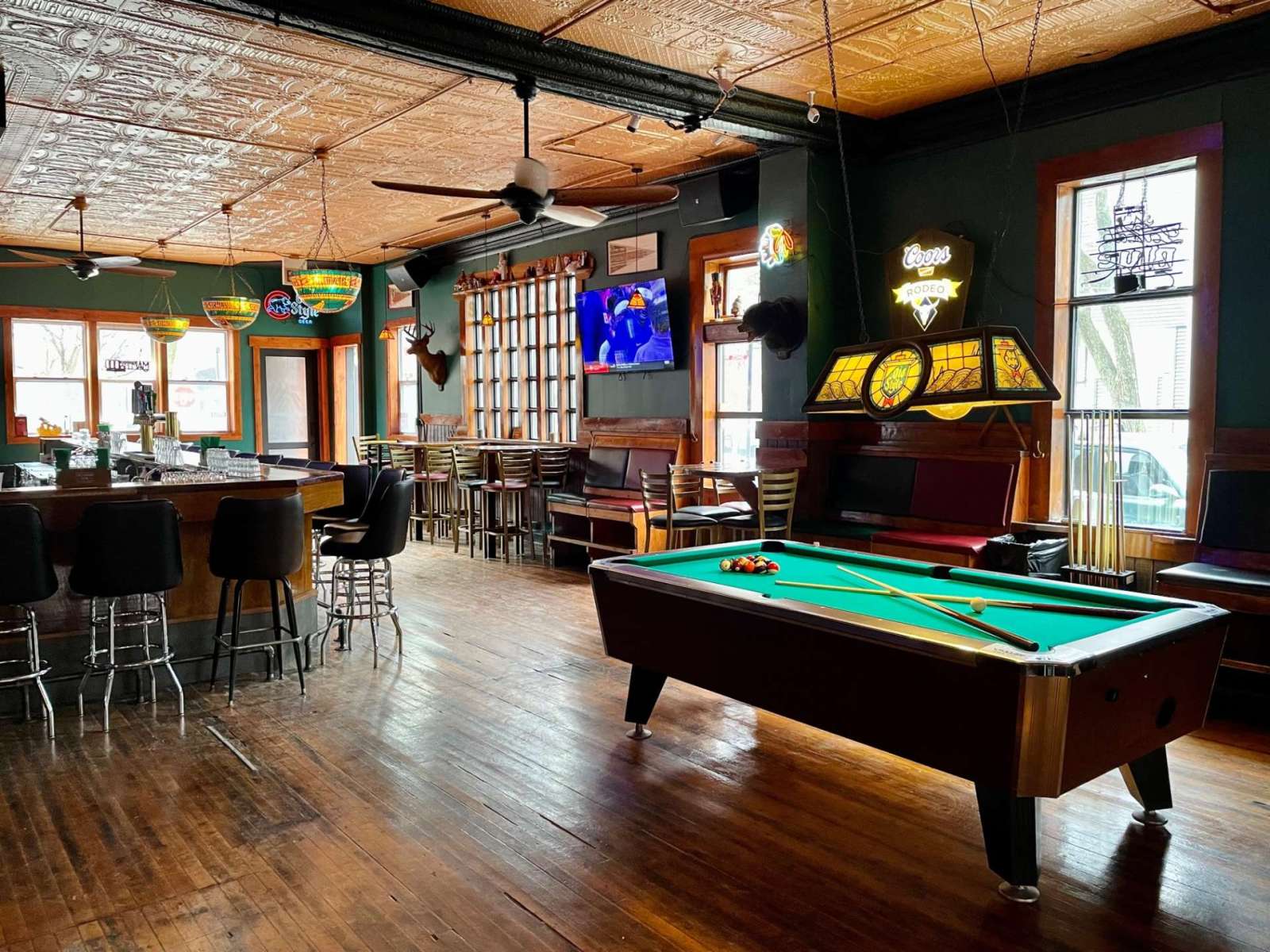 1658 West Barry Avenue., Chicago, IL 60618
Cody's Public House in Lakeview will host a St. Patrick's Day-themed Tip-off Party for the First Round of March Madness on Thursday, March 17 starting at 11 a.m. Guests will be invited to start their bracket off with the luck of the Irish and enjoy specials like $5 green beer, $6 Guinness pints, $5 Proper 12, and $8 car bombs. There will be a Bushmills and Proper 12 sampling and glass giveaway at 6 p.m. followed by a Guinness sampling at 7 p.m. Customers will also have the chance to have their favorite picture printed atop the foam of a Guinness pint with the Guinness Ripple Machine.
For the remainder of the tournament, Cody's will open early to broadcast all games. Guests are invited to have a tailgate with BYOM (bring your own meat) and use Cody's grill in the expansive beer garden for free. Game day specials will include $5 Skrewball, $5 Proper 12, and $5 Miller Lite stadium cups. The games will be broadcast on eight 65-inch TVs around the bar for a total of 10 throughout the space.
2427 N Milwaukee Ave, Chicago, IL 60647
On Friday, March 18, join The Whale for a special March Madness viewing at $60 per person for unlimited food & drink! Food specials include Cherry-Habanero Wings, Whale Burgers, Southern Fried Chicken Sandwiches, and Pimento Mac n Cheese. Known for its elevated mid-century gambling theme, The Whale also boasts large screens and premium-quality sound! There is no better place to watch March Madness in style this year. RSVP now via their website before tickets run out!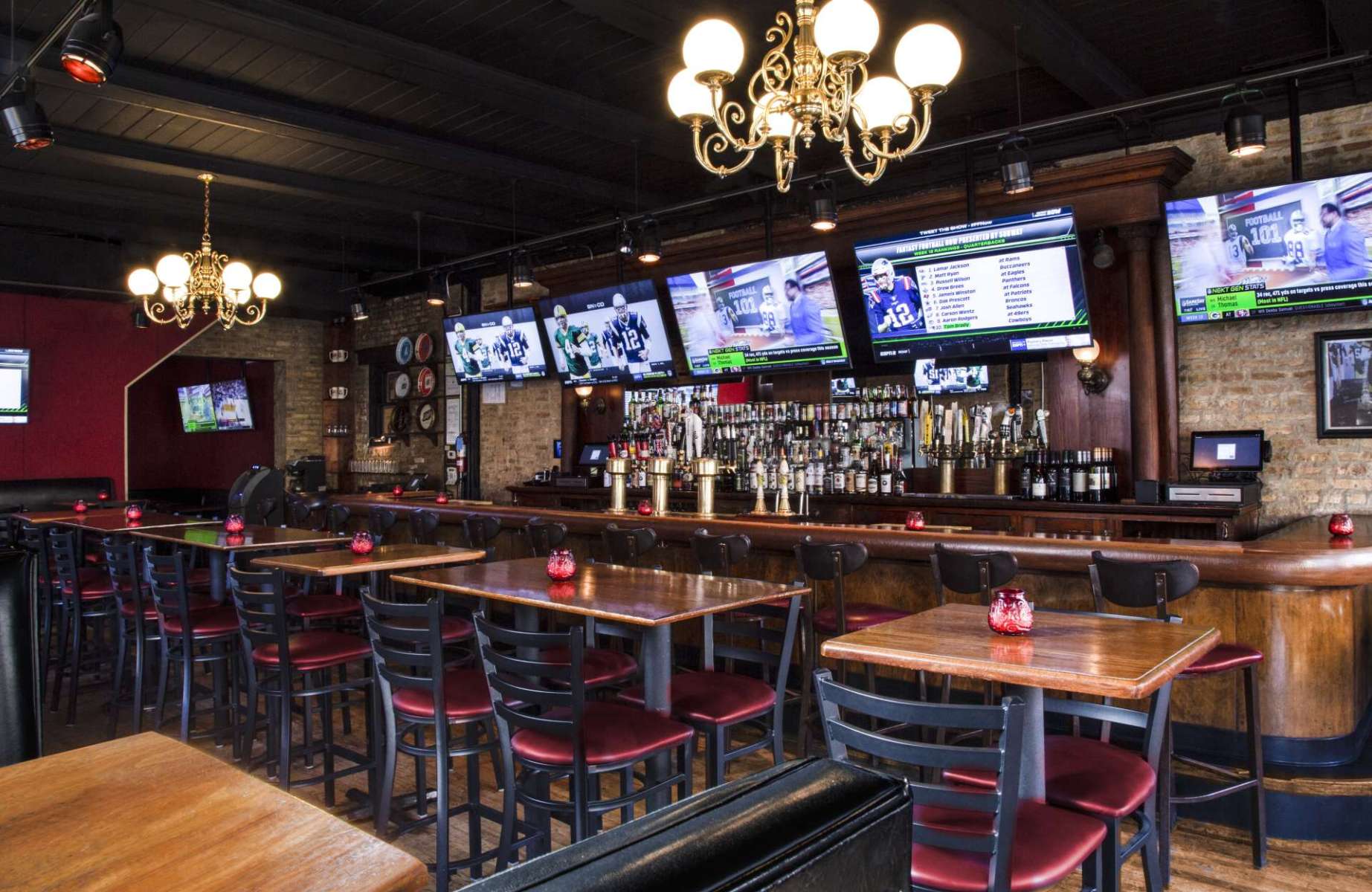 1801 W Division St, Chicago, IL 60622
Watch every matchup, including all day games at Mac's Wood Grilled this year! This Wicker Park bar has 17 Ultra HDTVs and screens every tournament game starting with the first round Thursday, March 17, and ending with the championship game Monday, April 4 (select games with sound).
Basketball-friendly drink specials will be on offer on all gamedays, including $15 Miller/Coors pitchers, $4 Paddy's Irish Whiskey shots, $5 Skrewball whiskey shots, $5 Pink Whitney shots, $5 Moscow Mules, $5 Bloody Marys, and $5 house vodka cocktails (excludes Red Bull).
2000 W Roscoe St, Chicago, IL 60618
Haven't decided where to watch March Madness in Chicago this year? Let's put a hidden neighborhood spot on your list!
Boasting 12 TVs, including one 70-inch plasma screen, Commonwealth Tavern will be running March Madness specials through April 4th for all Thursday and Friday games! Drink specials include $5 Miller Lite 22ox Stadium cups, and $15 Miller & Coors buckets. Or, you can go in on Fridays and have a blast at their Bloody Mary Bar while enjoying the games.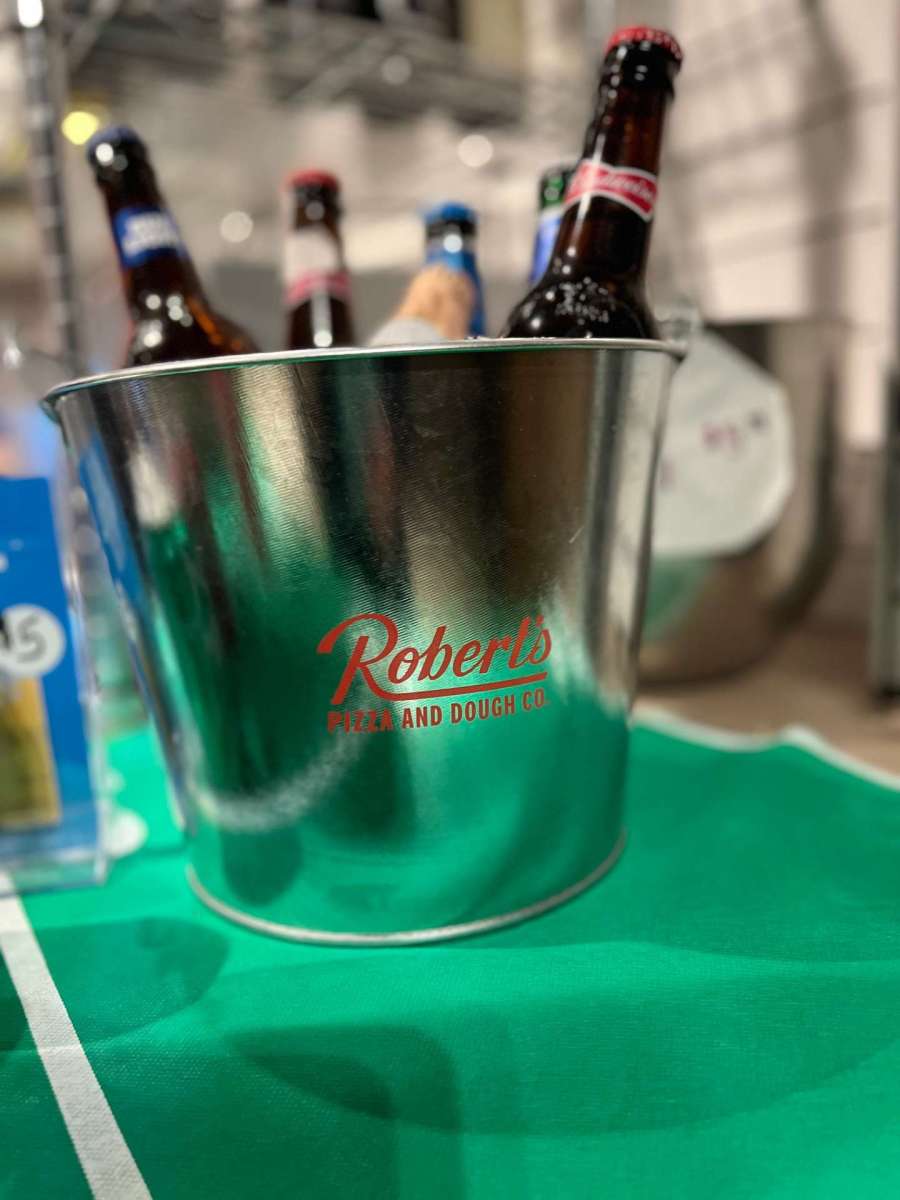 465 N McClurg Ct, Chicago, IL 60611
Cheer on your favorite team during March Madness at Robert's Pizza & Dough Co. in Streeterville. Robert's Pizza has seven televisions throughout the restaurant so you don't miss one second of the game. The neighborhood pizza joint will be offering $24 mix-and-match beer & hard seltzer buckets (6 bottles or cans) as well as Buffalo and Teriyaki Wings (6-piece for $14, 12-piece for $24).
Featured Image Credit: The Whale