Seasonal foods come and go, but chicken wings stay forever. And if you're going to be about that wing life, you need to know some of the best places to get them. So here are eight places to get some bomb ass chicken wings in Chicago this Super Bowl weekend!
2548 N Southport Ave, Chicago, IL 60614
Bring your A game to Super Bowl this Sunday with delicious wings! Featuring some of our all time favorites, such as Bourbo BBQ, chili maple, and a classic dry rub, Broken Barrel is always one of our go-to places for amazing wings in Chicago! Pickup is available for order via phone, DoorDash, GrubHub, and Uber Eats.
601 N Milwaukee Ave, Wheeling, IL 60090
Looking for a good wing deal in the burbs? Special for Game Day Week, order up a wing package to serve your whole crew for carryout. The package includes four dozen cast iron fried chicken wings, served naked with sauce on the side, or sauce tossed with your choice of BBQ, Honey Sriracha, Buffalo or Spicy BBQ.
The package includes housemade pickles and ranch dressing for dipping and is $60, plus tax for bone-in or $50, plus tax for boneless.
2056 N Lincoln Park W, Chicago, IL 60614
RJ Grunts is here to help cater the Big Game with Game Day favorites like wings, chili and the signature Buffalo Nachos available for groups. Order up half-pans of the Jumbo Wings with buffalo, hot buffalo or BBQ (40 wings) for $69.95, plus tax, half gallons of Beef or Veggie Chili for $24.95, plus tax served with all the fixins like cheddar cheese, chopped onion and crackers or a half pan of Buffalo Chicken Nachos for $39.95, plus tax that feed 5-6 people. Orders must be placed at least 24-hours in advance by calling the restaurant directly
1000 E Grand Ave, Chicago, IL 60611
Whether for dine-in or take-out, Offshore never fails to impress! Looking for some killer wings in Chicago for the big game? Their Hickory-Smoked Chicken Wings are the real deal! For this year's Super Bowl, Offshore will also be offering Prosciutto and Buffalo Chicken brick oven style pizzas for those who can't get enough 'za. To make a reservation, please click here.
2500 N Southport Ave, Chicago, IL 60614
Heralded as arguably the best chicken wings in Chicago, Bird's Nest sits just west of DePaul's Lincoln Park campus and is a go-to neighborhood joint with wings that attract patrons from every neighborhood. You have to get them bone-in with their signature buffalo pepper sauce and an ice-cold pitcher of Miller Lite on NFL Sunday's.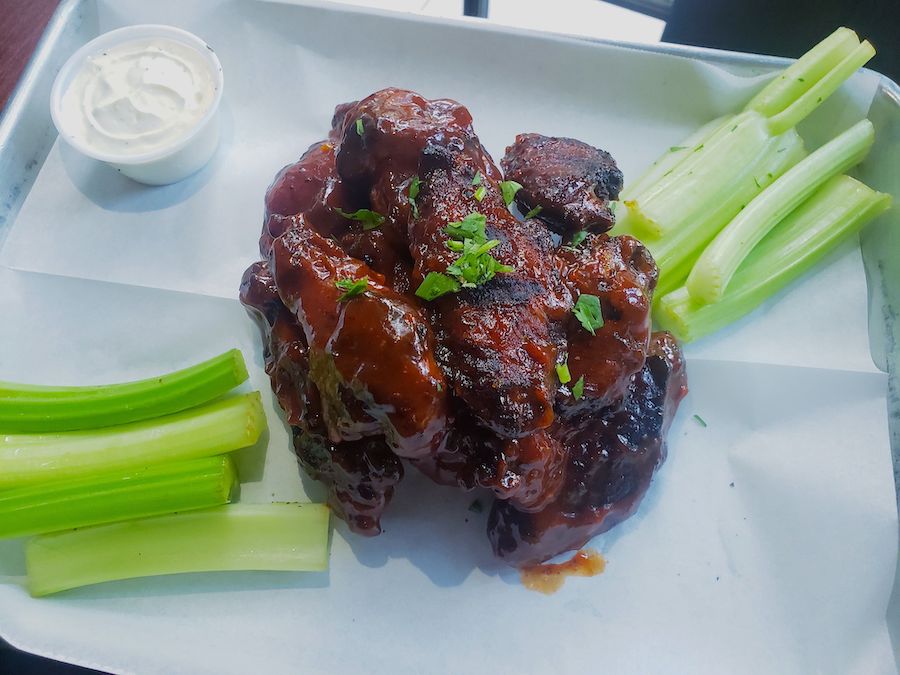 4128 N Lincoln Ave, Chicago, IL 60618
The Rambler has everything you're looking for in the perfect neighborhood watering hole—friendly atmosphere, a dynamite beer garden, strong drinks, and a great menu. That menu is highlighted by their chicken wings with signature Rambler Sauce—a sweet and spicy, house-made barbecue sauce with a touch of cayenne and cumin to add a bit of a kick. The sauce itself is sticky and gets you craving more. Not to mention, every Monday they host Bachelorette/Bachelor Bingo if you need an excuse for a cold drink and some bomb-ass chicken wings to start your week.
41 East Superior Street Chicago, IL 60611
Jake Melnick's Corner Tap is the go-to place for classic buffalo wings. With plenty of sauces to choose from, affordable prices, and large portions for sharing (although, who would want to do that?), this restaurant is a local favorite. If you're feeling daring, try their XXX hot wings, the world's hottest!
Read More: The Best Restaurants To Order Fresh Crab in Chicago IL 
1758 W Grand Ave Chicago, IL 60622
Despite being known as a sports bar, this small restaurant also specializes in some of the best wings on the west side. Right near the United Center, you have a choice of 10, 20, 30, or 50pc wings, paired with exotic flavors like lemon pepper and Jim Bean Honey BBQ.
Multiple locations 
With over 33 crafted sauces, this late-night wing spot should be on your go-to list if you haven't gone already. They have amazing jerk chicken, carrying over five types of Jerk chickens flavors. It's definitely a classic chicken wings spot in Chicago with a great vibe.
2047 W Division St, Chicago, IL 60622
If you're looking for a place with great wings and an incredible nightlife, try out Wicker Park's Fifty/50. They're famously known as the spot with the best wings, having three choices to pick from (regular breaded wings, applewood smoked wings, and boneless breaded wings). The restaurant also ages their buffalo wings for 2 to 3 months.
Read More: The Popular Facebook Groups for Chicagoans to Join
2301 W Chicago Ave, Chicago, IL 60622
81 E Wacker Pl, Chicago, IL 60601
Jamaican jerk wings? Say no mo—oh, it comes with a side of pita bread? And it's only $9??? Sign us up.
Also on the menu are 8pc buffalo wings and the Island Style Jerk Chicken Dinner, which are equally delicious.
2940 N Broadway, Chicago, IL 60657
Serving up Korean fried chicken at this unassuming wing joint, Crisp offers options like Seoul Sassy—made with ginger, soy, garlic, and other select spices, but NOT teriyaki—and Korean-American fusion BBQ. You can get 10 wings for under $20, so what are you waiting for?
2236 E 71st St, Chicago, IL 60649
Sure, this place is more seafaring than the others on this list, but that doesn't mean Surf's Up South Shore can't compete. Boasting some of the best chicken wings in Chicago, you can order up to 75 pieces, served in whatever sauce your heart desires — including Hennessey!
What are some of your favorite wing spots? Let us know in the comments below!
Read More: 8 Popular Restaurants to Visit This Weekend in Schaumburg, IL
At UrbanMatter, U Matter. And we think this matters.
Tell us what you think matters in your neighborhood and what we should write about next in the comments below!
READ MORE LIKE THIS
DOWNLOAD THE URBANMATTER APP
FIND PARKING