Last night, the UrbanMatter crew had the pleasure of getting a sneak peek of PB&J (which stands for Pizza, Beer, & Jukebox, but they have peanut butter and jellies as well… we'll get to that), the newest joint for pizza, drinks, and tunes situated in the heart of Chicago's West Loop. If you're curious to know what to expect before you stop in, we've got you covered.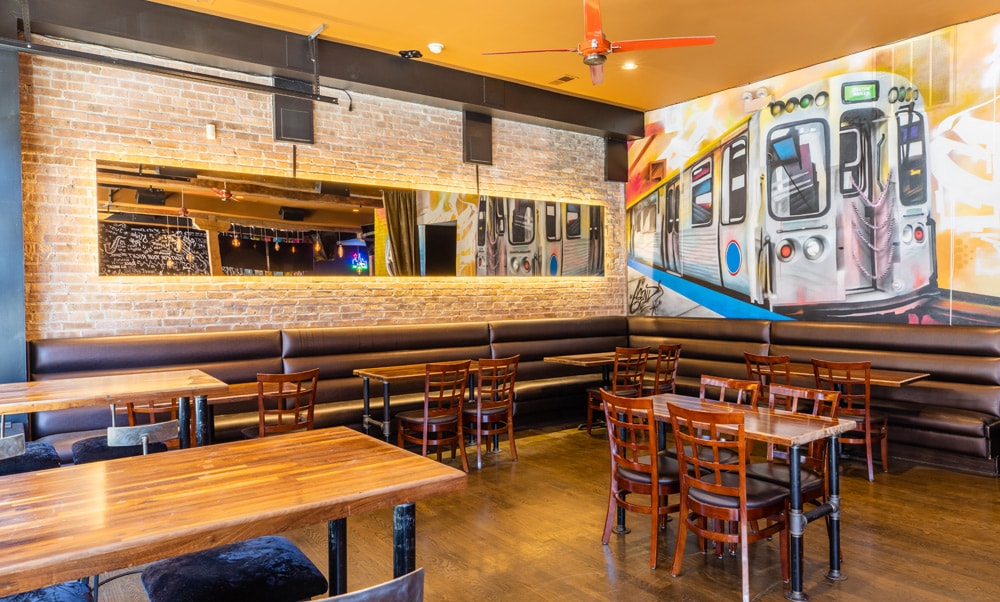 On first arrival, it was easy to see the kind of vibe PB&J puts forth: the large, garage-style windows were opened up to entice any passersby to peek in and the modern jukebox was pumping some classic country tunes to get your hips swinging.
We were greeted and seated at an appropriate and safe distance from other patrons. All staff and personnel were wearing masks; we were to wear our masks as well unless seated at our table.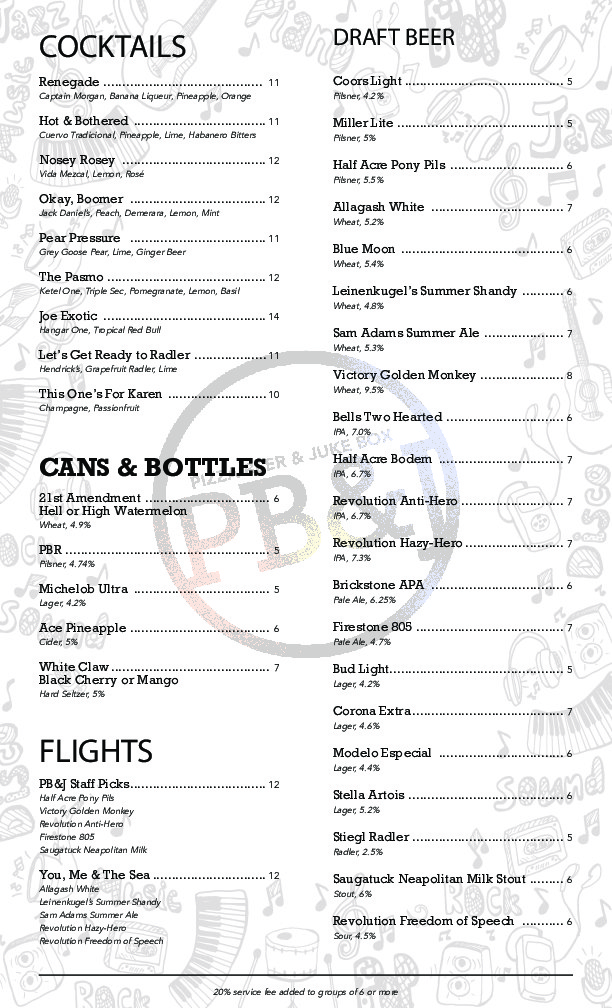 To open our dining experience, we began perusing the drink menu. The selection of draft beer at PB&J has a good spread of the usual suspects, but it isn't as sprawling and varied compared to other Chicago joints; rather, concise and easy to manage. While some of us considered getting one of the two flights to sample the spread of beers, the crew ended up opting for their specialty cocktails instead.
---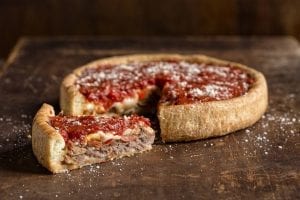 View the Best Pizza Restaurants in Chicago, Ranked
Need even more pizza in your life? View our list of the top 50 pizza restaurants in the city.
View the Best Pizza Places in Chicago
---
The options here were original and intriguing. The names of the drinks are definitely a high point (we're talking about drinks named Okay, Boomer and Joe Exotic), and the taste matches with equal strength. The balance of alcohol in each drink was perfectly done, the Pear Pressure being a strong highlight of PB&J's craft.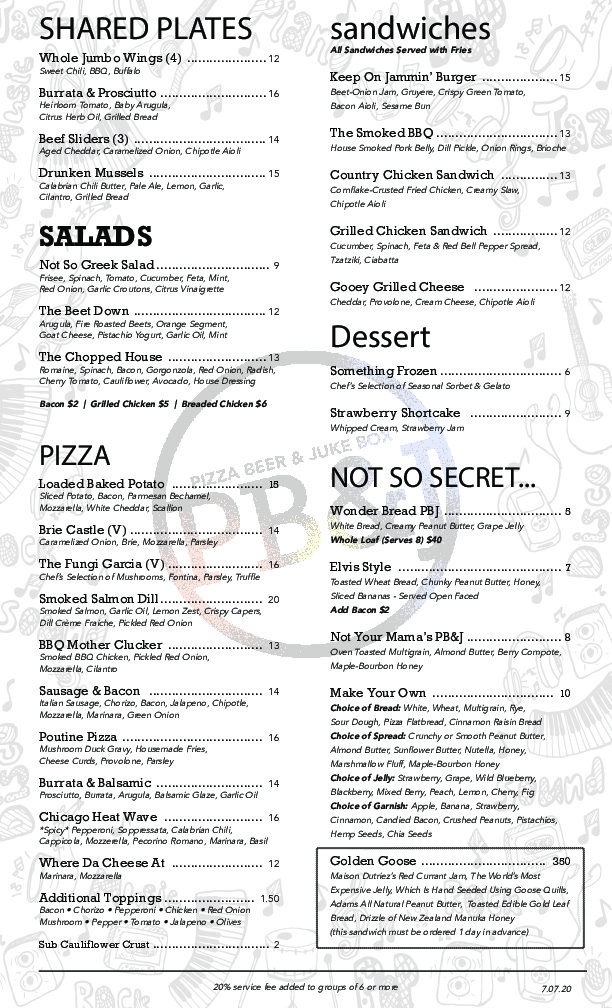 All but one of our group are vegetarians, a fact we didn't think to consider to mention until the chef brought out their Loaded Baked Potato pizza with bacon crumbles and noted that the next two pizzas would also contain meat. (We weren't expecting a catered course list at PB&J, but perhaps this method is to curb the risk of coronavirus transmission if people were grabbing from plates and platters.)
Even though the mistake was on our end in communication, the chef very kindly accommodated our eating restrictions and had our next two pizzas be The Fungi Garcia, a mushroom-packed pizza with truffle oil on it, and their classic cheese pizza aptly named Where Da Cheese At. Both were unbelievably cheesy and packed full of flavor. (Our resident meat-eater said the Loaded Baked Potato Pizza also slapped.)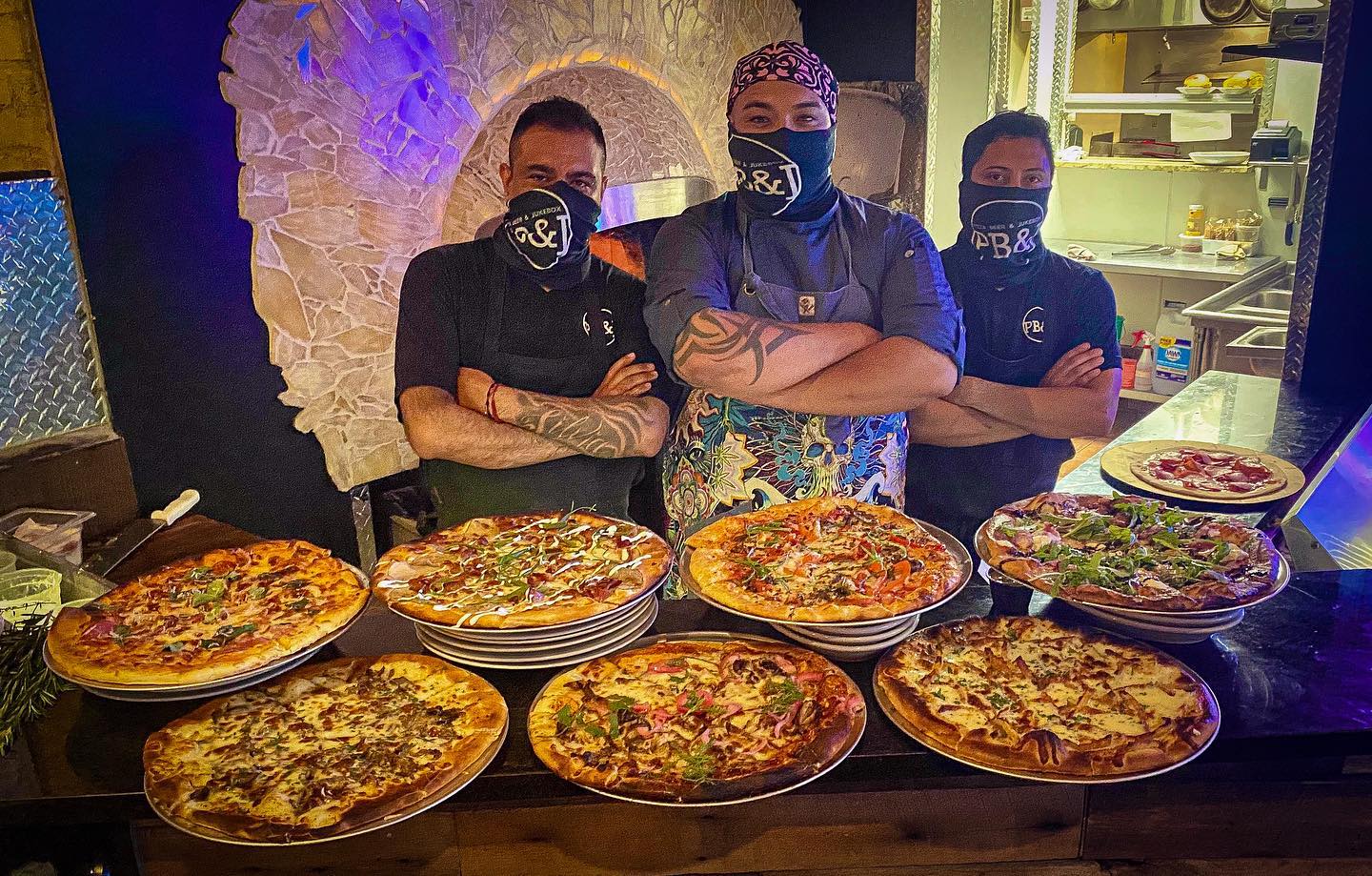 Following the hearty pizzas, we had a round of The Beet Down salad which had a refreshing tanginess to it from the slices of orange and mint in it. Instead of getting their beef sliders to close out the eats, we had slider versions of their Gooey Grilled Cheese. The chipotle aioli on the buttery, crisp bread mixed with the melted cheese was a combination that took us to grilled cheese heaven.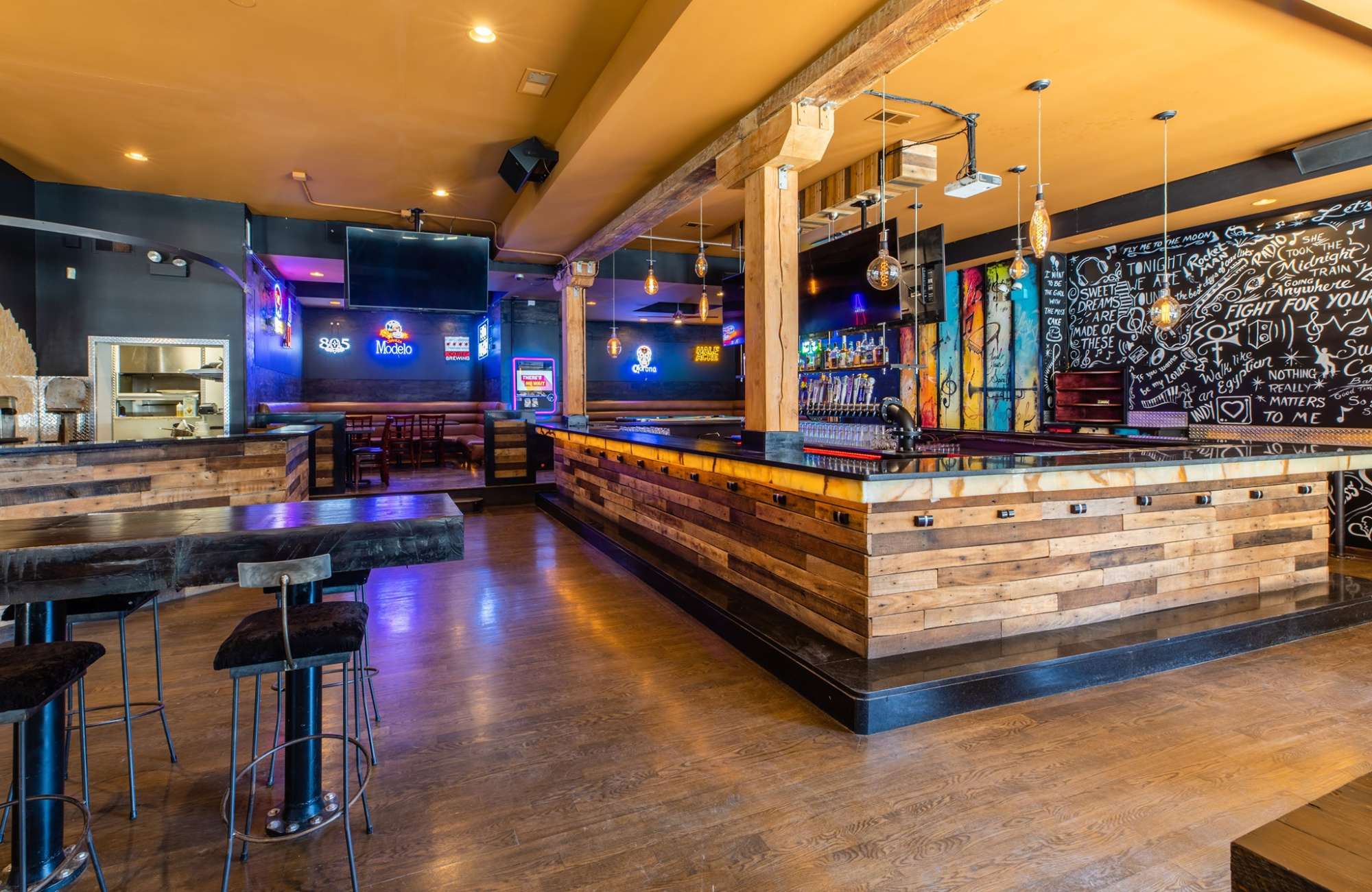 PB&J's golden ticket (excuse this pun) is the Golden Goose, made with Maison Dutriez's Red Currant Jam, the world's most expensive jelly hand seeded using goose quills, Adam's all-natural peanut butter, toasted and edible gold leaf bread, and a drizzle of New Zealand Manuka honey. This sandwich will run you a whopping $350 and has to be ordered a day in advance. The Golden Goose was briefly on display but in the whirlwind of the vegetarian fiasco, we only laid eyes on it for a moment. Maybe next time we'll snag a taste of the gold, but for the amazing selection PB&J gave us, we're plenty happy with what they've got to offer.
This place is gonna be packed often, so if you want to get ahead of the curve, head over to PB&J ASAP!
At UrbanMatter, U Matter. And we think this matters.
Tell us what you think matters in your neighborhood and what we should write about next in the comments below!
Featured Image Credit: PB&J Facebook Page
READ MORE LIKE THIS
DOWNLOAD THE URBANMATTER APP
FIND PARKING