Why should you contribute to giving season fundraisers? Because for years, the nonprofit industry has been leading the tides and calling forward changes that truly improve the life of every Chicagoian. And let's not forget that charity and community engagement have always been a core piece of the Chicago culture. From sports teams leading volunteering to fundraisers led by chefs and businesses, Chicago winter is never intolerable thanks to the warmth of love.
This year, be a part of this love. We're proud of you!
Month-Long Fundraisers
As we all know, November is the month of giving. While we show our appreciation for our families and friends, don't forget to also support the organizations that have always been there helping our communities. Remember, our nonprofits need our help more than ever after battling through the pandemic. These giving season fundraisers are running throughout the month of November, and most of them come with drinks, food, or other sorts of fun!
5 Fundraisers From Cal's Angels
Cal's Angels is looking to the local community to give back and raise awareness for pediatric cancer this holiday season. Below is a complete list of ways you can get involved and make a difference for this important cause during the season of giving:
All Jet's Pizza locations
This is the second year where Jet's Pizza runs a free one-topping pizza deal to encourage diners to bring in new or near-new winter items. Hats, gloves, sweaters, jackets… Jet's Pizza is running their 2nd annual winter drive across all locations in Chicago to help homeless youth and families in need get through the quickly-approaching winter.
Farm Bar in Lakeview and Farmhouse in Evanston, will launch a new iteration of their Charity Giveback program to support local nonprofits in Chicago and Evanston. In the spirit of community and camaraderie, the nonprofits selected support a diverse range of missions relevant to local communities such as women's empowerment, children's health and refugee education, among others.
Farm Bar's Participating Charities:
Farmhouse's Participating Charities: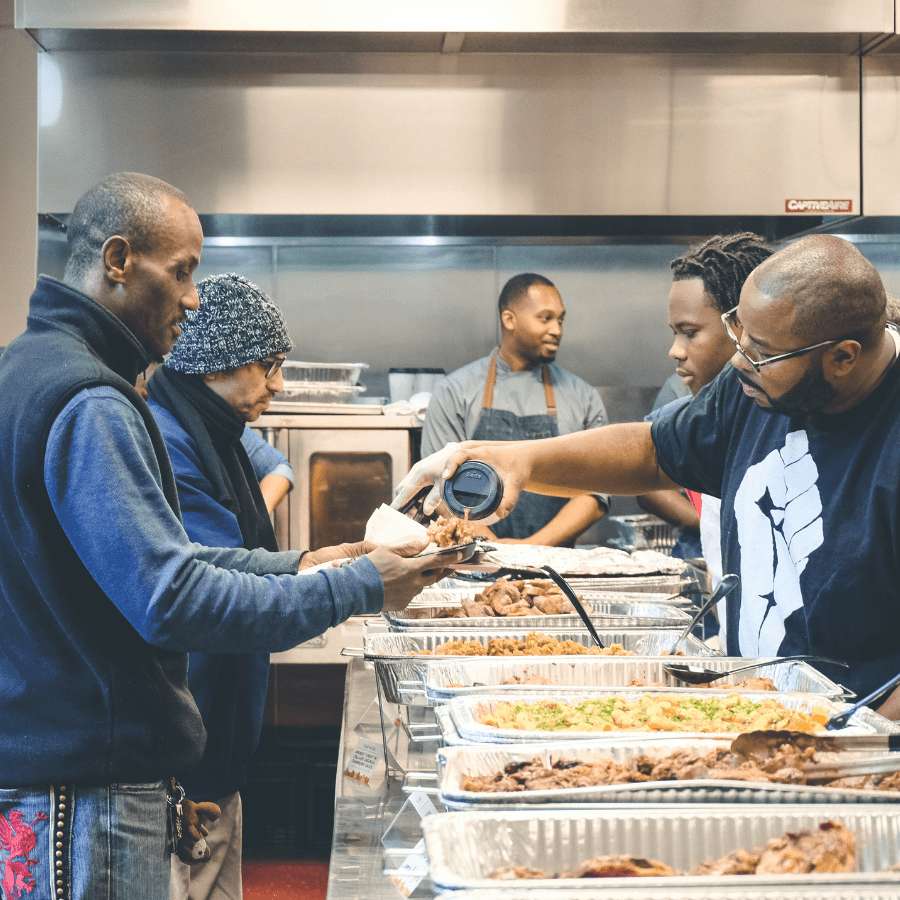 For the sixth year running, Chef Bill Kim and Cornerstone Restaurant Group will host Chefsgiving the weekend before Thanksgiving — expanding their reach to Chicagoans across the city to become the biggest event yet. In partnership with Inspiration Kitchens, Kim and more than 45 Chicago chefs will prepare meals and come together to distribute ready-to-eat meals to local shelters free of cost.
"During these times, we all need uplifting and memorable experiences as we gather together again for the holidays. This is our chance as chefs and neighbors to help our fellow Chicagoans in need all throughout our great city, and we're going to take it," said Kim.
Kim and the participating chefs encourage fans to help support the Chefsgiving and Inspiration Kitchens by donating here.
#GivingTuesday Campaigns to Join
Of course, let's not forget about how quickly #givingtuesday is coming up when we talk about giving season fundraisers in Chicago! While most organizations will be raising funds on this year Giving Tuesday, we've also hand-picked a few organizations from each category to serve as quick references.
Expo 72, E Randolph St #72, Chicago, IL 60601
Where do you go to explore the latest, most innovative design in Chicago? The Design Museum, of course! Covering everything from graphic design to fabric design, the Museum presents exhibitions and programs focusing on design's impact in an effort to empower audiences.
17 N Wabash Ave #520, Chicago, IL 60602
The theater is such a vital piece in Chicago's life and culture. Furthermore, the stage is also the place where new ideas spark and new messages are spoken. The League of Chicago Theaters has proudly served the Chicago theatre community for over 40 years through programs and services that directly impact its members while enriching our life across the town with a wide variety of productions. As live theater returns, the League needs your support more than ever so they can continue to bring amazing plays to your life.
4100 W Ann Lurie Pl, Chicago, IL 60632
We've just talked about helping out at pantries. The Greater Chicago Food Depository is one of Chicago's biggest food banks. The organization provides food and hope for Chicago and Cook County. This Giving Tuesday, they're asking you to join forces with them to end hunger in Chicago.
1279 N Milwaukee Ave 4th Floor, Chicago, IL 60622
Chicago NHS is the hero in many people's hearts. They have helped so many from rents to mortgages, providing support to so many individuals. NHS helps with everything from owning your first house to maintenance and upkeep. They also have programs designed to provide financial reliefs for those in need.
Featured Image Credit: Design Museum of Chicago