Hungry for some uninterrupted, seven-day-a-week outdoor dining in River North of Chicago? Well, good news for you then because the city has announced that Clark Street dining has been extended as three blocks of the River North corridor will remain completely closed to traffic for the entire week in order to entertain more outdoor diners before the weather takes a turn.
The project began over the weekend and is now extending to the entire week to serve a wider audience. The closures extend from Kinzie Street to Grand Avenue, in addition to the one block of Wells Street between Superior and Huron, and Rush Street to State Street by way of Bellevue Place.
Here is a collection of popular outdoor restaurants in Chicago that will benefit from the newly minted schedule for you to try out before winter comes.
XOCO
449 N Clark St, Chicago, IL 60654
XOCO is the brainchild of famed Chef Rick Bayless and presents his take on Mexican street food. It's fun, tasty, and has arguably the best margaritas in the city.
Beatrix
519 N Clark St, Chicago, IL 60654
Beatrix is like the brunch dream for a wild pack of blonde social-mights. It's essentially 25 percent American eatery, 25 percent bakery, 25 percent coffee shop, 25 percent wine bar, and 100 percent Instagrammable. This outdoor restaurant in Chicago has extended their patio into the middle of Clark Street and you can add skyline shots to your avocado toast with smoked salmon.
Havana Grill
412 N Clark St, Chicago, IL 60654
Havana Grill at night is a gem of River North with its live music and Latin vibe that has you feeling like you're in Havana itself. During the day, it's turning out incredible Pan-Latin food and beautiful cocktails.
The Smith
400 N Clark St, Chicago, IL 60654
If you're looking for classy outdoor restaurants in Chicago, the Smith is a perfect happy hour date spot on this strip of Clark St. The indoor area is super nice, but with the large open windows, even if you are sitting on the extended patio, you can get a feel of the sophistication it takes to be a regular at The Smith.
The Boss Bar
420 N Clark St, Chicago, IL 60654
The Boss Bar is the 5 AM tank of a bar that attracts the drunkest of the drunk on a weekend. Little do people know, it actually has a super good menu that includes one of our favorite burgers in the city. But even if only a drink is in your future, the patio extension will make your ice-cold Miller Lite that much more satisfying.
Bub City
435 N Clark St, Chicago, IL 60654
BBQ and live music in the heart of River North? Yes, that's Bub City for you. So for some warm pulled pork on a nice fall afternoon to really make you feel like you're in the heart of football season, head to Bub City.
Epic Burger
407 N Clark St, Chicago, IL 60654
Pretty self-explanatory, the burgers are pretty epic.
---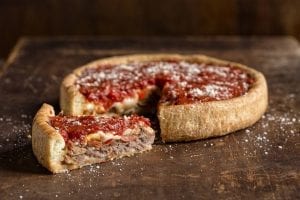 View the Best Pizza Restaurants in Chicago, Ranked
Are you trying to find the best pizza places in Chicago to visit? View our list of the top 50 pizza restaurants in the city.
View the Best Pizza Places in Chicago
---
Lyfe Kitchen
413 N Clark St, Chicago, IL 60654
Lyfe Kitchen is trendy and healthy outdoor dining spot that attracts a lot of people during their lunch hour. Even if it's a more take-and-go spot, it has a patio for diners who wish to take a beat while eating their quinoa and kale salad.
Maggiano's
516 N Clark St, Chicago, IL 60654
On the northern-most point of the Clark St closing, Maggiano's is the most recognizable name on this list. Known for its family-style Italian food and dark mahogany ambiance, you wouldn't imagine it'd be the first outdoor restaurant for diners. But, regardless, the eggplant parmesan on a nice September evening doesn't sound all too bad.
At UrbanMatter, U Matter. And we think this matters.
Tell us what you think matters in your neighborhood and what we should write about next in the comments below!
Featured Image Credit: Bub City Facebook Page
READ MORE LIKE THIS
DOWNLOAD THE URBANMATTER APP
FIND PARKING