Summer in Chicago is an exciting time of year. While you're probably pumped to enjoy the outdoors each day, sometimes it's difficult to find outdoor activities that won't leave you dehydrated and sweaty. Luckily, Chicago has an awesome rooftop pool scene that's perfect for cooling down in the heat. These swanky high-rise pools are a great way to spend an afternoon lounging out next to unbeatable views of Chicago.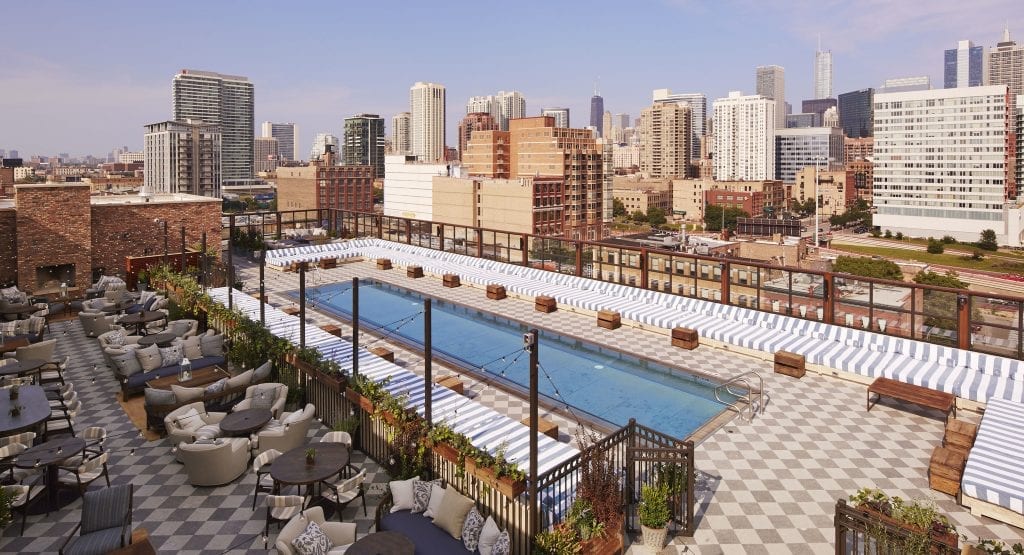 113 N Green St
This exclusive boutique Chicago hotel with an outdoor pool boasts incredible skyline views of the city. There's an indoor area for dining at this private membership club that opens out onto the deck, a full-service bar with refreshing cocktails and a kitchen with a wood-fired oven, and comfortable, oversized chairs and couches that even have ports to charge your devices. Take a dip in this swimming pool in Chicago during to cool off and warm up at night next to the outdoor fireplace.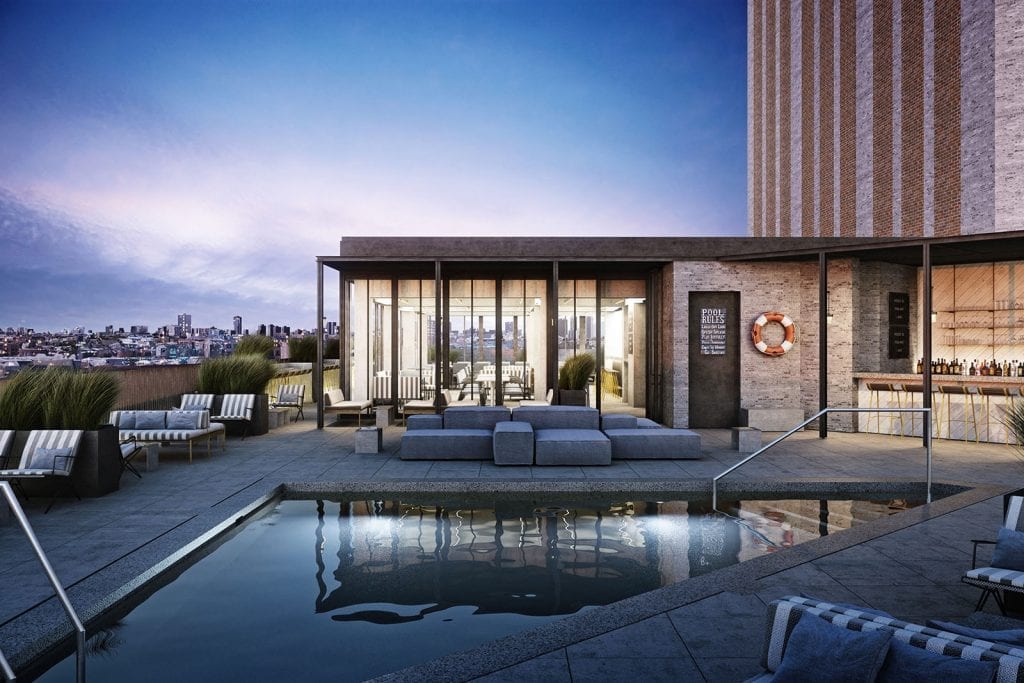 2018 W North Ave
Wicker Park's new hotspot is the recently opened, art deco-style hotel. The angular rooftop pool is located conveniently next to an extensive cocktail bar, and there's plenty of seating around the deck. Book your stay at this Chicago hotel with an outdoor pool and take in unique views of the Six Corners and city skyline as your swim and sip your night away.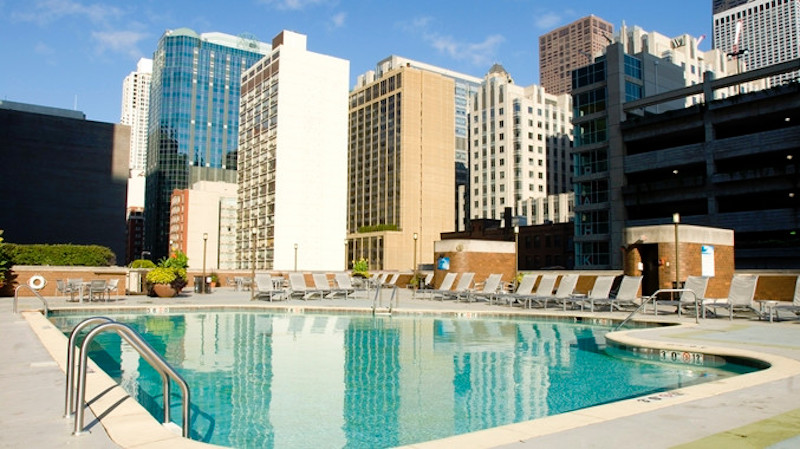 300 E Ohio St
After a long day of shopping and sightseeing in the city's top tourism district, relax with a visit to this bright, sunny terrace that features a large and inviting outdoor pool. It's open through early September, so make sure to grab your best swimsuit and plan your visit soon!
---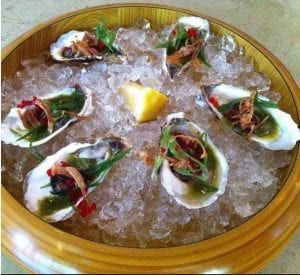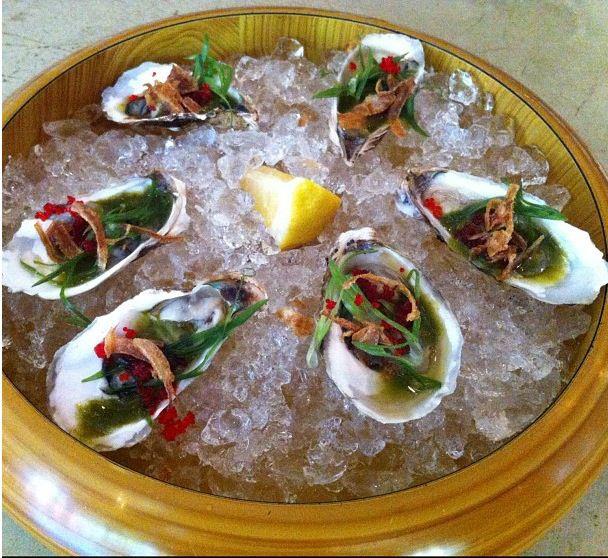 Popular Places to Get Seafood in Chicago
If you're looking for popular seafood restaurants to try in Chicago, we have compiled a list of 10 places to visit.
---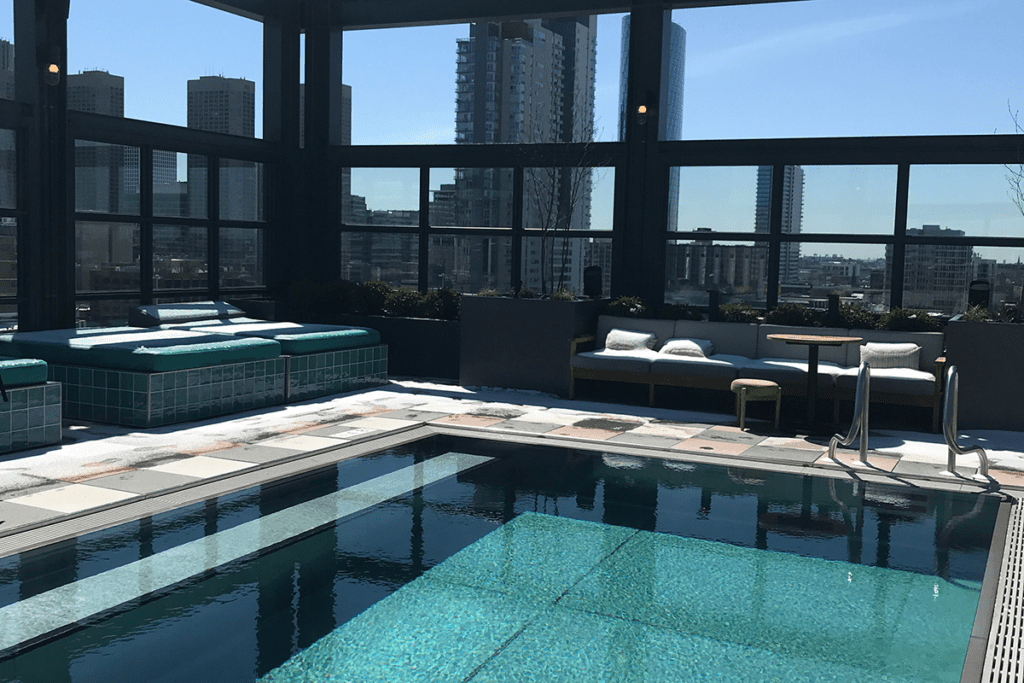 200 N Green St
Another West Loop winner on our list of the best rooftop pools, the Hoxton truly outdoes itself. This swimming pool in Chicago recently opened to the public earlier last year. Enjoy a stunning view of the Chicago skyline from their exclusive rooftop pool area. There's a bouncer outside the gate to ensure the space is never crowded, and don't worry—there's a bar within the gate, so you never have to leave to get a drink.
Get parking ahead of time so your're not driving in circles!


10 S Clinton St
This isn't just your ordinary gym lap pool. This swanky space in the trendy West Loop features luxe fountains and a fire pit for evening hours. Grab a drink from the bar and relax under the sun. Lounging out beats working out anyway.
The options are endless when it comes to finding a rooftop pool in Chicago—there's always something for everyone. Don't let the summer pass you by before taking a dip at one of these scenic locations!
At UrbanMatter, U Matter. And we think this matters.
Tell us what you think matters in your neighborhood and what we should write about next in the comments below!
Featured Image Credit: The Robey
READ MORE LIKE THIS
DOWNLOAD THE URBANMATTER APP
FIND PARKING