Are you loving the cool air, high skies, and color-changing leaves? Yes, we think it's safe to say fall is finally here in Chicago! This year, we've gathered a list of the tastiest seasonal menus across town. So throw on a comfy sweater, stroll down the street in your boots to a popular restaurant, and pamper yourself with these fall inspired drinks and pair it up with one of these specialty items.
122 W Monroe St, Chicago, IL 60603
Concierge Cocktail is a rotating handmade cocktail series that is bottled in-house and created by the Director of Concierge Services, Bobby Gonzalez. A portion of the proceeds from every bottle sold is donated to a chosen charity. This season's cocktail was created in partnership with Erin Toole Williams the great-great-granddaughter of John the Baptist (J.B.) Stradford, one of the wealthiest men in Tulsa, Oklahoma in the early 1900's.
Visit Kimpton Gray Hotel to find out what the specialty cocktail is this year!
Farmheads
Friends and families coming to dine at Farm Bar Lakeview or Farmhouse Evanston get the best of fall ingredients straight from the farm! The food and cocktail menus at these restaurants near Chicago feature ingredients directly from owner TJ Callahan's Brown Dog Farms in Mineral Point, WI including crisp apples, raspberries, fresh honey, morel mushrooms, and black walnuts.
Looking for a good fall cocktail? Guests can taste fresh apples within one of the house ciders or warm up with a Brown Dog Old Fashioned made with New Holland Beer Barrel Bourbon, Rhinehall Apple Brandy, Brovo Orange Curacao, Brown Dog Farm Honey Simple Syrup, and Walnut Bitters.
Also, the cider flight is back this fall by popular demands!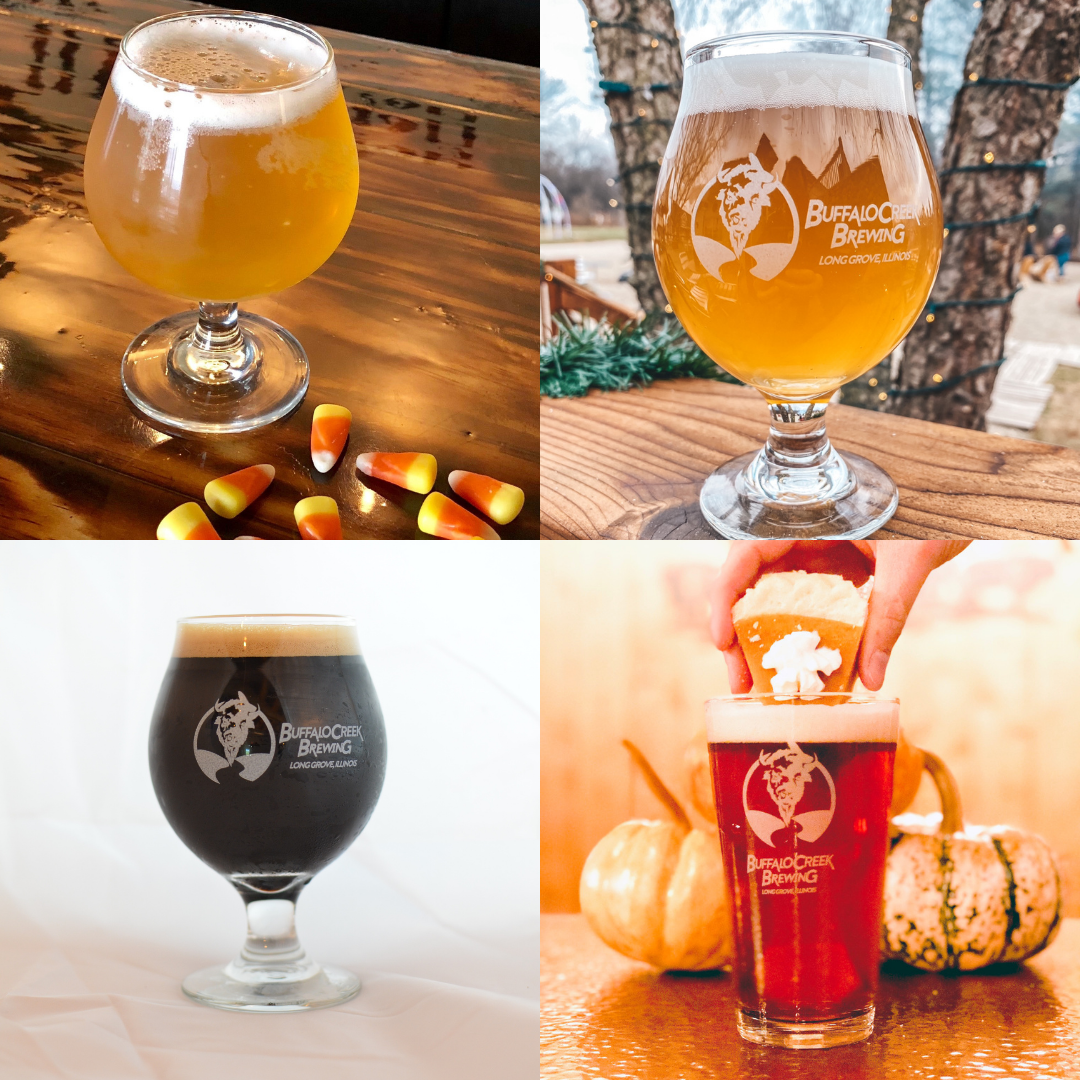 360 Historical Ln, Long Grove, IL 60047
From crafty small batch releases to old favorites back by popular demand, Mike gives his fans a wide selection of fresh choices each month. BCB creations are available on tap at the brewery or in growlers or cans for takeout or curbside pickup. Mark your calendar for their fall inspired beer release dates:
Oct 26: Pumpkin Pie Ale – A true cult classic, Pumpkin Pie Ale returns this month with its mix of locally-made honey, Vermont maple syrup, and real pumpkins.
Oct 29: Candy Corn Ale – In celebration of National Candy Corn Day and Halloween, Mike is bringing back his insanely popular Candy Corn Ale.
Nov 12: Barrel Aged Hallows – The return of BCB's wood barrel aged beer, Hallows, returns for loyal fans.
Nov 26: True North – To continue the brewery's support of Youthbuild Lake County, BCB is re-launching its annual fundraiser beer, a Christmas Ale called True North.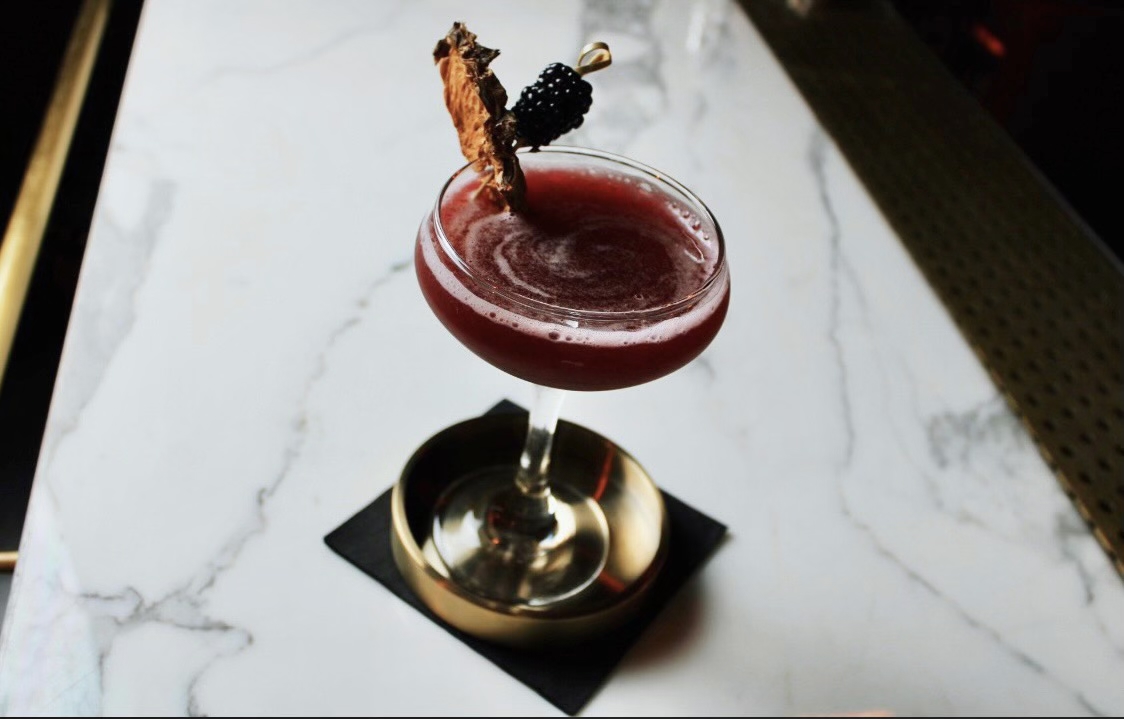 613 N Wells St, Chicago, IL 60654
Recently opened in River North, Yours Truly is predominantly a cocktail and wine bar with bar bites, featuring a modern take on the 1990's Martini Bar. It's a neighborhood spot to grab a well-crafted drink, watch a game, and meet with friends without pretension. Try their Appletini made with dehydrated apple and camomile tea, cinnamon bitters, and your choice of gin or vodka, or Espresso martini made with double espresso, liquor 43, mole bitters, cacao simple syrup, and vodka.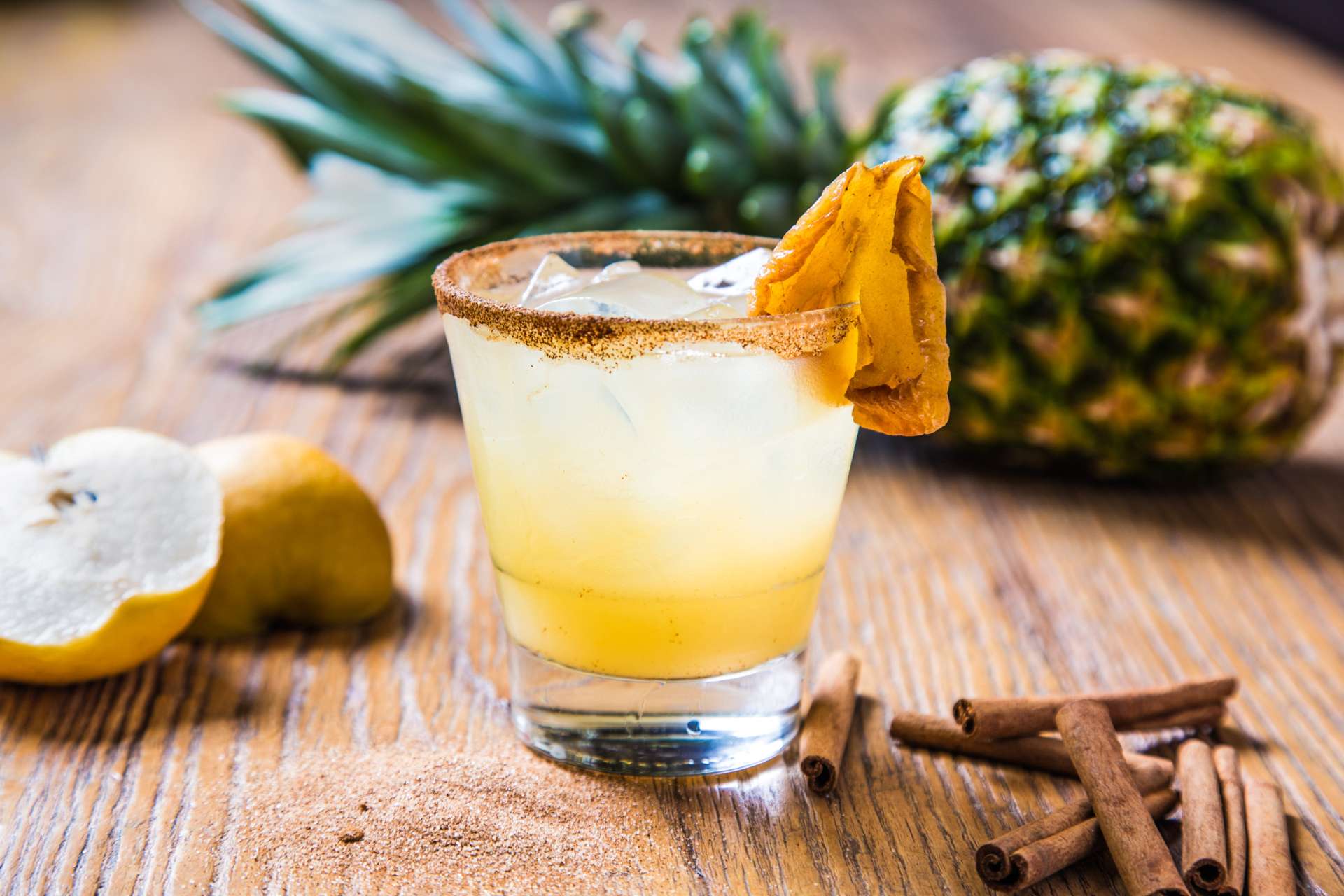 Sunda Sushi
110 W Illinois St, Chicago, IL 60654
Besides the fact it is still warm enough to enjoy one (or three!) sushi rolls, we're all super excited about the seasonal cocktail at Sunda Sushi this year. If you are looking for the best restaurants in Chicago, we recommend ordering the Peared Sake at Sunda Sushi. It is a new Japanese cocktail with grey goose la poire, ginger, pineapple, sparkling sake, and cinnamon rum.
854 W Randolph St, Chicago, IL 60607
From restaurateur and famed Chef Nobuyuki "Nobu" Matsuhisa, Nobu Chicago opened in September 2020 and features a variety of fall flavors on the menu. Guests can start their meal with shishito peppers and roasted baby corn, before enjoying dishes like the crispy shiitake salad or tempura sweet potatoes, pumpkin, and mushroom.
And… guess what? Are you enjoying that crisp fall air and want to enjoy a cocktail with skyline views? The bar at The Rooftop at Nobu Chicago features a variety of cocktails, Japanese whisky, scotches, and digestifs perfect for your post-dinner drink.
845 W Washington Blvd, Chicago, IL 60607
Chef John Manion's Argentine-influenced menu is the perfect date night spot this autumn! Live-fire cooked steaks pair perfectly with dishes like Japanese sweet potatoes and baby broccoli and cauliflower. Trying something new? Entrees like morcilla topped with apple mostrada or quail with giardiniera and red chimichurri offer a touch of fall flavors and spice that excite the palate.
As for drinks, what's better than pairing your meal with a glass of wine? After all,  El Che Steakhouse & Bar is the only restaurant in Chicago, and the United States for that matter, with an all South American wine list.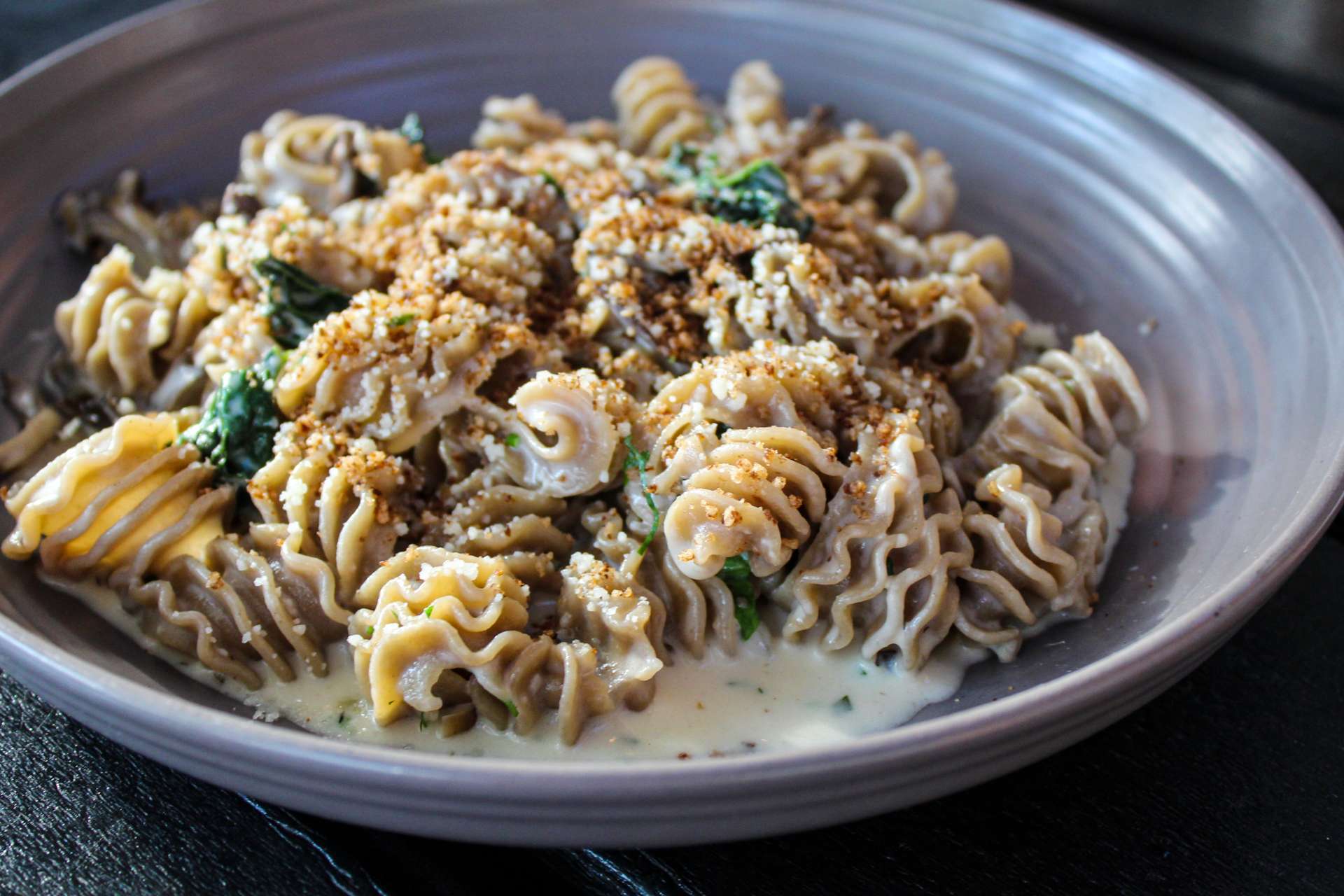 3335 N Halsted St, Chicago, IL 60657
Instead of pumpkin, Chef Devin prefers to cook with Kabocha Squash, as he notes it is much more dense and intense in flavor than a regular pumpkin. He serves it in a variety of ways including grilled, roasted, in soup, tempura fried, and more. Additionally, Chef Devin is excited about cooking game birds such as quail. New to the menu this fall, diners can expect a Balsamic & Rosemary Grilled Quail with a salad of charred radicchio, wheat berries, roasted local farm grapes from klug.
Of course, you'll need the right seasonal drink to pair with your dinner. Try Two Timer, a delicious fruity drink made with peruvian pisco brandy, apricot nectar, yellow chartreuse, lemon and cinnamon stick syrup, or Northern Border, a classy, refreshing cocktail made with bulleit rye, old overholt rye, fernet branca, maple, cardamom, angostura, and orange peel.
932 W Fulton St, Chicago, IL 60607
Located in the Fulton Market District, Rose Mary has long been known for its seasonal menus inspire dby Chef/Owner Joe Flamm's  Italian heritage and the bold, bright flavors of Croatian cuisine. And after an eager wait, we will finally see what Chef Joe has for us this fall!
Some standouts from this year's fall menu are :
Delicata Squash — with taleggio fondue, candied pecans, chile oil and tarragon

Spaghetti di Zucca — with coal roasted squash, amaretti, balsamico and brown butter

Porcini Agnolotti — with parmigiano, brown butter and fresh shaved white truffle (the season's favorite)

Duck Sausage — with polenta, rapini and giardiniera
1134 W Washington Blvd, Chicago, IL 60607
Besides launching its first, brand new happy hour, the Press Room also brings up their seasonal menu that will warm us up through fall and winter. Diners can sip on classic fall favorites and innovative twists on new ones including:
Hot Cider – Bourbon & Calvados, cranberry bitters, lemon expression and housemade michigan cider mulled with allspice, cinnamon, nutmeg, clove, peppercorn, sea salt and orange

Three Bites of the Apple – old fashioned with apple cider syrup and cranberry bitters

Lions Tale – bourbon, allspice dram, lemon, bitter

Old Cuban – French 75 riff with rum
Come in Tuesdays and Wednesdays between 4-6pm and enjoy $7 cocktails and $1 oysters!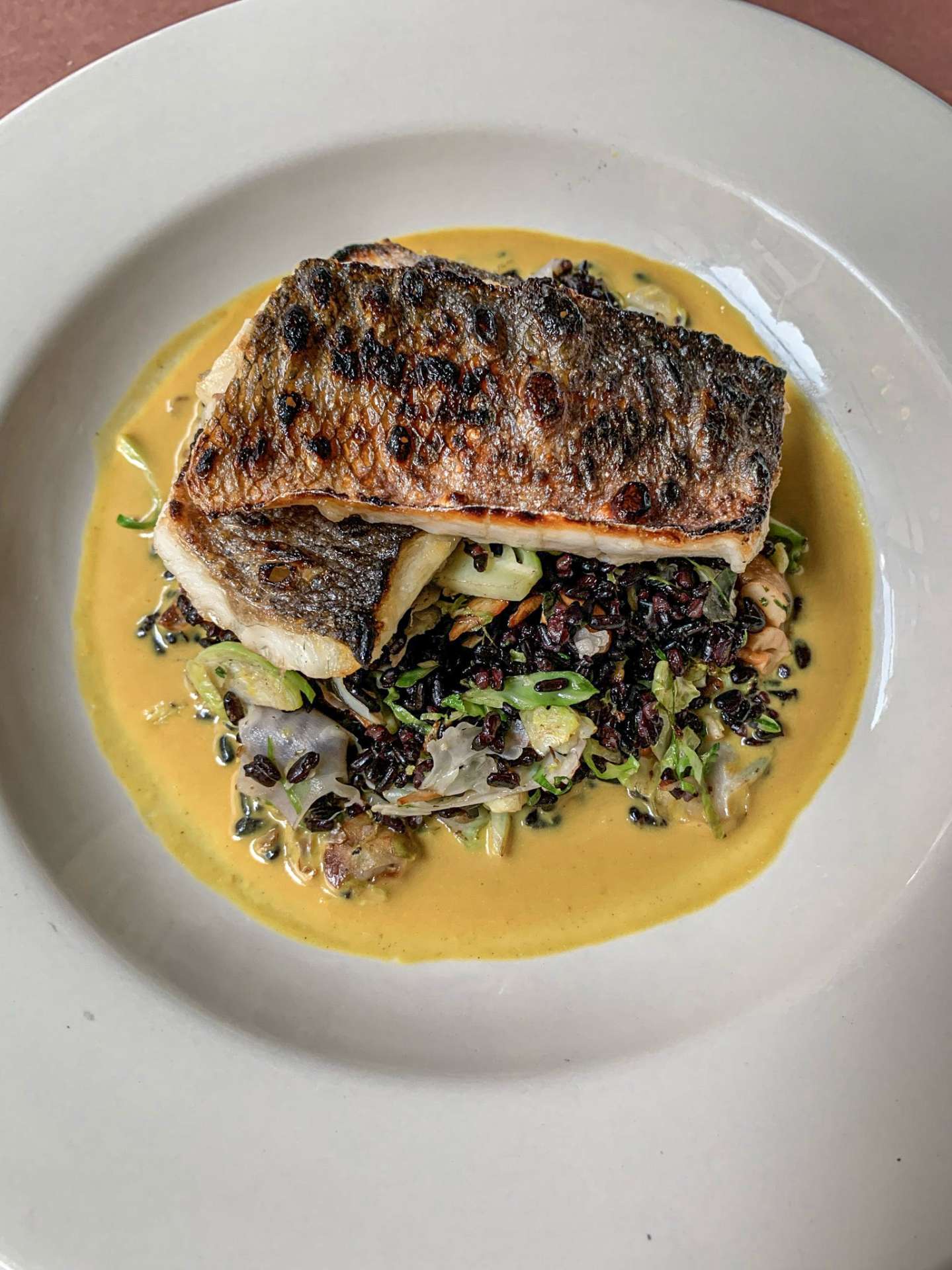 400 N Clark St, Chicago, IL 60654
Located in Chicago's River North area, The Smith features an expansive outdoor patio and seasonal menu items including a new variety of salads, schnitzels, desserts, and more.
Fried Carrot Stick, blackening spice, southern ranch
Piri Piri Squash + Cauliflower, pumpkin seeds, cilantro, yogurt
Honeycrisp Apple + Goat Cheese Salad: golden beets, fennel, toasted pecans, apple cider vinaigrette
Butternut Squash Schnitzel, braised red cabbage, cremini mushrooms, melted leeks, dijon beurre blanc
Branzino, heirloom rice, brussels sprouts, cauliflower, cashews, coconut curry
Dark Chocolate Layer Cake, chocolate tahini mousse, concord grape jam, whipped vanilla cream, caramel popcorn
Honeycrisp Apple Pie, toasted almond cookie crust, apple cider caramel, bourbon ice cream
145 N Dearborn St, Chicago, IL 60602
Located in the heart of Chicago's Loop area, The Dearborn serves exquisite offerings for lunch, dinner, and brunch service. New to the menu this fall, diners can indulge in Cinco Jotas Jamon Iberico served with peppadew peppers, goat cheese croquette, really good olive oil, parsley, mâche & frisée salad.
Additionally, diners can enjoy Roasted Airline Chicken Breast served with boursin, spinach & grilled artichoke stuffing, housemade parmesan gnocchi, seasonal mushroom, fava beans, spicy chicken sausage, and natural jus. And don't forget to try a Morningstar: a mojito made with Playpen vodka, lemongrass and ginger, French calamansi beaujolais vinegar, The Bitter Truth cucumber bitters, Fever Tree cucumber tonic, and mint, served long on crushed ice.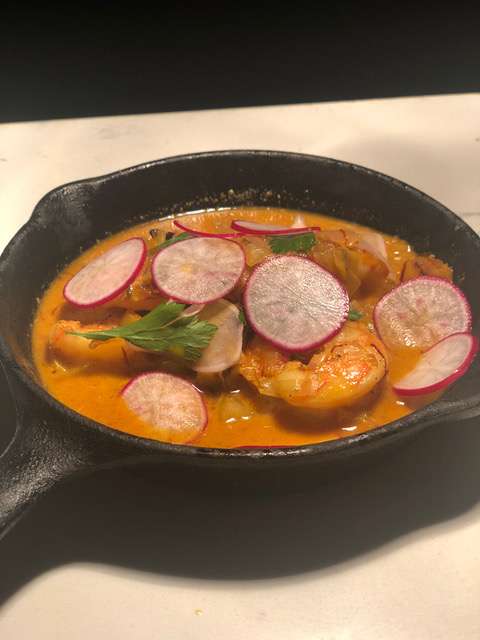 1134 W Washington Blvd, Chicago, IL 60607
As his favorite season finally arrives in Chicago, Chef Noah Zamler's is most excited about working with root vegetables, sweet potatoes, and creating unique, heartfelt pasta. In terms of unique ingredients, Chef Noah turns to Espresso Powder and Cocoa in one of his pasta. While the cocoa doesn't make the pasta taste like chocolate, it gives it unique coloring. Meanwhile, the Espresso Powder gives the pasta a "jolt" of energy.
He also loves to use Parsley Root for his pasta fillings. He notes the starchy vegetable holds up very well when making a puree out of it, giving the dish a velvety texture. Additionally, he is excited to work with Celery Roots, as he tends to treat them similar to steaks and will feature a sweeter glaze to create the perfect bite.
On the other hand, new fall cocktails include the Three Bites of the Apple, a spin on the classic old-fashioned with apple cider syrup and cranberry bitters. Also, diners can sip on their homemade Hot Cider featuring Bourbon & Calvados, cranberry bitters, lemon expression, and Michigan cider mulled with allspice, cinnamon, nutmeg, clove, peppercorn, sea salt, and orange.
Stan's Donuts & Coffee is celebrating the return of their fan-favorite fall donuts and beverages in stores starting Sept. 10. The fall menu includes favorite Apple Cider and Pumpkin flavors and the addition of a new Taffy Apple donut that is sure to satisfy your morning caramel apple cravings.
Also, Stan's fall donuts pair perfectly with seasonal beverages, including Stan's take on the favorite Pumpkin Spice Latte and unique offerings like Spiced Apple Chai-der and Caramel Apple Latte.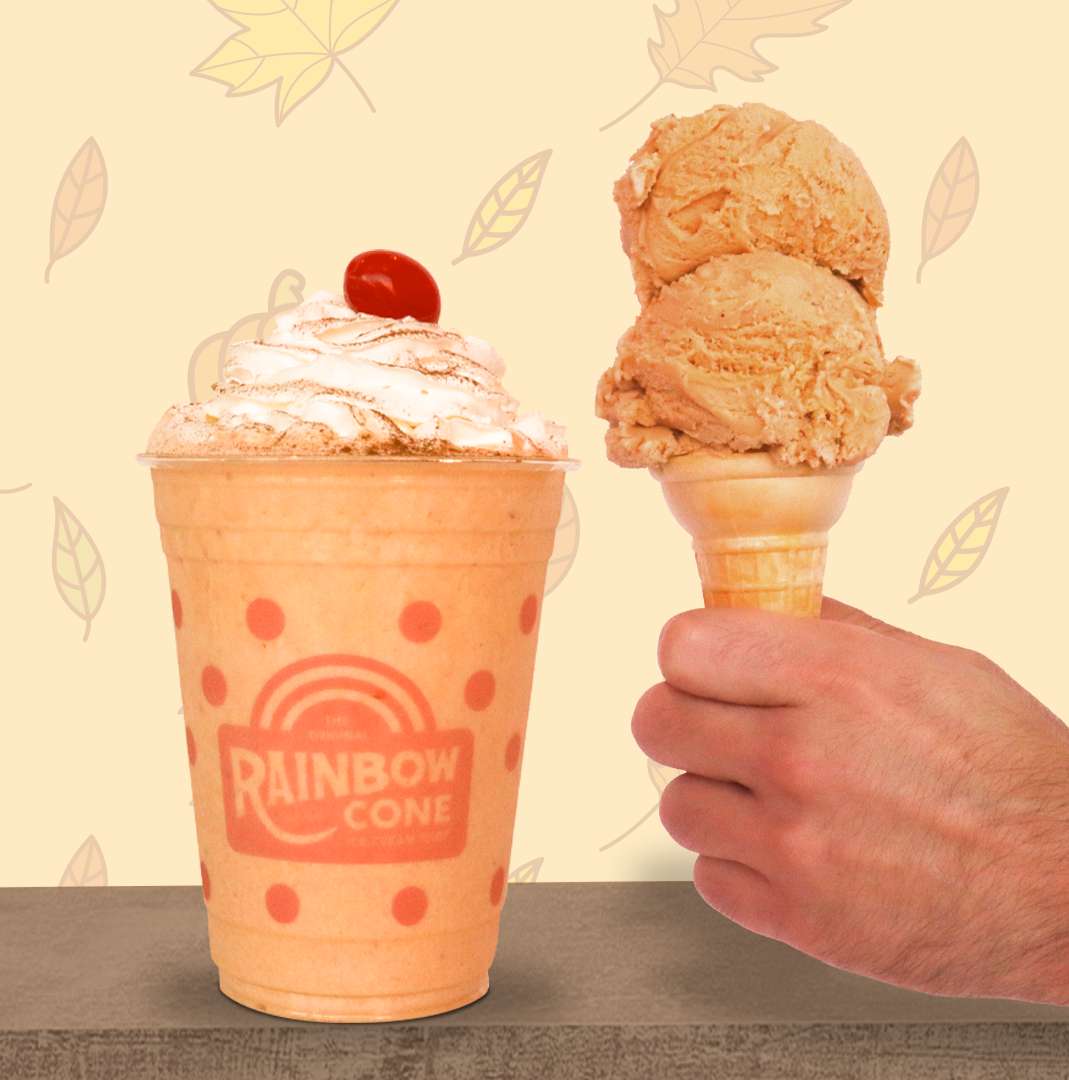 While the summer season is coming to a close, Rainbow Cone is providing fans everywhere a chance to indulge year-round! The ice cream shop is welcoming a new Pumpkin flavored ice cream just in time for the Fall Season, available by the scoop or as a shake. The seasonal ice creams will also be available for delivery on via Rainbow Cone's website.
Released on a rolling basis, Rainbow Cone's new menu will also introduce new year-round flavors like blueberry pie, birthday cake and salted caramel pretzel, which join fan favorites like New York vanilla, butter pecan and cookie dough and the five flavors–orange sherbet, pistachio, Palmer House, strawberry and chocolate–that make up the shop's iconic Rainbow Cone.
Halloween-Themed Drinks
Of course, how can we make a fall drink roundup without a special section for Halloween-themed drinks? And don't forget to check out our Ultimate Halloween Guide this year to find the best events and parties happening near you.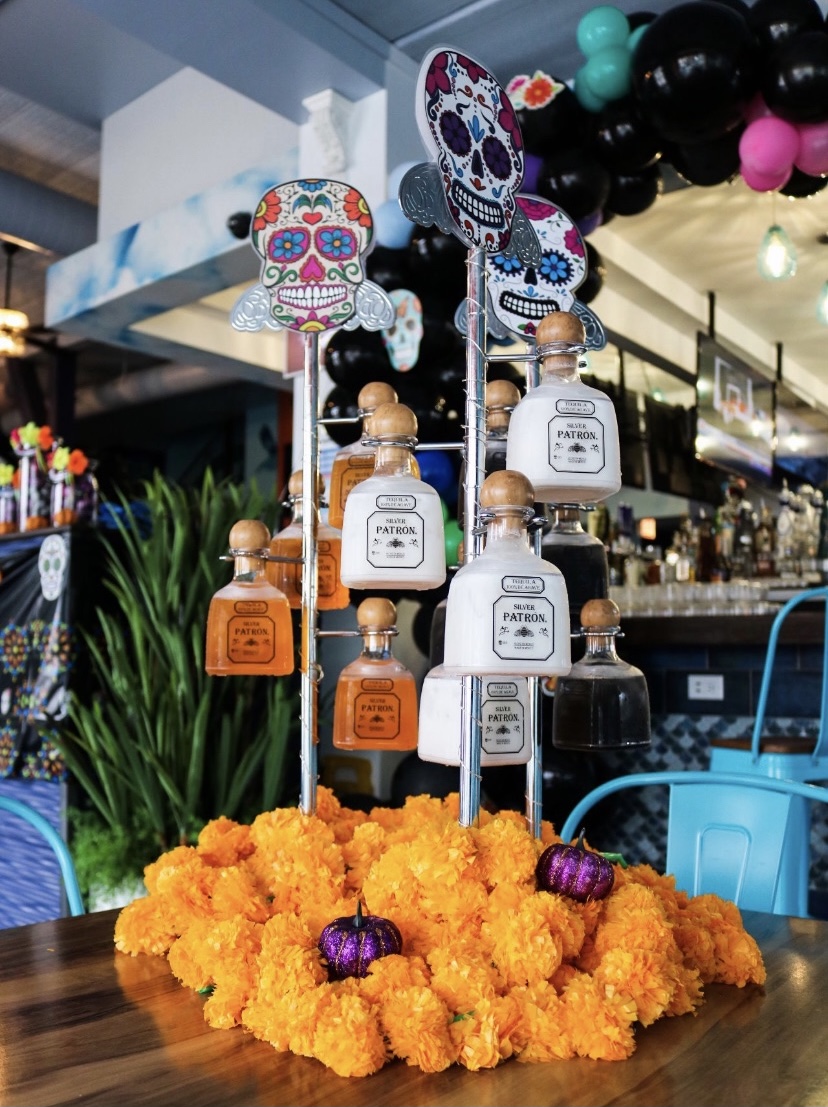 Try the Torre de Margaritas (Patron Margarita Tower) at Azul Mariscos for Halloween weekend only at $75. Enjoy the orange, black, and white color theme with all your friends at their beautiful ocean-themed establishment.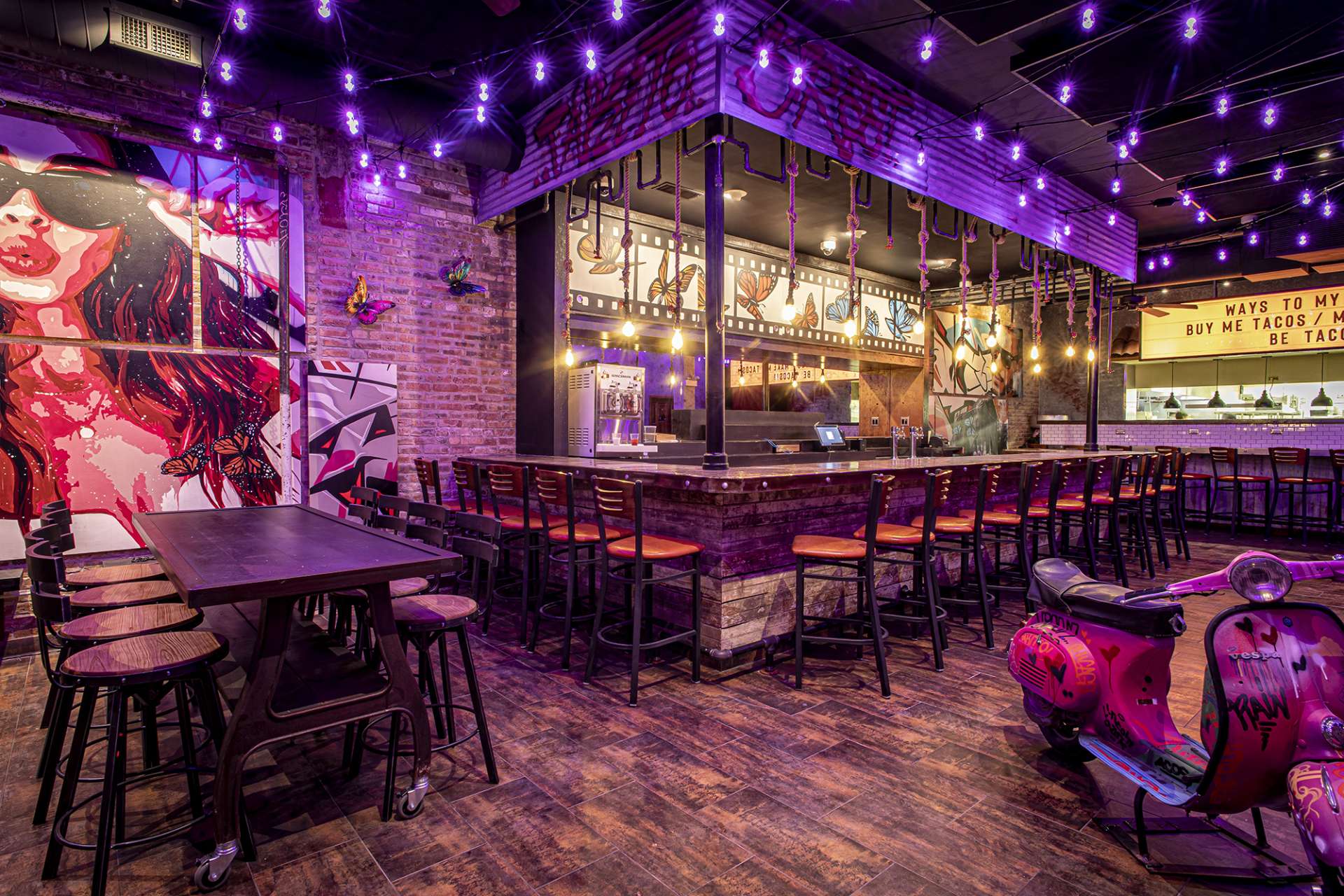 2423 N Lincoln Ave, Chicago, IL 60614
If you've been in Chicago long enough, you know the Halloween weekend is usually when it really starts to get cold. Well, now you have somewhere to go. In celebration of Dia de los Muertos (Day of the Dead,) Mexican Hot Chocolate (served with a Giant Marshmallow) will be available all Halloween Weekend.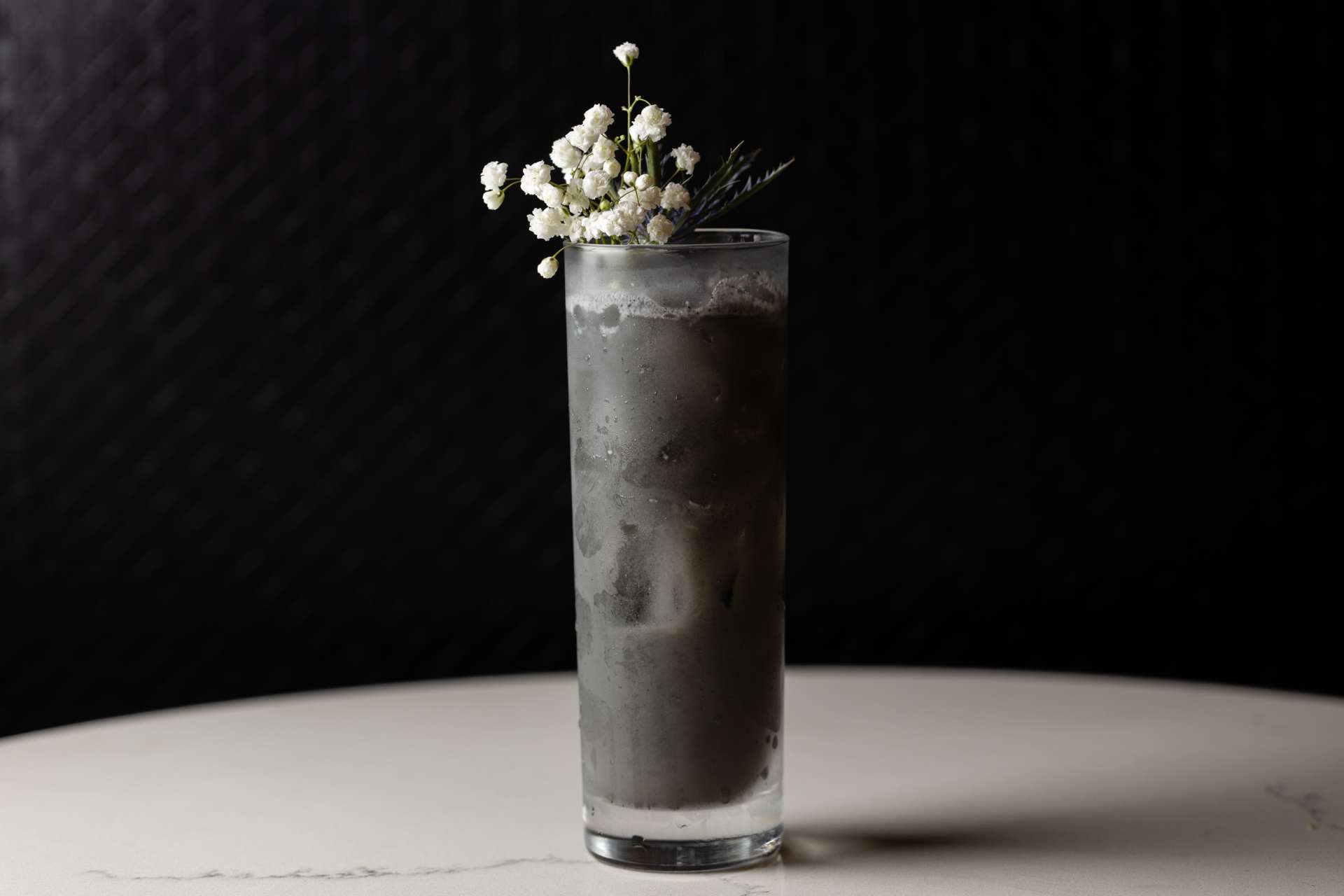 157 W Ontario St, Chicago, IL 60654
Fame is dialing up on Halloween this year with their featured theme drink Lady In The Ashes, a spooky cocktail inspired by a historic murder. Made with Ron Matusalem Dark Rum, Muddled Cantaloupe, Coconut Cream, Simple Syrup, Fresh Lime Juice & Activated Charcoal.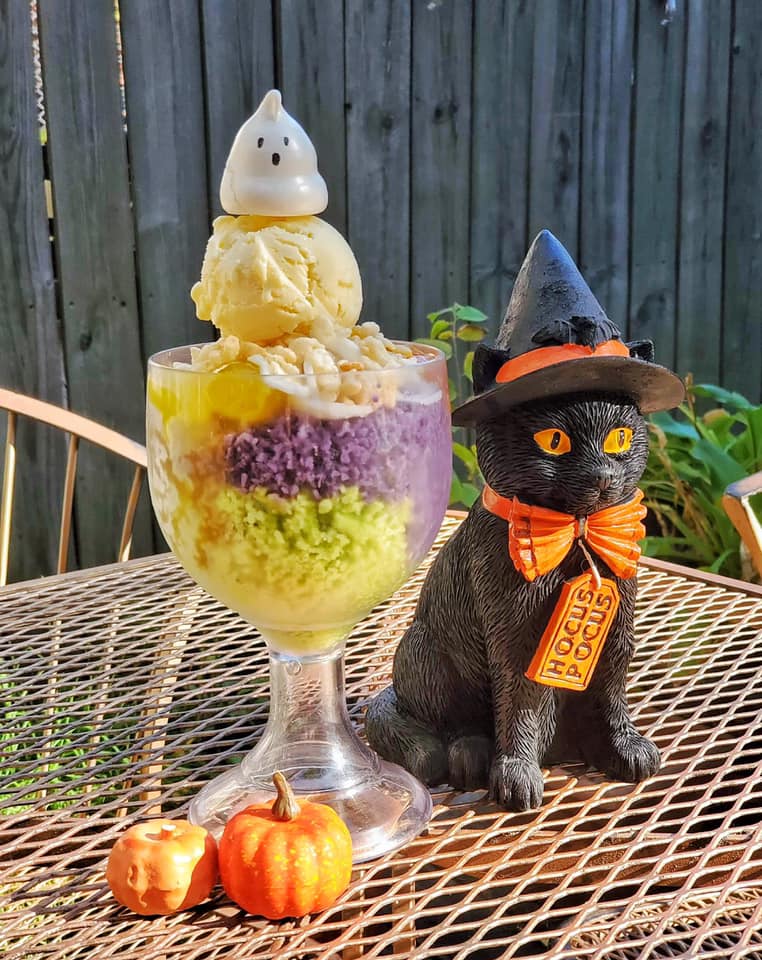 2211 W North Ave, Chicago, IL 60647
Available the entire month of October, the Halo-Halloween is a spooky take on the Filipino restaurant's signature Halo Halo Dessert. A cold, layered dessert of shaved ice and condensed milk, Ube Jam, Kaong, Nata de Cocoa, Rice Crispies & housemade Ice Cream. Also, this might be the cutest Halloween drink you'll see.
Featured Image Credit: The Smith