There are always new additions to Chicago's food scene. While bottomless mimosas are always a good game, sometimes we are looking for something special. We have created a list of the best places to get brunch in Chicago. Oh, by the way, most of these are brand new brunch offers that started this year! Woot woot!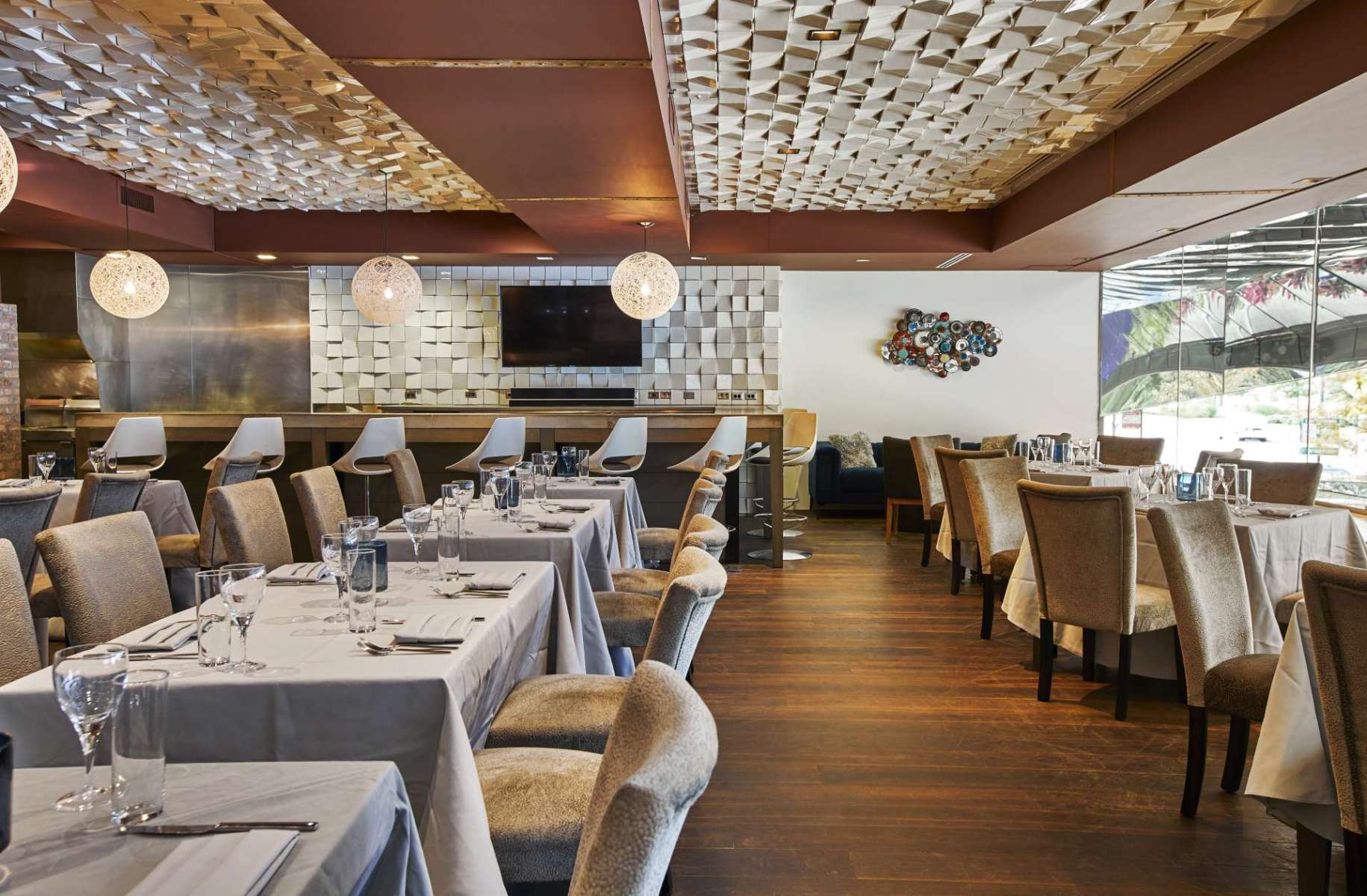 221 N Columbus Dr, Chicago, IL 60601
Mark your calendars for a drag show that can't be missed, because FireLake's Drag Champagne Brunch is returning in April. This unique spring brunch experience features three talented performers, who will offer a mix of colorful costumes, music, and dancing on the second floor of FireLake Grill House & Cocktail Bar at Radisson Blu Aqua Hotel. Sip on mimosas and enjoy a premium brunch buffet including a raw bar and omelette station while dancing along to performances by Alexandrea Diamond, Kara Mel D'Ville and Pixel to the beats of Dj Skoli.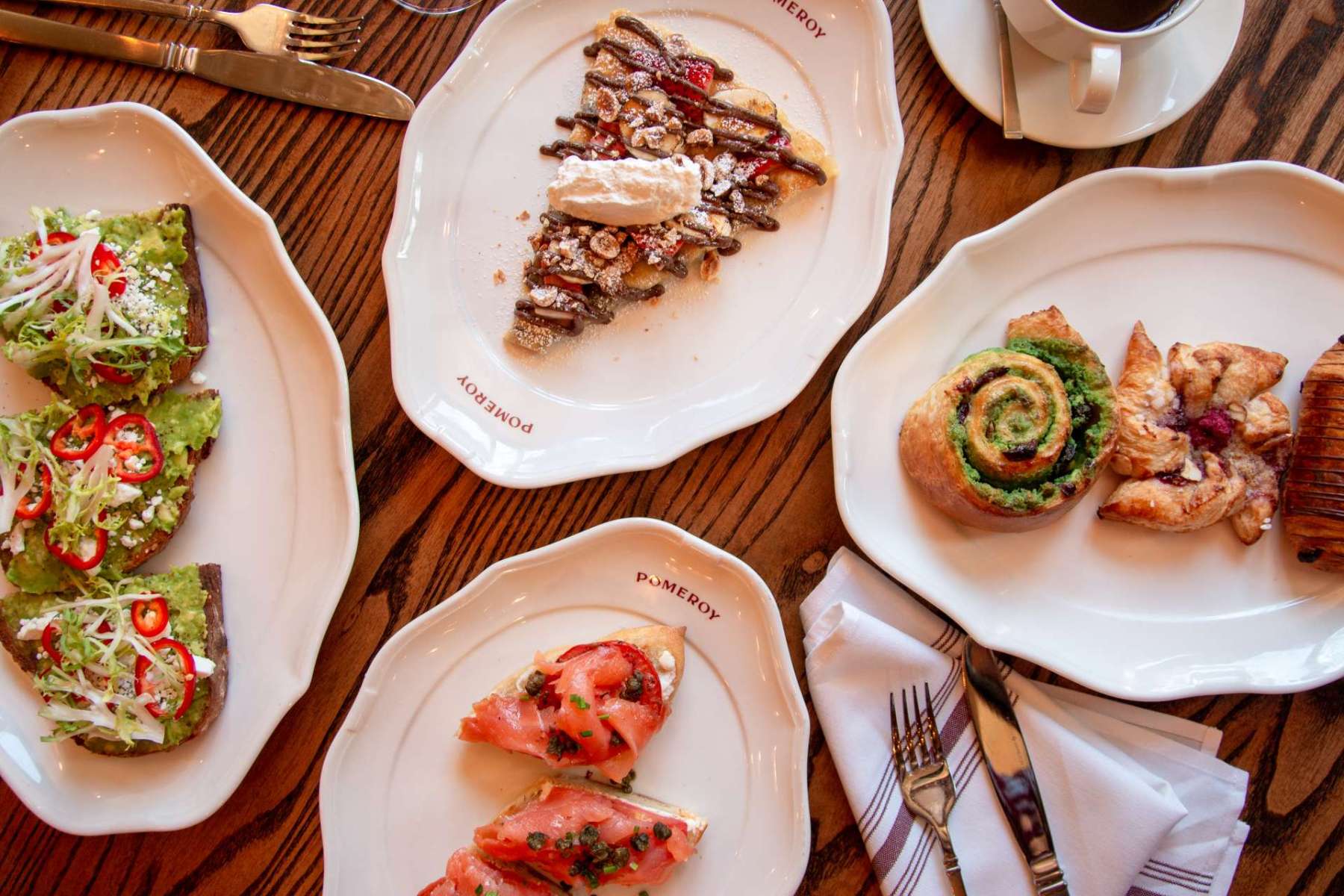 844 Spruce St, Winnetka, IL 60093
Just in time for summer, travel to Paris without leaving the North Shore. On Saturdays and Sundays, guests can experience Pomeroy for brunch service. Enjoy classic brunch dishes and a selection of brunch cocktails. On the menu, diners can indulge in a variety of sweet and savory crepes such as the Norwegian with Lingonberry Jam or the Breton with Parisian Ham, Gruyere, and a sunny side egg.
Additionally, the menu features an extensive selection of salads and Avec Frites including Croque Monsieur and a Lobster Roll featuring Lemon-Butter Poached Maine Lobster. The Le Benedict with Jamon De Paris, Crumpet, and topped with Hollandaise is sure to be a crowd favorite. A selection of Fruits De Mer is also available during brunch and includes the Petit Brunch Plateau.
2075 North Lincoln Avenue, Chicago, IL 60614
Located down the street from Lincoln Park and Lincoln Park Zoo, Gemini has recently launched their brunch program and bottomless brunch offerings. For $25, guests can indulge in bottomless brunch staples such as Mimosas, Bellinis, Pauly G's Bloody Mary, margarita's, variety of wines, beer and more! If you're looking for the best brunch places in Chicago, the menu at this restaurant includes fresh cinnamon rolls, Croissant Breakfast Sandwiches, Spicy Chicken Sandwiches, a variety of salads, and more.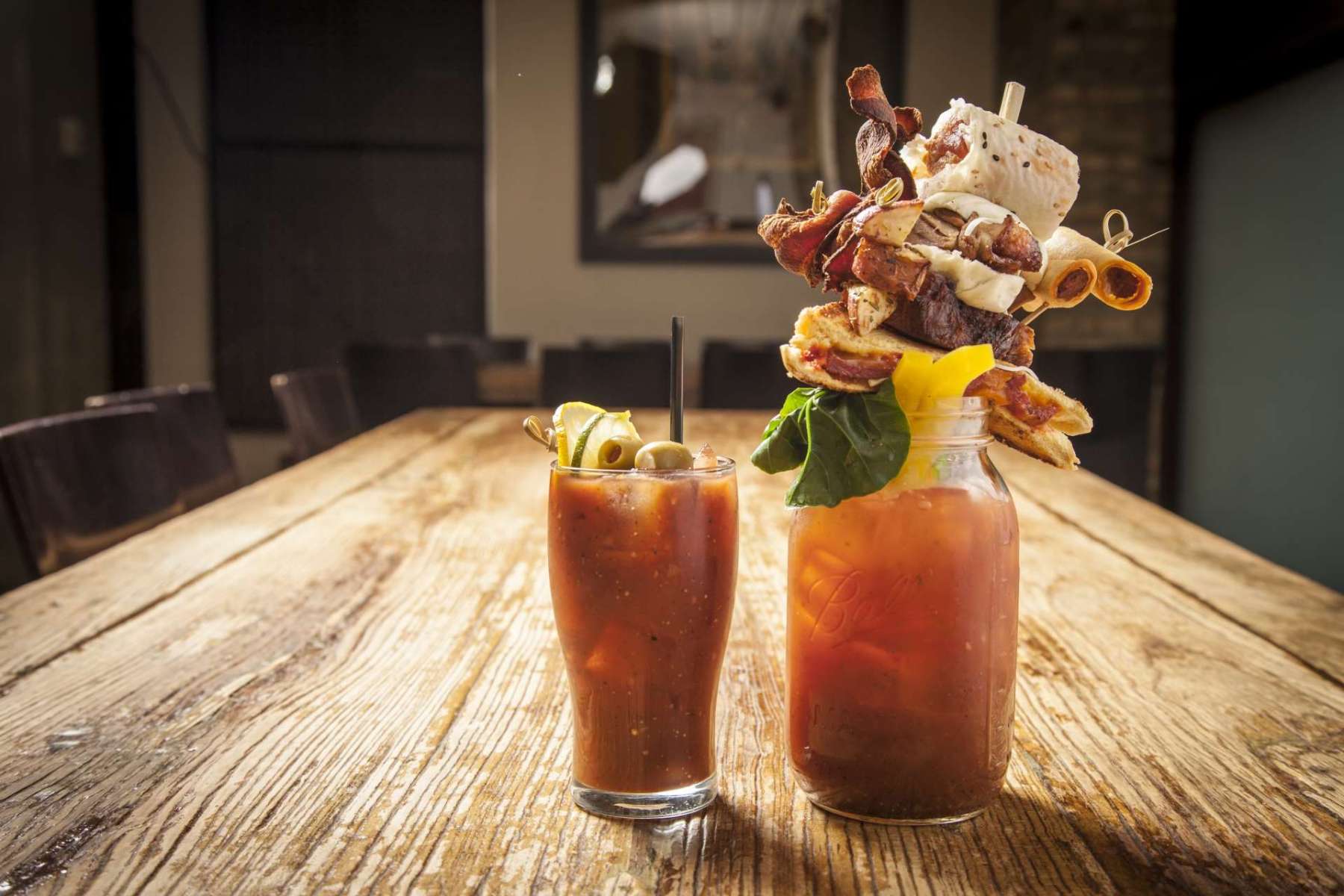 110 W Illinois St, Chicago, IL 60654
Sunda New Asian Chicago is re-launching their popular brunch service starting April 9, 2022. Brunch is served Saturday & Sunday from 11am-2pm. Menu highlights include:
JAPANESE FRIED CHICKEN $20 – karaage-style fried chicken, matcha green tea, spiced honey

CHICKEN SCRAMBLE GOMAE $18 – chicken, spinach, egg, shiitake mushrooms, sesame soy, mix greens. substitute egg whites 2

UBE WAFFLES $17 – purple yam, whipped ube butter, fresh fruits. add japanese fried chicken $6

AVOCADO CRISPY RICE $17 – spicy avocado puree, crispy rice, sunny egg, radish, tomatoes, mix greens

TEMPURA FRENCH TOAST $17 – fresh berries, whipped cream, banana, candied walnuts, brown sugar glaze

MUSUBI SUSHI $12- two pieces soy glazed spam, sushi rice, nori, scallions, strawberry soy
Guests can also indulge in $35 Mimosa Kits with various juices to make your own creations with, or $38 Sumo Mary, a 32-oz jar of sunda bloody mary mix topped with tocino grilled cheese, longanisa, pork belly bao bun, baked snow crab handroll, karaage fried chicken, lumpia egg rolls, sunda potatoes, cucumber.
950 W Fulton St, Chicago, IL 60607
Healthy brunch, you said? Yes!
Morgan's has partnered with lululemon West Loop to bring the Fulton Market District a special series of yoga brunch experiences called Collective Breath. On April 23 (and repeating May 22 and June 26) from 10 am to 12 pm, ticketholders are invited to beginner-friendly vinyasa yoga flow led by Paige Willis of Undone Yoga followed by a healthy brunch created by Morgan's Executive Chef Mitch Cavanah.
Tickets are available via BucketList.
400 N Clark St, Chicago, IL 60654
Looking for an iconic place to grab brunch in Chicago? Starting on April 12th, on Mondays through Fridays from 8:30am, diners can treat themselves to classic breakfast favorites available indoors or on the expansive patio at The Smith. The brunch men features:
Omelette – featuring slow roasted tomatoes, goat cheese, soft herbs, served with home fries or mixed greens

BLT+E Sandwich –  featuring apple smoked bacon, a sunny up egg, lemon aioli, on an everything croissant and served with home fries or mixed greens

Eggs + Toast – sunny side up eggs served with slow roasted tomatoes and ciabatta toast

The Smith Eggs Benedict – black forest ham, poached eggs, on an english muffin, topped with hollandaise, and served with home fries or mixed greens

Avocado Toast – served on whole wheat toast topped with poached eggs and red pepper flakes

Buttermilk Pancakes – with blueberry compote and lemon mascarpone

Vanilla Bean French Toast – served with maple butter and caramelized bananas
The Smith also offers a full coffee and tea bar for those looking to get their morning pick-up. Cocktails including The Smith's Bloody Mary and Mimosas are also available for purchase at that time.
201 N Morgan St, Chicago, IL 60607
As the weather warms up, we know you're ready for patio dates! If you are looking for the best places to get brunch in Chicago, the sidewalk patio at the Latin-inspired Bar Takito is the perfect option for Sunday Funday. Enjoy fresh-squeezed margaritas and handmade guacamole, and melt in your mouth tacos under a pergola lit by firefights lights. And don't forget to try their beloved French Toast. Is it even brunch without french toast?
145 North Dearborn Street, Chicago, IL 60602
The Dearborn offers one of the best brunches in Chicago's Loop area. Located in close proximity to Grant Park, Millennium Park, and the museums, The Dearborn is a perfect spot to enjoy brunch before participating in summer activities. Diners can indulge in Cinnamon Roll Monkey Bread, Dutch Apple Pancakes, Buffalo Chicken Sandwich, Roasted Pear Grilled Cheese, and more! The Dearborn's Tavern Style pizzas are also available during brunch.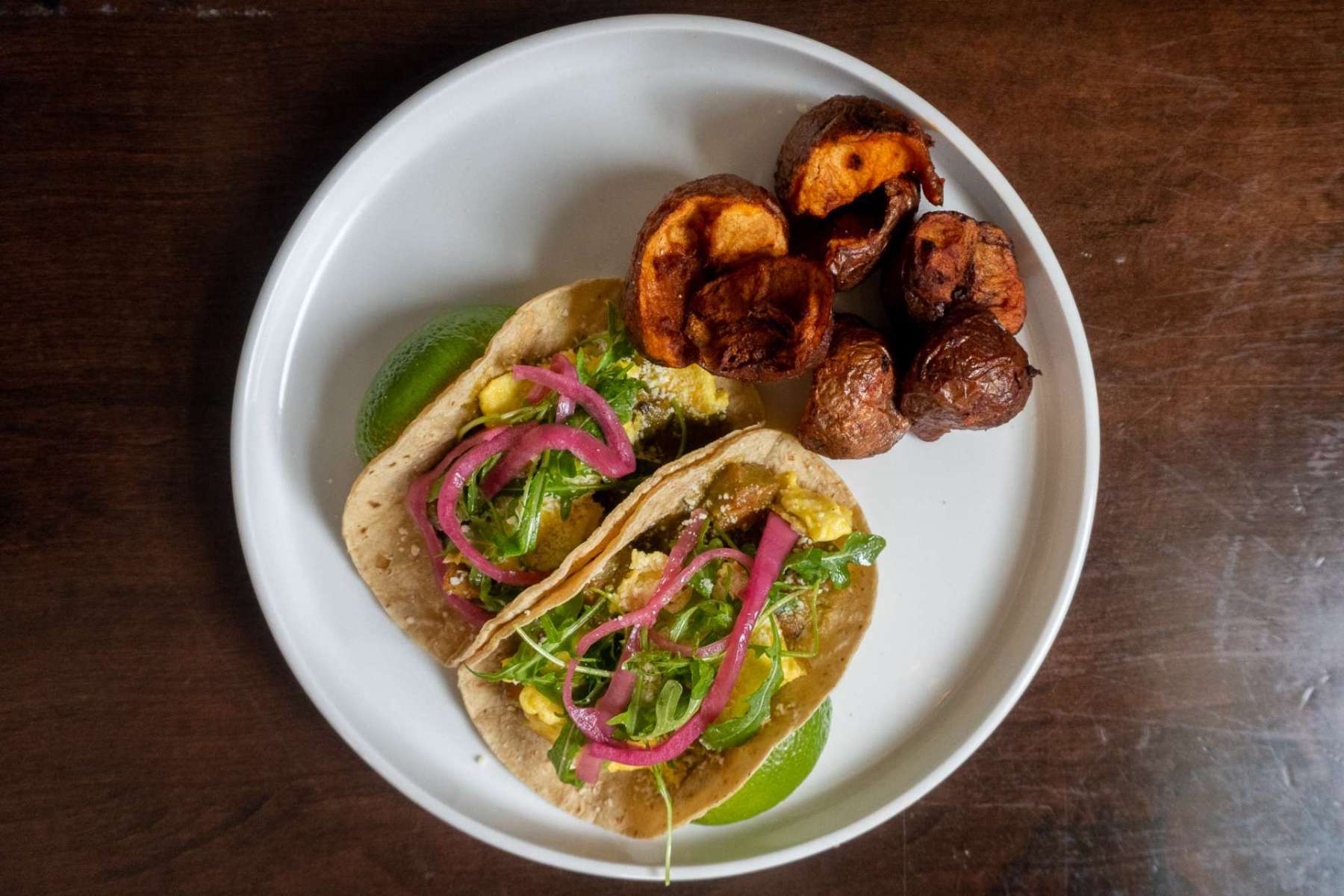 1300 W Wellington Ave, Chicago, IL 60657
Who says the weekend can't start early? Farm Bar in Lakeview just added special Friday brunch items to their farm-to-table menu. The restaurant, typically known for its weekend brunch, specializes in scratch-made, hearty Midwestern fare and the new items deliver on flavors honest to the Heartland. The new items are available during Friday lunch from 11am to 4pm and the items include:
Wisconsin Pimento Sandwich: Breakfast Sausage with Sunnyside Egg, Pimento Cheese, BDF Chili Infused Honey, Arugula, Pickled Red Onions, Spicy Potatoes

Breakfast Tacos: 2 Pork Belly Tacos, Salsa Verde, Scrambled Eggs,Cotija Cheese, Arugula , Pickled Red Onion, Corn Tortillas, Spicy Breakfast Potatoes

Farmer's Breakfast: Scrambled farm eggs, white cheddar, tomato & mushrooms, green onion, spicy potatoes (Choice of bacon or sausage and side of toast)
500 N Clark St #465, Chicago, IL 60654
If you are searching for the best brunch destinations near Downtown Chicago, this restaurant will make you feel like you're dining in Barcelona. The menu includes vast options of sangria paired with dishes like:
Flauta de Tortilla de Patatas (Flauta bread with tomato and Spanish potato and onion omelet)
Tostada de Salmón Ahumado (Pan de Cristal topped with fresh goat cheese, smoked salmon, chopped egg and capers)
Huevos al Plato con Sobrassada y Verduras (Baked eggs with sobrasada ibérica and vegetables)
Finally, don't forget to top everything up with a full tapas spread. Grab your family and friends and enjoy a savory Spanish brunch on their expansive patio!
400 N Clark Street, Chicago, IL 60654
The Smith is located in the heart of Chicago's lively River North neighborhood. Located just a few blocks from Navy Pier, The Smith is the best brunch place in Chicago to start your weekend off right. With the purchase of an entree, guests will receive a free brunch cocktail of their choice! Guests can choose from a variety of brunch offerings including Vanilla Bean French Toast, Avocado Toast, Grilled Chicken Sandwich, their signature Mac & Cheese, and more. The Smith also offers an extended patio along Clark Street and also offers a weekend sunset menu.
5 Jackson Avenue, Naperville IL 60540
JOJO's new Naperville location is launching brunch… No wait, a brunch shake! Available only on Saturdays and Sundays between 10am – 2pm, the Brady Brunch Shake is an Espresso Oreo Shake Topped with A French Toast Stick, Waffle, and Bacon. Of course, you can also enjoy their amazing Bloody Mary topped with a mini Chicago dog! Can you find a spring brunch experience more fun than this?
3 East Main Street, St. Charles, IL 60174
For a sweet start, a smattering of Pastry Chef Martina Preradovic's fresh-baked treats will be available for the table, including Crème Fresh Earl Gray Scones with orange curd and whipped clotted cream to be enjoyed alongside their selection of local Irie Cup loose-leaf teas and Sparrow coffee and espresso drinks. Bottomless Mimosas, house-made Bloody Marys, and the Kentucky Breakfast featuring bourbon, coffee-infused sweet vermouth, and port wine are amongst the new brunch cocktails joining the ranks of spirited options from behind the bar.
Reservations available via Resy.
Featured Image Credit: Jaleo