Leave hibernation for the bears. Don't snooze on eating outdoors just because it's winter. Igloos, heating lamps, retractable roofs, and fireplaces all make outdoor dining possible when the temperatures drop. Well, if you're lamenting the end of patio season, don't fret. We have created a list of the best restaurants with heated patios for outdoor dining in Chicago. 
https://www.instagram.com/p/CVGQebmlKZd/
417 N Ashland Ave, Chicago, IL 60622
When it comes to patios, District Brew Yards does it right. With over 40 beers on tap, communal seating (hello again, social interaction), and firepits for cool summer nights, District Brew Yards is the perfect spot for you and your friends to hang out, play games, and relax. Bonus? The patio is dog friendly. 
838 W Kinzie St, Chicago, IL 60642
There is no patio more synonymous with Summer in Chicago than Recess. Known for the huge open space with breathtaking views of the city, Recess is the best for day-drinking on a sunny afternoon. The menu is full of signature and classic cocktails, as well as mouthwatering apps like loaded tater tots and crispy buffalo chicken rolls. If you need us after 4 PM on any given day, we'll probably be at Recess.
87 E Wacker Dr, Chicago, IL 60601
Located on the iconic corner of Michigan Avenue and Wacker Drive, Ocean Prime offers al fresco dining on the outdoor patio just steps away from the city's top attractions. The modern American restaurant and lounge from award-winning Cameron Mitchell Restaurants offers an impressive menu of seafood and steak, signature cocktails, and a Wine Spectator honored wine list coupled with truly exceptional hospitality.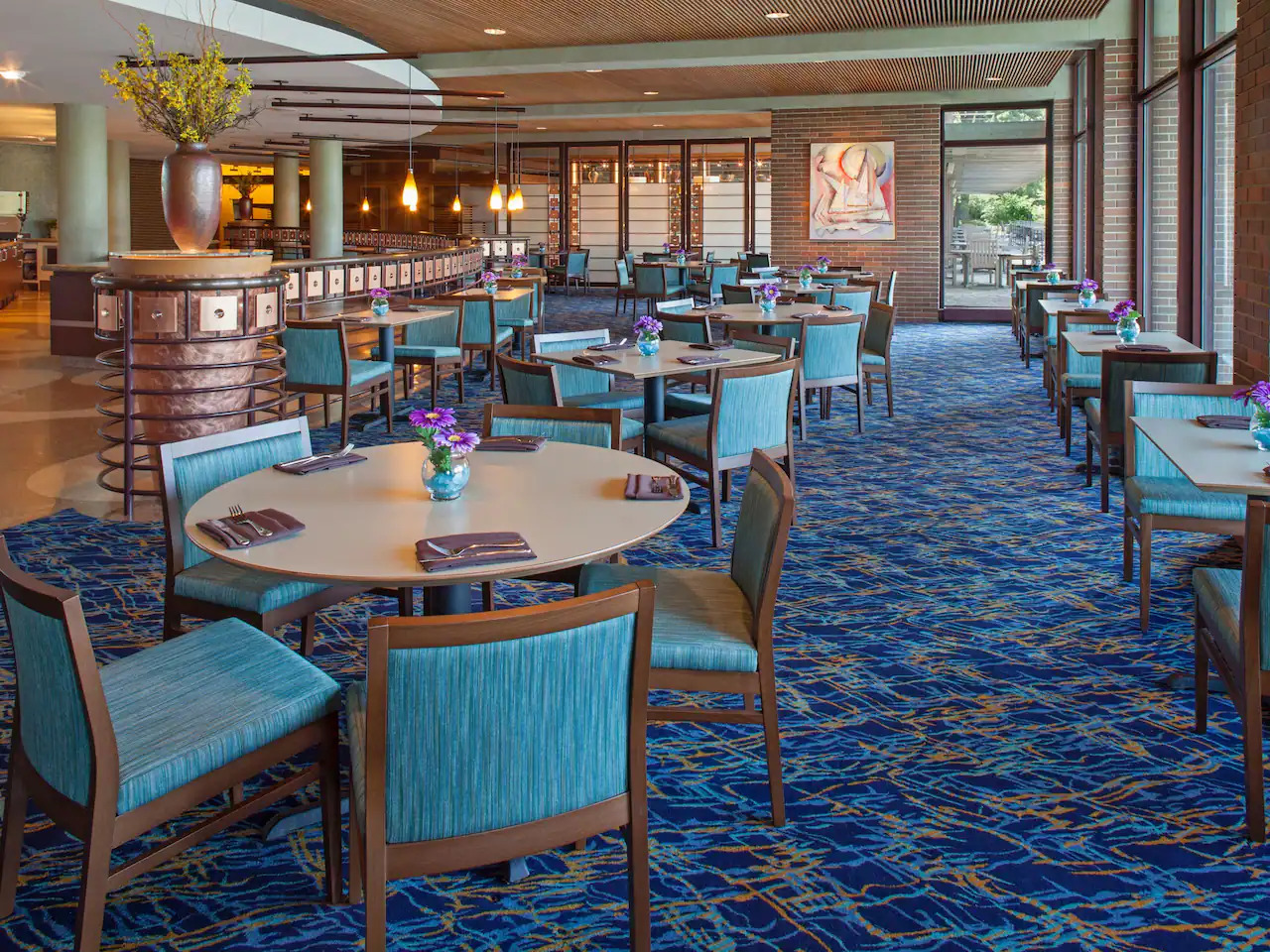 2815 Jorie Blvd, Oak Brook, IL 60523
Serving up classic American fare nestled within 88 acres of forest preserve, Water's Edge located within Hyatt Lodge Oak Brook invites guests to dine and unwind at the lakeside café or al fresco on the patio overlooking a private lake. Water's Edge offers both savory and sweet breakfast dishes and fresh salads, wraps, and sandwiches for lunch. Patrons can also opt to book lakeside private parties on the serene patio which cater to up to 40 guests.
464 N Halsted St, Chicago, IL 60642
If you're looking for the perfect date night patio or the best place to stop in for a glass (or bottle) of wine, Piccolo Sogno is the place to go. With a gorgeous, indoor-outdoor set-up, Piccolo Sogno's string lights, greenery, and ambiance make Piccolo Sogno's patio a must-visit when patio season hits. 
1846 W Division St, Chicago, IL 60622
We can confidently say that there are no cocktails in Chicago like the ones at Machine, and those cocktails are best enjoyed on their gorgeous patio. Each cocktail on the menu, even if they're inspired by the classics, has a signature Machine twist that keeps patrons coming back for more. With an on-site florist, you're sure to find their patio covered in fresh flowers, stunning plants, and the perfect atmosphere for sipping on the tastes of summer.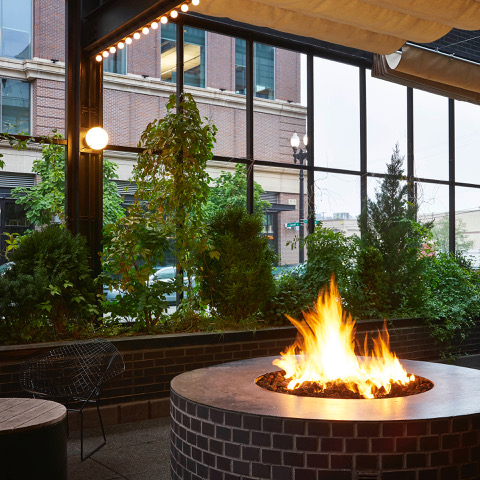 311 N Morgan St, Chicago, IL 60607
The sidewalk patio over at Ace Hotel Chicago is huge and has a number of oversized fire pits to provide heated outdoor dining during the winter season in Chicago. The secret to snagging a table by one is simply noting it as a request in your reservation.
The patio is open for guests at The Lobby, Ace Chicago's newly-debuted dinner, bar, and brunch service, as well as anyone who may want to grab a coffee + pastry from Lovage and WFH outdoors. Lovage, the cafe and market helmed by Executive Pastry Chef Felicia Mayden, also offers a curated selection of wine, so guests can grab a bottle and enjoy it around the fire.
837 W Fulton Market, Chicago, IL 60607
While fans of Fulton Market's modern American beer hall The Publican can currently kick back with beer, pork, and oysters on the restaurant's massive heated sidewalk patio, the team is upgrading the outdoor setup for winter with a semi-enclosed structure outfitted with integrated heaters, which should be ready by the end of the year. If you are looking for things to do in Chicago, visit The Publican to order a Spiced Pear Toddy or a Mulled Wine. The signature lineup of hearty, rustic favorites will help guests stretch patio season into a year-round affair.
1531 N Damen Ave, Chicago, IL 60622
3640 N Clark St, Chicago, IL 60613
The king of Chicago patios is going strong as the weather cools down, slinging bourbon and tacos on its iconic *and tent-covered, heated* patio in the heart of Wicker Park and Wrigleyville. Your favorite summertime hangout is keeping the outdoor party going well into winter. BONUS: the covered outdoor area is dog friendly!
615 W Randolph St, Chicago, IL 60661
Chef Paul Kahan's Focaccia and Chorizo-Stuffed Dates are going strong into fall on avec West Loop's 42-person heated patio on Randolph Street. If you are looking for comfortable outdoor dining destinations in the winter, the patio is filled with six propane heaters to keep you warm. In addition, pours from the restaurant's award-winning wine list help add an extra layer of warmth for diners.
2456 N California Ave, Chicago, IL 60647
Right off busy California Avenue in Logan Square lies a cozy heated patio at Testaccio. The destination is the Roman-inspired sister concept to Osteria Langhe. With seasonal greenery along the brick facade, the experience is reminiscent of al fresco street dining in Europe. Guests can enjoy Testaccio's full menu of comforting Italian fare and wood-fired oven specialties from Executive Chef Jacob Solomon, along with Owner Aldo Zaninotto's curated regional and amphora-made wine selections and seasonal cocktails. The patio is heated and will remain open through January, weather permitting.
2300 N Lincoln Park W, Chicago, IL 60614
Make a stop at Mon Ami Gabi before the Holiday Lights at Lincoln Park Zoo. Enjoy the a la carte dinner menu or the new four-course prix-fixe menu. A kids menu is also available. Enjoy the heated and tented all-seasons patio, or snag a window-side dining room table.
35 Oakbrook Center, Oak Brook, IL 60523
Stop into Table at Crate for the ultimate Happy Hour featuring a creative cocktail/beverage menu sure to have something your buds will love. Get cozy on the heated and enclosed patio that's ideal for patio dining through the fall and into the winter. I know you need an excuse to visit, and now you have one with Happy Hour specials and Oak Brook's best enclosed patio.
Pair your Lost at Sea cocktail with Table at Crate's one-of-a-kind Kimchi Bacon Burger. Bacon lovers looking for a unique twist on a classic meal can end their search — made with Fried Egg, American Cheese, Spicy Remoulade, Beef Larb on a Turano Bakery Roll with a side of Waffle Fries and House Aioli, this burger will have all your senses heightened. Mouthwatering flavors paired with your favorite bacon smell and gooey cheese? You'll be saying "YUM" each bite!
3475 N Clark St, Chicago, IL 60657
An escape to Tulum in the middle of Wrigleyville? Sounds unlikely, yet we have Diver at the Park doing just that. The tropical Tulum-inspired restaurant is a multilevel feat complete with a fenced-in beer garden with bamboo rattan furniture and fire pits.  The outdoor beer garden also has a vintage camper bar, picnic tables, swings, and tropical plants galore. It seats 200 and is dog-friendly. Enjoy familiar Mexican bites like tacos, nachos, and elotes along with beach cocktails and other libations.
Also, Diver is hosting Santa's Beach House, a holiday popup complete with festive drinks and food in a heated tent. Twinklinglights and tropical decor transport you to a warm holiday getaway even if it's in the negatives outside.
2008 W Roscoe St, Chicago, IL 60618
Volo is a New American restaurant and wine bar in Roscoe Village. The hidden neighborhood gem has an impressive wine list with up to 30 wines available by the glass. Volo's menu is a rotating list of small plates, salads, mains, charcuterie and cheeses, and desserts.
The restaurant's award-winning year-round alfresco cabana patio makes for a relaxing environment. The heated outdoor space has seating for 50, including private cabanas and bistro table seating.
1558 N Milwaukee Ave, Chicago, IL 60622
This Greek restaurant's rooftop patio is open year-round with heaters to keep you warm. The roof terrace has a full bar, heat lamps, string lights, and lush greens for a cozy ambience. 
The Wicker Park eatery features upscale regional Greek cuisine and wine. Taxim sources seasonal veggies from local farms, serves quality butchered meats and whole fish from Greece, and uses small co-operative Greek products whenever possible.
605 N Wells St, Chicago, IL 60654
If pizza and cocktails are how you deal with the cold, head over to Bar Cargo in River North. This hip spot for Roman-style pizza and other Italian eats along with cocktails, beer, and wine will warm you up in no time. The outdoor beer garden has heat lamps and a roof covering to keep you protected from the elements while you wine and dine.
1531 N Damen Ave, Chicago, IL 60622
Big Star is certainly one of the most popular restaurants with heated patio in Chicago, specifically for its dog-friendliness .This popular taqueria has served the Wicker Park community for 10 years. It's a neighborhood staple and a familiar and well-loved spot for many Chicagoans—with a second location open in Wrigleyville. 
The Wicker Park location is housed in a defunct 1940's gas station and features a large patio that's heated on cooler days. Big Star has a bourbon and taco-focused menu, inspired by authentic Mexican street food.
2210 N California Ave, Chicago, IL 60647
Warm up with gourmet pizza and Jameson in this trendy, retro Logan Square bar. If you are searching for popular heated outdoor dining destinations in Chicago, the Boiler Room is known for its thin crust pizza and Jameson soft serve ice cream. Order the PB&J special (any slice, 16 oz. PBR, and a shot of Jameson Whiskey for $10) if you wanna know what's up.
Boiler Room has a year-round backyard beer garden that's covered during the winter with heat lamps to keep you toasty.
1163 W 18th St, Chicago, IL 60608
Pilsen Yards brings a Mexican-inspired menu and head-bopping beats to a hip, open space. Live music and vinyl DJ sets welcome you in Fridays through Sundays, giving you a cool ambiance as you chow down on Latin street food like tacos and enchiladas paired with mezcal, tequila, or whiskey.
You'll also find one of the coolest patios in the city—with heated floors in the pergola, you can enjoy great food and drinks year-round.
Featured Image Credit: The Publican