Halloween is right around the corner, so get in the fall spirit by checking out all of the spooky decorations that Austin bars have already started putting up. Be prepared to encounter the scary and the strange, sip on delicious elixirs, and maybe even find a new boo at these Austin bars and restaurants that are dressing up for Halloween this year.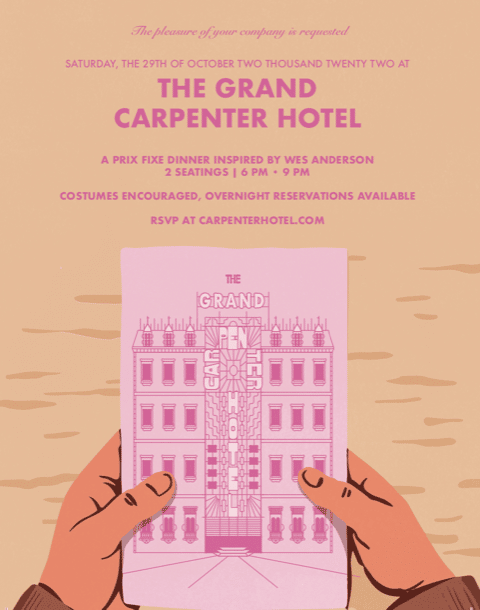 Saturday, October 29, two seatings at 6 & 9 pm  |  400 Josephine St, Austin, TX 78704
Carpenters Hall is celebrating a whimsical night with a 6 course prix-fix menu inspired by the cinematic world of Wes Anderson. Costumes are encouraged. Tickets are $80 per person with an optional $50 drink pairing.
F&B: 
A Final Toast: savory apple and cheddar cookie
It Had a Flavour: dadish, upland cress, shaved onion, Asian pear, sumac vinaigrette
Savoury Snacks: butter chicken, lamb masala, prawn vada
Esteban Was Eaten: mackerel, fennel, blood orange, beetroot tartar
Dinner with the Sheriff: grilled sausage, braised white beans, sourdough toast, pearl onion
A Most Grand Escape: courtesan aux chocolat, carrot cake, Mexican wedding cookies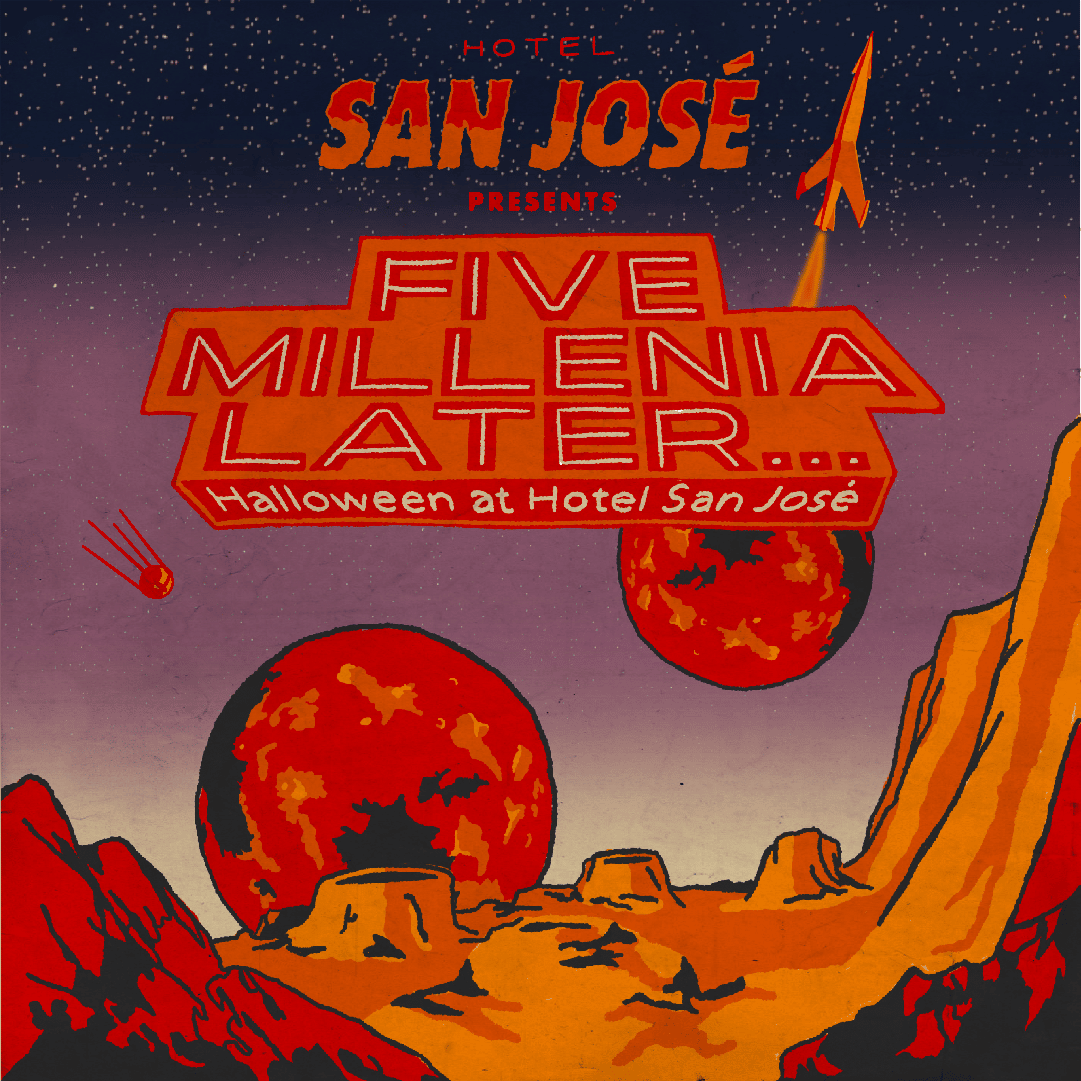 Friday, October 29, 8 pm – 1 am  |  1316 S Congress Ave, Austin, TX 78704
Back this year and 5th element themed, grab your multi pass and revel in the season at Hotel San José. Hosted by Cheeki Khant, festive attendees can enter the highly anticipated costume contest, enjoy drink specials like the iconic spooky marg, and boo-yah to music by DJ Just Jim.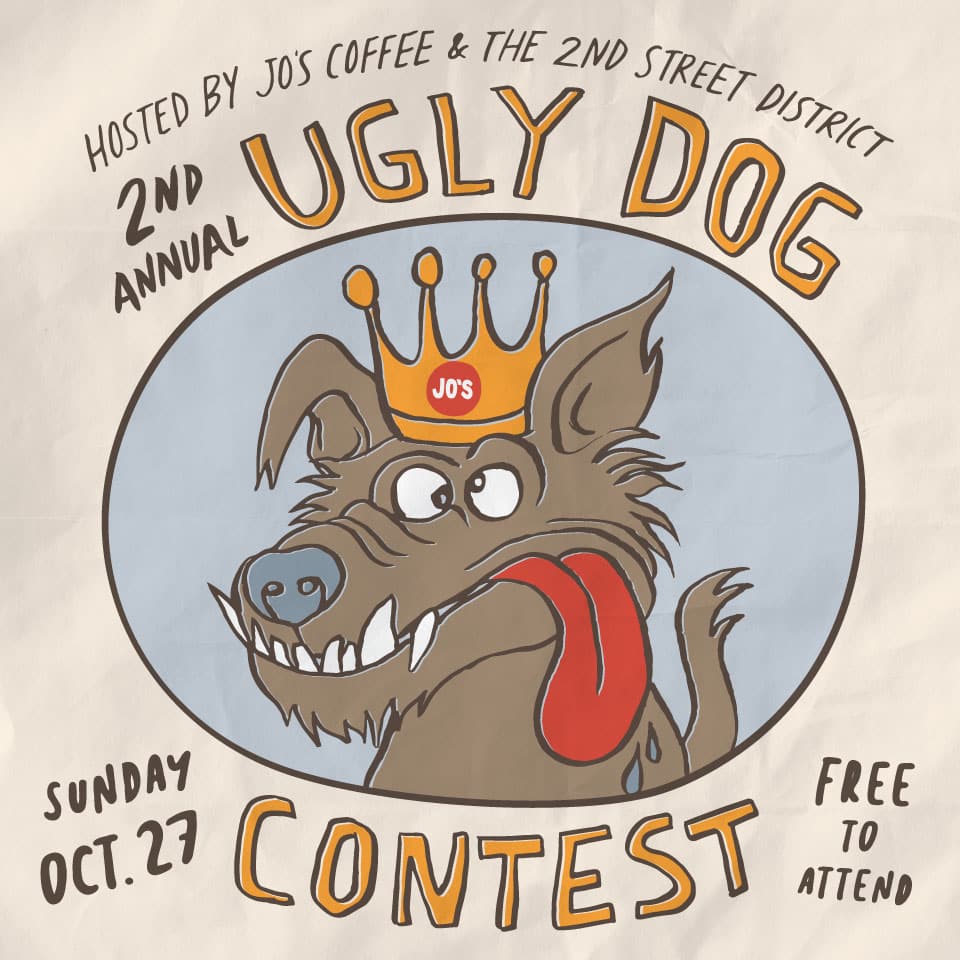 Sunday, October 30, 12 – 3 pm  |  1000 E 41st St, Austin, TX 78751
Join Jo's Red River to vote for the very best in the following categories: Ugliest Dog, Best Costume, Best In Show, and Doggleganger, and enjoy a party in the parking lot full of adoptable puppies, local vendors, live music, hot dogs, face-painting, and balloon animals. All funds raised from entries and votes go straight to Austin Humane Society. To enter pups, it's $10 day-of and $2 per vote.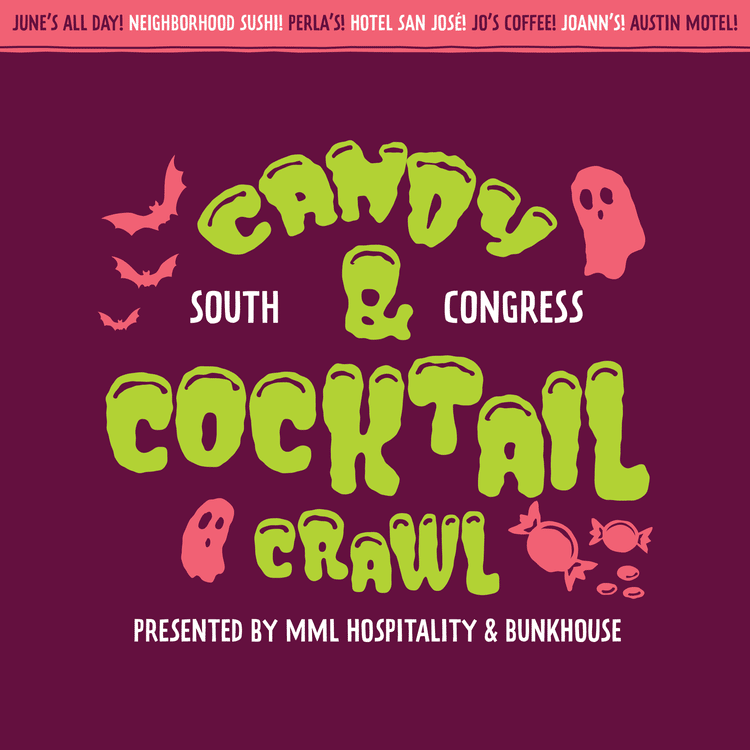 October 31, 4 pm  |   South Congress Ave
This Halloween, trick or treat down South Congress for the 4th annual Candy + Cocktail Crawl, enjoying treats with Austin Motel, Joann's, Jo's Coffee, Hotel San José, Perla's, Neighborhood Sushi, and June's All Day. Adult and kid friendly, each stop has its own cocktail, collectible cup and candy for the kids.
Bunkhouse cocktail specials: 
Hotel San José: Monster Smash with vodka, fresh watermelon, orange & lime juice 

with vodka

Austin Motel: Purple People Eater with DEV, Amaretto, OJ, club soda, and raspberry puree syringe
Jo's Coffee: Poison Apple with sake, lemonade and apple syrup, topped with green apple cubes (and a mocktail for the kids)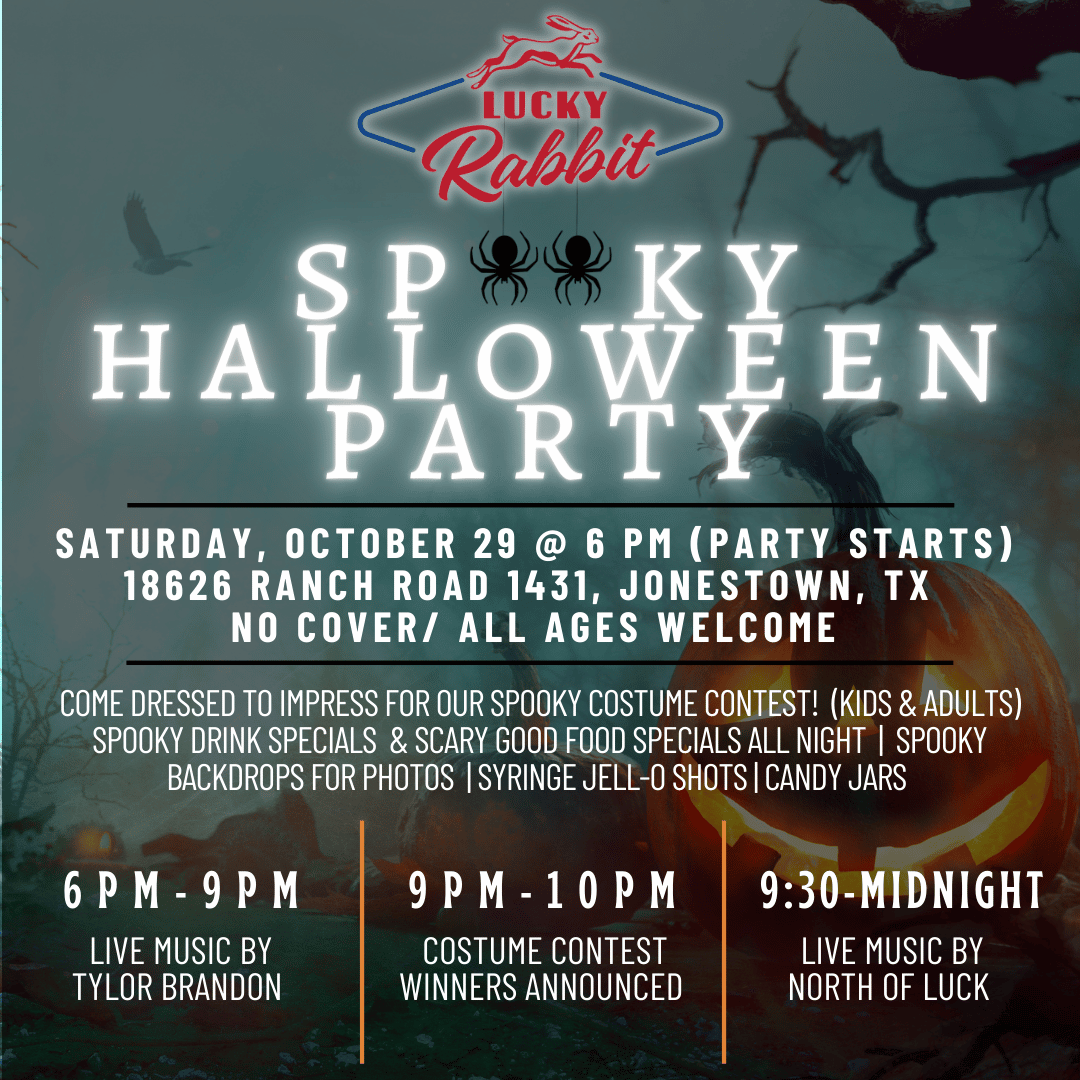 The Lucky Rabbit Live Music Bar and Kitchen
18626 Ranch Rd 1431, Jonestown, TX 78645
On Saturday, October 29, The Lucky Rabbit Live Music Bar & Kitchen will be hosting a Halloween party for all ages! While The Lucky Rabbit opens doors each day at 11 a.m., the party will officially kick off at 6 p.m. when live music acts and costume contest voting begins.
A variety of Halloween candy will be abundant for attendees along with fun and festive food specials for the day. Adults can also enjoy some spooky drink specials like syringe jello shots. The expansive indoor/outdoor space will be decked out with festive Halloween decor, including a Insta-worthy backdrop for holiday photo ops. Pair your food and drink with live music by Tylor Brandon at 6 p.m. and North of Luck at 9:30 p.m. 
By entering the venue in a Halloween costume, all guests are eligible to secure votes from other patrons to win the costume contest and receive a Lucky Rabbit gift card. Attendees will be able to cast votes for their favorites in each of the below costume categories up until 9 p.m. when votes will be counted and winners will be announced. Pups are also welcome to attend in their best Halloween ensemble!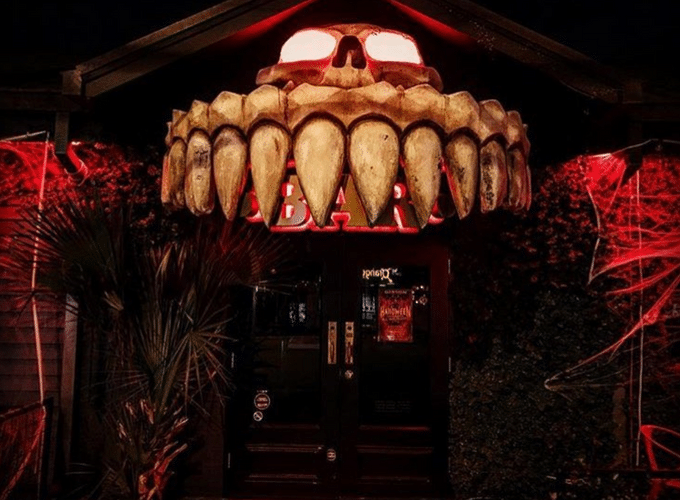 1109 S Lamar Blvd, Austin, TX 78704
Giant clowns and skeletons leer from great heights, cobwebs line the walls and door frames, and sinister characters across the spectrum of spooky lurk in every corner. Visit Gibson Street Bar for their annual Nightmare on Gibson Street themed celebration, all October long.
11500 Rock Rose Ave, Suite D, Austin, TX 78758
Wonder Bar transforms into a place of pure terror every October, complete with looming skeletons, witches, and ghosts. Prepare to meet your worst nightmare at Wonder Bar, one of the best Austin bars dressing up for Halloween.
214 W 4th St Suite B, Austin, TX 78701
Forget "Down Low" — for the whole month of October, enter DuMont's Six Feet Under only if you dare. This possibly haunted, ancient speakeasy in downtown Austin started as a brothel in 1860 and reports of flickering lights, ghostly presences, and trick walls still plague the bar. The eerie atmosphere is a perfect backdrop for demonic decor, spiderwebs, and more.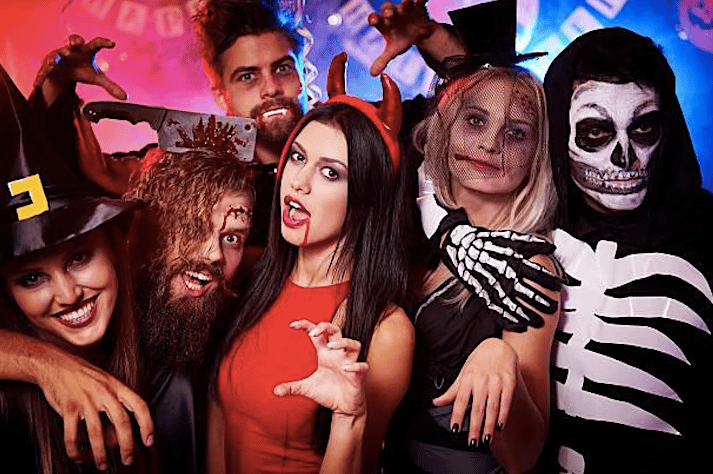 715 W 6th St, Austin, TX 78701
Austin Young Professionals is bringing you THE most epic Halloween bash in the ATX! Come one, come all to the Dogwood on Thursday, October 27th, as they take over West 6th. Enter the realm of the frightful and the absurd — IF YOU DARE!