Halloween is right around the corner, so get in the fall spirit by checking out all of the spooky decorations that Austin bars have already started putting up. Be prepared to encounter the scary and the strange, sip on delicious elixirs, and maybe even find a new boo at these Austin bars and restaurants that are dressing up for Halloween this year.
Friday, October 29 @ 4 pm  |  501 W 6th St #200, Austin, TX 78701
Grab your pals and head down to the ghost town this Halloween weekend. Bull & Bowl is raising the dead on Friday, October 29, at their "Wanted Dead or Alive: A Zombie Western Halloween" party! Austinites are invited to dress up in their creepiest costumes, drink, dine, game and celebrate spooky season at a party so lively, it could raise the dead.
Any guests looking to indulge their competitive edge can enter the costume contest for a chance to win some fabulous prizes. The contest is open to the public with an initial round of general voting followed by a finals round between the top three qualifiers. Prizes include the following:
First Prize: $500 Gift Card to Tecovas
Second Prize: Two-hour Bowling Party for up to 10 guests with complimentary appetizers.
Third Prize: Dinner for two at Bull & Bowl ($100 value)
In addition to the costume contest, "Wanted Dead or Alive" will feature a live DJ set, deadly delicious specials and complimentary games from 7 p.m. through 10 p.m. The space will be decked out with ghoulish decor and the staff transformed from servers to zombies.
Costume contest entrants must sign up onsite by 8 p.m. to participate. Ballots for the initial round of general voting are due at 8:30 p.m. The top three semifinalists will advance to the finals round at 9 p.m.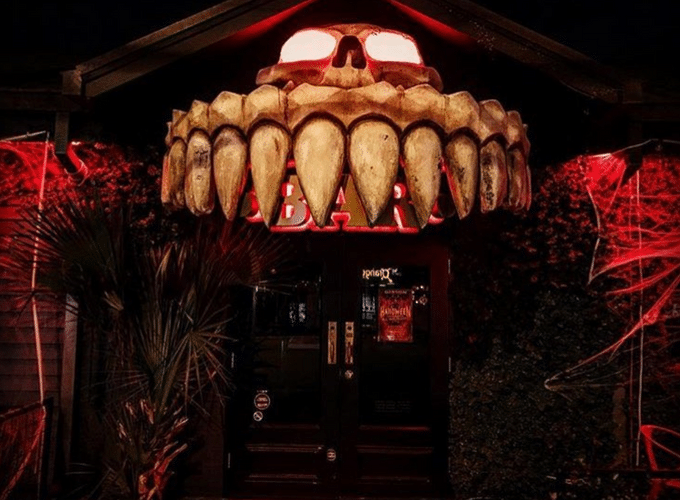 1109 S Lamar Blvd, Austin, TX 78704
Giant clowns and skeletons leer from great heights, cobwebs line the walls and door frames, and sinister characters across the spectrum of spooky lurk in every corner. Visit Gibson Street Bar for their annual Nightmare on Gibson Street themed celebration, all October long.
11500 Rock Rose Ave, Suite D, Austin, TX 78758
Wonder Bar transforms into a place of pure terror every October, complete with looming skeletons, witches, ghosts, and a even a full-sized coffin. Prepare to meet your worst nightmare at Wonder Bar, one of the best Austin bars dressing up for Halloween.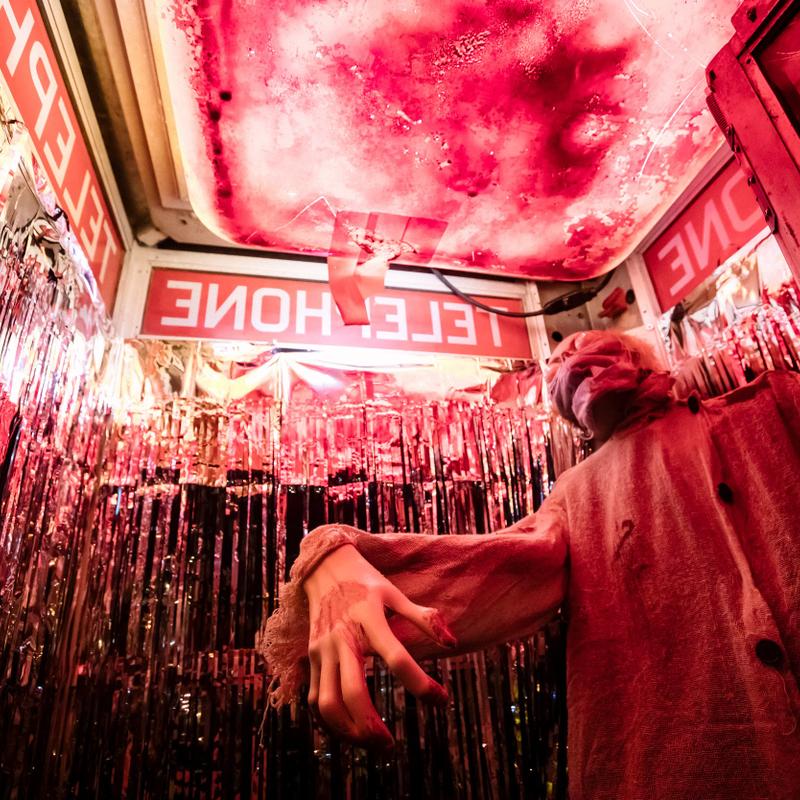 3116 S Congress Ave, Austin, TX 78704
This essential dive bar for St. Edward's University students is going all out — just like it has every year for the past decade — with Halloween decorations. On Halloween night, get dressed up as the latest pop culture reference, enter their off-the-hook costume contests, and enjoy their spooky themed drink specials.
214 W 4th St Suite B, Austin, TX 78701
Forget "Down Low" — for the whole month of October, enter DuMont's Six Feet Under only if you dare. This possibly haunted, ancient speakeasy in downtown Austin started as a brothel in 1860 and reports of flickering lights, ghostly presences, and trick walls still plague the bar. The eerie atmosphere is a perfect backdrop for demonic decor, spiderwebs, and more.
1300 S Congress Ave, Austin, TX 78704
Jo's Coffee is hosting two weekly Halloween series. Join movie lovers on Thursday Fright Night every week for ghostly film showings at sunset:
October 7: Casper
October 14: Ghost
October 21: Ghostbusters
October 28: Beetlejuice
Subvert Sunday Funday at the Sinners Brunch every Sunday from 12:30 – 3 pm, joined by the house band and other musical guests.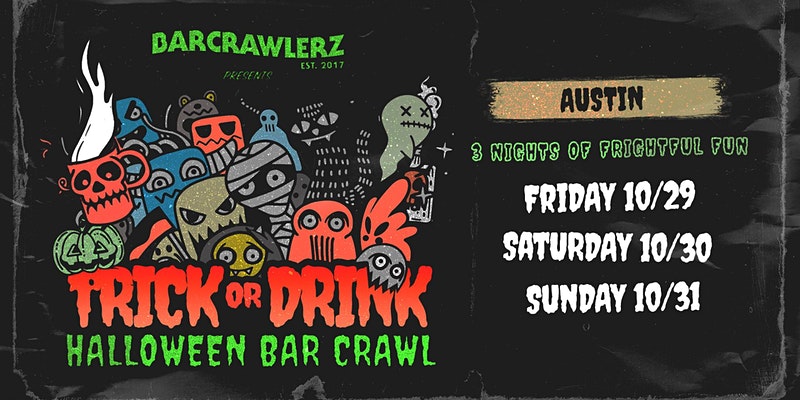 The Dogwood, SOHO Lounge, The Cat's Pajamas, Kung Fu Saloon, Happy Chicks, BBG's, Speakeasy, Recess Arcade Bar, and More!
Join a legion of zombies crawling from bar to bar down West 6th Street. This 3-day event requires general admission for each day, and includes drink specials at The Dogwood, SOHO Lounge, The Cat's Pajamas, Kung Fu Saloon, Happy Chicks, BBG's, Speakeasy, Recess Arcade Bar, and plenty more, to be announced.