Are you an avid runner or looking to kick-start your running routine in the vibrant city of Austin, Texas? Look no further! With its abundance of natural beauty and scenic landscapes, Austin offers an array of top-notch running trails that cater to all levels of fitness. Whether you prefer picturesque lakeside routes, challenging hilly terrains, or serene wooded paths, there's a trail for everyone. Lace up your running shoes and join us as we explore the best running trails in Austin.
View this post on Instagram
Barton Creek Greenbelt
For a more challenging trail run, explore Barton Creek Greenbelt. With approximately 12 miles of trails, numerous trailheads offer different routes to choose from. In certain sections, you can cross the creek bed (be ready for wet feet after heavy rain) and create a loop instead of an out-and-back run. For convenient access, begin at the Zilker Park Trailhead near Barton Springs Pool.
View this post on Instagram
Riverplace Nature Trail
This picturesque, riverfront park offers a popular forested hiking trail, waterfalls & wildlife views. The trail is approximately 6 miles round-trip, features 2,763 steps, and lots of elevation gain. Free street parking is available at either end—Panther Hollow or Canyon Trail trailheads—and there's no fee except during peak hours on Saturdays, Sundays and holidays when its $10 per person, payable via credit card.
View this post on Instagram
Ann and Roy Butler Hike and Bike Trail
The 10-mile Butler Hike and Bike Trail is the city's top choice for running. It offers shaded paths, wide trails, and varying surfaces from paved to packed dirt. Most importantly, it runs alongside Lady Bird Lake, providing breathtaking water and city skyline views. This popular route accommodates runners, cyclists, and walkers and can be easily divided into shorter sections with the help of numerous bridges along the way.
View this post on Instagram
Shoal Creek Hike and Bike Trail
The versatile Shoal Creek Trail is a favorite among local cyclists and runners. The trail follows the namesake creek, passing through parks and tunnels beneath city streets. It stretches around 3 miles one way, mostly paved with some rough segments. You can either begin at 38th St. and Shoal Creek Blvd. and head south toward Lady Bird Lake or start at the Austin Central Library and go north.
View this post on Instagram
McKinney Falls State Park
For a shady and smooth natural trail, try the Onion Creek Hike and Bike Trail at McKinney Falls State Park. This 2.8-mile paved loop is perfect for beginners with a few gentle inclines and declines. After your run on hot summer days, you can cool off in the falls. The park entrance fee is $6 per person aged 13 and older, and reservations are recommended on weekends and holidays.
View this post on Instagram
Mueller Lake Park
Head to Mueller Lake Park for a serene and picturesque outdoor jog on these running trails in Austin. The neighborhood boasts wide sidewalks, big trees, and the flexibility to adjust your route. You can run easy loops around the mostly flat paved lake or explore nearby streets with sidewalks and bike paths. After your run, you'll find ample parking and various dining options nearby.
View this post on Instagram
Turkey Creek Trail
Try this 2.7-mile out-and-back trail near Austin, Texas. Generally considered an easy route, it takes an average of 59 min to complete. This is a very popular area for hiking and running, so you'll likely encounter other people while exploring. The trail is open year-round and is beautiful to visit anytime. Dogs are welcome and may be off-leash in some areas.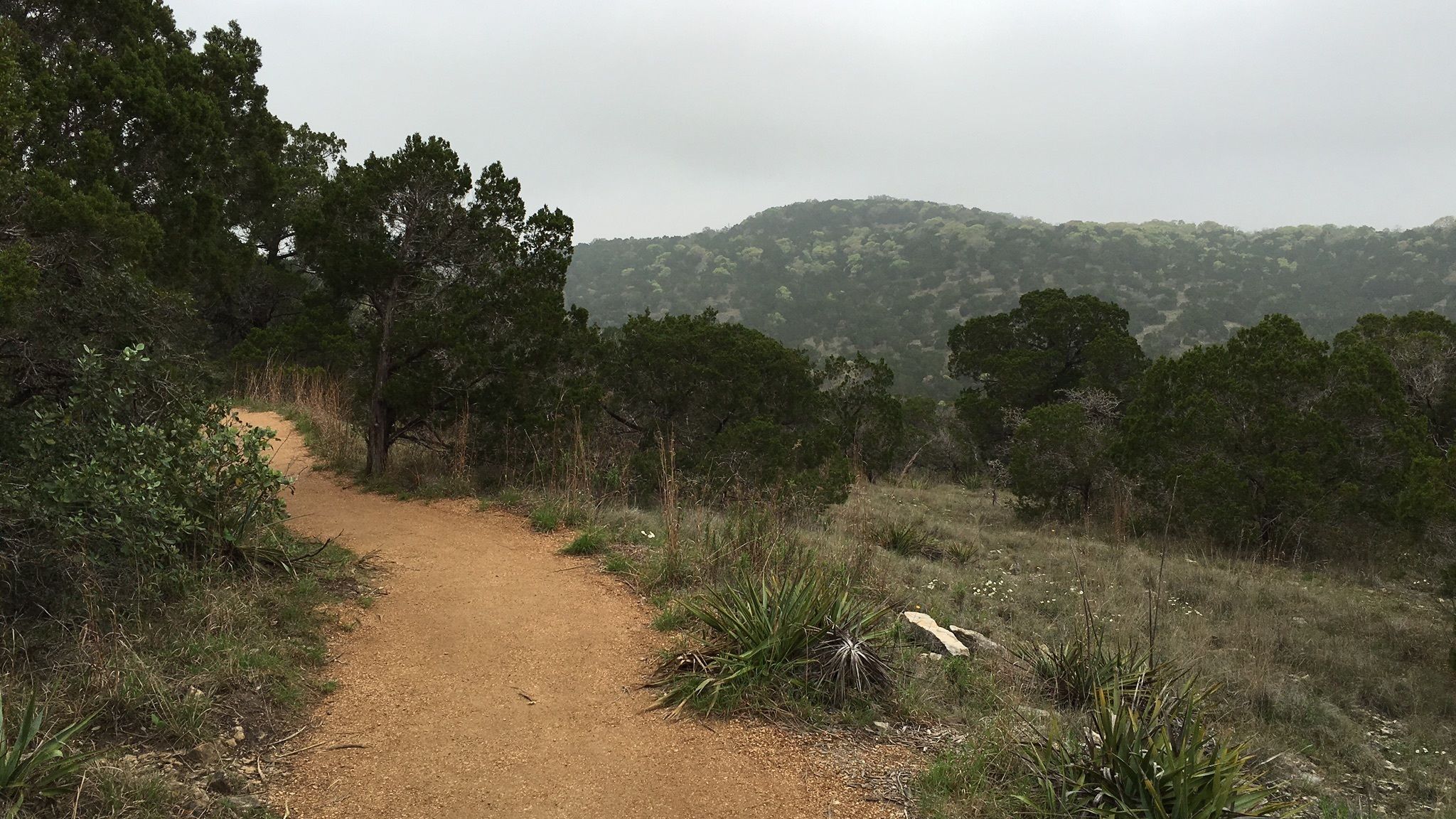 St.Edwards Green and Red Loop
St. Edwards Green and Red Loop is a 2.7 mile loop hike located in northwest, Austin, Texas. The trail is heavily trafficked, but has a great nature scene, including a multitude of bird species and wildflowers. Bull creek flows through the trail, creating a waterfall at one point which makes for a great swimming hole. The trail is a dirt path and does have some elevation inclines and declines. The trail is family- and dog-friendly, just be sure to clean up after them! Parking is very limited. It's located right off the road, on a dirt lot that fits only about 5 or 6 vehicles. There are also NO bathrooms. The parking and trail are not handicap accessible.