In Austin, 6th Street is the place to go for drinking and entertainment. Divided into three sections, on West 6th, you'll find high-class cocktail lounges. East 6th is a combination of cozy dive bars and, dare we say, "hipster" spots. Where fame turns to infamy is our locally coined "Dirty" 6th, where people go to party, hard. Whatever your vibe, here are our favorite bars to hit up on 6th Street!
601 W 6th St, Austin, TX 78701
Parlor & Yard is a stylish cocktail bar on West 6th, also serving Brooklyn Pie Co. They've got lots of throwback board games, and sports to enjoy on their patio. Their house cocktails are phenomenal with lots of twists on classics — but you can definitely create your own thing too.
720 W 6th St, Austin, TX 78701
Green Light Social is an awesome craft cocktail bar near 6th Street in Austin with some serious speakeasy/retro vibes. You can enjoy some sophisticated relaxation on their rooftop patio or get down on the dance floor. Either way, the drinks are excellent and you're gonna have a great time!
323 E 6th St, Austin, TX 78701
If you're looking for a bar with history, Maggie Mae's is your place. Arguably the most iconic bar on 6th Street in Austin, it's named after a notorious lady of the night in 1890s England, who was most famous for robbing her clientele of their clothes and other valuables. Plus, there's always an insane line-up of music and plenty of drinks.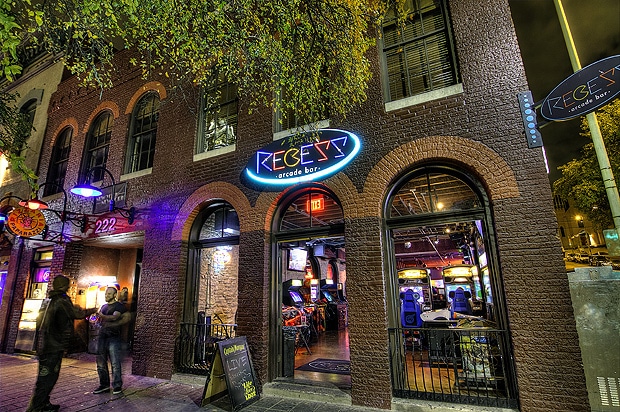 222 E 6th St, Austin, TX 78701
Recess is packed full of classic arcade games and amazing drink specials. It's the perfect place to hang out and have a good time, if you're not looking to dance the night away, but you are looking to have tons of fun.
404 E 6th St, Austin, TX 78701
The Jackalope is one of the most quintessentially dive bars on 6th Street in Austin we are familiar with. Their signature drinks are bomb, the food is actually good — and there's a giant jackalope statue. What more could you want?!
1700 E 6th St, Austin, TX 78702
If you're a fan of whisky, you'll love Grackle. They have plenty of other things to drink, but their whisky collection is hard to rival. The inside is dark and moody, with several dart boards and a pool table; and the patio space is really nice. Overall, cool and never too crowded.
1111 E 6th St, Austin, TX 78702
Violet Crown is so chill, drinks are great, pours are generous, and there's always some classic movie on the TV. The patio at this 6th Street bar is big and if you're lucky — some of their adorable cats will come around to say hi. Upon walking in you'll feel like a regular, and it even made our list of favorite gay bars, too! 
Featured Image Credit: Maggie Mae's