Westcave Outdoor Discovery Center hides a secret gem on the very far west end of Travis County, one of those magical places you almost can't believe is this close to Austin. If you're looking for beautiful caves and waterfalls near Austin, Texas, we recommend traveling to Westcave to visit the sapphire pool replenished by an awe-inspiring 40-foot waterfall.
Visits to Westcave Discovery Center are by reservation only right now, which means your trip to this waterfall near Austin will be nice and personal. There will only be a few other guests visiting the cave and waterfall at the same time. A "Walk Through The Grotto" is $60 per group of 4, which is just $15 a person. Your reservation includes an hour-long guided tour, starting with a 15-minute descent through a limestone cavern. About 100 feet down and your view opens up to a breathtaking freshwater pond, colossal rock formations, and a glistening 40-foot waterfall. You'll have 30 minutes to enjoy the beauty of the oasis and explore the cave behind the falls.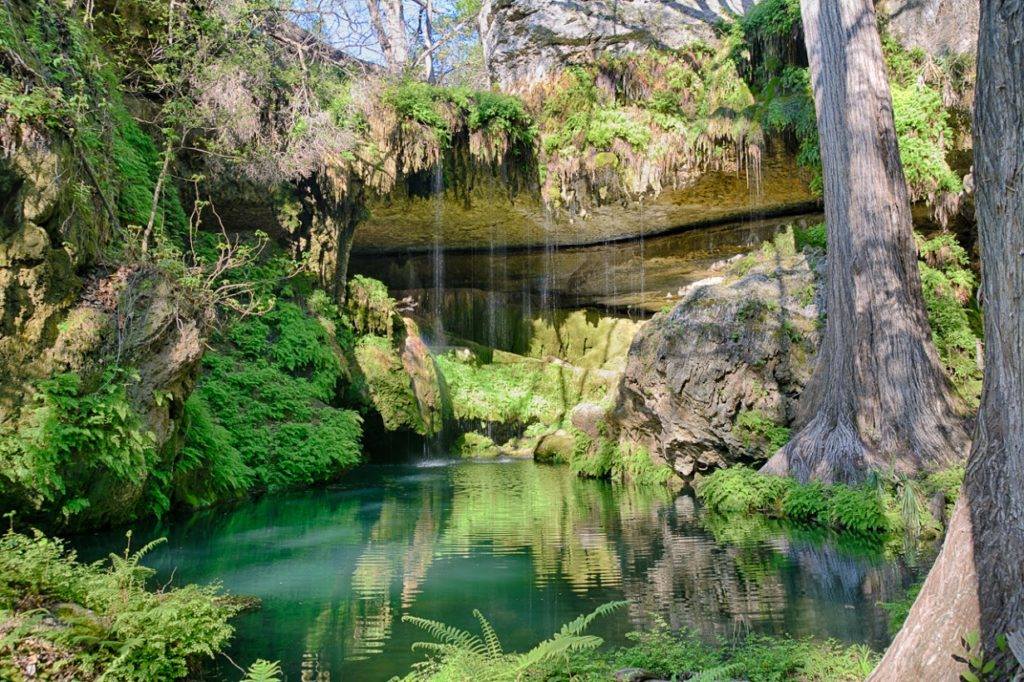 The waterfall, cave, and nature at the Westcave Outdoor Discovery Center near Austin is spread out across 76 acres of lush, emerald forest and flora, climaxed with a glittering limestone. After you've soaked in the tranquility of the grotto, take the Westcave Uplands Trail through the rest of the grounds for a classic Texas Hill Country stroll. That's just $20 per group of 4, so an extra $5 a person, making your total visit a $20 donation to conservation of this gorgeous freshwater pool.
Travel to the waterfall and cave near Austin, Texas at Westcave Outdoor Discovery Center at 24814 Hamilton Pool Rd, Round Mountain, TX, just 30 miles outside the city in the middle of Hill Country.
If you're looking for more you-can't-stand-how-beautiful-they-are hiking trails, check out our list of the 10 Best Hiking Trails With Astounding Landscapes Near Austin, TX. Or, if you fancy a few hikes that are a little more private, maybe try the 5 Best Hiking Trails in Austin Where You Can Discreetly Smoke Weed.
Featured Image Credit: @shepixes via Instagram