Now in its fourth year, Hot Summer Nights is keeping free live music alive and well in Austin. Next weekend, this free live music festival gathers more than 100 of the city's greatest local artists for four days of star-studded performances in the Red River Cultural District.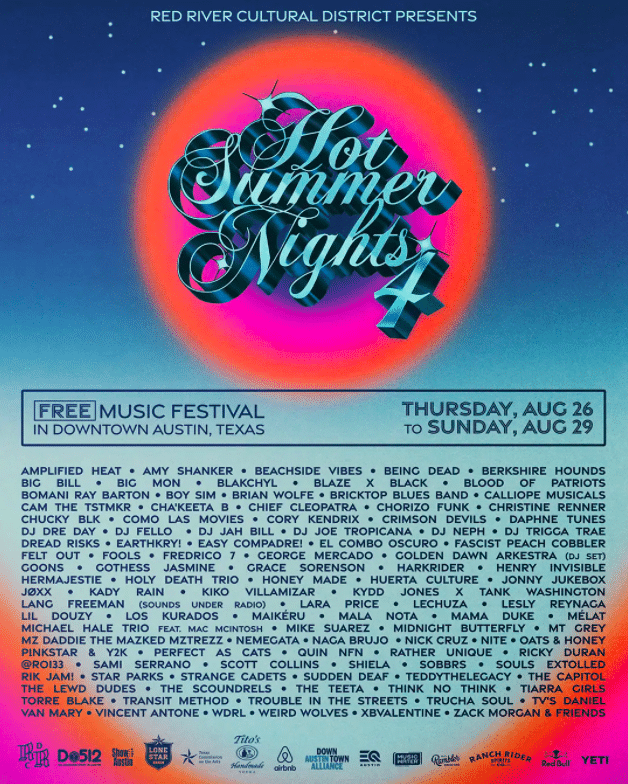 Lineup
The Hot Summer Nights lineup features all of your favorite local Austin bands, and so many more incredible artists on the come up. Notable standouts include breakout rapper Quin NFN, 3-time Best of Austin award winner, DJ Chorizo Funk, psychedelic pop group Calliope Musicals, electro-pop outfit SOBBRS, and R&B singer Mélat. We can also expect big things from Kady Rain, Tiarra Girls, Think No Think, Strange Cadets, and Mama Duke, but honestly, the whole lineup is stacked.
Amplified Heat, Amy Shanker, Beachside Vibes, Being Dead, Berkshire Hounds, Big Bill, Big Mon, Blakchyl, Blaze X Black, Blood of Patriots, Bomani Ray Barton, Boy Sim, Brian Wolfe, Bricktop Blues Band, Calliope Musicals, Cam the TSTMKR, Cha'keeta B, Chief Cleopatra, Chorizo Funk, Christine Renner, Chucky BLK, Como Las Movies, Cory Kendrix, Crimson Devils, Daphne Tunes, Dr. Dre Day, DJ Fello, DJ Jah Bill, DJ Joe Tropicana, DJ Neph, DJ Trigga Trae, Dread Risks, Earthkry!, Easy Compadre!, El Combo Oscuro, Fascist Peach Cobbler, Felt Out, Fools, Fredrico 7, George Mercado, Golden Dawn Arkestra (DJ set), Goons, Gothess Jasmine, Grace Sorenson, Harkrider, Henry Invisible, Hermajestie, Holy Death Trio, Honey Made, Huerta Culture, Jonny Jukebox, Joxx, Kady Rain, Kiko Villamizar, Kydd Jones X Tank Washington, Lang Freeman (Sounds Under Radio), Lara Price, Lechuza, Lesley Reynaga, Lil Douzy, Los Kurados, Maikeru, Mala Nota, Mama Duke, Mélat, Michael Hate Trio ft. Mac McIntosh, Mike Suarez, Midnight Butterfly, Mt. Grey, Mz Daddie the Mazked Mztrezz, Nemegata, Naga Brujo, Nick Cruz, Nite, Oats & Honey, Pinkstar & Y2K, Perfect as Cats, Quin NFN, Rather Unique, Ricky Duran, @ROI33, Sami Serrano, Scott Collins, Shiela, SOBBRS, Souls Extolled, Rik Jam!, Star Parks, Strange Cadets, Sudden Deaf, TeddytheLegacy, The Capitol, The Lewd Dudes, The Scoundrels, The Teeta, Think No Think, Tiarra Girls, Torre Blake, Transit Method, Trouble in the Streets, Trucha Soul, TV's Daniel, Van Mary, Vincent Antone, WDRL, Weird Wolves, XBValentine, Zack Morgan & Friends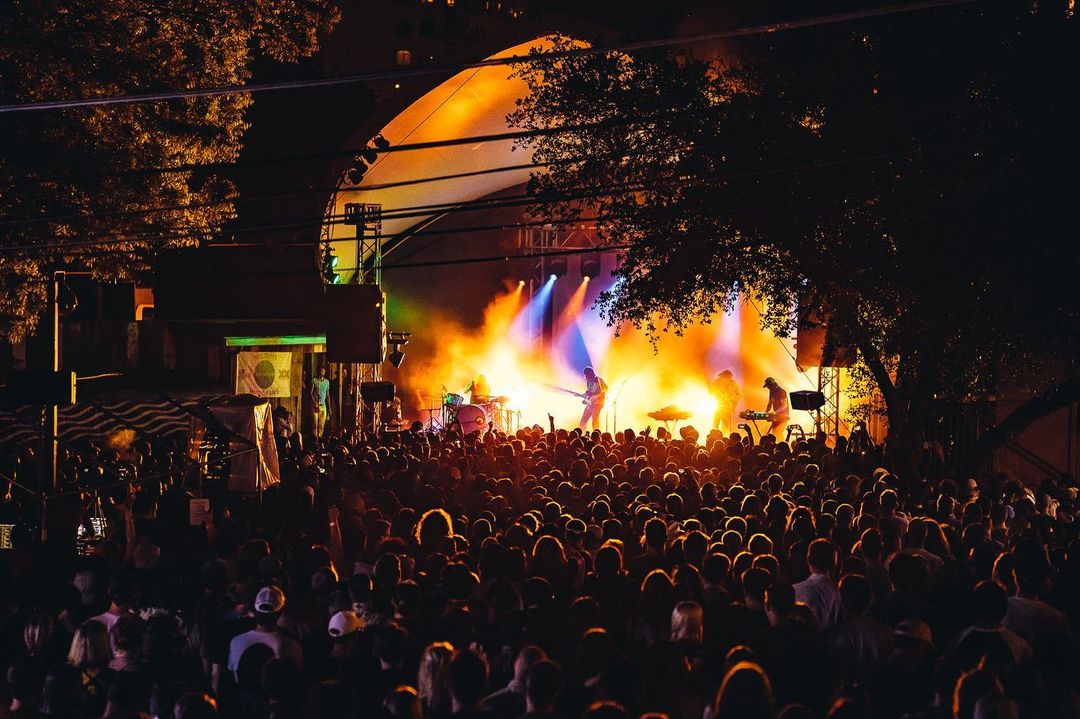 Venues
Hot Summer Nights will gather 100+ musicians at legendary Austin venues: Cheer Up Charlies, Elysium, Empire Control Room & Garage, Flamingo Cantina, Mala Vida, Mohawk, Stubb's BBQ, Swan Dive, The Creek and the Cave, The Green Jay, and Valhalla. All of these venues are located in the Red River Cultural District along Red River Street and connecting avenues in downtown Austin.
General Information
Hot Summer Nights takes place August 26 – 29, 2021, and tickets are not required for this free music festival.
Hot Summer Nights is an all-ages music festival that spreads across several iconic Austin venues and was created by the Red River Cultural District to address the "need for paid gigs for workers and performers in the dog-days of summer." The free live music festival provides an additional flow of income to independent artists, musicians, and staff members during the slow season. Red River Cultural District also hosts Free Week typically in early January in order to provide revenue support in the dead of winter.
COVID-19 Safety
Red River Cultural District encourages all participants to mask up and maintain social distancing during the Hot Summer Nights music festival. Masks will be required for all indoor shows, enforced by the individual venues. There will be a vaccine clinic pop-up at Empire Control Room & Garage during the music festival.
Featured Photo Credit: Hot Summer Nights