Don't get us wrong, we love animals. We really, really do. But each holiday season, there's so much more to see at Lincoln Park Zoo than just the wildlife alone.
Enter: Lincoln Park ZooLights – the zoo's family and animal friendly holiday market.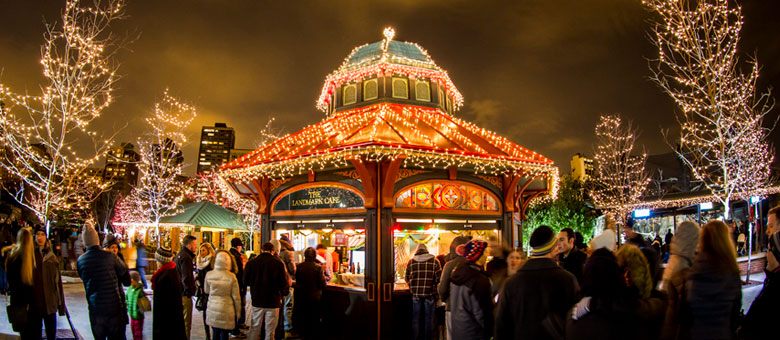 So what can you expect at ZooLights in Chicago? Lights, lights, and more lights. With over 2 million lights illuminating almost every square inch of the zoo, the Lincoln Park ZooLights market is truly a spectacular sight to see. That's not all though, the event is also home to:
Photos with Santa (through December 23 before he heads back to the North Pole)
Incredible 3D displays
Warm spiced wine, frosty beers, and festive specials
Delicious holiday snacks
Joyful gift shopping
Live ice-sculpture carving (Fridays, Saturdays, and Sundays)
Strolling carolers (Family Night Mondays, Tuesdays, Wednesdays, Thursdays)
Exciting ticketed experiences (including a one-of-a-kind Light Maze and 65-foot Ferris wheel)
Musical light show at the Winter Wonderlawn
Hundreds of themed larger-than-life displays
Exclusive 3D holiday specs (while supplies last)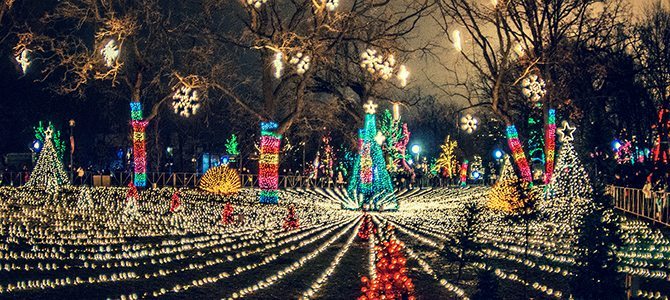 There are also plenty of themed events happening throughout this holiday season.
Members Only Night at ZooLights
Friday, November 22, 4:30–9 p.m.
ZooLights Opening Night and the Official Lighting Ceremony
Friday, November 29, 4:25 p.m.
Holiday Market
Tuesday, December 3, 6:30–10 p.m.
Adults Night Out: Holidaze!
Thursday, December 5, 6:30–10 p.m.
BrewLights Presented by Lakeshore Beverage
Thursday, December 12, 5:30–9:30 p.m.
Breakfast with Santa
Sunday, December 15, 9 a.m.–1 p.m.
The Chris White Trio Tribute to 'A Charlie Brown Christmas'
Sunday, December 15, 5–6:30, 7:30–9 p.m.
Monday Family Nights
Monday, December 16, 23, and 30
Zoo Year's Eve
Tuesday, December 31, 9 p.m.–1 a.m.
GlowFlow Yoga
Sunday, January 5, 9–10 a.m.
As if ZooLights needed anything else to attract visitors, there's also an ice skating rink, welcoming all ages and providing rental skates for those in need. It's $5 for admission and $5 for a pair of skates.
Special experiences are all yours for small additional prices. Tickets can be purchased on site for $3 each, a package of 10 for $27, or a package of 20 for $51.
AT&T Endangered Species Carousel
Century Wheel
Light Maze Presented by Invesco QQQ
Lionel Train Adventure
Cookie Decorating at the Patio at Café Brauer
ZooLights opens to the public on November 29 at 4:30 p.m. and continues most evenings through January 5! ZooLights run from 4:30 p.m. to 9 p.m. each day, except when it closes at 8 p.m. on New Year's Eve.
The best part is that ZooLights is completely free, though some of the extra features will cost a few dollars here and there. Still, for a zoo that offers free admission year-round, a few dollars to help keep the zoo open is a small price to pay.
At UrbanMatter, U Matter. And we think this matters.
Tell us what you think matters in your neighborhood and what we should write about next in the comments below!
Featured Image Credit: Zoolights
READ MORE LIKE THIS
DOWNLOAD THE URBANMATTER APP
FIND PARKING