Buckle your seatbelts.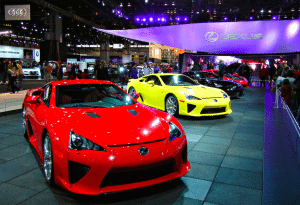 The Chicago Auto Show has been around since 1901, growing from a small-time event into the largest show of its kind in North America. This year marks the 108th anniversary of the show's origin.
Millions of people have visited the show since its premiere. Over recent years, concept cars, new models, hybrids, presentations, and promotional events have become the backbone of the event.
This year is no different. Here's a look at what to expect.
Exhibits
Multiple world and North American reveals
Massive range of both domestic and imported vehicles
Concept cars
1,000 vehicles on display
Vast array of accessories
Auto-related exhibits
Competition vehicles
Project, antique, and collector vehicles
Event Schedule
The Chicago Cubs Anthony Rizzo is sure to be a huge hit, and multiple Blackhawks players, both current and past will be making an appearance. Check out the numerous other auto, sports, and music events at http://www.chicagoautoshow.com/news/events/ 
Location
McCormick Place, 2301 S Lake Shore Drive
Admission
You can purchase at McCormick Place ticket booths on site or at https://www.chicagoautoshow.com/tickets/.
Adults – $12
Seniors (62 and older) – $7
Children (7-12) – $7
Children 6 and under are free
Auto Show Special Days
Monday: Family Day.
Tuesday: Women's Day. Women receive admission for $7. Presenters will discuss special women-oriented programs.
Wednesday through Friday: Chicago Auto Show Food Drive. Bring three cans of food to receive a coupon for a $7 admission. All food will be donated to A Safe Haven Foundation.
Friday, Feb. 19: Telemundo Hispanic Heritage Day. You can find more info at telemundochicago.com.
Chicago Auto Show Live Stream 2016
Not gonna be able to make it? You can watch the Chicago Auto Show Live at Autoblog.com.