Baby, it's cold outside.
The 19th annual Fifth-Third Bank Navy Pier Winder WonderFest is exactly that, a winter wonderland. Even better? It's entirely indoors, so you can have all the winter fun without freezing your buns off in the ice-cold weather.
The Winder WonderFest in Chicago begins on December 6 and goes until January 12. Families can visit a 170,000 square-foot space with endless attractions that all ages can enjoy. Accompanying over 500 decorated trees with 25,000 twinkling ornaments, an ice skating rink, an indoor Ferris wheel, and live entertainment, there is something for everyone to enjoy at Navy Pier's annual winter bonanza.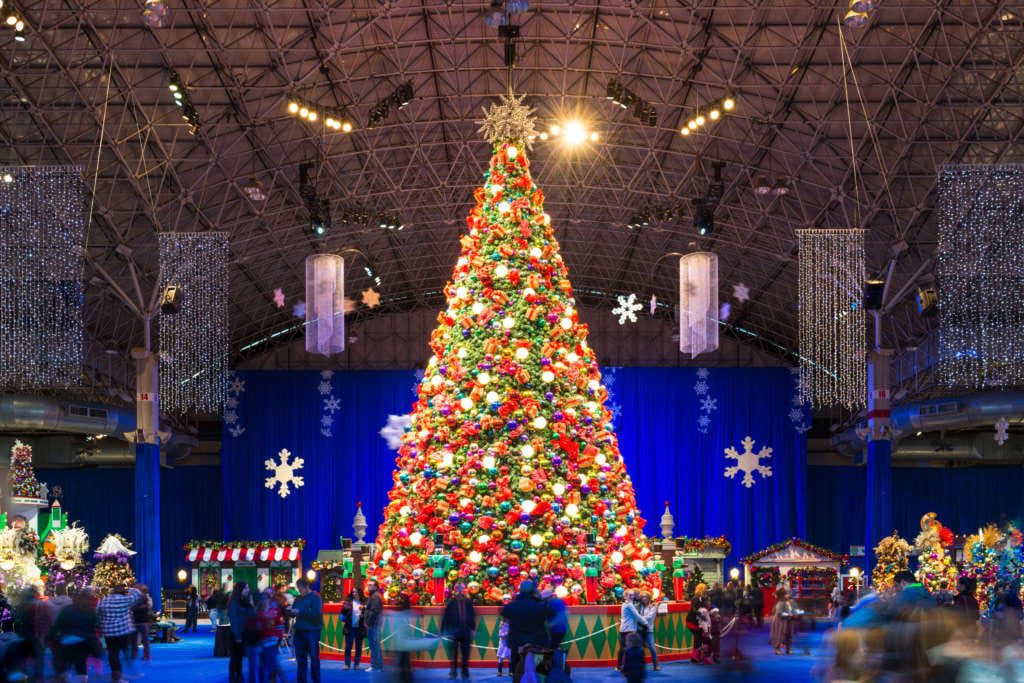 Here's What You Can Expect At The Winter WonderFest
Aerialists
Watch the Sugar Plum aerialists defy gravity at 3 pm, 4 pm, and 5 pm at the navy Pier Winter WonderFest on Saturdays and Sundays.
Alpine Slide
Don't miss the thrill of this enormous, festive, inflatable slide!
Arctic Express Train Ride
Exploring over 300 feet of the premises, this trackless train ride at the Winter WonderFest in Chicago is family-friendly and includes a commemorative photo.
Arctic Plunge 
A dual lane inflatable slide decorated for winter.
Aquafina® Create-A-Cookie Cottage
This cottage allows children to decorate and eat freshly baked sugar cookies for $3 a piece.
Candy Cane Lighthouse
The lighthouse at the Navy Pier Winter WonderFest lifts children 16 feet in the air and brings them back gently towards the ground.
Cliff Hanger
Cliff Hanger is a hang glider that takes you as high as 40 feet into the air.
Dasher's Crashers Bumper Cars
This classic attraction lets you bring out your wild side and have some fun!
Centennial Wheel
For every ticket bought, you'll receive a complimentary ride on Navy Pier's iconic, outdoor 200-foot tall Ferris Wheel at the Winter WonderFest in Chicago. During the winter, the Wheel features enclosed and temperature-controlled gondolas, so don't let the cold stop you. It's easily the best seat in the house to marvel at the Chicago skyline.
Giant Decorated Tree
This 42-foot behemoth is the centerpiece of the Winter WonderFest. It's adorned with multi-colored ornaments, gift-wrapped presents, and twinkling lights.
Hot Cocoa Cups
Spin around in these large teacups, just don't get too dizzy!
Ice Palace
Another inflatable slide, because who says just two is enough?
Ice Peaks Climbing Wall
Grab your gym shoes and challenge yourself to an exhilarating climb on a rock wall overlooking the fest.
Jingle Jym Jr.
This special section for smaller children at the Winter WonderFest only allows kids 46 inches or smaller to participate. It includes the Arctic Wonder Obstacle Course, Gumball Bouncer, Santa's Workshop Bouncer, and Snowball Blitz.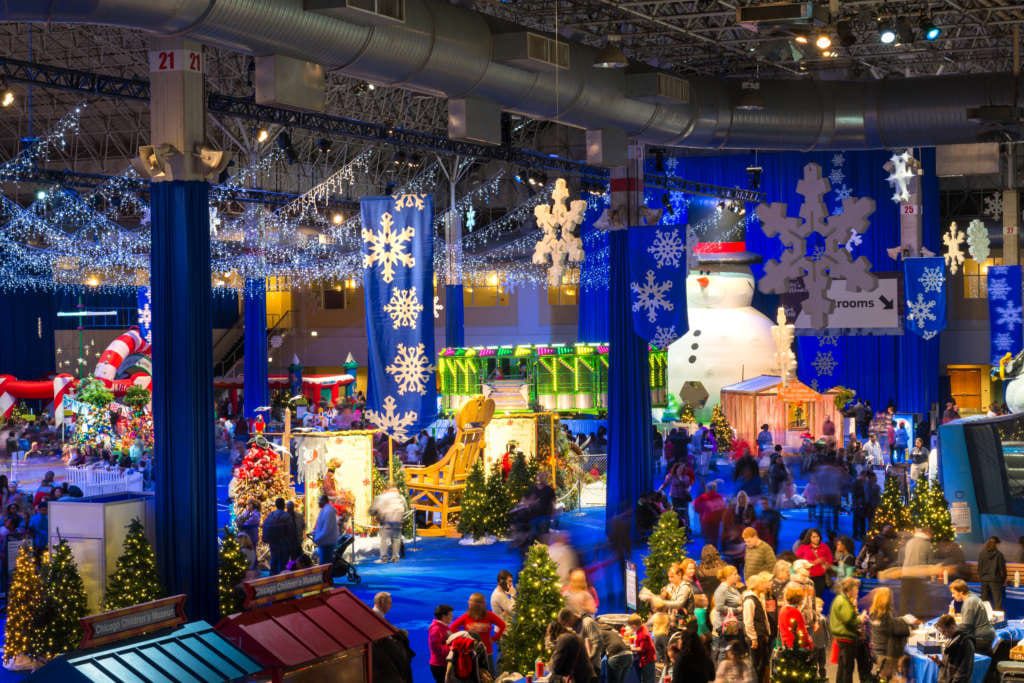 Kringle Carousel
Your classic Merry-Go-Round, decorated for winter.
Mount Reindeer
Climbable and kid-friendly arena.
Polar Extreme
Race your way through a "frozen tundra" in this double-sided course at the Winter WonderFest in Chicago that ends with a slide.
Slippery Snowflake Slide
Another slide… why not?
Snowman Bouncer
No, this isn't a large snowman standing beside the door. The Snowman Bouncer is a 38-foot tall bouncy castle.
The Wind Chill
Winter WonderFest's newest attraction, soaring guests 53 feet high above the indoor, festive playground.
Winter Rules Mini Golf
Sink a hole-in-one at this indoor mini-golf course!
Wintertube
This 15-foot tall snow tubing hill is sure to be a big hit at the Winter WonderFest. Who says you can only tube outdoors?
Winter Wonder Market
The all-new holiday market at the entrance of Winter WonderFest is not to be missed! Get a holiday gift for a loved one on your way out.
Winter Wondertown
Enjoy the theatrical company of Wondertown residents who are more than happy to help you and your family explore the scenery.
Wonder Whirl
Take a quick spin around this family-favorite.
Zero Gravity
This ride spins slowly at first, then increases speed until riders are held to the wall by centripetal force. At top speed, you'll be lifted into the air!
Xfinity Ice Skating Rink
Bring your own skates or rent a pair to glide around this indoor skating rink.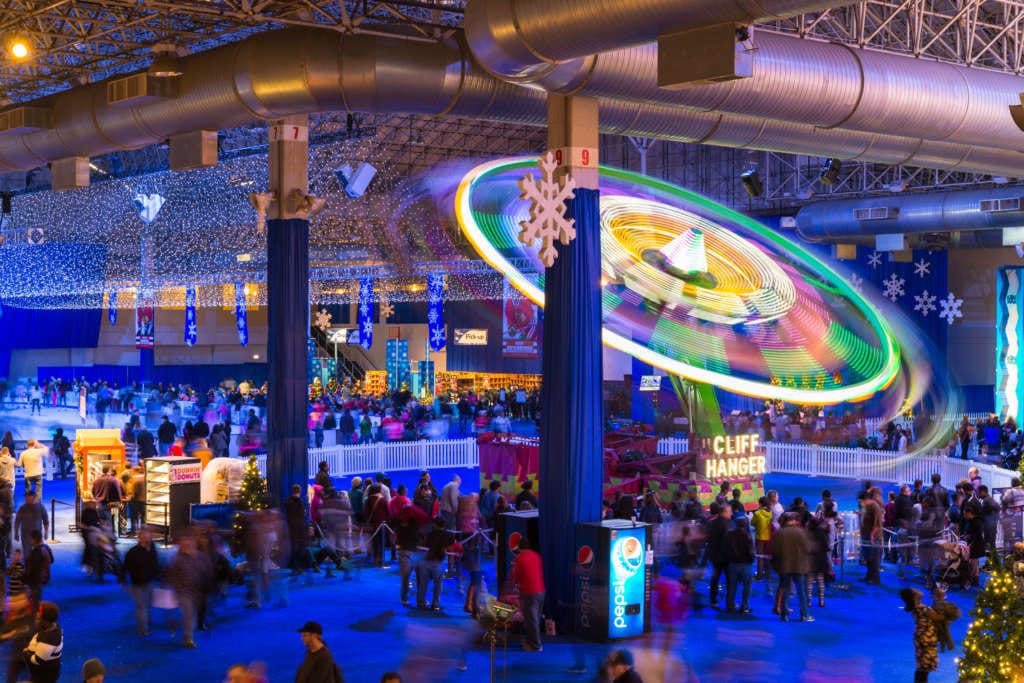 Photo Ops at the Winter WonderFest in Chicago
Country Lane
A holiday sleigh, jingle bells ringing… what more could you want for a festive photoshoot?
Holiday Howdy Horse
Get your whole family on this giant rocking horse at the Navy Pier Winter WonderFest for a photo op to remember!
Santa and Mrs. Claus
Get a selfie with Santa and the missus on select days at Winter WonderFest!
Navy Pier Winter WonderFest Opening Night
Don't miss your opportunity to get in on the Navy Pier Winter WonderFest magic a little early this year at Cheer at the Pier on December 5 from 5 – 9 pm. Enjoy an open bar, appetizers, and access to all of the rides and activities you'll see this season without waiting in long lines. Tickets are available online; adults are $75 and children are $20, but they also have bundled tickets for groups!
Age Requirements
Attendees ages 18 and under must be accompanied to the festival by a parent or legal guardian in order to enter.
Transportation
Free trolleys at Navy Pier for holiday events are available for use! To check out the route map and schedule, click here. If you're driving, there are two on-site parking garages, West Garage and East Garage located at 600 East Grand Avenue. There is a flat rate parking fee seven days a week. Find more detailed information and current rates online.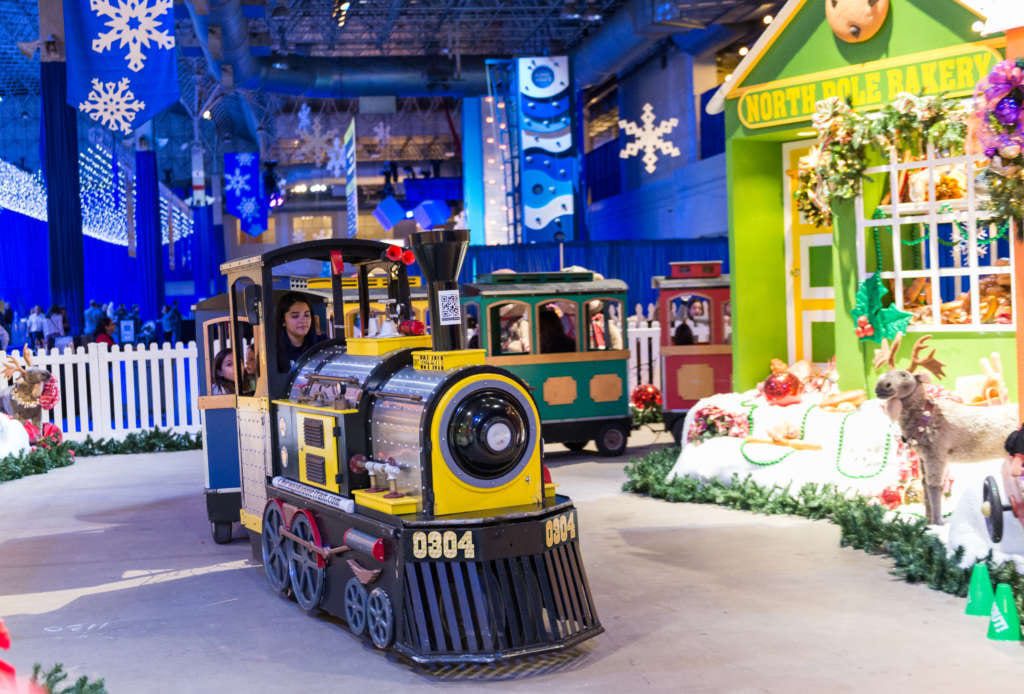 Purchase Tickets
Tickets for the Winter WonderFest in Chicago can be purchased online on Navy Pier's website or at the box office on-site. General admission ranges per day from $20-28 for adults, children over 42 inches, and anyone under the age of 65, if purchased online. Junior admission is $10-14 for visitors at 36 inches and under 42 inches when purchased online. Senior admission is $10-14 for guests aged 65 or older. Infant admission (children under 36 inches) is free. Group bundles are also available. 
Hours and Dates
Navy Pier's Winter WonderFest takes place from December 6 to January 12 and is open at 10 am daily with varying closing times. Winter WonderFest will be closed on Christmas Day, December 25, with limited hours on Christmas Eve and New Year's Eve.
On Thursday, January 9, Navy Pier is hosting sensory-friendly hours from 4 – 8 pm, complete with discounted tickets, low lighting, reduced sound, quiet zones, and more to accommodate the special needs community.
At UrbanMatter, U Matter. And we think this matters.
Tell us what you think matters in your neighborhood and what we should write about next in the comments below!
Featured Image Credit: Nick Ulivieri Photography
READ MORE LIKE THIS
DOWNLOAD THE URBANMATTER APP
FIND PARKING