Unofficially, Fall is definitely here. And guess what? Fall is the perfect time to take your wife, partner, or girlfriend out to experience what Chicago has to offer. From cozy interiors to delicious bites, to live music, grab your favorite plaid jacket and head on over to these hotspots for a fun date night in Chicago this fall. We've separated each date night idea into four different sections, depending on what you want to experience.
Of course, we also highly recommend a couple's game day experience if you're more into sports!
Delicious Bites to Share
When foodie meets foodie, a fun date night idea in Chicago may consist of sharing food. Enjoy an appetizer or meal while you sip on each other's drinks, and wipe sauce off each other's cheeks. Seize the romance between plates at one of our favorite dining locations with unique appetizers and a menu full of characteristics.
3335 N Halsted St, Chicago, IL 60657
Nestled in the heart of Northalsted, enjoy a delicious dinner from Chef Devin Kreller at Wood. Diners can indulge in new menu items Braised Chuck Beef Fib "Pot Au Feu" featuring soy-braised turnip, ginger & shio kombu. Also new to the menu, indulge in a Sage Butter Roasted Heritage Chicken Breast featuring Boudin blanc sausage, cranberry beans, leek veloute, and local wild rice. 
1709 W Chicago Ave, Chicago, IL 60622
At Funkenhausen, Chef Mark Steuer draws on his German heritage and Charleston, South Carolina upbringing to create dishes that reimagines his fondest meals and memories from childhood. The modern beer hall serves a soulful mash-up of Southern and German flavors in Chicago's West Town neighborhood. If you are searching for creative date night ideas in Chicago, the menu at Funkenhausen includes innovative dishes including Pretzel French Toast, Summertime Spaetzle, Riesling Steamed Mussels, and more. 
177 N Ada St #001, Chicago, IL 60607
At The Loyalist, Chef John Shields refreshed the menu last year to lean even further into French cuisine, inspired by the bustling brasseries in Paris. Every dish is prepared with the same uncompromising attention to detail and love as Smyth, its fancier two Michelin-starred restaurant sibling upstairs. Diners can indulge in their famous and voted the best in Chicago cheeseburger and more. 
400 N Clark St, Chicago, IL 60654
Located in the heart of Chicago's lively River North neighborhood, The Smith is a fun date night spot. Featuring an expansive outdoor patio and a variety of dishes to choose from. On Sundays, treat your date to their "Red Sauce Sundays" special. Priced at $45.00 for two, diners will receive a Chicken Parmesan, Caesar Salad, Rigatoni alla vodka, Parmesan garlic flatbread, and finish the meal out with rainbow cookies. 
Must-Go Happy Hours
Happy Hours are back at many bars in Chicago! We've hand-picked a few special ones just for you.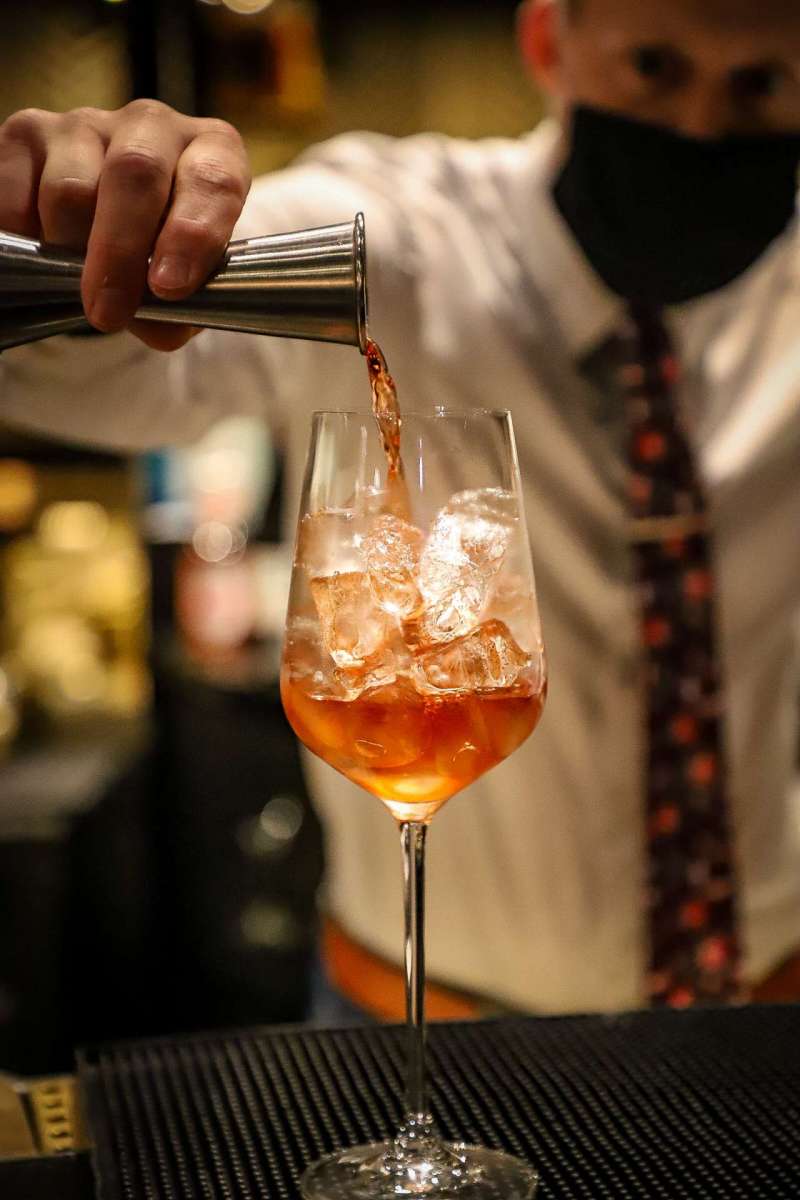 817 W Lake St, Chicago, IL 60607
Daily Happy Hour from 5-6:30 p.m. is the best hour at BLVD Steakhouse. From wine by the glass to new BLVD bites, enjoy some serious steals on a date night in Chicago in the most beautiful dining room. Cocktails like Evan Williams bourbon-infused Byline or their El Dorado rum-filled Thornhill are only $9. Enjoy bites between drinks with $3.50 each Oysters Rockefeller, $7 Deviled Eggs, $8 Foie Buffalo Wings or $9 Mini Street Tacos.
Vintage Thursdays are also available every Thursday at BLVD Steakhouse. Beverage Director Ted Rink pulls out vintage wines from distributors, held inventory, and wine auctions to offer wine by-the-glass to guests at cost.
340 N Clark St, Chicago, IL 60654
Also located in River North, diners can indulge in all things Italian at Nonnina's happy hour. Offered at the bar only on Monday through Friday from 3:00pm to 6:00pm, guests can choose from $6.00 house wines or $7.00 cocktails. Other signature menu items on the happy hour menu include the meatballs, parmesan truffle fries, half dozen oysters, and more. Nonnina's patio also offers a "Puppy Menu" that is perfect for those who are looking to dine with their dogs.
221 N Columbus Dr, Chicago, IL 60601
The restaurant's Monday through Thursday happy hours are the perfect excuse to participate in this date night idea in Chicago to enjoy delicious bites and refreshing beverages.
Enjoy Burger Mondays offering the restaurants signature FireLake Burger or veggie burger and fries for $12 while sipping on a draft beer for $6. Taco Tuesdays featuring two beef, salmon or veggie tacos for $6 and house margaritas for $8. Wine Down Wednesdays including house red or white wine for $8 and pepperoni, cheese or margherita flatbread for $12. Oysters and Bubbles Thursday for $9.
For The Live Music + Entertainment Lovers
Have you heard? Live shows are back! We've all missed those spontaneous date nights where we walk into the first bar we see with a "live music tonight" sign on the outside. Well, let's upgrade your live night a little bit as we present you with some of the best entertainment spots in town. Save the blind guesses, because we guarantee you the next date will be unforgettable!
858 W Lake St, Chicago, IL 60607
All the elements of an unforgettable and undeniably fun date night idea in Chicago can be found at Grapes and Grains. GG's is the complete social experience for those looking to indulge in an intimate evening that exudes exclusivity and the underground thrill of 1920s Chicago. GG's offers diners numerous wines by the glass options as well as bottles for purchase.
1134 W Washington Blvd, Chicago, IL 60607
The Press Room has transformed into the ultimate speakeasy experience. To play into the 1920's theme, The Press Room also offers diners special ticketed events such as Cabaret Shows, Cigar Events, and more. Diners can indulge in a variety of dishes including homemade pastas, Scallops, Steak Frites, and more while sipping on innovative cocktails. 
For A Special Night Out
177 N Ada St #101, Chicago, IL 60607
This Michelin-starred culinary hotspot pays homage to the depth and richness of Chef John Shields and Karen Urie Shields' five inspiring years in the farmlands of Smyth County, Virginia, where they expanded their knowledge and vision and found their voice. Diners can taste the narrative for $225.00 a person and also choose from various beverage pairing add-ons to enhance the experience. The Smyth's dishes feature balance and warmth, and is a special treat for the senses. Guests can expect to enjoy award winning dishes and flavors during this 2.5 hour experience.
4229 N Lincoln Ave, Chicago, IL 60618
The destination neighborhood restaurant, Robert Et Fils is intimate in scale and quaint in detail, infused with the elegance of classic French cuisine. Robert Et Fils utilizes the essence of old-school French gastronomy with an American playfulness, exploring modern culinary techniques and technology and offering thoughtful, elevated service. Though the menu rotates on a daily basis, diners can indulge in a variety of French dishes.
145 N Dearborn St, Chicago, IL 60602
The Dearborn offers one of the best dining experiences in Chicago's Loop area. Located in close proximity to Grant Park, Millennium Park, and the museums, The Dearborn is a perfect spot to enjoy a bite before participating in fall activities. Chef Aaron serves up the ultimate offerings!