Sandwich, noun. An item of food consisting of two pieces of bread with meat, cheese, or other filling between them, eaten as a light meal… Cross out the light meal, the rest sounds about right. Like all other iconic food items, Chicago's chefs and restaurants don't hesitate to get creative with this classic dish, either. From classic grilled cheese reaching a whole new level, to Asian-fusion sandwiches, here are places to find the best sandwiches in Chicago during (or beyond) this national sandwich month!
400 N La Salle St, Chicago, IL 60654
WHAT: Goddess of Italian Parma
This local favorite is perhaps also one of the most eco-friendly and sustainable eateries in the city. On the menu, diners can indulge in a variety of innovative breakfast and lunch sandwiches including Goddess of Italian Parma, Spicy Chicken Melt, Spanish Serrano Ham + Manchego Cheese, and many more. Hannah's Bretzel also offers a Chef Series that features a special sandwich created by a local chef. In August, diners can expect a collaboration with El Che Steakhouse & Bar.
1137 Greenleaf Ave, Wilmette, IL 60091
WHAT: Ouilmette Cheesesteak
Located in the heart of downtown Wilmette, Buck Russell's is the newest one-stop-shop on the North Shore. When dining in, guests can expect smiling faces, and casual, yet thoughtful, service. The savory menu includes a dozen original sandwiches served on house-baked bread, including the "Ouilmette Cheesesteak" featuring shaved ribeye, provolone, A1 mayo and caramelized onions, or the the "Ragin' Cajun" made with Cajun-spiced turkey, Alpine swiss, slaw and homemade chow chow relish. Diners can also order the "Texas Style Chili " seasoned with an award-winning spice blend from the Lone Star state itself.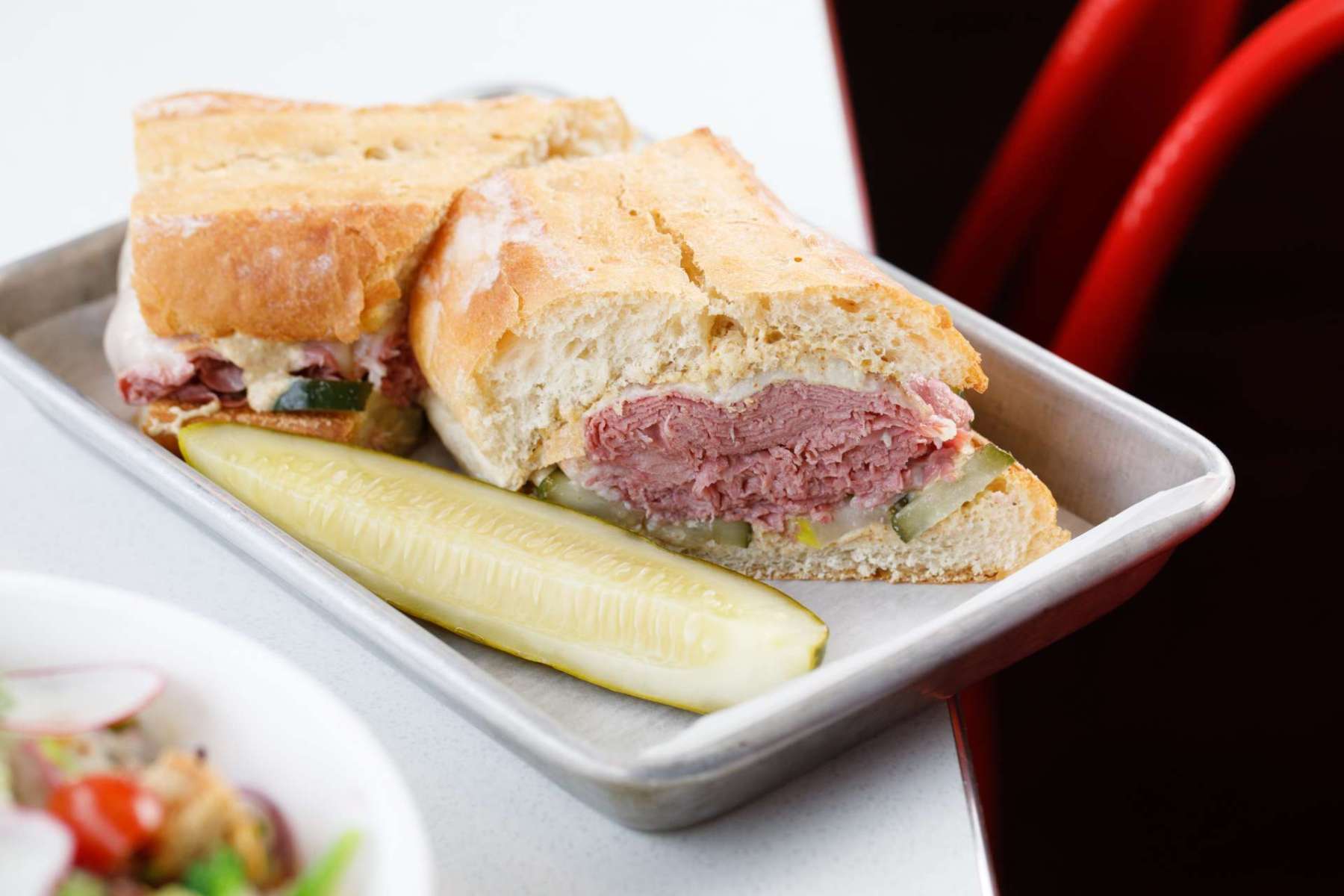 954 W Fulton Market St, Chicago, IL 60607
WHAT: August sandwich
Marvin's Food & Fuel, the vibey corner joint in Fulton Market, has partnered with Buck Russell's, the popular new sandwich shop and bakery in Wilmette from the team behind Sophia Steak, Gemini, and Andros Taverna, for its August Sandwich Series campaign. The monthly sandwich pop-up series at Marvin's Food & Fuel kicked off in March featuring an original recipe created by Chef Doug Psaltis of Andros Taverna.
The sandwich consists of warm shaved corned beef, Hook's Baby Swiss, sliced dill pickles, and spicy brown mustard with a side of hand-cut fries.  Proceeds from the $16 sandwich benefit Pilot Light, a chef- and educator-founded nonprofit that introduces food education and its benefits to students.
1525 N Wells St, Chicago, IL 60610
WHAT: Ultimate Grilled Cheese
When you think of sandwiches, what better way to celebrate the month than with a childhood classic that never goes out of style? LG's Bar & Kitchen, located in Chicago's Old Town, provides a unique twist on the classic Grilled Cheese sandwich elevating it from your family's kitchen to a night out meal with friends. Made with a gooey four-cheese blend, fresh tomato jam, fried onions, crispy bacon sandwiched between two gold brown pieces of parmesan-crusted sourdough.
1300 W Wellington Ave, Chicago, IL 60657
WHAT: Roasted Beef Reuben? This take on the classic reuben is for all the plant-based menu lovers out there, who are looking to enjoy all the classics this sandwich month without the meat-filled guilt. Farm Bar Lakeview is using beets as the substitute for corned beef to create the same texture and topped with sauerkraut, swiss cheese, Farm Bar secret sauce sandwiched between marble rye bread. Visually, this sandwich may look like a reuben, but once you take a bite, it's even better.
1559 N Milwaukee Ave, Chicago, IL 60622
WHAT: Hot and Crispy Mushroom Sandwich
Bloom Plant Based Kitchen from James Beard nominated Chef Rodolfo Cuadros offers Chicago a completely plant-based menu that is 100% gluten free and vegan. One of Chef Rodolfo's favorite dishes is his Hot and Crispy Mushroom Sandwich. Sambal aioli, battered maitake mushroom, fermented cabbage and pickles will become your new favorite sandwich to celebrate national sandwich month.
1604 W Chicago Ave, Chicago, IL 60622
WHAT: Wagyu Breakfast Sandwich
From Bonhomme Hospitality Group, Beatnik West Town is driven by a triumphant fusion of three countries close to their heart: Morocco for its audacious combinations of color and passionate artisans, France for its music and artistic confidence, and Italy for a healthy dose of polish and panache to sex it all up. In the spirit of that fusion, they've got a killer Wagyu Breakfast Sandwich on the brunch menu, served with Wagyu Bresaola, black truffle aioli, organic egg, Swiss cheese, and giardiniera vinaigrette.
1721 W Division St., Chicago, IL 60622
WHAT: Almussafes Bocata
Unless you've spent some quality time in Valencia, Spain, you've never eaten one of the world's great sandwiches, Almussafes Bocata. Typically eaten as a snack between meals, this sandwich, or "bocata," is traditionally made with sobrasada (a soft, spreadable pimenton-spiked sausage), caramelized onions and melted cheese. At Mama Delia on the Bocata del Abuelo, they add a parsley and red onion salad, which balances the richness, with further upgrades via goat cheese and the pan de cristal, the super crispy bread shipped frozen from Spain on which it's served.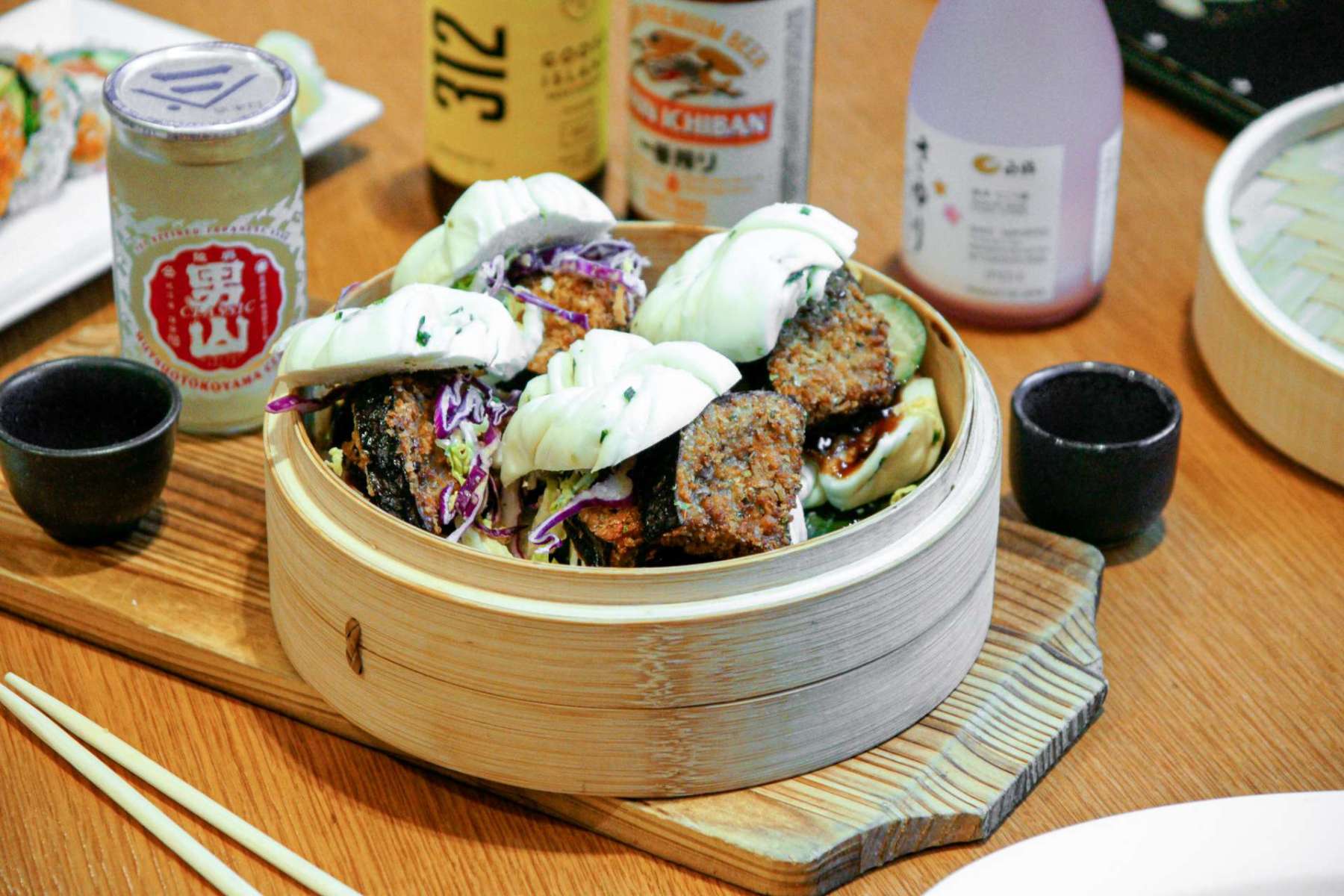 110 W Illinois St, Chicago, IL 60654
WHAT: Crispy Eggplant Steamed Buns
If you cut a bao into two halves, it counts as a sandwich. Plus, we just can't leave this one off our list because… Hello!? Have you seen the ingredients? We're talking panko crusted eggplant and asian slaw sandwiched by two slices of scallion bao bun! Say no more! We'll take one order of the eggplant buns, and one order of the classic Korean Fried Chicken Buns too!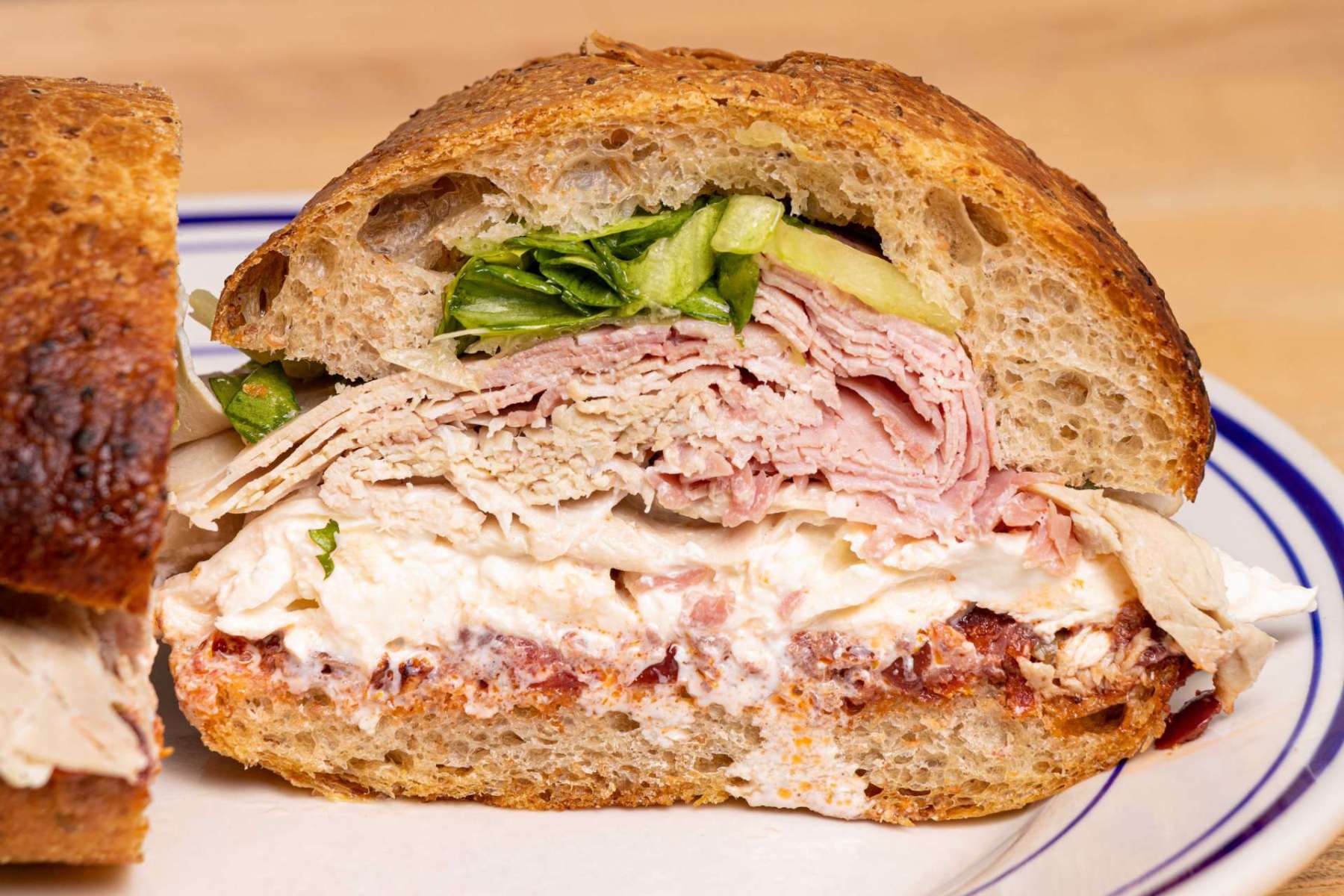 825 W Fulton Market, Chicago, IL 60607
WHAT: City Smoked Ham
According to Rob Levitt, Head Butcher of PQM, the mark of a great sandwich is contrast. If the star of the sandwich is fatty (pork belly, gooey cheese) consider an acidic condiment to cut all the fat. If it is lean (shaved turkey breast) consider something fatty like avocado or a flavored mayo or aioli. And always try and add some texture — whether that's greens, slaw, chips, fried onions, or giardiniera (Rob's fave!).
So, try the City Smoked Ham sandwich and taste the layers of goodies and the amazing textures yourself! The sandwich is made with thick-cut smoked ham slices, stracciatella cheese, escarole, sun-dried tomato, and olive oil tapenade on PQB focaccia.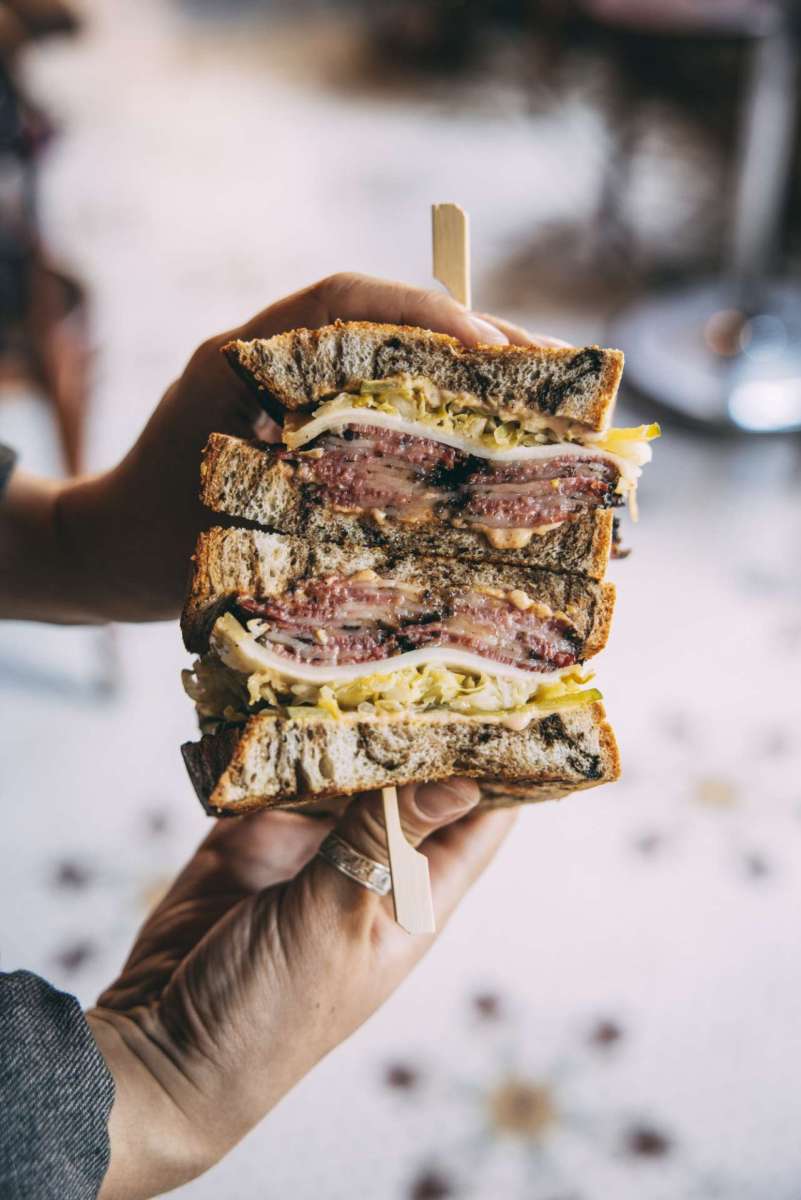 2200 N California Ave, Chicago, IL 60647
WHAT: Reuben
We all know Lardon has some of the best charcuterie boards in Chicago. But did you know their sandwiches are also on fire!? For example, this classic yet delicious reuben sandwich is always our go-to choice for a quick fix that never fails! House-cured pastrami, Midnight Moon gouda, fancy sauce, house kraut, and deli pickles on marbled rye — it. is. heaven!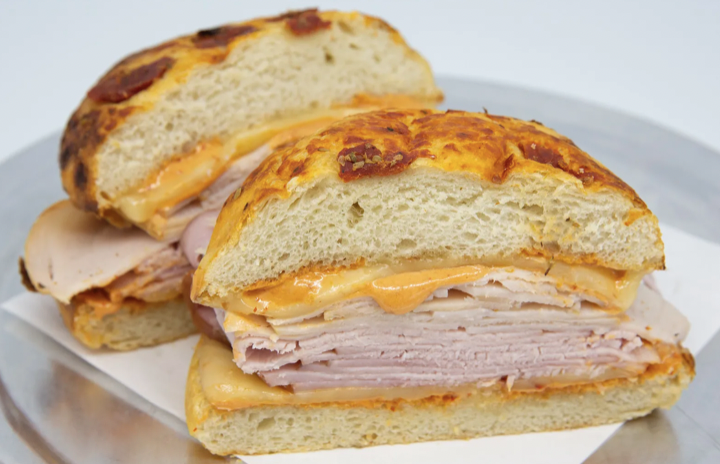 352 W Armitage Ave, Chicago, IL 60614
WHAT: Boatwich
All Too Well is our go-to spot for a quick work lunch in Chicago. There are just too many good things about this cute little joint! The marketplace always have fun, fresh, healthy treats. The sandwiches here are fresh and full of flavors, and the owner never shies away from using innovative ingredients like smoked white fish spread or chimichuri. But our favorite thing about this place is all the menu items are named after something or someone special to the owner. That human touch is just so beautiful!
Featured Image: Maddy Cox