There's only one rule when it comes to Chicago-style hot dogs. Don't you dare put ketchup on that dog! Ever! You will be judged. So what *can* you put on a chi-town weenie? Everything you'd find in a garden. Lettuce, tomato, onion, pickles, sport peppers… Oh, and don't forget the mustard, celery salt, and relish. If it sounds like a lot of work to make one at home, check out our list of the best Chicago-style hot dogs. If you're still hungry (but you prolly won't be), stop by a neighborhood diner and chat with your favorite regular.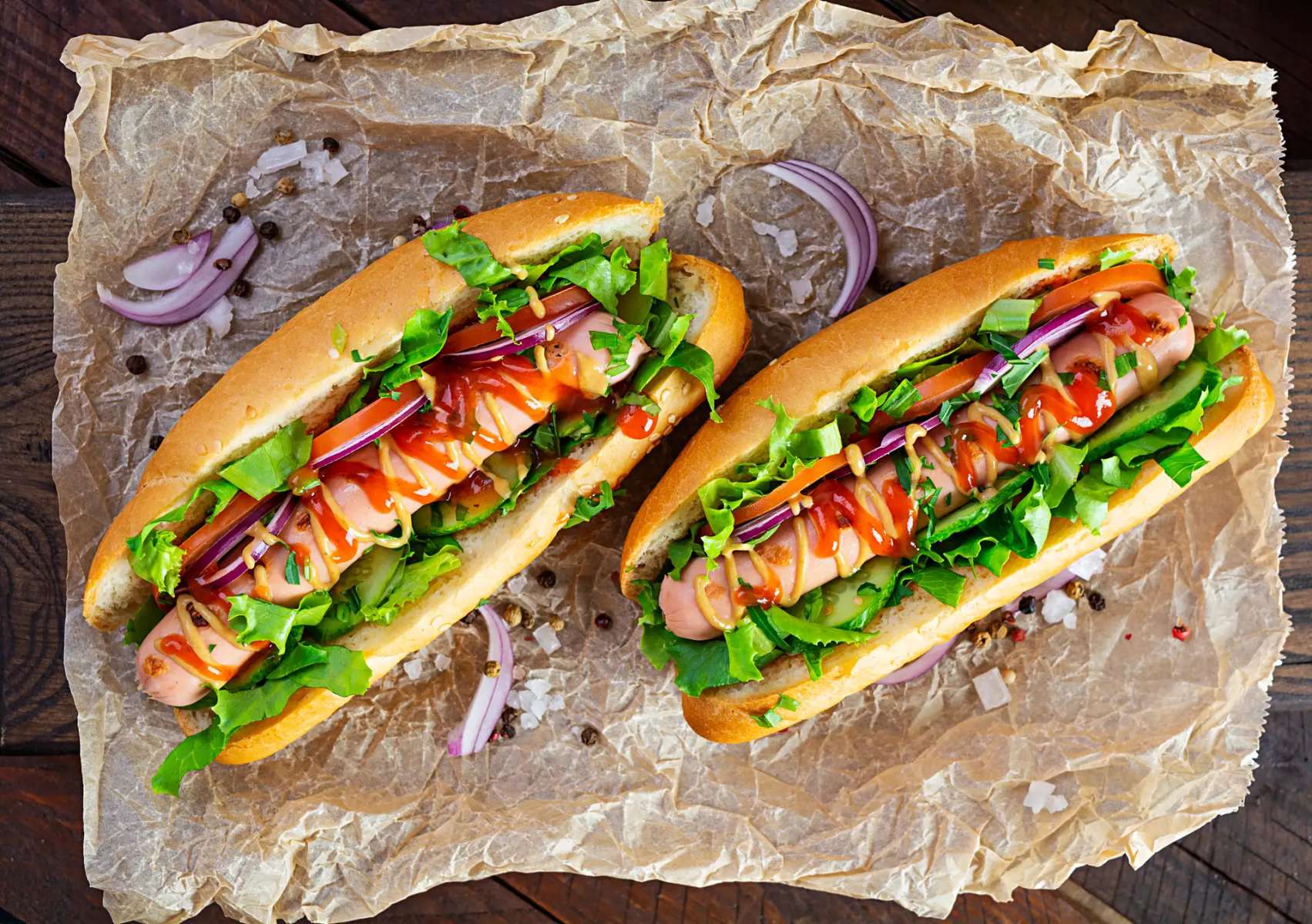 1017 W Irving Park Rd. Chicago, IL 60613
This no-frills restaurant has been a fixture on the north side since 1975. And for good reason: they serve up some damn good dogs. Start by choosing your base of a hot dog, jumbodog, dogzilla, or other protein. Then make it authentic with mustard, relish, onions, lettuce, tomato, green pepper, cucumber, pickle and celery salt. Delish!
4000 W. Grand Ave. Chicago, IL 60651
Since 1954, Jimmy's has enforced the "no ketchup" rule. They might not have ketchup but they have an awesome depression-style hot dog which is a traditional all-beef dog topped with yellow mustard, chopped white onions, sweet pickle relish, a dill pickle spear, and sport peppers.
3021 N Broadway, Chicago, IL
First of all, their name is just fun to say. Second, their menu is awesome. Popular items include "The Flubby" which is a classic premium beef dog with your choice of toppings. Also, the "Mr. Big," a monster 8-inch spicy Mike Ditka Polish sausage with yellow mustard, grilled onions, and sports peppers. Yum and yum. 
816 W Fullerton, Chicago, IL 60614
Looking for something more exotic? Specializing in unexpected sausages like alligator and rattlesnake as well as the iconic Chicago style hot dog, whatever your taste palate, this eatery is sure to deliver.
Various Locations
Unless you live under a rock, there's a good chance you've heard of Portillo's. They're known for their Italian beef sandwiches but also serve as a mean Windy City weiner. Their Chicago-style dog includes mustard, relish, celery salt, freshly chopped onions, sliced red ripe tomatoes, kosher pickle, and sport peppers piled onto a steamed poppy seed bun. 
1876 N. Damen Ave. Chicago, IL 60647
For over 70 years, George has been slinging dogs. This family-owned operation has built a reputation on dishing out quality food in a nice environment. From traditional homemade Greek to American favorites, there're lots to love at George's.
Various Locations
Reliable classics. Unique takes on hot dogs and burgers. Devil Dawgs offers the standard version of Chicago-style hot dog with mustard, onions, relish, pickle, tomato, sport peppers,  and celery salt. Need we say more?
Featured Image: Flub A Dub Chub's