The best thing about hitting the road in autumn is catching the shimmering golds and spicy tangerines minus the traffic that packs the pavement at the height of the color season. So, when my soul recently craved more than local, leaf-crunching walks to relieve stress, I threw an extra pair of jeans and a few tops in the car and headed toward my favorite getaway for good wine and gorgeous vistas—the Leelanau Peninsula and nearby Traverse City in Michigan's Grand Traverse region.
Maples were just beginning to splatter-paint the hills and tempering breezes from Lake Michigan and Grand Traverse Bay meant the color would still be good in November—my alternative time for travel, but patience has never been my strong suit.
My shoulders relaxed once Indiana's tree-topped dunes replaced Chicago's big city bustle as Interstate Highway 94 curved around Lake Michigan. Then Saugatuck and Holland Michigan's boutiques and breweries tempted me after I switched to Interstate 196. But this trip was about reaching US Highway 131, where Northern Michigan's vast forests never fail to release pent-up sighs. Soon I would be scuffing sand in Sleeping Bear Dunes National Lakeshore, touring my favorite wineries on Leelanau and Old Mission Peninsulas, and finding new restaurants and shops in the Grand Traverse area.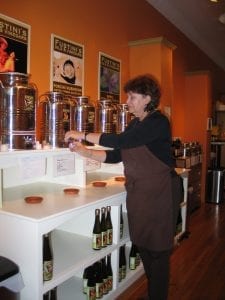 Yes, everyone uses GPS, but I went old-school and plotted my route via MapQuest to Wellington Inn, a restored 1905 lumber baron mansion where I would be within walking distance of downtown Traverse City, or TC as the locals say.
And it turned out to be a great choice. It was fun to trek to a third-floor ballroom to raid a cookie jar up there, take early morning coffee on a cheery parlor window seat and eat way too much of innkeeper Barbara Rishel's delicious breakfasts.
Of course, the walk to the downtown shops along Front Street balanced the caloric intake—including a chunk of terrific Doug Murdick's Fudge bought at its TC location in the center of town. Only half made it home. I stumbled on Murdick's after sampling an amazing pear balsamic vinegar at Fustini's across the street. A cup of espresso from morsels, which is so good it doesn't need to capitalize its M, is at Front and Cass Streets and was the perfect fudge chaser.
The Cooks' House, a tiny, store-front restaurant near the Wellington Inn, whose few tables but big reputation made reservations a must, was a perfect answer to my foodie mood. My choice was a lip-smacking polenta with parasail mushrooms topped by a poached egg and a rabbit braised in Dirty Bastard Scotch Ale and chocolate with zucchini and basil.
The next morning's bright dawn coaxed me to go exploring. M72 slices through forests west to M22 where a left or right will take people to Sleeping Bear Dunes National Lake Shore. I turned right but only after a short detour for some pieces of Mini Wheeler's dark chocolate. Called the Grocer's Daughter Chocolate, her shop would have been easy to miss if not forewarned. And wow. The blueberry chocolate truffle was incentive enough to return or beg someone else to bring some back. And if you do return, make sure to note that the shop recently moved onto M22 in Empire.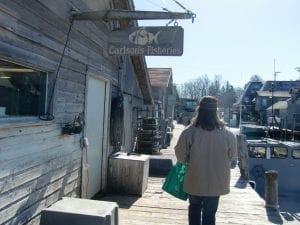 After another detour at Glen Haven for a short dune trek with great views, it was time to head up M22 to Leland and its quaint, historic Fishtown. But first, a stop on the way at Good Harbor Vineyards for a tasting of what turned out to be award-winning wines was in order, and I found out that Good Harbor, one of the oldest wineries in the area, is still owned and operated by the Simpson family.
Lunchtime crept up quicker than expected so I backtracked to take County Hwy 204 east to Suttons Bay. A charming, seashore village halfway up the peninsula's eastern coast, the town boasts some cute shops and excellent eateries including Martha's Leelanau Table, a European-style bistro where Martha Ryan serves up tasty soups, salads, and sandwiches for lunch and gourmet dishes for dinner. I loved her cherry chicken salad which sits on a bed of greens dressed in her special shallot vinaigrette.
Well-fed, I continued up M22, a road that somewhat circles the peninsula, to see what Northport was all about. There I discovered antique shops, galleries, and Barb's Bakery. Unfortunately, I was too late to pick up one of their famed cinnamon twists to go but opted for a different pastry. The bakery closes when it sells out of everything by mid-afternoon.
Since I was already in the northern part of the peninsula, I decided to go all the way to the lighthouse and found an antique apple farm that grew these fruits originating centuries ago on the way.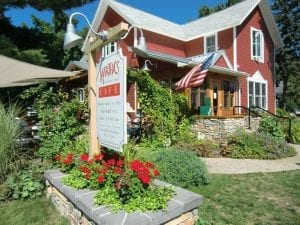 At Kilcherman's Christmas Cove Farm, which I learned opens in the fall, I bit into an elongated antique apple that seemed to have a tinge of strawberry. At the Grand Traverse Lighthouse, dating back to 1958 in Leelanau State Park, volunteers warmly welcomed visitors. What was really interesting was how the keepers' rooms were furnished the way they were back in the 1920s and 30s.
Because it was now about an hour's drive to the Wellington, depending on traffic, my desire to stop at Black Star Farms in Suttons Bay for wine, a revisit to Suttons Bay's downtown to browse the shops, and a drive to Old Mission Peninsula for hilly views of West and East Grand Traverse Bay would have to wait until the next day.
Shake off stress in Northern Michigan's Grand Traverse region when you visit the Leelanau Peninsula and Traverse City.
Find what really matters in Chicago with the UrbanMatter app!
To download or see reviews from our users, head here.