The Veggie Fest in Chicago has two goals in mind: sustainability in the environment and serving the community. Blending mouthwatering vegetarian and vegan food, cooking demonstrations, celebrity talks, a kids area, yoga, and meditation, Veggie Fest 2019 is making a difference in the Chicagoland area this August.
Veggie Fest is a collaborative effort between Science of Spirituality, community sponsors, and plant-based dieters throughout Chicago. Held in Danada South Park in Lisle, IL, on August 10 – 11, the goal of Veggie Fest is to provide awareness for non-violence, health, and vegetarian wellness, and construct a free outdoor festival for all to enjoy.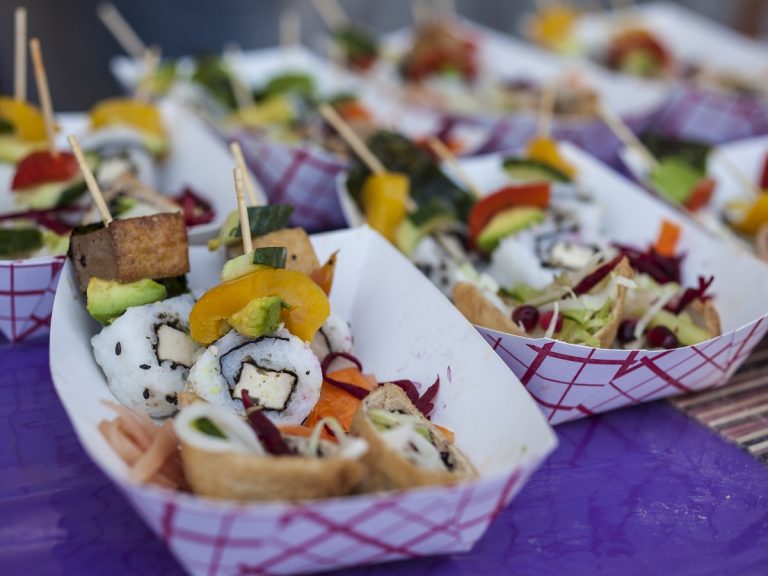 The Veggie Fest in Chicago is inclusive of everyone, even those who don't participate in plant-based eating, to make this free family-friendly festival a celebration of the joy, science, food, and compassion that accompanies a vegetarian lifestyle. 
Alongside the international food court and acclaimed vegetarian chefs, the Veggie Fest in Chicago will also consist of speeches from doctors and celebrities on the importance of health and wellness. Veggie Fest also incorporates other aspects of wellness, like yoga and meditation, as well as live music, which everyone knows is good for the soul. 
Live Music
Many of the live musicians asked to join in on Veggie Fest in Chicago also follow a plant-based regimen and all support environmental conservation. Peep the lineup below so you don't miss your favorite bands!
Saturday, August 10
Zach – 11:00AM – Noon
Deacon Blues – Noon – 2:30 PM
Brother John – 3:30 PM – 5:30PM
Gizzae – 6:00 PM – 8:00 PM
Sunday, August 11
Zach – 11:00 AM – Noon
Afinca'o – Noon – 2:30 PM
Gizzae – 3:30 PM – 5:30 PM
V. Holmes' "A Tribute to the Motown Greats" – 6:00 PM – 8:00 PM
Distinguished Speakers
Prominent Veggie Fest speakers include Sant Rajinder Singh Ji Maharaj, head of Science of Spirituality, and Terry Mason, M.D., COO of the Cook County Health Department, among many others. These expert health and education professionals will present talks on diet, lifestyle, meditation, and environmental issues at three locations throughout the festival, giving you better insight on what's healthy in today's world.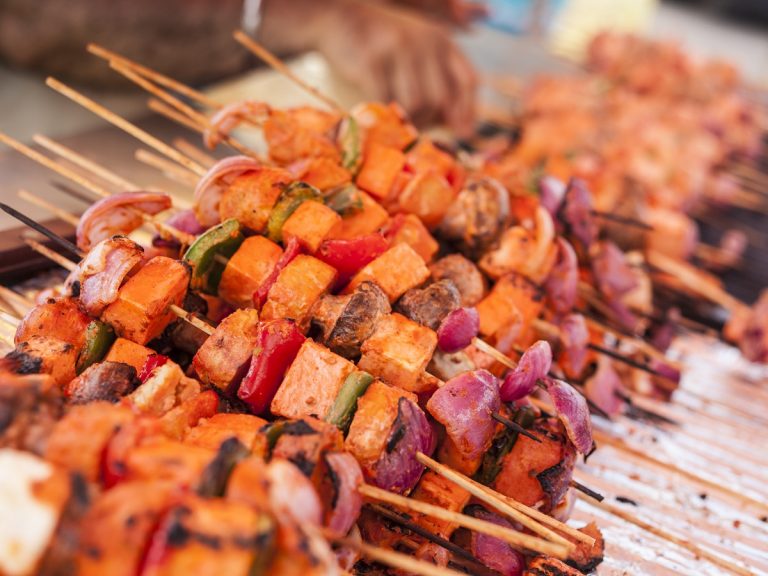 Food Demos
Get ready to eat your way to a better lifestyle at the Veggie Fest in Chicago, as nationally recognized chefs present vegetarian cooking demonstrations and other food talks that you can imitate once you're home. Representatives from Nature's Path Organic and Manna Kitchen are among these guest chefs, as well as Marla Rose from VeganMania and The Vegan Roadie's Dustin Harder.
Food Court
The Famous International Food Court is really where it's at, though. Over 29 food vendors are dishing out vegetarian, vegan, and gluten-free meals from around the world, so all that talk of amazing food won't go unsatisfied. 
Whether you're eager to try the festival's new inclusion of Jackfruit Tacos or you're craving that gluten-free Samurai Buddha Bowl you had last year, the food court has it all. Many international foods are inclusive of vegetarian lifestyle, so you can find the likes of Indian, Caribbean, Indonesian, Chinese, and more global dishes at the festival. And if it gets a little too hot outside, go straight for that vegan and gluten-free Tropical Twist smoothie. We know we will.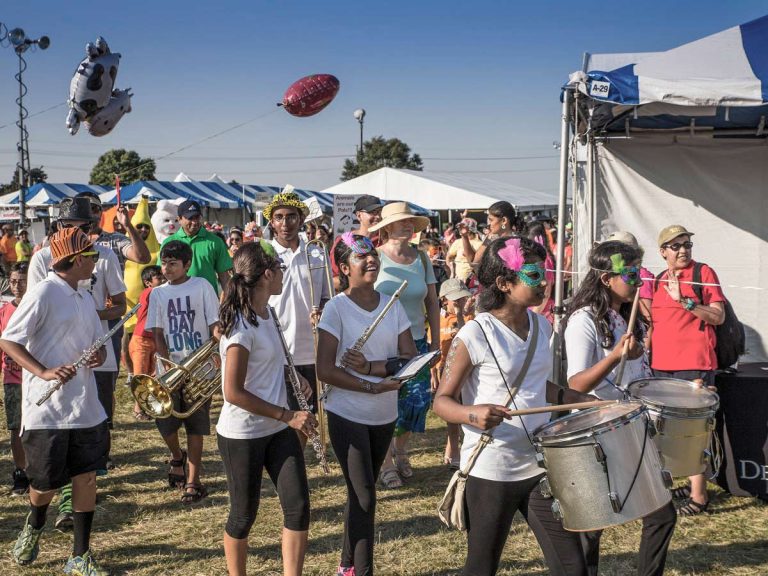 Family Fun
You can absolutely bring your chilluns to this event, as Veggie Fest is jam-packed with activities just for kids at the Children's Tent.
Face Painting: Children ages 2-12 can get a fruit, vegetable, or other design painted on their face or hand. They only use high-quality, non-toxic face paint.

Crafts: Help your children with all sorts of interactive and fun crafts that provide information on the vegetarian diet.

Games: They have Balloons, Bubbles, Origami, Beading, and Giant Board Games for children of all ages. Sounds like a great time to us!

Photo Booth: Picture opportunity in a veggie-friendly setting. Take your child's picture with some cute props and backgrounds.

Music and Plays: Enjoy professional performers on the Children's Tent Stage!
The Vegi-Kids Parade encourages children from ages 0 – 16 to dress up like their favorite animal (or vegetable) and walk the parade route to participate in a costume content! Cool gifts will be awarded to everyone in the parade, but the winner of the costume contest has an awesome prize in store for them. No worries if you didn't have time to dress them up; Veggie Fest provides handmade puppets and masks for kids without costumes. 
You can also enjoy yoga for families, held at 4 pm on Saturday and Sunday at the Yoga Tent and taught by trained professionals. Meditation training at the Learn to Meditate for Families Tent is where your kids can learn concentration and focus through fun activities. You can even join in to start the process of meditating as a family at home.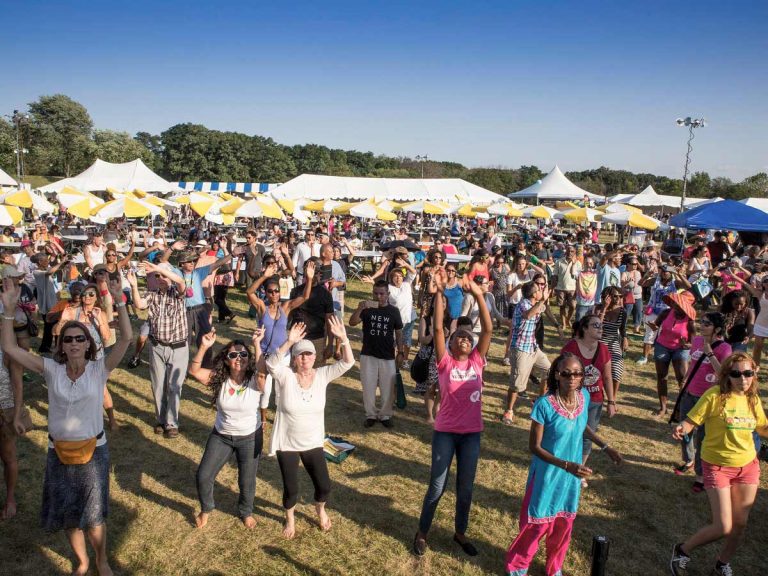 Art Show
Whether you're a natural artist or just enjoy creative works, the Veggie Fest Art Show showcases works of art in the themes of Vegetarian Diet, Non-Violence, Love for Animals, or Meditation. Only one winner will be selected as the featured work of Veggie Fest 2020. While the submission date is now closed, you can stop by the art show at the festival and find inspiration for next year's event. 
Festival Info
When: August 10 – 11 | 11 am – 8 pm
Where: Danada South Park, 2701 Navistar Circle, Lisle, IL 60532
Tickets: No need! This festival is FREE and open to the public. Let Veggie Fest know you're coming by registering for the event online!
Food: Tickets will be available for purchase for just $1, and you can get as many as you want to enjoy bites to eat at the festival!
Parking: FREE and available at Navistar, 2701 Navistar Circle, Lisle, IL 60532.
If you're considering the possibility of pursuing a plant-based lifestyle, Veggie Fest makes it easy to dip your toes in with their Learn to Be a Vegetarian Challenge on their website! Sign right up to get free emails for two weeks with easy recipes, daily inspiration, and other helpful tips. 
Still have some questions? Veggie Fest has all the answers.
In the meantime, check out last year's video to get a glimpse of what you can expect at Veggie Fest!
At UrbanMatter, U Matter. And we think this matters.
Tell us what you think matters in your neighborhood and what we should write about next in the comments below!
Featured Image Credit: Matthew Murphy
READ MORE LIKE THIS
DOWNLOAD THE URBANMATTER APP