Yes, it's exactly what you think it is.
Pizza, pizza, pizza. If you don't like it, you should probably just hightail it out of town at this point.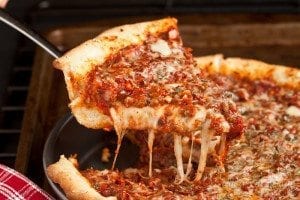 After wildly successful runs in the past two years that brought in over 1,000 attendees, Chicago will be reprising a pizza-themed event this April, and truthfully, we can't wait. Brought to you by Old Style and Empty Bottle Presents, the aptly titled Chicago Pizza Summit will bring together the city's best vendors for back-to-back pizza tasting sessions guaranteed to rock your socks off.
The best part? All-you-can-eat-pizza. 
Pilsen's Thalia Hall will house the event and top DJ talent from Chicago will keep the party going. Other fun activities like a pizza photo booth and even a pizza museum will keep you entertained in between bites.
Strangely enough, Chicago has never had a pizza-themed event of this stature in the history of the city's existence. How a travesty like this in the home of deep dish has been allowed to occur for so long is well beyond our comprehension, but we're just happy to finally put an end to the wait.
Pizza Vendors
Bacci
Boiler Room
Home Run Inn
Lou Malnati's
Gino's East
Connie's Pizza
Lou Malnati's
Pie-Eyed Pizzeria
Beggars Pizza
Taco in a Bag
Jewel-Osco
Ruin Daily
Chicago Pizza Summit Highlights
All-you-can-eat pizza (both deep dish and thin crust)
Pizza-inspired dishes
Five Old Style beer tickets
Commemorative pizza plate
Ultimate pizza photo booth
U.S. Pizza Museum pop-up exhibit
Pizza Olympics events
Two sessions
Tickets
Unfortunately, tickets for the event are sold out (we told you this was popular), but you can enter to win a pair here.
Location
The event is located at Thalia Hall in Pilsen (1807 South Allport Street).
Date & Time
The Chicago Pizza Summit takes place on Sunday, April 22. Session one begins at 2 pm and runs until 5 pm while session two begins at 6 pm and runs until 9 pm.
You can learn more about the Chicago Pizza Summit here.