Can you call yourself a Chicagoan if you haven't spent an ample amount of time at the Fulton Market, indulging in the robust and diverse restaurants it provides? For many of us, it seems that Fulton Market has been there since we can remember, bringing us exciting and new restaurants, bars, and events all the time.
Indeed, it has been there long enough that the district is celebrating its 100th anniversary this year with a unique event — the Taste of Fulton Market.
About the Taste of Fulton Market
On Thursday, November 4th, from 5 pm to 9 pm, the Taste of Fulton Market will take place at the new retractable rooftop enclosure at Morgan's on Fulton, where the chefs from all your favorite Fulton Market restaurants will gather to present you with an unforgettable night.
For $55 a ticket, guests will receive a greeting cocktail with a historical motif along with samples from participating restaurants. You'll also receive complimentary beer and wine for the duration of your stay. Guests are also provided with a map highlighting all participating restaurants across Fulton Market, later used to redeem food items.
Purchase your ticket here.
Supporting Restaurant Workers Through Challenging Times
There is more to the event than just fun and food. If you worked in the restaurant industry, or if you have friends who were once servers, bartenders, kitchen workers… Then, you know how much they've been struggling.
And that's why the Taste of Fulton Market will host an auction and raffle with prizes ranging from restaurant experiences and swag to local art and artifacts that will benefit the Illinois Restaurant Association's Restaurant Employee Relief Fund.  
The relief fund aims to provide financial support to restaurant workers in need, including rent, mortgage, utilities, medical expenses, and other life-altering costs ranging from $250-$1500.
Participating Restaurant Highlights
For the first time, chefs from all the best restaurants in Fulton Market will gather under the same roof (literally). No need to worry about bar hopping. Come to Morgan's on Fulton and unleash that foodie spirit of yours!
1000 W Fulton Market, Chicago, IL 60607
One of the most iconic restaurants in Fulton Market, Swift & Sons is many foodies' holy ground when it comes to prime steak, seafood, and signature cocktails. For this event, Chef Chris Pandel is bringing his meat-forward menu and complimentary drinks straight to you.
837 W Fulton Market, Chicago, IL 60607
If you love seafood like we do, then don't forget to check out what the Publican is offering at the event! Their menu utilizes exceptional products showcasing the best the farmers and fishermen have to offer. Whether it's oysters, mussels, or a classic seafood stew, you will find yourself satisfied to the bottom of your stomach.
820 W Randolph St, Chicago, IL 60607
Goat Group Catering is the chef-driven Catering division of Stephanie Izard, the mastermind behind many familiar names such as Girl & the Goat, Little Goat, Duck Duck Goat, and Cabra. Love innovative cuisines? Check out what they have to offer at the event!
834 W Fulton Market, Chicago, IL 60607
Over the years, Beatrix has become our go-to restaurant in Fulton Market for a casual meal, a lunch meeting, a coffee getaway, and a friendly dinner. Their healthy and creative menus have easily won over many Chicagonians' hearts.
Excited about these participants? Purchase your ticket here.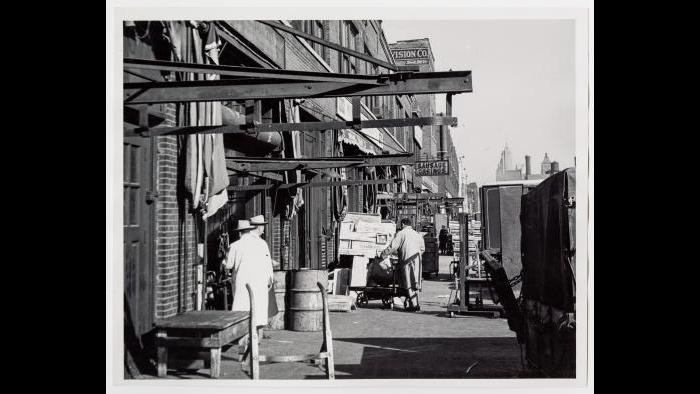 Walking Back in Time Through 100 Years of Dining Culture
How did Fulton Market go from a warehouse district to the robust culinary cultural hub we know today? As part of the 100th-anniversary celebration, there will be a photo installation walking you through the past and present of the district. You'll get to view the entire journey from nothing to everything close-up. So, history lovers, don't miss out on this opportunity!
Since 1921, the invigorating corner of Morgan and Fulton has held a friendly neighborhood food and beverage establishment where all have been welcome.  Morgan's on Fulton keeps that tradition alive, giving Chicago a vertically integrated, fully comprehensive catering and events venue unlike anything else in the city.  Morgan's on Fulton's signature draw is its penthouse terrace overlooking Fulton Market and the iconic Loop.
Featured Image Credit: Eric Kleinberg