Well, guys, we have good news. Now through Sunday, October 23, the Roscoe Street-ery invites Chicagoans to come out early and stay late as they "Shop & Dine" in Roscoe Village, supporting over 40 local retailers and restaurants. So, if you're already in love with Roscoe Village, this is the perfect event for you to experience everything you enjoy down there in a compact way, plus discover a ton of cool pop-up performances and shops. Meanwhile, if you're not quite familiar with the area, take this as an opportunity to discover all the best things Roscoe Village has to offer in one place! We promise you'll have a blast.
About the Roscoe Street-ery
As part of the City of Chicago's Expanded Outdoor Dining Program, the 2000 block of Roscoe Street from Damen to Seeley will be closed to offer safe, open-air dining on the street that is both dog and family-friendly. The Roscoe Street-ery will be held Fridays at 4 p.m. through Sundays at 4 p.m. on the second and fourth weekends of every month from June 10 through October 23.
Guests will enjoy food and drinks from Commonwealth Tavern, Kitsch'n, Same Same and Volo Restaurant Wine Bar with rotating Street-ery food and drink specials. Participating restaurants will accept reservations and try to accommodate requests for Street-ery dining.
The Street-ery will also feature a "Shop Local Happy Hour" running the entirety of Street-ery weekends. Participating restaurants will offer rotating specials when guests dine and present a receipt from a participating Roscoe Street retailer (store purchase must be made that weekend). The most current list of specials is available at www.roscoestreetery.com.
There is free on-street parking on Roscoe Street east of Hoyne with easy access to the shops and boutiques from Western, Hoyne and Leavitt.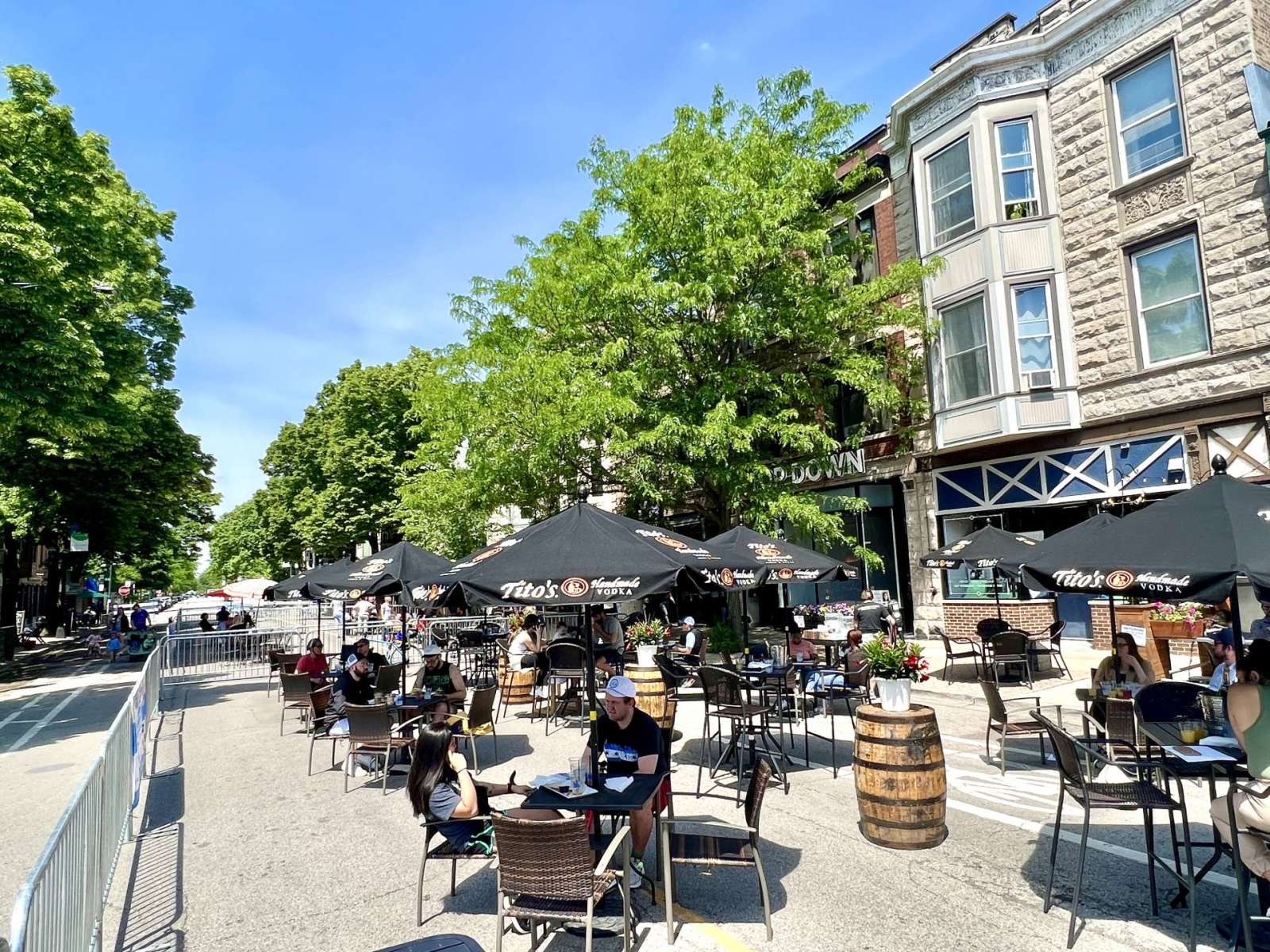 The 2022 Schedule
This year's Roscoe Street-ery is scheduled for six occurrences on selected weekends. So, mark your calendar for the dates below — and we sure hope you're visiting more than once because, as all Chicagoans know, all your fave spots always have different offerings as seasons change, especially when we step into the holiday season toward the end!
See the 2022 Roscoe Street-ery Schedule below:
June 10-12, 24-26
July 8-10, 22-24
August 5-7, 26-28
September 9-11, 23-25
October 7-9, 21-23
So, which ones are you going? Personally, we're so down for July and October: do you think there will be early Halloween decorations toward the end? We'll give you two guesses, and be sure to come up and say hi if you see us there!
For those who love the small businesses in the Lakeview-Roscoe Village area, be sure to show some support. You can choose to donate to Friends of Lakeview, a 501(c)(3) non-profit affiliate behind neighborhood beautification projects like the Lakeview Low-Line, Lakeview Public Art Program and our Adopt-A-Tree program. You can also volunteer to be a part of the many fun programs happening there throughout the year, such as Low-Line Market, Dine Out, PorchFest, Trick or Treat on Southport, and more.
Image Credit: Roscoe Street-ery