It's this time of the year again: yes, it's 4.20! On top of what we sourced last year, here is your latest list of the munchiest stoner food in Chicago from your favorite Chicago restaurants and bars. Whether you are a sweet tooth stoner or love meat and carbs once you get comfy, this list will satisfy your craving.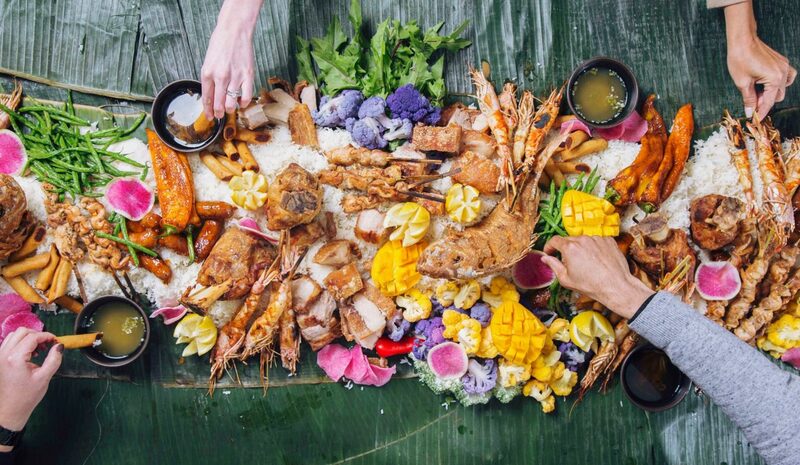 110 W Illinois St, Chicago, IL 60654
We still remember the delicious aftertaste of last year's Tuna Truffle Pizza. This year, Sunda has went the extra mile on their 420 snacks by presenting four crowd favorites for all types of stoners:
"Ridiculous" $14 – vanilla ice cream, ginger carrot cake, glazed walnuts, caramel shell
Kamyan Feast – serves 2-4 guests $180 limited availability per day – adobo pork belly, crispy pata, chicken inasal, grilled garlic shrimp, lumpia egg rolls, green beans, jasmine rice & dipping sauces
Seoul Wings – $22 – gochujang glaze, crushed peanuts, scallions
Lobster Wagyu Roll – $32 – creamy lobster, scallions, jalapeño, wagyu tataki, truffle foie, wasabi aioli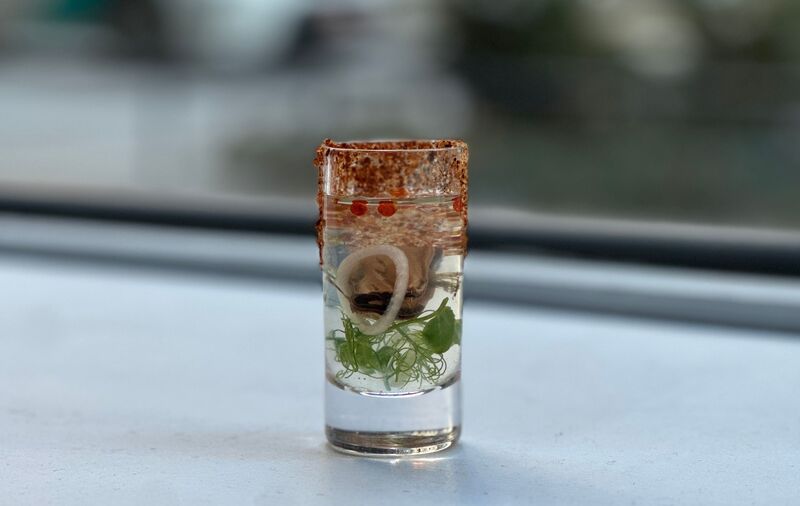 224 N Michigan Ave, Chicago, IL 60601
Looking for fancy, upscale stoner food in Chicago? Check out Venteux! Utilizing Venteux's extensive raw bar, the brasserie's menu now includes a selection of seafood shooters that showcase the freshest catches and bold flavors with spirits like pickled shallot mezcal and prestige Champagne. Shooters include:
Coastal Shooter – oyster, horseradish vodka, tomato juice $8
M&M Shooter – mussel, pickled shallot mezcal, lime, chile salt $10
King Shooter – king crab, Veuve Clicquot Yellow Label $25
2545 N Kedzie Blvd, Chicago, IL 60647
"Hoppy Meal"
Grasshopper Club, Chicago's First Independently Black-Owned Dispensary, has created a joint partnership with Logan Square's Big Kids sandwich shop (2545 N. Kedzie) in honor of 4/20! Not only will Grasshopper Club be offering tastings and in-house discounts starting at 15% and up to 40% on 4/20, they will also unveil the 4/20 "Hoppy Meal" at Big Kids! Featuring a special "Grasshopper Club" Sandwich and Big Kids' popular plant-based Ranch Scented Nuggz, The Hoppy Meal will be available from Thursday, 4/20 – Sunday, 4/30. We promise, you're ganja love it 🙂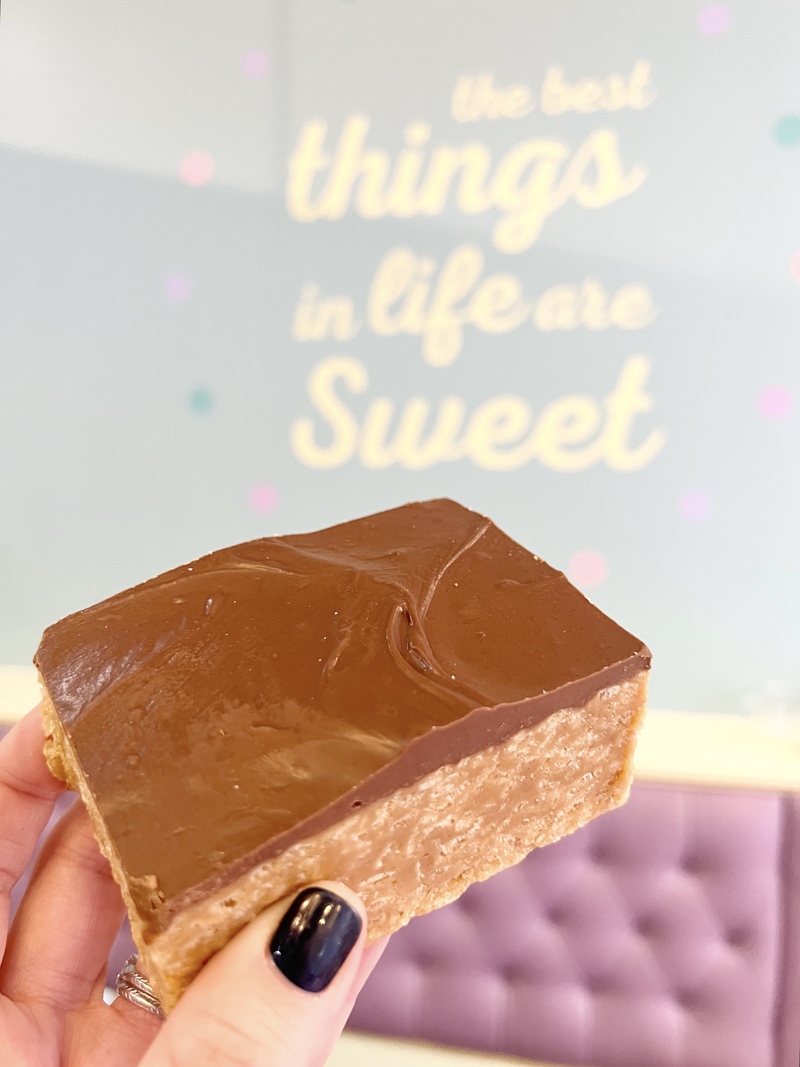 Sweet Mandy B's
Lincoln Park: 1208 W. Webster Ave, Chicago, IL 60614
Streeterville: 254 E. Ontario St, Chicago, IL 60611
Peanut Butter Rice Krispie
Peanut butter and rice crisps. That's our go-to stoner food, if we have to choose a favorite. Therefore, Sweet Mandy B's is getting our order, for sure! The perfect pick for peanut butter lovers is Sweet Mandy B's Peanut Butter Rice Krispie Bar. They are an indulgent blend of crispy, buttery Rice Krispies mixed with melted peanut butter and topped with smooth, rich chocolate. If you don't like rice krispies, they also have classic Peanut Butter & Jelly Cupcakes for $4.50 (April only!).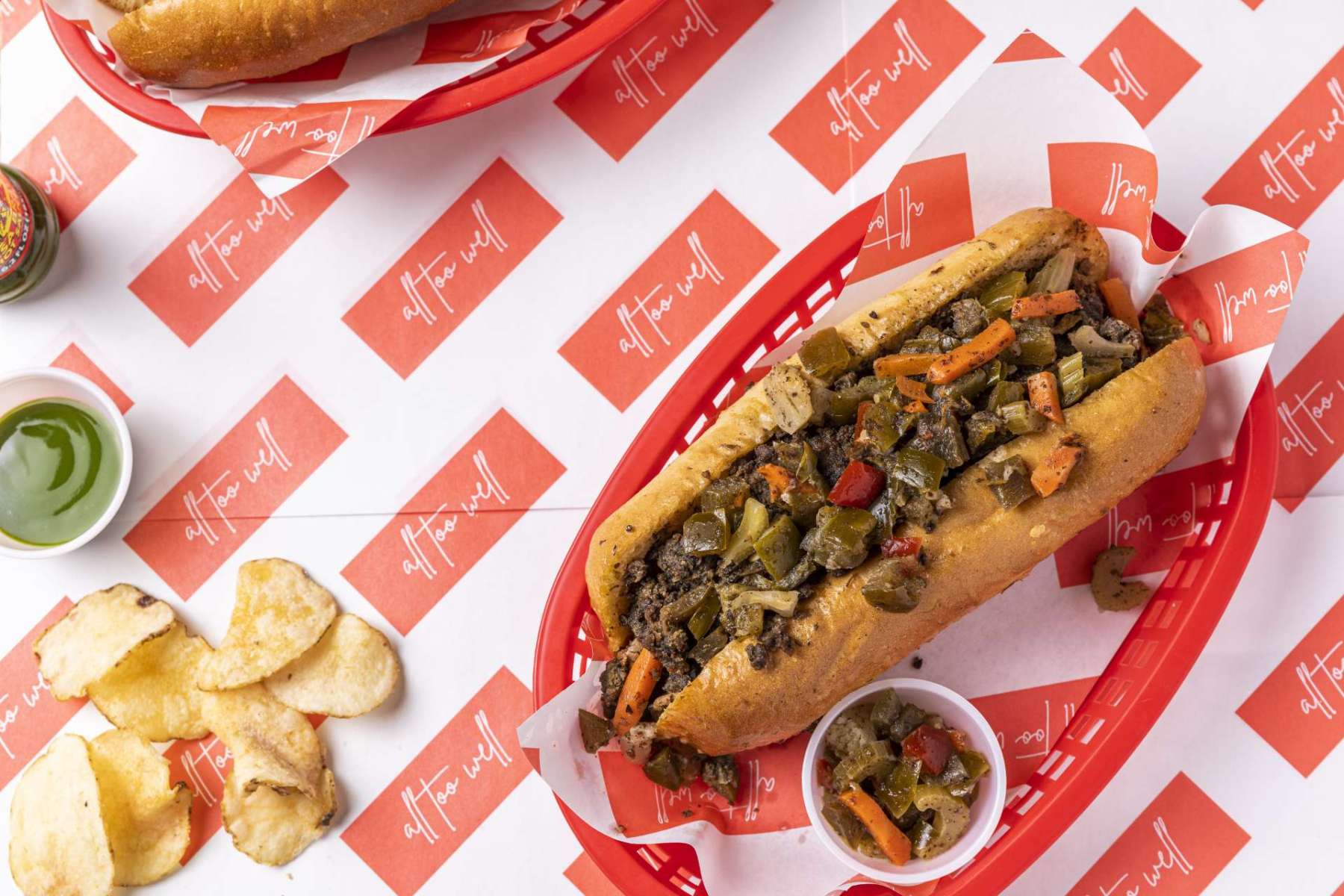 352 W. Armitage Ave., Chicago, IL 60614
Sheffield & Westwood, $13
The popular sandwich shop and mini market in Lincoln Park offers a selection of creative sandwiches, sure to satisfy those munchies. The must try — the Sheffield & Westfield, All Too Well's version of a classic Italian Beef. It starts with fresh French bread that's stuffed to the brim with thinly sliced Italian beef and topped with sumac giardiniera, a Kefta crumble and then dipped in au jus.
The Challenge
All locations
Alright… we have accepted our defeat. There's no way we can handle The Epic AF Challenge, but hey, maybe you can? Basically, the idea is to finish two double Black Angus Beef Epic Burgers stacked with Bacon, Cheddar Cheese, Lettuce, Tomato, Pickles, Grilled Onions, and Epic Sauce served with a double order of Epic Fries, an order of Sweet Potato Fries, an order of Onion Rings, a 3 Piece order of Chicken Tenders and an Epic Shake within 20 minutes and 08 seconds — but they'll probably let you take the rest to-go.
We honestly can't think of a more epic stoner food in Chicago than this insanity.
Hot Cheetos Burger
You want to go crunchy, you gotta go with one of Chicago's hottest pop-up food concepts right now. Usually they have pop-ups on the weekends, so stay tuned to their Instagram for location and time announcements! The Hot Cheetos Burger is a must-try if you want that crunchy sensation in your mouth. They also have Hot Cheetos Burritos, but with all honesty, that one looks far more dangerous.
Farm Chicken with Frites
837 W Fulton Market, Chicago, IL 60607
The Publican probably has the best chicken in our opinion. They're blackened perfectly, with some watering savory spices. The frites are done just right too — crispy on the outside but warm and soft on the inside. What more can a stoner ask for than such a comforting meal?
Lobster Mashed Potatoes/Mac & Cheese
444 N Wabash Ave, Chicago, IL 60611
Suppose Chicago's weather this April isn't completely worthless if it means we can still enjoy a big bowl of steamy lobster mac & cheese from Kitchen + Kocktails. The flavorful bowl with huge, juicy lobster bites would drive away whatever chilliness lingering in your bones, especially if you're already stoned.
Bomboloni Nutella
615 N State St, Chicago, IL 60654
Café Crèmerie has just opened, but it has already stolen our hearts with delicious desserts, gelatins, and beverages. This cozy European-inspired Café is the perfect place to bring some munches home for a stoned night in. Our favorites are the Bombolinis, which are fluffy, soft, fried Italian donuts. You can choose cream or Nutella fillings.
They also have Macaroons and dessert croissants if you'd prefer something crispier for the sound effect. But seriously, we think the Bomboloni is where it's at.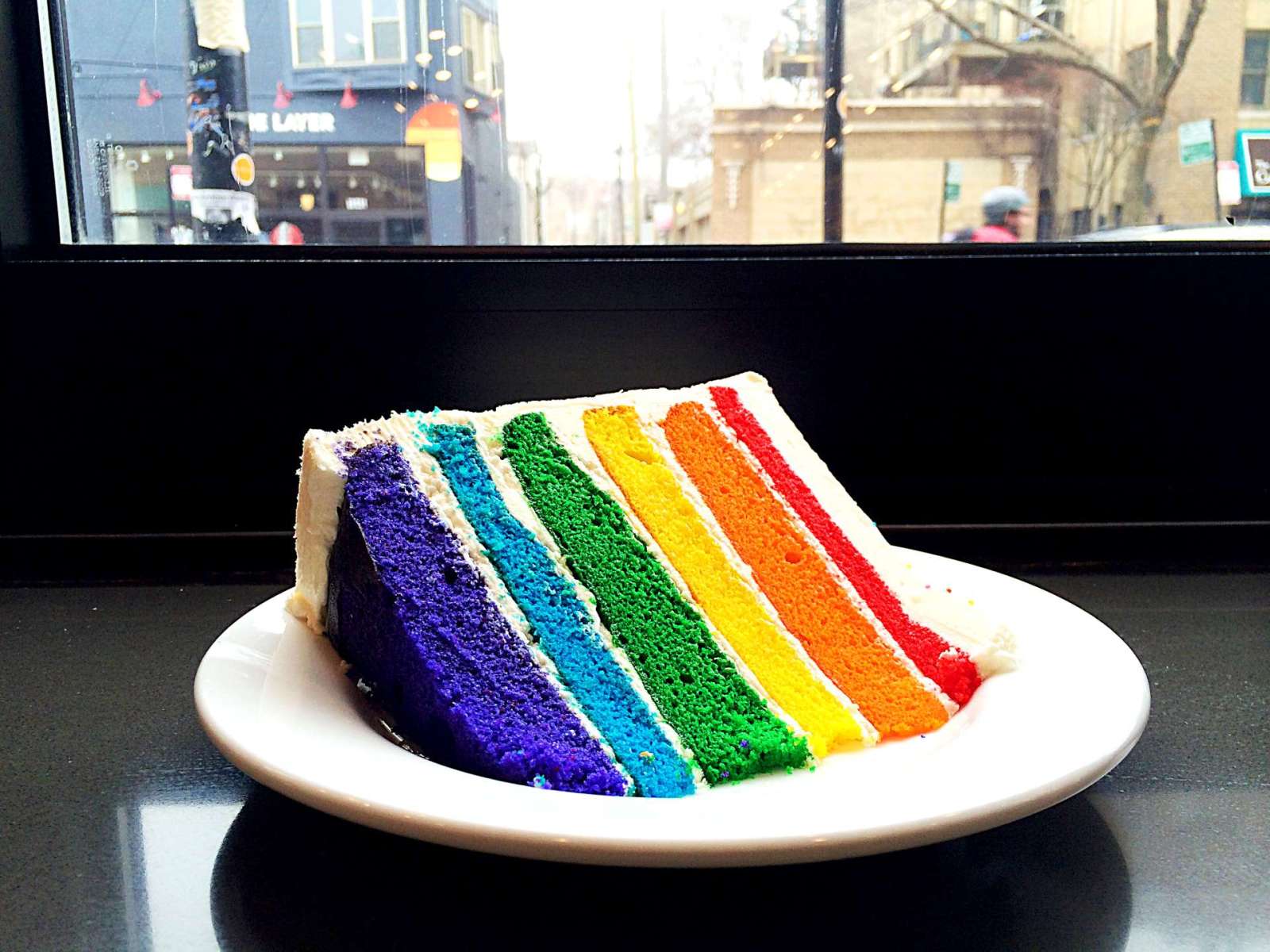 Rainbow Cake
all locations
Love, peace, and rainbow. Speaking of stoner food, nothing is more legit than the Rainbow Cake. Of course, you can never go wrong with their cupcakes and cookies, either. This entire store is pretty much a stoner's heaven, so we'll leave everything to your best judgment (or just fill up your shopping cart if your adult decision-making functionality is gone. We've done that way too many times). Meanwhile, meat cravers should dig into their Short Rib Grilled Cheese and get a mouthful!
Whatever Pie You Want
1969 W Montrose Ave, Chicago, IL 60618
So… we kinda tried to find a favorite pie from their menu, but honestly, that was a waste of time. Everything is good. Seriously. It doesn't matter if you are the classic apple or pecan pie person, or you want to try the crazy cherry snickerdoodle pie, or even their cookies as big as your face… It doesn't matter anymore. This, shop, is heaven for all dessert lovers.
Grilled Cheese & Tomato Soup
228 W Chicago Ave, Chicago, IL 60654
This little rustic getaway in River North is a great place to hide and chill. And we can't be the only ones craving a good classic snack after a good smoke? Anyways. There's something about a simple grilled cheese and tomato soup that nothing else can do. That combo just hits differently.
But Chalet also has delicious flatbreads to add to your munch list.
Baked Parmesan Bread
all locations
We love Bob's Pizza. Frankly, everything is good. But speaking of munchy snacks, nothing can beat the baked parmesan bread, especially when it's fresh. You can also ask for different dipping sauces. Or, send us a message and maybe we will share with you our editor's home-made herbal garlic butter recipe.
Featured Image Credit: Neil Burger