Ho ho ho, did someone say holiday cocktails? Other than what you can get at the holiday pop-ups in Chicago this year, many of our favorite Chicago bars also released holiday and winter-themed cocktails!
164 E Grand Ave, Chicago, IL 60611
Three new seasonal cocktails offer a glass of holiday cheer. The Mistletoe Kiss — available at all restaurants — features Spiced Strawberry Avissi Prosecco with whipped cream, Strawberry Candies and a mint leaf. Exclusive to the Streeterville pop-up, My Best Elf features dark rum and hot chocolate topped with whipped cream, red and green sprinkles and an edible spoon, while Winter Noggin' combines Bacardi Superior with eggnog, whipped cream and blue sprinkles. The holiday cocktail roster is rounded out at all venues with a peppermint chocolate and a classic eggnog.
As an added holiday bonus, $1 from every cocktail will be donated to Meals on Wheels, helping community members to have an easier holiday season.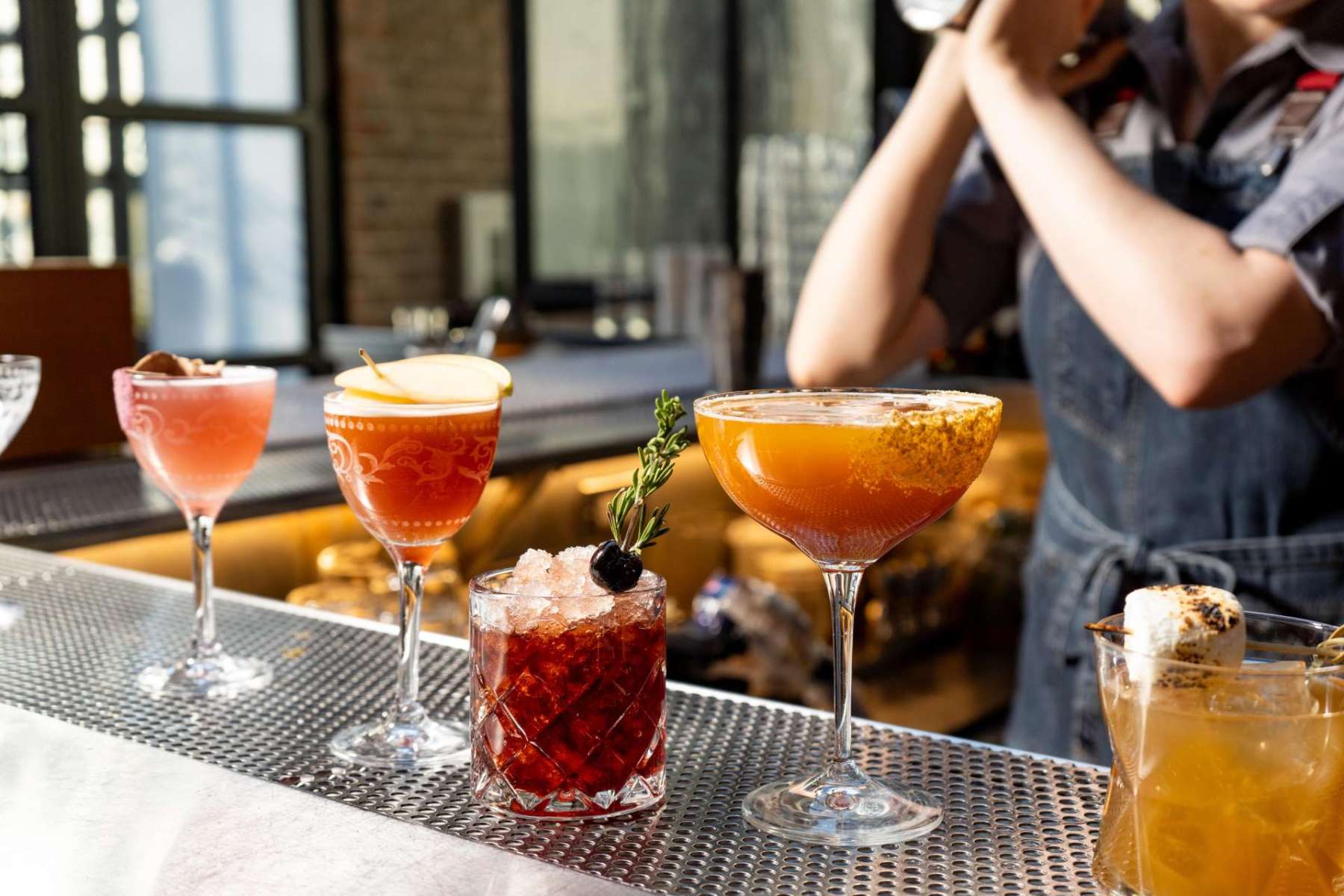 1 W Wacker Dr, Chicago, IL 60601
Plan a date or get together with family and friends and enjoy live music or a DJ set Tuesday through Saturday at Raised with their holiday-themed cocktails, including:
Cuffing Season made with Park Cognac VS, St. George Spiced Pear, Simple Syrup Liquid Alchemist Apple Spice, lemon and Angostura Bitters
Sweater Weather made with Lustau Pedro Ximenez Sherry, Lustau Moscatel Sherry, Bitter Truth Golden Falernum, cherry lemon juice and citric acid
You're Gourdgeous made with Chairman's Spiced Cask Rum, pumpkin puree, orgeat spiced pumpkin syrup and Stirrings Ginger Liqueur
Did Somebody Say Yams? Made with Nelson Bro's Bourbon, Licor 43, sweet potato syrup
The Triple made with Tanqueray Sevilla Gin, Giffard Pamplemousse, blood orange shrub, lemon and Fever Tree Sicilian Lemon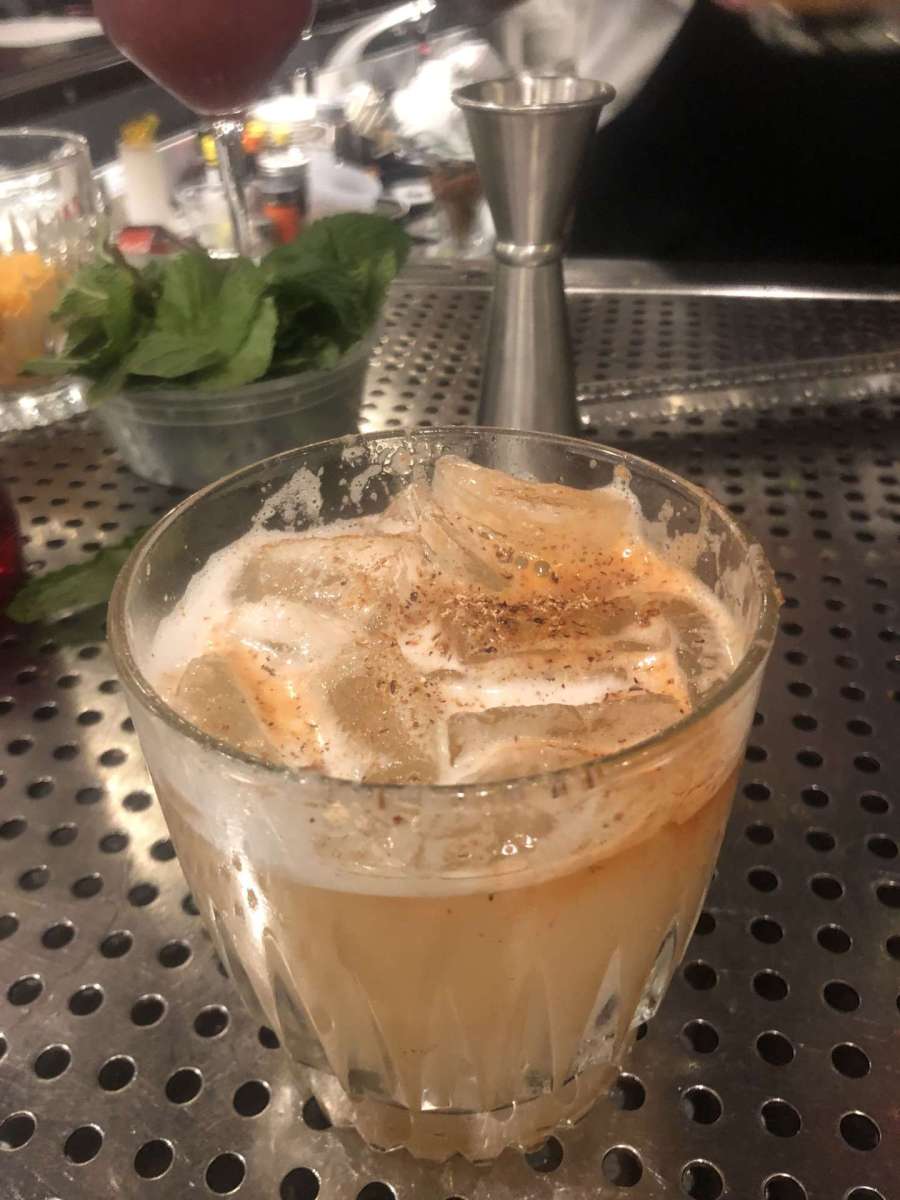 150 N Dearborn St, Chicago, IL 60601
Get it before it's gone! Petterino's Sour Scrooge cocktail is only available so long as a "Christmas a Carol" is playing at the Goodman Theatre. Named after the iconic character Ebenezer Scrooge, the "Sour Scrooge" features Wolf Point Bourbon, lemon juice, simple syrup, nutmeg, cinnamon, and bitters. This drink will turn any "scrooge" into the holiday cheermeister. Try it before "A Christmas Carol" leaves town at the end of December.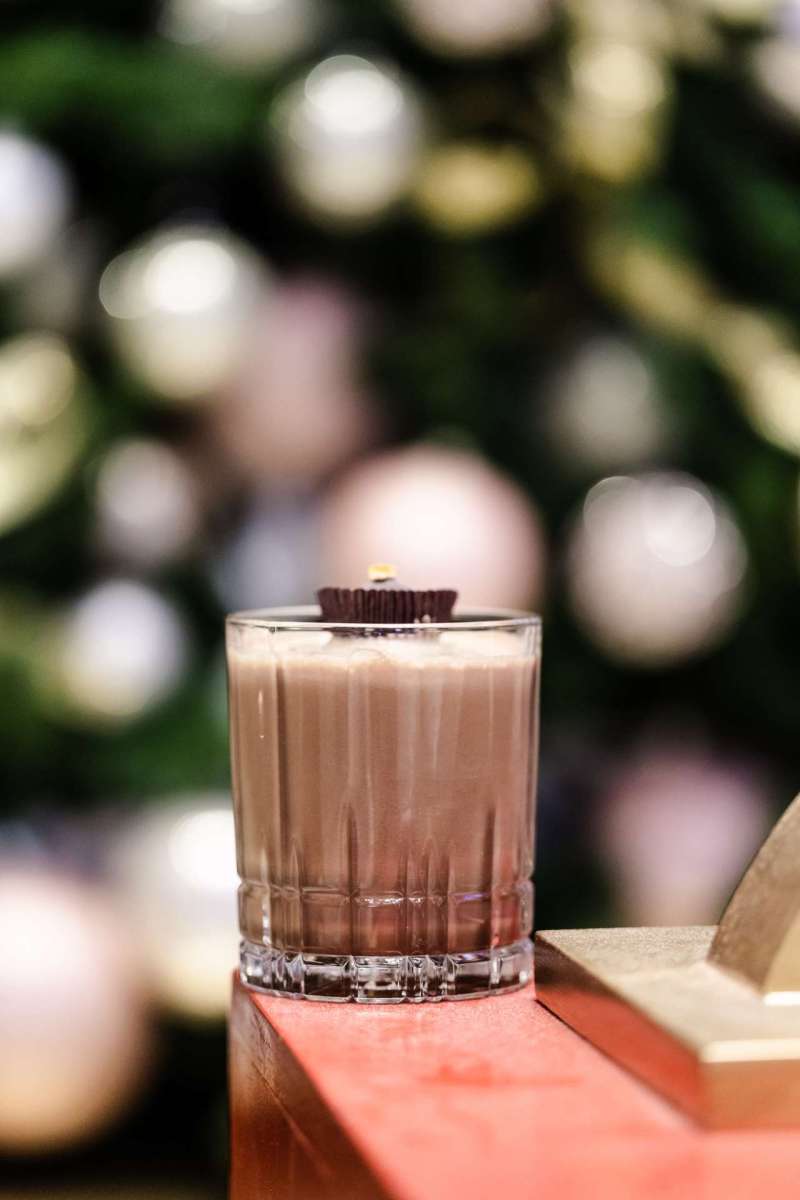 330 N Wabash Ave, Chicago, IL 60611
The Langham is bringing your holiday cocktail experience in Chicago to a new level with 8+ themed drinks! From sweet and creamy to crisp and bitter, one of these cocktails will satisfy your palate. Here are a few of our favorites:
Jolly Ole Fashioned: served in a rocks glass with orange swatch and rosemary on a large ice cube.
Oaxacan in a Winter Wonderland: Mexican Hot Chocolate with ghost pepper, cinnamon, and rosemary
Snow on The Beach: Ponce de crème from Trinidad
Curious about the other holiday cocktails they have? I guess you'll have to come in and try yourself.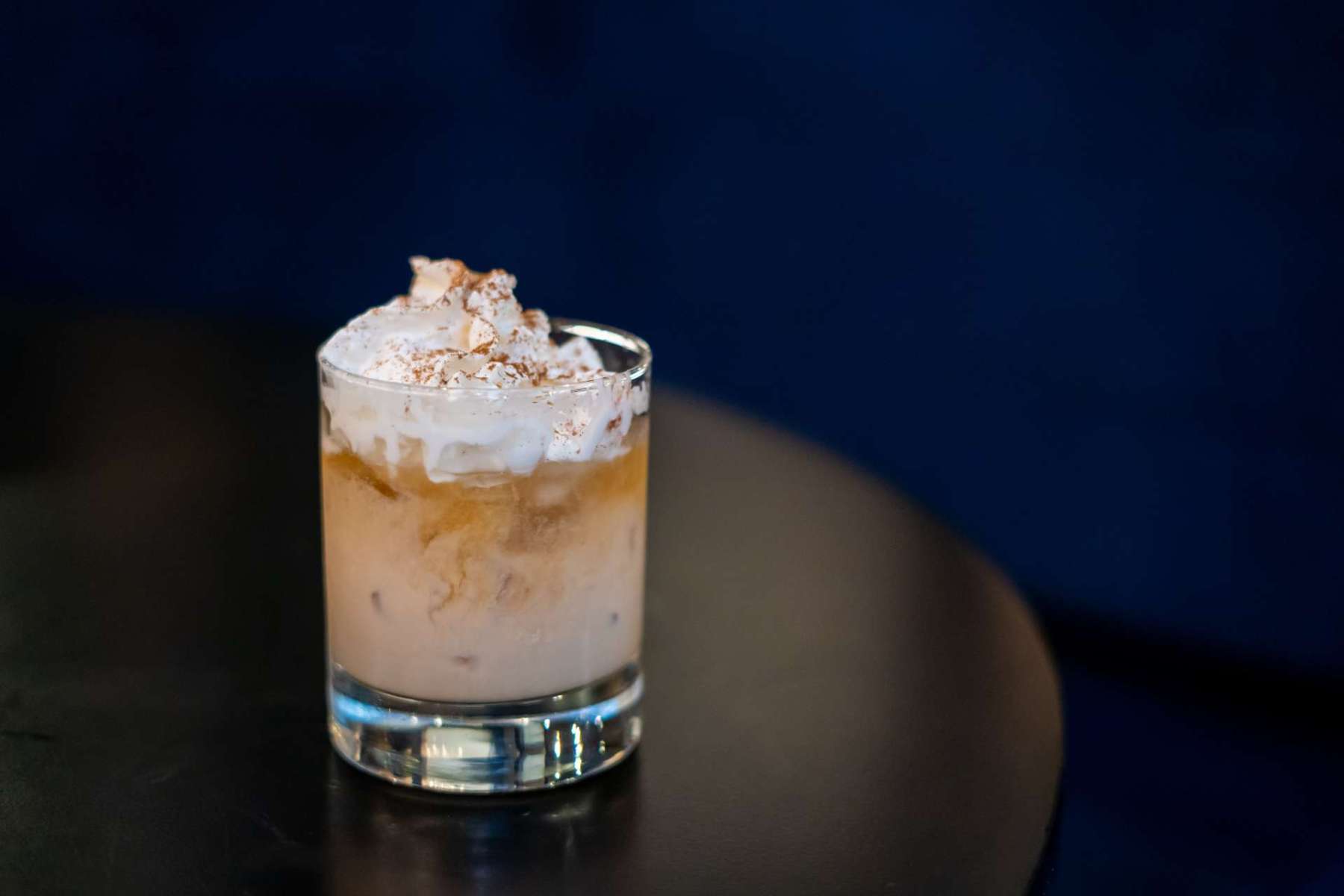 243 E Ontario St, Chicago, IL 60611
A playful bar and lounge located at Aloft Chicago Mag Mile, W XYZ is offering wintry cocktails and weekly live music. Stop by Tuesday through Saturday and sip on a "White Christmas" cocktail while listening to one of the acts. Festive cocktails include:
Christmas Margarita made with Tequila, cranberry, Cointreau, lime and simple syrup
White Christmas made with Vodka, Godiva White Chocolate and peppermint
The Grinch made with Rum, Midori and ginger ale
Santa's Spritzer made with Cointreau, white wine and soda
Cranberry Cheerer made with Vodka, cranberry and orange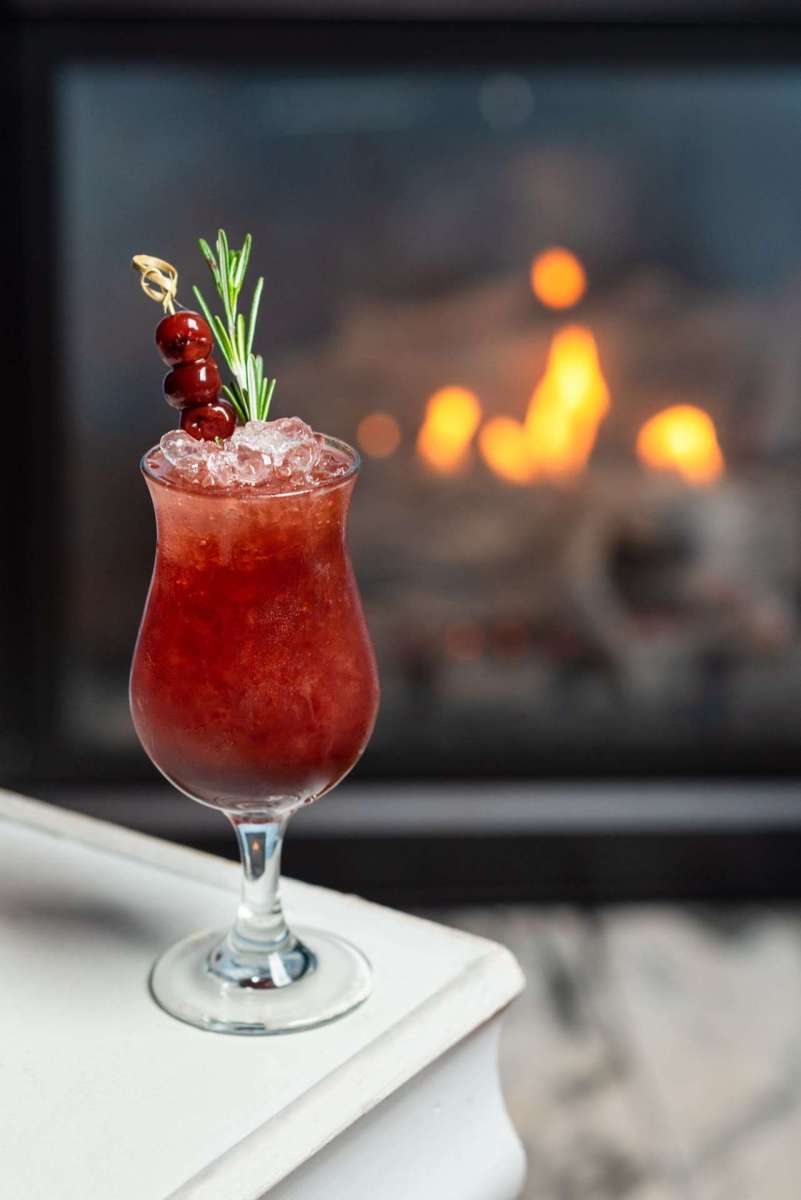 1520 N Damen Ave, Chicago, IL 60622
Crafted by the team at James Beard Award-winning cocktail bar, The Violet Hour in Chicago, this wintery punch-style sipper evokes all the seasons best flavors with juicy notes of dark cherry, a rosemary aroma and hint of allspice. The crowd-pleasing yet complex cocktail that uses a split base of vodka and Colombian Aguardiente, an anise and sugarcane-based spirit, is perfect for impressing guests with a signature holiday drink that has depth and refreshing drinkability.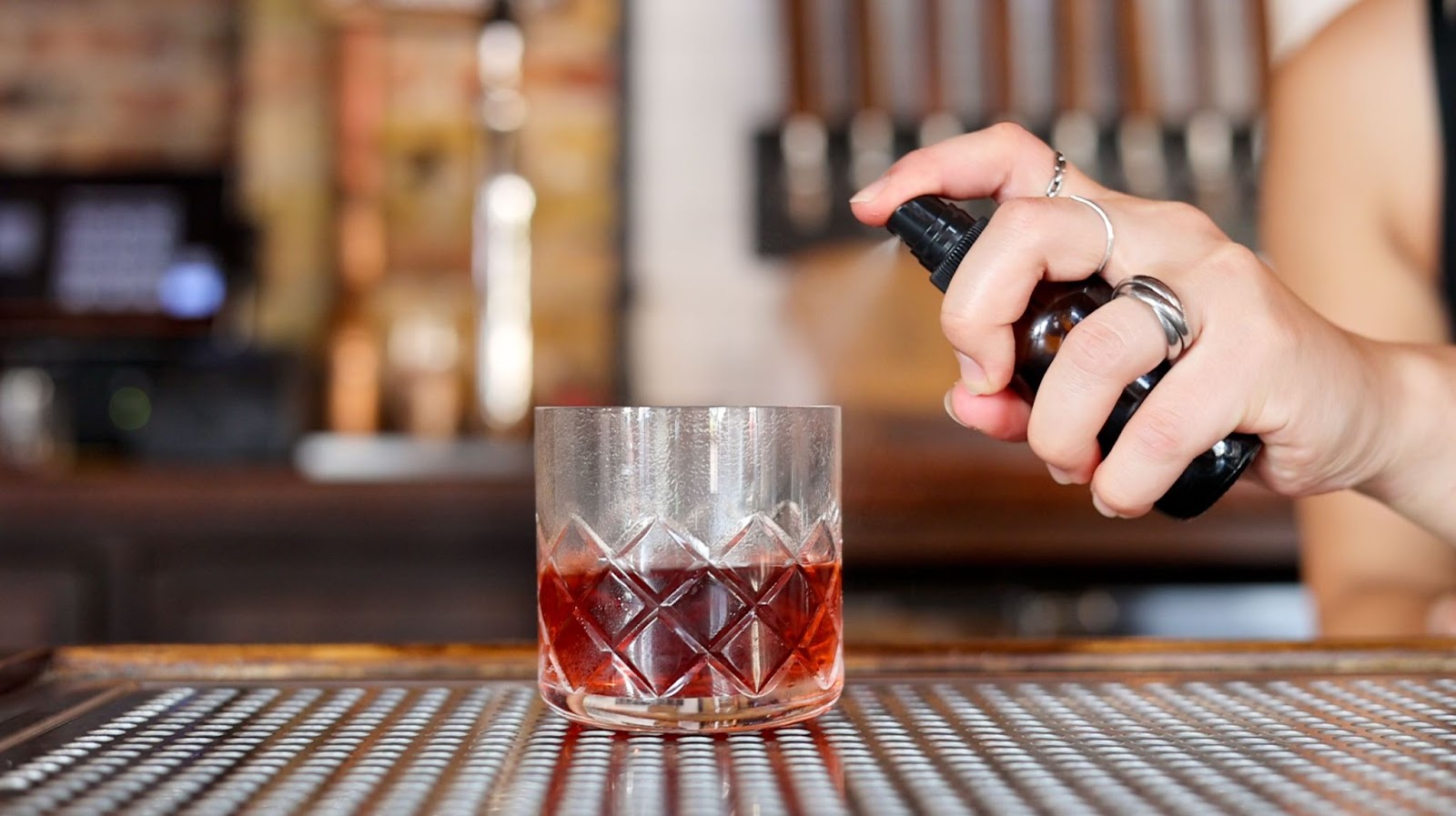 Old Sport
at LARDON
Winter is on the horizon, and this French and Italian liqueurs-centered location is showing up and showing out with this twist on the classic Negroni. The Old Sport swaps out gin for a warm Russel's Reserve 10 year Bourbon and pairs it with Apple Brandy, Campari, Sweet Vermouth and a decadent mix of bitters –  both the smoked orange and cherry bark variety. The lingering of cinnamon spice from the bourbon in tandem with the fruity sprinklings of orange and cherry bring cheer with every sip.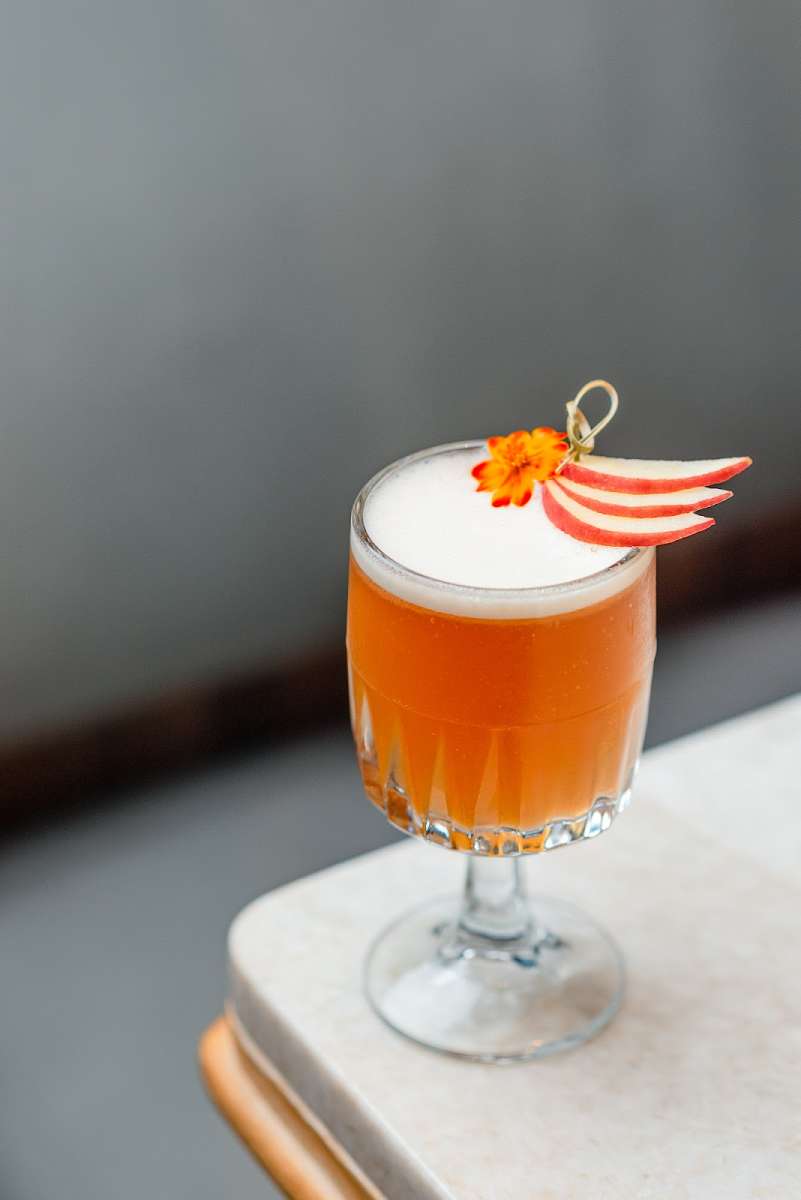 141 W Erie St, Chicago, IL 60654
An apple cocktail for the colder weather is to be expected… but it's no surprise that an institution like Chicago's James Beard Award-winning avec distinguishes theirs as anything but par for the course. Dreamt up by Kate Smith, the female-force behind the brand's beverage program, the pour is home on the menu at the restaurant's River North location and combines Laird's Straight Apple Brandy with Cocchi Americano along with flavors of the season like Honeycrisp Shrub and Pomegranate Grenadine before behind finished with Wildflower Honey. The end result is a zingy, spicy, and funky sip that warms you up at 100 proof.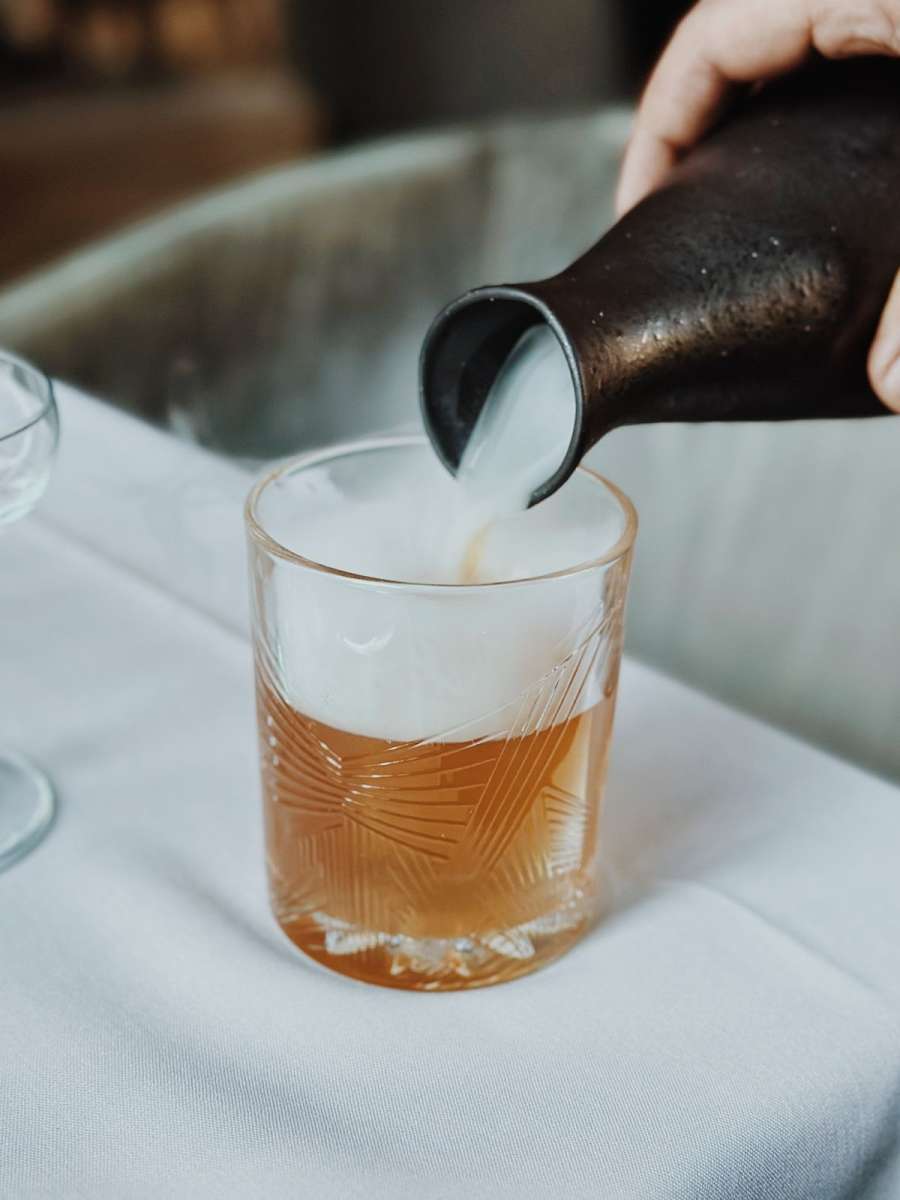 Baller, Shot Caller
at Maple & Ash
8 W Maple St, Chicago, IL 60610
A table-side smoke show in keeping with the over-the-top nature of Chicago's see and be seen steakhouse, this cold weather pour combines the best of sweet and spicy for a drinking experience that wows. Cutting the warmth of Wild Turkey Rare Breed and smokiness of Balvenie 12 year with a helping of lemon zest, the getup is finished with a hint of white truffle honey before being topped with a layer of smoke. Just the strong pour needed to smoke out the harshest of Chicago winter days.
The frozen version of the traditional espresso martini with CH Distillery Vodka, Dark Matter espresso, and Borghetti espresso liquor. If you want a drink with a good kick and will for sure wake you up for round two, three, and four, stop by Ranalli's and and embrace the chill.
Pumpkin Espresso Martini
at

Highline
Did you read our list of the best pumpkin spice things in Chicago? Here's another one to add! Enjoy the pumpkin espresso martini at Highline, made with  distillery vodka, Dark Matter espresso, pumpkin spice puree, Borghetti espresso liqueur, torta bianca. I know some of you can't survive without a PS-flavored drink (if not cocktail). So don't thank me!
16 W Ontario St, Chicago, IL 60654
Sing along to your favorite carols at Redhead Piano Bar! Tucked away on bustling Ontario Street, The Redhead Piano Bar invites guests to sing along to all the holiday classics with nightly live piano music and performances from 7 p.m. to 4 a.m. The cozy late-night spot decked out with garland, lights, and mistletoe will feature seasonal takes on classic cocktails, including a Cranberry Mule, Christmas Margarita, Poinsettia Champagne Cocktail, and more.
21 W Division St, Chicago, IL 60610
From the holiday menu, guests can choose from festive rifs on classic cocktails like the Skrew-Dolph, Mule-Tide Greetings, Mai Tai-Dings, Ebenezer's Old Fashioned, and more. And for those looking to warm their bellies, The Lodge Tavern will offer a hot cocktail menu featuring the Ho Ho Hot Toddy, Irish You A Merry Christmas, St. Nick Cider, and more.
Featured Image: W XYZ