Tis the season of joy and creativity. Speaking of the holidays, how can you miss out on the best Christmas and holiday pop-up events and bars in Chicago? Whether it's Thanksgiving or you want to start Christmas early, one of these pop-ups will bring you a unique experience. Food, themed nights, art markets, and more… We guarantee you'll find something to do from the list below!
838 W Kinzie St, Chicago, IL 60642
Chicago's largest outdoor patio at Recess is now partially enclosed and filled with space heaters all throughout the deck, which is ideal for the forthcoming Christmas and holiday pop-up bar that will be taking over the patio.
Launching December 8, Recess will transform into an elaborate holiday pop-up in the West Loop, featuring your favorite holiday movies, with six Christmas and Holiday films playing throughout the shipping containers with decor to match. Special hot cocktails and menu items will coincide with the pop-up, guaranteed to help keep you in the holiday spirit. More information is coming soon and can be found by visiting www.chicagoinrecess.com.
1134 W Washington Blvd, Chicago, IL 60607
This holiday season, The Press Room is bringing diners the ultimate speakeasy experience and re-launching their weekly live music performances. Join the Press Room with live music from some of Chicago's best — Jon Allegretto, Toronzo Cannon, and Nick Moss, while enjoying food from their menu, cocktail, and wine list selected specifically for the live music events.
Each live show will be 90 minutes. The Press Room will open their doors at 6:15pm with the live performance starting at 7:00 p.m.
Showtimes:
December 5: Jon Allegretto at 7:00pm

December 12: Toronzo Cannon at 7:00pm

December 19: Nick Moss at 7:00pm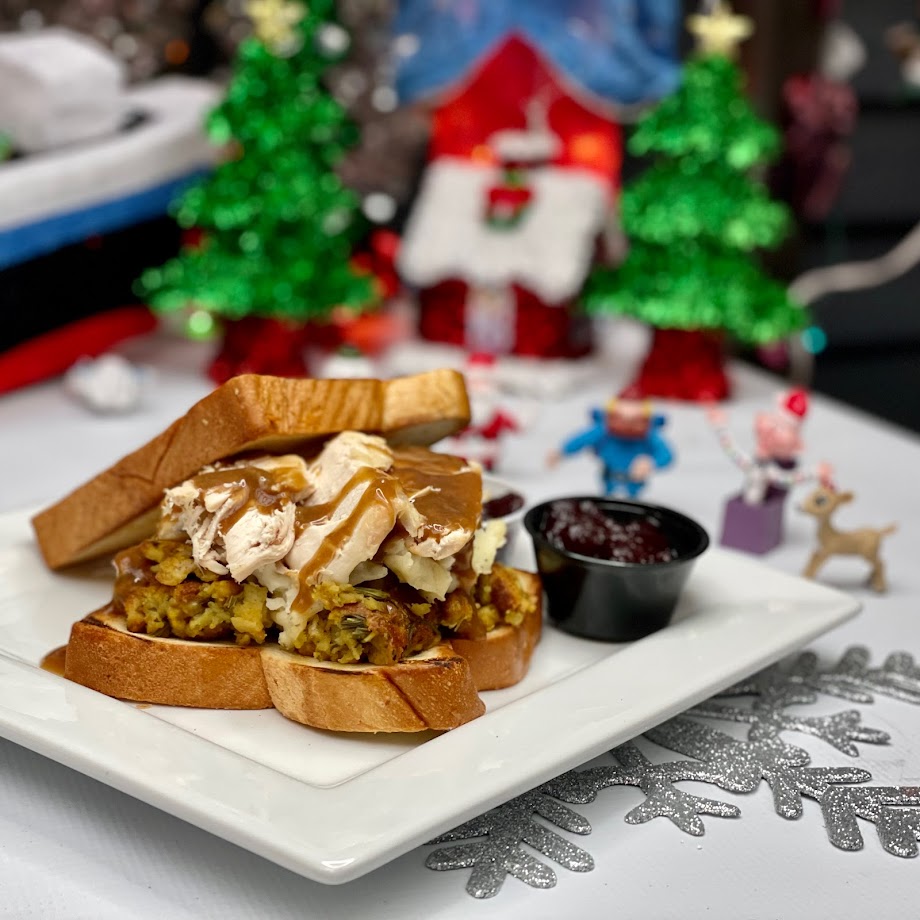 4128 N Lincoln Ave. Chicago, IL 60618
Tribute to the 1964 beloved classic Rudolph The Red-Nosed Reindeer television special and the Island of Misfit Toys, The Rambler Kitchen + Tap in North Center will host a "Misfit Christmas" pop-up beginning the day after Thanksgiving, Friday, November 26 through Sunday, January 2.
A themed food menu will feature sweets like warm baked Snickerdoodle Pretzels topped with cinnamon sugar and served with icing, Reindeer Food with rice cereal, chocolate, peanut butter, powdered sugar, and red and green M&M's, and Sam the Snowman shaped powdered sugar donuts and more. Savory dishes will include a Toy Taker Turkey Sandwich with roasted turkey breast, stuffing, mashed potatoes, gravy, and a side of cranberry sauce, and an Open Faced Chicken Pot Pie on two buttermilk biscuits. Complete menus available upon request.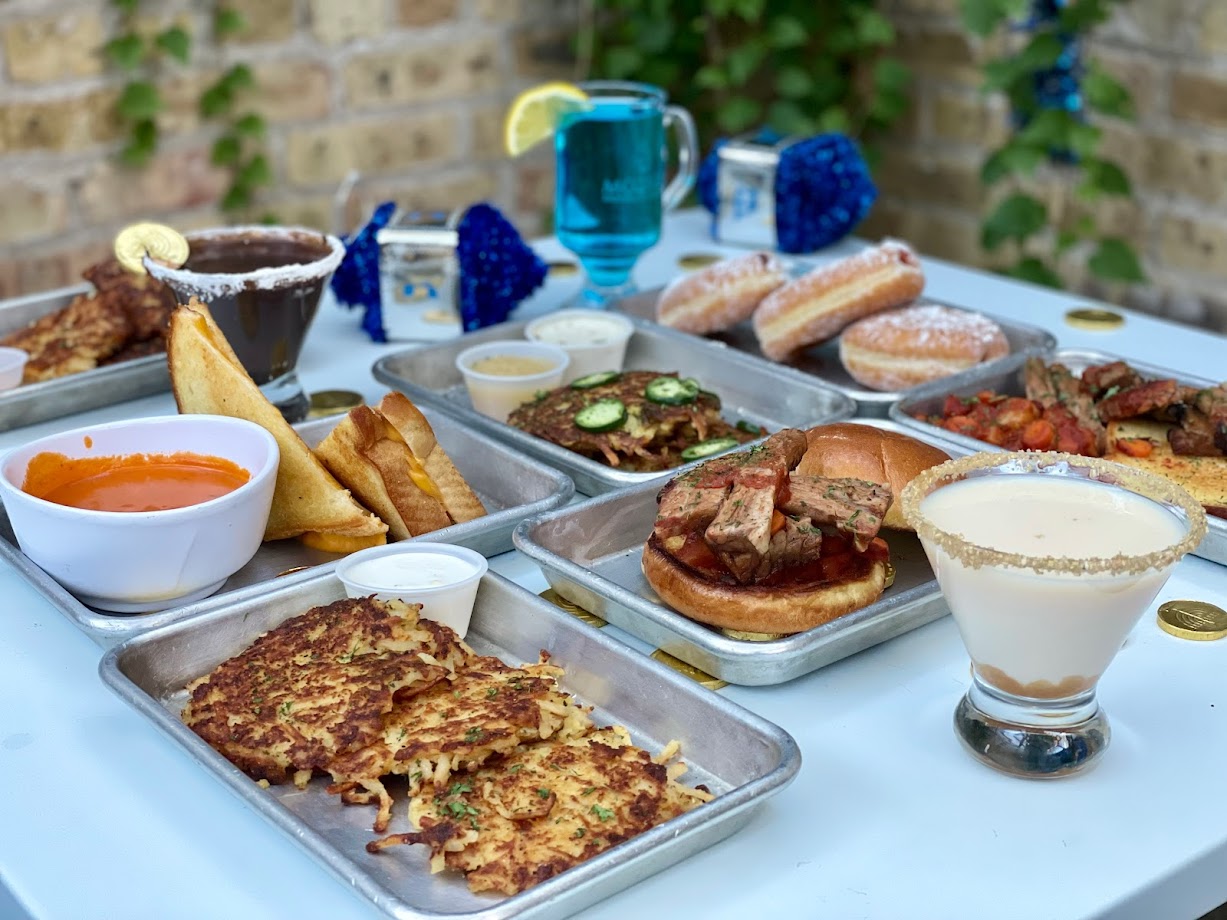 3441 N Sheffield Ave, Chicago, IL 60657
Back by popular demand for its third year, The Graystone Tavern in Wrigleyville will open "8 Crazy Nights," Chicago's first and only Hanukkah-themed pop–up bar, through Sunday, January 2.
Throughout the pop-up, a special food menu, ranging in price from $5 to $16, will feature traditional and spins on Jewish favorites like Matzo Ball Soup and three flavors of Latkes including classic with sour cream and applesauce, cilantro jalapeno with chipotle sour cream and herb cheddar with chive sour cream.
Festive cocktails with traditional Hanukkah flavors will be available for $12 each like the Festival of Lights Martini, Gelt Martini, Mazel Tov, The Chosen MF and a Mensch Mule.
702 West Fulton Market Street, Chicago, IL 60661
Santa and Mrs. Claus will be making a special appearance at the iconic West Loop location this Sunday, December 12th. Guests will have the chance to meet and mingle with Mr. and Mrs. Claus and take a photo, as well as indulge in delicious food and fabulous handcrafted cocktails. Reservations for Santa at Carnivale are available from 1:00 PM – 6:00 PM on the Carnivale website.
3369 N Clark St, Chicago, IL 60657
Now through New Year's Eve, Houndstooth Saloon will transform into a Christmas pop-up inspired by the holiday classic "National Lampoon's Christmas Vacation" — Griswold's at Houndstooth, featuring wall-to-wall décor inspired by the film, a festive-themed menu, and special seasonal events.
Fans of "Christmas Vacation" can enjoy items such as Yakking on a Bone ($14), a two-pound turkey leg with their choice of side, and Christmas Bonus ($11), a triple-decker PB&J with creamy peanut butter and fig jelly of the month club. Cocktails include Aunt Bethany's Jell-O Mold Fishbowl ($15) with Absolut Watermelon, green jell-o, and Aunt Bethany's cat food; Cousin Eddie's Eggnog ($11) with housemade with brandy; and Lotta Sap ($8), housemade mulled wine.
Events at Griswold's at Houndstooth include:
Ugly Christmas Sweater Party with live music on Friday, December 10 from 7 to 10 p.m.

Christmas Carolers on Saturday, December 18 from 5 to 6 p.m.

Santa Claus Brunch on Sunday, December 19 from noon to 3 p.m.
A Christmas Story @ Fatpour
2005 W Division St, Chicago, IL 60622
Inspired by scenes from the iconic holiday movie, Fatpour launches A Christmas Story Pop-Up this holiday season. The two-story space will feature dazzling lights, glistening ornaments, seasonal events, a 24-foot statement Christmas tree that sparkles from blocks away, and themed food and beverages all December long.
Guests can warm up to yuletide cocktails like Mrs. Claus's Martini Espresso Martini; Ohhhhh Fuuuuudge Hot Chocolate; and a Ho Ho Ho-t Toddy, or grub out like "Mommy's Little Piggy" on dishes like Cousin Eddie's Chili; Sleigh Bell Wings; and a Ham it Up Holiday 'Za.
Events at A Christmas Story Pop-Up include:
Saturday, December 11: Toys For Tots Fundraiser
Monday, December 13 to Thursday, December 16: Toy Drive Benefitting Ann & Robert H. Lurie Children's Hospital of Chicago
Tuesday, December 14: Gingerbread House Decorating
Thursday, December 16: Ornament Decorating
Friday, December 17: Dinner with Santa
Saturday, December 18: Strength in the City Holiday Yoga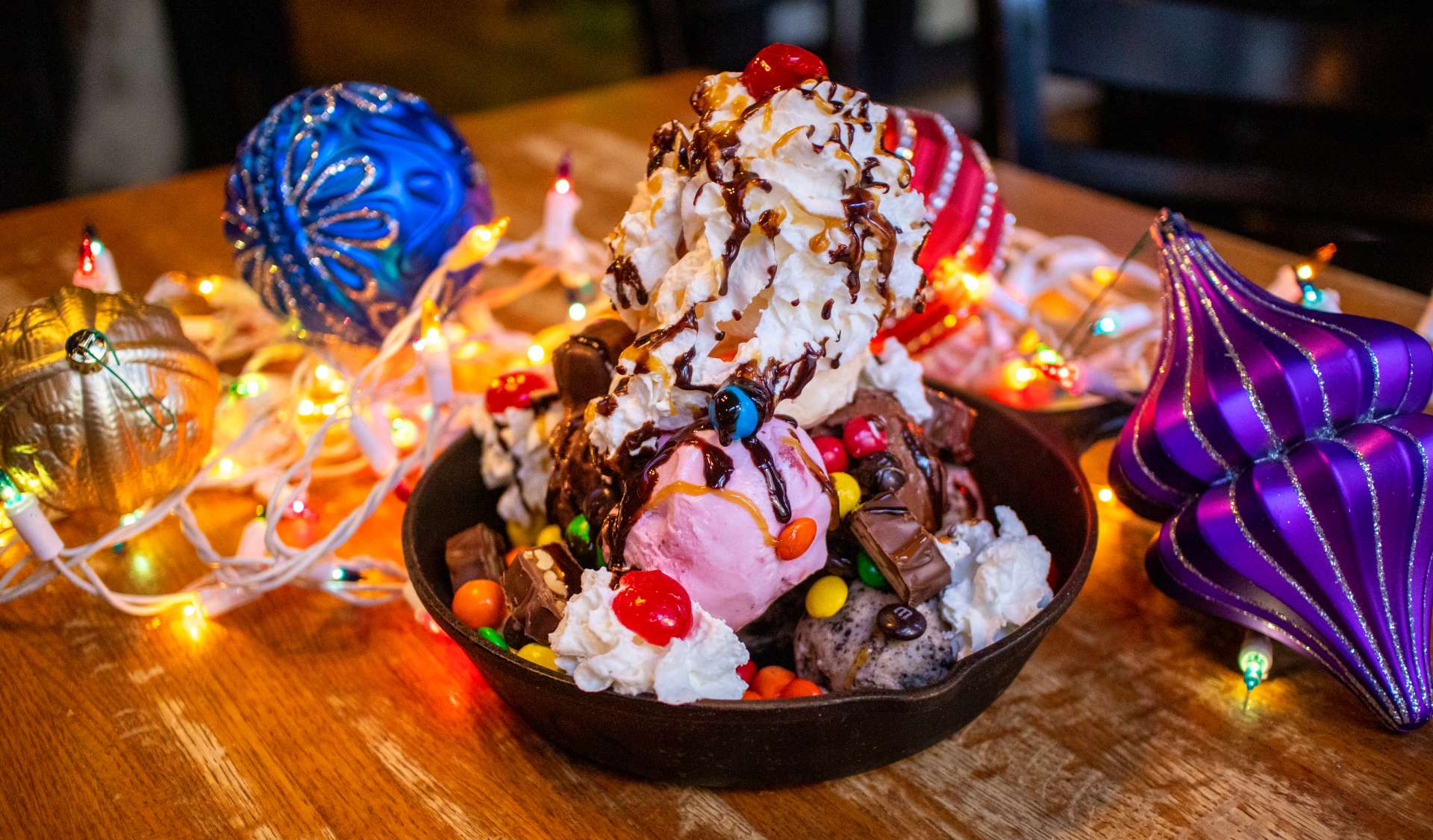 41 E Superior St, Chicago, IL 60611
Celebrate the holiday season with a special menu inspired by fan-favorite Christmas movies at Jake Melnick's Corner Tap this month! Menu highlights include Bo'Lings Sweet and Spicy Sticky Wings inspired by A Christmas Story, the Roast Beast BBQ Platter inspired by The Grinch and the epic Room Service Sundae inspired by Home Alone 2, Lost in New York.
The special holiday movie-themed menu will be available for the duration of December. Full menu is available here.
1535 N Wells St, Chicago, IL 60610
It might be getting cold outside, but Woodie's Flat (1535 N Wells St.) is bringing a tropical paradise with the Winter Wonderland Luau pop-up. Flamingle this season with Woodie's decked-out bar adorned with full-size, lit palm trees, Christmas lights, ceiling ornaments, and Insta-worthy moments that include a six-foot Elvis cutout and a blow-up beach Santa next to a dazzling Christmas tree out front.
Holiday cocktails include the Snowy Night Chocolate Martini and the Hawaiian Holiday Mai Tai, dance the night away with Elvis Christmas and holiday party soundtracks, or stop-by for any of the bar's festive events like ornament decorating, cookie decorating, a winter luau, Elvis nights, Elvis impersonators, open mic Wednesdays, and more.
Tables are available on a first-come, first-serve basis. Contact Woodie's at info@woodieschicago.com for larger group bookings (10 or more) or with any questions about the holiday pop-up. Private & semi-private space available.
Medinah Temple, 600 N Wabash Ave, Chicago, IL 60611
Check out Sleigh Bells—a trippy and immersive holiday pop-up full of color, sound, lighting, murals, technology, art and Christmas spirit! Taking over 45,000 square feet of the bottom and first floors of the property from December 2nd, 2021- January 3, 2022, Sleigh Bells invites guests to make their way through large-scale, interactive art installations that will transport them to vibrant and visually stimulating spaces like an infinity mirror ice cave, Santa's workshop, Santa's armory, and a dazzling oversized ornament light show display.
The project is being produced by Dom Brown and John Schroeder of Superfrüit. The local duo has curated experiential installs and pop-ups for some of Chicago's most notorious brands such as Lollapalooza, Spring Awakening Music Festival, North Coast Music Festival, Morgan Manufacturing, and Red Bull. Superfruit has also brought on Keegan Moon (Dine|Amic Hospitality, Evening Entertainment Group) of Thyme Management to head up food and drinks. Seasonally themed offerings will be served by way of a hot chocolate and ice concession stand housed within a massive 44-foot dome with a 360° mirror cave.
Tickets are to be reserved in advance online at Sleighbellspopup.com or https://feverup.com/chicago.
Lobby Entrance On, 636 South Michigan Avenue, E Balbo Dr, Chicago, IL 60605
It might be cold outside, but inside The Blackstone it's warm and cozy. Stop by this wintery season and enjoy a classic holiday display featuring dazzling toy trains. Hear hissing steam, squeaking metal and whistles blowing in the lobby of the storied architectural icon rooted in Chicago's legendary past.
Witness a joyful scene featuring five toy trains placed around the decorated Christmas tree, within the window display and other locations throughout the hotel. Inspired by Timothy Blackstone, president of Union Stock Yards and the Chicago & Alton Railroad, who built the mansion now known as The Blackstone, the model trains are a must-see for locals and visitors alike. Don't leave without watching Chicago's classic L Train swiftly move around a model replica of the hotel and snap a photo or two.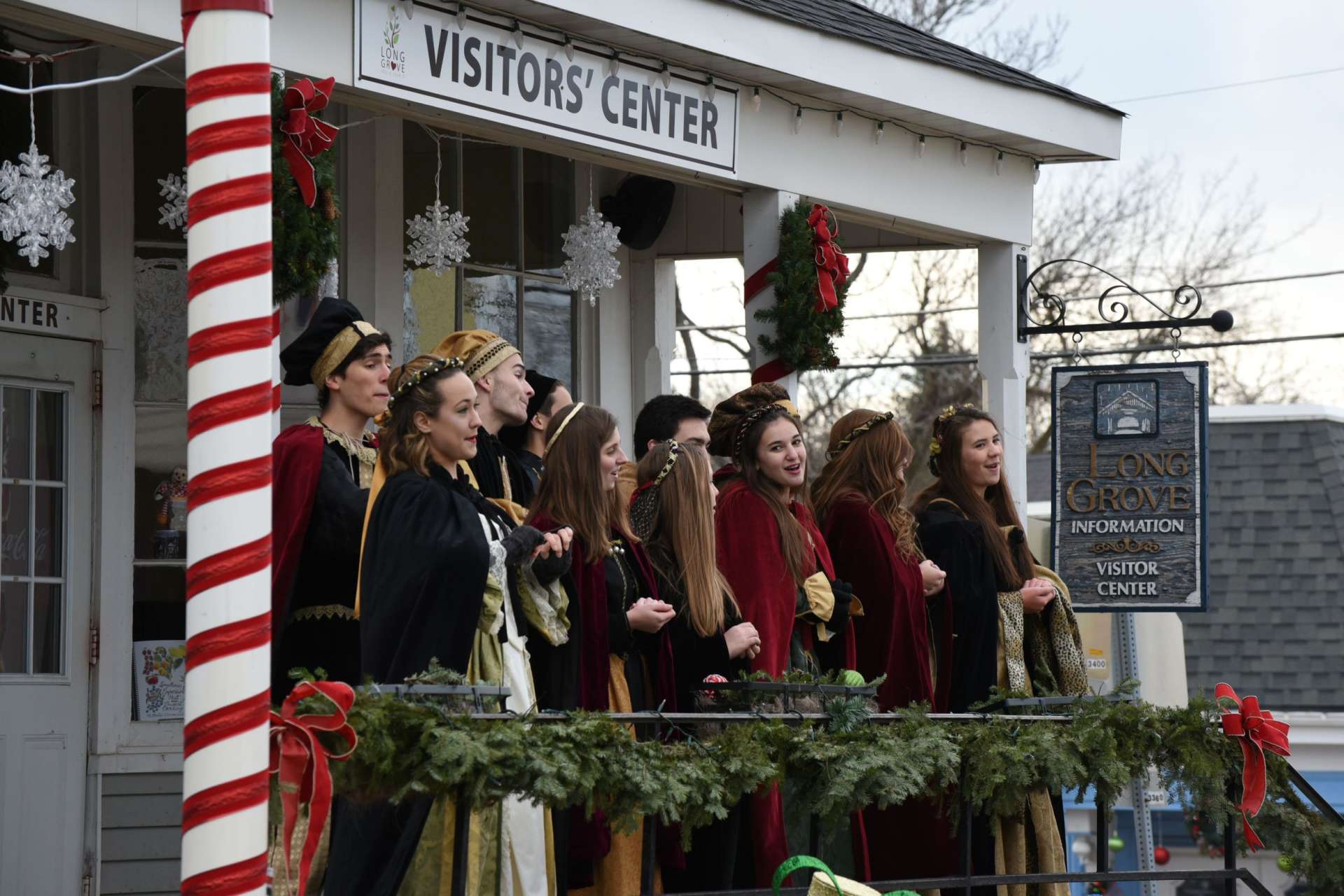 Historic Downtown Long Grove invites holiday shoppers to rediscover the magic of the holiday season.
The annual Long Grove Vintage Holidays campaign is a tribute to the classic small town holiday market experience – quaint shops, old-world charms, and family memories. On November 19th, Long Grove officially transitions into holiday mode when its famous single lane covered bridge and village merchants flip on the holiday lights.
50 W Washington St, Chicago, IL 60602
We've been waiting forever since the unveiling of their 25th anniversary designs! The smell of roasted nuts, fresh pretzels, bratwurst and hot spiced wine, the sound of festive music, and the glimmer of sparkling Christmas ornaments, all in a cozy atmosphere – a visit to the market takes all your senses on a journey! The best part? It's admission-free. The even better part? We can help you find the most inexpensive parking in the Loop when heading there!
The Christkindlmarket will run from now until December 24th this year. The market is open Monday thru Thursdays from 11:00 am to 8:00 pm, and Fridays & Saturdays from 11:00 am to 10:00 pm.
222 W Merchandise Mart Plaza, Chicago, IL 60654
The Mart brings art back to us once again! Looking for that perfect holiday piece that will speak your amazing personality? Come check out the One of a Kind Holiday Show! This year, the show and pop-up bar in Chicago will bring together 400 talented artists, artisans, and makers from across North America to offer the best in everything from fine art to handmade goods, gourmet cafes, bar areas, and live entertainment and activities for all to enjoy. Tickets are for $10 a day at oneofakindshowchicago.com.
World's Tiniest Tree Lot
2952 W Armitage Ave, Chicago, IL 60647
Big on holiday spirit, tiny on trees – join Half Past and Parson's Chicken & Fish for the World's Tiniest Tree Lot on Saturday, December 11 in support of Love Fridge, a Chicago mutual aid group grounded in food justice. Stop by for an expansive array of complimentary mini Christmas trees, Santa Claus photo ops and mini ornament decorating, as well as plenty of Chicago's favorite fried chicken and Half Past.
This is a free event with mini Christmas trees and activities. However, menu offerings are a la carte
Featured Image Credit: Paper Girl PR