'Tis the season for Glühwein—finally! With holiday markets coming back in Chicago, Christkindlmarket is also making its return this winter after a pandemic-driven hiatus last year. Mark your calendar as Christkindlmarket 25th anniversary market opens in both Daley Plaza and Gallagher Way on Nov. 19.
Christkindlmarket in Chicago is the most authentic traditional holiday market of its kind outside of Europe. With a unique shopping experience, family-friendly events, and intercultural activities, Christkindlmarket offers holiday cheer for everyone. The return of roasted nuts, fresh pretzels, bratwurst, crepes, and glühwein, or mulled wine, all in one place is just a few nights of sleep away.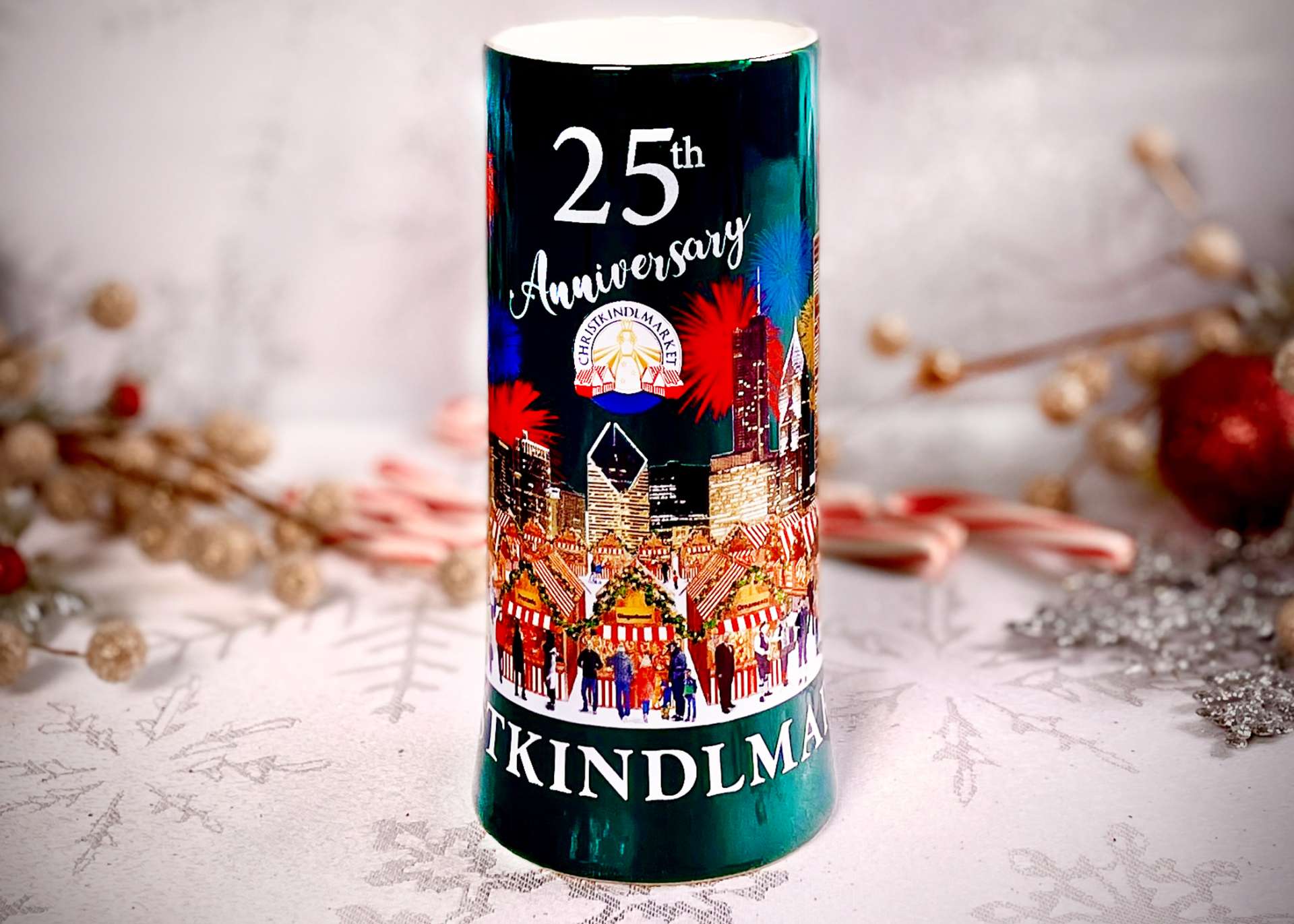 Old and new traditions
Every Christkindlmarket marks the return of its beloved souvenir mugs, but this year will be a little different. In previous years, market patrons would expect to drink their glühwein out of boot-shaped mugs. As cute as these little boots look in our cupboards, it can be challenging drinking out of them. 
This year's official annual Christkindlmarket mug comes in a classic flute shape, last seen in 2013. It dazzles in a dark emerald green that matches this year's logo. The stein shows a colorful and detailed market scene with the iconic Chicago skyline behind it. Meanwhile, Peppermint the Penguin returns for duty as the non-alcoholic beverage mug. Decked out in a tuxedo with an emerald green bow tie and collar, Peppermint is looking sharp and ready for the festivities. He's holding a Chicago-themed dish towel with one fin and on his back, market visitors are celebrating.
The Christkindlmarket event in Chicago is also releasing its first-ever annual ornament. The new souvenir is a high-quality glass globe hand-painted from Poland. It shows a Christkindlmarket scene with a red-striped vendor booth and a giant shimmering Christmas tree with glitter-dunked ornaments in front of the Chicago skyline lit up by fireworks.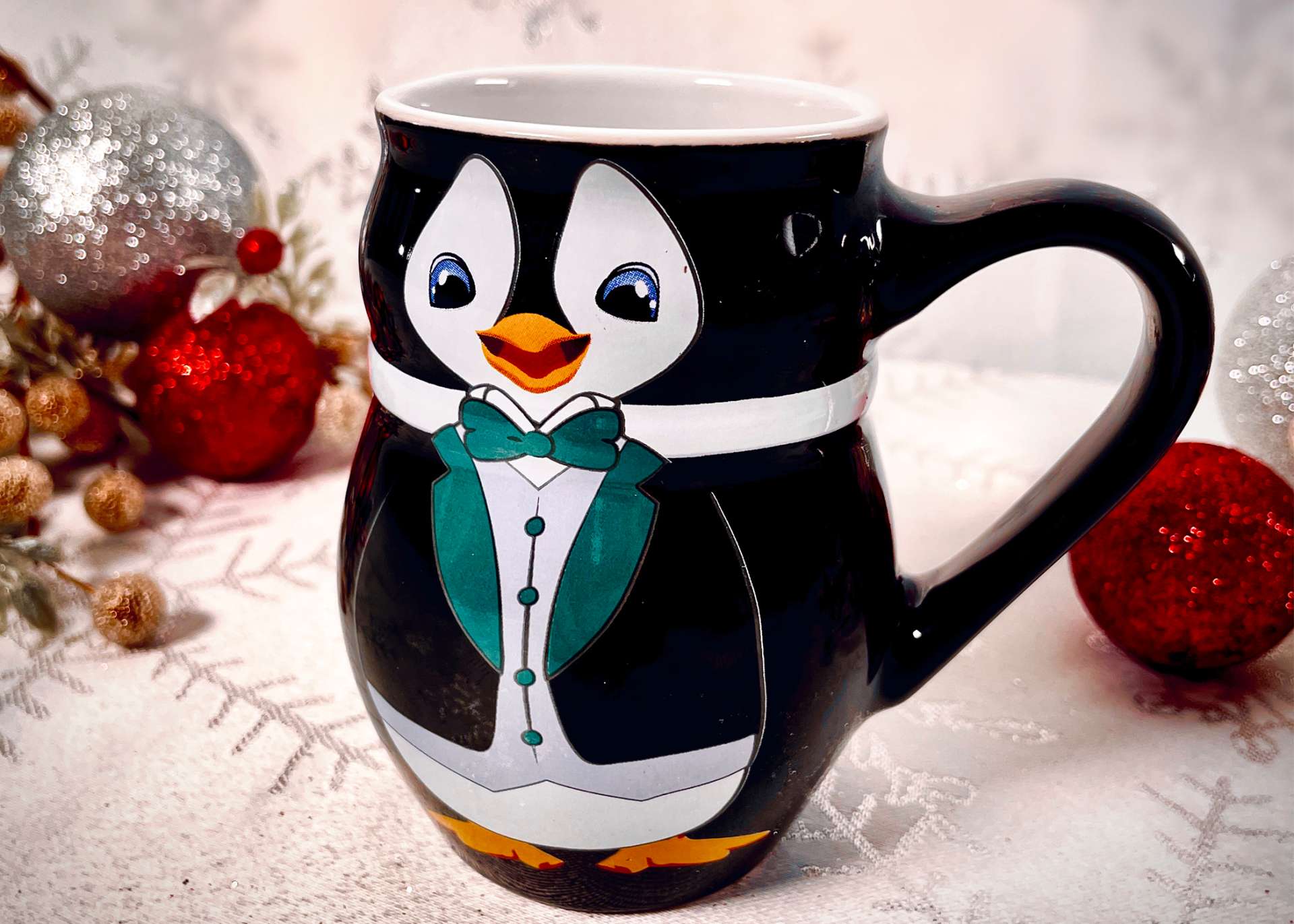 Holiday gifts available for pre-order
The Virtual Holiday Market is also back in full swing. You can pre-order the 2021 Chicago Christkindlmarket mugs and ornament online. Both mugs run for $7 each and the ornament for $35. A special anniversary gift set includes both mugs and the ornament. 
Three "A Few of our Favorite Things" gift boxes are also available. They feature carefully selected assortments of vendor goodies as well as a set of two 2021 souvenir mugs. Boxes range in price from $49.99-$99.99.
Feeling nostalgic or missed out on past mugs? A small selection of past Christkindlmarket mugs from 2017-2019 are also available. All pre-orders will ship starting Nov. 25.
The new Christkindlmarket mugs and ornament will also be available in person when the market returns, though there are no guarantees they won't run out—so go early!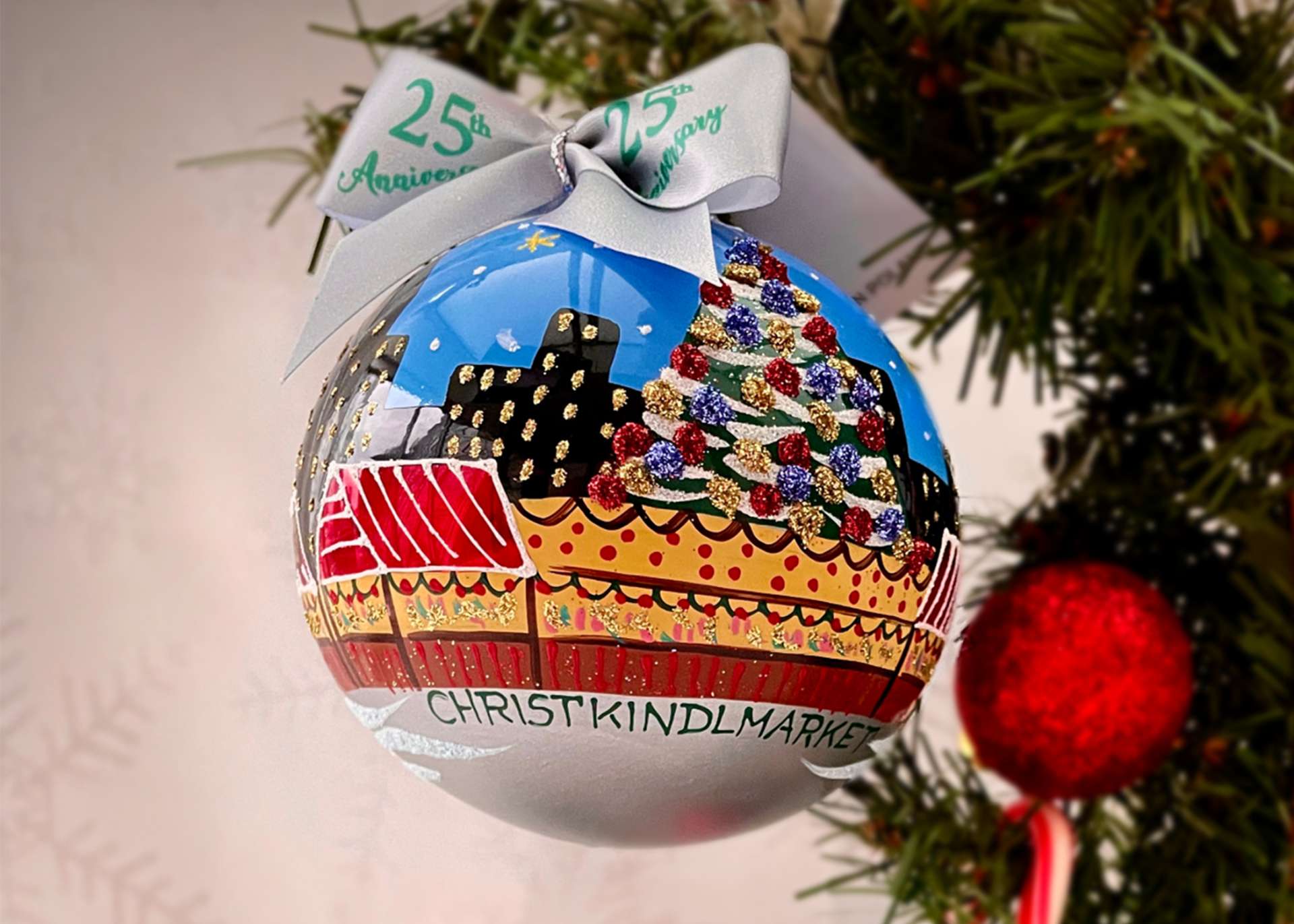 Plan your trip now!
Christkindlmarket Chicago (Nov. 19-Dec. 24)
Daley Plaza, 50 W Washington St, Chicago, IL 60602
Regular Hours:
Sundays-Thursdays: 11 a.m.-8 p.m.

Fridays-Saturdays: 11 a.m.-10 p.m.
Special Hours: 
Thanksgiving (Nov. 25), Christmas Eve (Dec. 24): 11 a.m.-4 p.m.
Christkindlmarket Wrigleyville (Nov. 19-Dec. 31)
Gallagher Way, 3635 N Clark St, Chicago, IL 60613
Regular Hours:
Mondays-Thursdays: 3-9 p.m.

Fridays-Saturdays: 11 a.m.-10 p.m.

Sundays: 11 a.m.-7 p.m.
Special Hours: 
Thanksgiving (Nov. 25), Christmas Eve (Dec. 24), and New Year's Eve (Dec. 31): 11 a.m.-4 p.m.

Christmas Day (Dec. 25): Closed
You can learn more about Christkindlmarket here.
Featured Image Credit: Christkindlmarket