If you've been waiting, clap your hands! With the temperature finally dropping, you know it's time for hot cocoa, heated patios, and… yes! Another round at the best fall happy hours in Chicago from your favorite bars and restaurants. I know you didn't come in here to listen to me talk about the beautiful westher. So, I'm just going to leave these tested happy hour deals here and get ready to meet my BFFs to catch some happiness and buzzes myself.
Enjoy!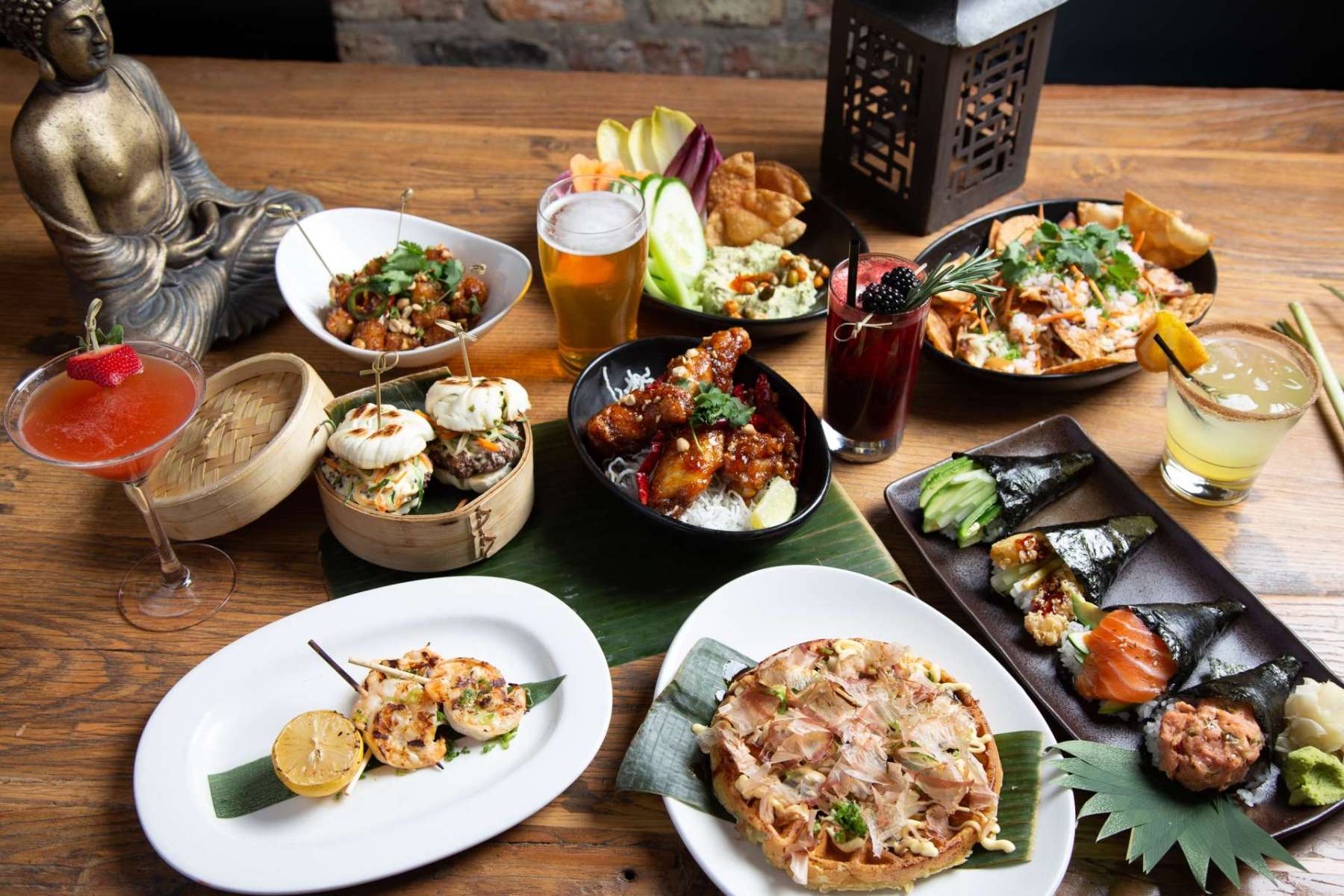 110 W Illinois St, Chicago, IL 60654
Sunda's happy hour is an all-time classic with seasonal updates that never fail to impress. This year, their fall happy hour features Okonomiyaki Waffle, Kung Pao Tots, 180ml Tozai or Bushido Sake cans, as well as $6 wine by the glass. Along with new items, you'll still find their all-time happy hour favorites like sushi handrolls, Seoul Wings, and Shrimp Skewers.
400 N Clark St, Chicago, IL 60654
Located in River North, The Smith is home to the ultimate happy hour offerings. Guests can indulge in $2.00 oysters on their expansive, dog-friendly patio, $10.00 cocktails, $8.00 wine by the glass, and light bites. Diners can order snacks including french fries, signature mac & cheese, and more. Also available is the "Burger and a Beer" special served with bacon shallot jam, American cheese, crispy onions, house pickles, TSB sauce, potato bun, and your choice of draft beer.
845 W Washington Blvd, Chicago, IL 60607
Nestled in the heart of West Loop, El Che Steakhouse & Bar is the ultimate spot to start your night early. Available Monday-Friday from 5:00pm to 6:00pm at the bar, diners can indulge in $3.00 light bites and snacks, including Oysters, Empanadas, and Grilled Shrimp. Additionally, diners can enjoy discounted large plates and entrees including the Steak Frites. On the drinks side, diners can sip on $9.00 glasses of wine and $12.00 cocktails.
2683 N Halsted St., Chicago, IL 60614 | (773) 348-9800
Serving up the best in music and spirits, aliveOne is a neighborhood staple in Lincoln Park complete with full bar, pool table and backroom that welcomes local bands to the stage. Any night of the week you can enjoy half-price happy hour available Sunday through Thursday from 5 p.m. to 7 p.m. and Friday and Saturday from 4 p.m. to 6 p.m. Everything on the menu is half-the-price including their signature cocktails like My Little Buttercup with El Jimador, Ancho Reyes Verde, cointreau, lime juice and ginger beer or the Eve of Destruction with Bulleit Bourbon, Campari, Carpano Antica and an orange swath.
1910 N Milwaukee Ave, Chicago, IL 60647
Located at the border of Logan Square and Bucktown, Remedy's happy hour is every Monday through Friday from 4 p.m. to 7 p.m. Remedy strives to be an 'anytime' bar, offering eclectic craft cocktails, a solid wine selection, and the best beers from local breweries. Remedy has one of our favorite fall happy hours in Chicago for a simple reason: everything is half off during this timeframe. Everything!
565 W Randolph St, Chicago, IL 60661
Have you heard!? Proxi from Chef Andrew Zimmerman is bringing back Happy Hour to their bar, lounge and patio for the first time in three years! Come enjoy half-priced appetizers like his Tempura Elotes and Smoked Carrot Dip to pair with $9 glasses of wine or PROXI's $9 Cherry Springer featuring bourbon, cherry bark vanilla, and soda. The returned PROXI happy hour is Tuesday through Friday from 4-6 pm.
4229 N Lincoln Ave, Chicago, IL 60618
Try something different this fall at Robert et Fils' brand new happy hour offerings! Chef Rob Shaner offers a selection of snacks, and shareable plates such as cheese boards and charcuterie boards, and select entrees. It's 5'oclock somewhere! From 3:00pm to 5:00pm, diners can treat themselves to buy-one-get-one glasses of select wines. Exclusively on Saturdays from 9:00pm until 11:00pm, diners can enjoy a 50% discount on wines!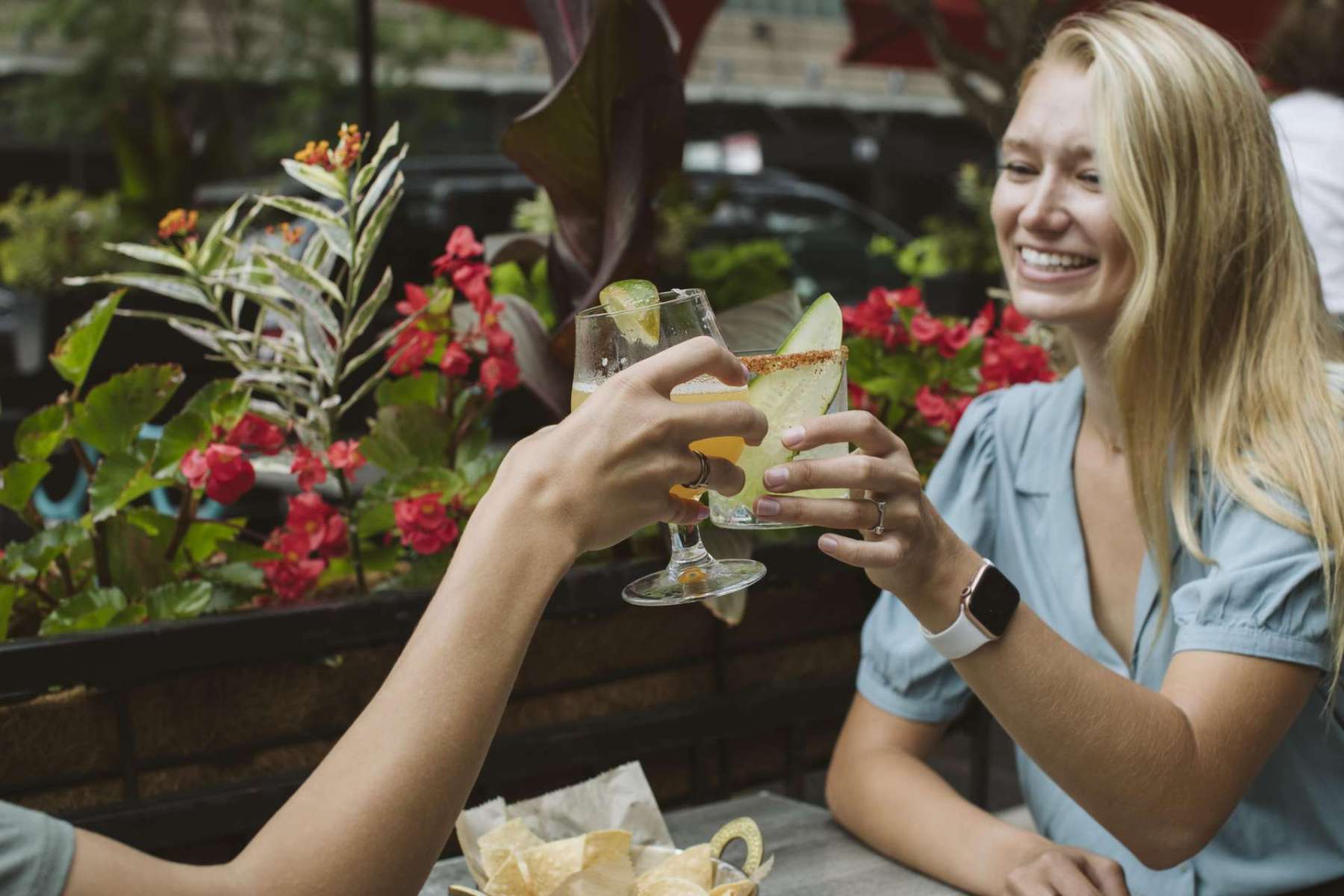 1465 W Willow St, Chicago, IL 60642
Join Hinoki for Sake Hour Thursdays and Firdays from 5-7 pm and Saturdays from 9pm to close! Enjoy special-priced Sake cans and buckets plus $10 sake bombs, $8 selected cocktails, and $5 selected beers. Of course, they're not going to let you go hungry. Check out the Sake Hour izakaya bites and have real Japanese drinking experience! And you know how we are. Chicken Karaage for life, right?
2700 W Chicago Ave, Chicago, IL 60622
Looking for a weekday happy hour this fall? Check out Heritage's happy hour happening every day from 4-6 pm. Enjoy the They ($19) & Them ($14), featuring a dozen oysters and a glass of house buble, or bowfin roe and the beer of the day. Surprise yourself with their $7 drink of the day or indulge in $2 chef's oysters. The choice is yours!
201 N State St 27th Floor, Chicago, IL 60601
Perched 27 stories above the iconic intersection of State and Lake atop theWit Hotel, this rooftop restaurant is the perfect place to grab pizza while taking in spectacular city views. Monday through Friday, ROOF offers a special happy hour menu from 4-6 pm featuring 20% off pizzas. The best part about ROOF is its retractable roof, meaning it's a safe bet for enjoying a slice come rain or shine!
221 N Columbus Dr, Chicago, IL 60601
Offering Monday through Thursday happy hours from 7 p.m. to 7 p.m., FireLake Grill House & Cocktail Bar has everyone's cravings in mind. Enjoy Burger Mondays offering the restaurant's signature FireLake Burger or veggie burger and fries for $14 while enjoying $2 off draft beer. Taco Tuesdays featuring two beef, salmon or veggie tacos for $6 and house margaritas for $12. Wine Down Wednesdays offer $2 house red or white wine and pepperoni, cheese or margherita flatbreads for $12. Enjoy brisket, prime rib, or salmon sliders on Thursdays for $3 each and $2 off signature martinis.
425 W Armitage Ave, Chicago, IL 60614
Established in 1946 and located at the heart of Lincoln Park, River Shannon is a pet-friendly Irish Pub with an outdoor patio, pouring Irish whiskeys and local beer for over 70 years. One of the oldest pubs in Chicago, guests are invited to enjoy Happy Hour Monday through Thursday from 3:30pm to 7pm featuring $10 specialty cocktails, $6 domestic drafts, and ½ off pizza.
50 E Chicago Ave, Chicago, IL 60611
After a day of shopping on Chicago's Magnificent Mile, there's no better place to toss back a few cold ones than Streeter's Tavern, the best underground bar in the city, featuring a sprawling outdoor patio. Guests can stop in Monday through Friday between 4pm and 6pm and enjoy $4 Miller Lite and Coors Light bottles as well as $5 Malort— a Chicago classic.
39 E Chicago Ave, Chicago, IL 60611
Carrying the legacy of good beer and good cheer since 1974, Pippin's has recently relocated, renovated, and rebranded, and now serves delectable modern American cuisine under the direction of Executive Chef Amanda Barnes. Pippin's Happy Hour is held Wednesday through Friday from 4pm to 6pm. It features $4.80 Chloe wines, including their Red Blend, Pinot Noir, Sauvignon Blanc, and Cabernet Sauvignon— all in honor of Pippin's 48th anniversary.
Featured Image: aliveOne